This past February, the boys and I headed off for our annual celebration of football to the beautiful city of Minneapolis for some Super Bowl Festivities. While we were there we got to take in a Minnesota Timberwolves game, enjoyed two full days of fun at the NFL Experience inside the Minneapolis Convention Center, plus we got to enjoy some serious fun at the Mall of America. There is so much to do at Mall of America, it is astonishing. It was definitely one of the highlights of our trip. Check out these 9 incredible things to do at Mall of America!
Top 9 things to do at the Mall of America
Nickelodeon Universe
So, when I told my 15 and 13-year old that we were going to Nickelodeon Universe they kind of gave dad the polite "sounds fun" but within it, I felt the dreaded eye roll of disappointment. However, to their surprise, there are some incredibly fun things to do in Nickelodeon Universe and we all had a blast
This is the nations largest indoor theme park, and is home to seven acres of one-of-a-kind attractions, entertainment, and dining! There are 9 thrill rides including:
Avatar Airbender
Spongebob's Bottom Plunge
Teenage Mutant Ninja Turtle's Shell Shock
Brain Surge,
Fairly Odd Coaster & More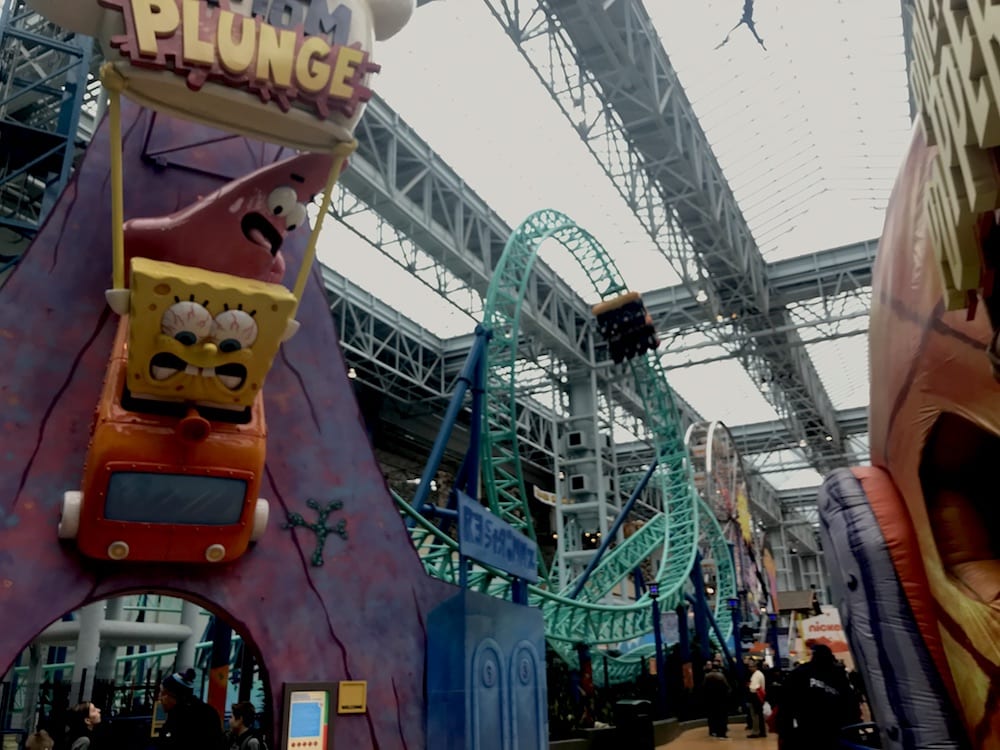 Our favorite was definitely Spongebob's Bottom Plunge, my 13-year old rode it four times in a row.
If you have little ones there are 11 rides for juniors plus 5 family rides. In addition, your kids can have the opportunity to meet Nick characters, like the opportunity to meet SpongeBob. They even have over 8 shops and restaurants for you to enjoy!
The one other attraction that my boys really loved was dutchman deck's adventure course which is basically a giant playground for kids over 48″ You can take the ropes course which places you 56 feet above the theme park and then you can zip line across the entire park.
Why did dad love Nickelodeon Universe?
Honestly, I am a big fan of theme parks, I pretty much love all theme parks (thus, my wife calling me her 6th child). However, besides the fun rides, I loved the fact that everything was so close together. So after a full day at the park, my old bones felt great because I wasn't walking a mile to get to the next road. That's a big win.
Fly Over America
Fly over America is a pretty fun adventure. Similar to California Adventure's Soaring over the World ride, this is a flight simulation ride with state-of-the-art virtual flight technology that takes you on a breathtaking, aerial tour of some of the greatest and most beautiful landmarks and regions throughout the United States! The attraction is a fully immersive experience including wind, mist, and even scents of the outdoors! There are two different ticket options that you can enjoy, Fly Over America or Fly Over Canada.
Tickets are 18.95 for adults and 14.95 for kids 12 and under.
Smaaash
Ok, so Smaaash is pretty amazing. And you have teenage boys this is an absolute paradise. We spent a good 4-5 hours in this place and it seemed like we were just there for 30 minutes. It was definitely one of the highlights of our vacation. Let's break down why Smaash is one of top things to do at Mall of America
Sky Karting
You get to race your friends and family on their multi-level go-kart track! They offer kids karts as well as adult karts – you do have to be 8 years or older and meet a height requirement of 50 inches to ride. Up to 6 people can race at a time, and each go-kart's time is tracked so you can see who has the fastest lap time! Apparently, my age has caught up with me as both my boys were speeding by me.
Laser Tag
Compete against family and friends in Smaaah's 2,000 sq. ft. Laser Blast obstacle. Up to 20 people can play at a time in this thrilling game of Laser Blast.
Lots of VR games
If you always wanted to try out VR games without having to spend a lot of money on a headset, then it's a good idea to give Smaaash Mall of America a shot. They have by far the widest variety of virtual reality experiences. They are truly enthralling, my personal favorite is Vertigo Walk where it seems as if you walk across buildings 500 feet above the ground with only a narrow plank to walk on. Let me tell you, even though you know it is virtual reality, it is truly frightening. There are over 20 virtual titles.
Some of the things we did not get to were the design your own roller coaster, virtual reality dodgeball (which looked hilarious)
Sea Life Aquarium
We have been to the Sea Life Aquarium at Legoland California and thought this would be the same. It actually was a completely different experience. Here you'll start with a beautiful replica of Minnesota's own North Woods and make your way through exhibits of freshwater fish and end up on the Gulf of Mexico learning about tropical oceans! The kids will love the touch tanks, the jellyfish, sea dragons, and of course the thing my boys loved the most was the walkthrough tunnel of sharks turtles and manta ray swim over their heads!
Create your own Crayola Crayon Color at the Crayola Experience and Store
This is the only place in the world that makes Crayola magic come to life! The crayola experience is over 60,000 sq. feet and offers over two-dozen activities for your family to enjoy including customizing your own crayon color and wrapping, making your own colorful wax drip art, or even create your own pack of Crayola crayons! Your family will be able to let their creativity run free, play, explore, and learn! Here are a few of the activities:
1. Wrap it up! You and the family will be able to name and wrap your very own crayon! Feel free to get creative and see who can come up with the silliest name!
2. Be a star – Here you can turn yourself into a crayon coloring page! Pose with the family, or your friends and come up with funny and unique backgrounds! You can even print your image on a T-shirt or puzzle if you wanted too!
3. Live Factory show – Take the family through an interactive learning experience and see how crayons are made!
4. Meltdown – Use melted down wax to create a beautiful painting in a whole new way. You can choose from a variety of melted crayola colors to create a masterpiece. 5. Drip art – Here you can load a fresh crayon into the drip art machine, watch it melt and drip the colored wax onto your paper as it spins creating a wacky, and very cool art piece!
Go through a Mirror Maze –
We first experienced a mirror maze at Fisherman's Wharf in San Francisco. They are soooooo much fun, you have to try it out. They give you these white gloves so you can navigate the maze without putting fingers all over the glass and it also prevents you from slamming into the mirrors with your face (definitely have your hands out when walking). The maze can take between 15-30 minutes but you will be laughing the whole time and you might even scare yourself as you turn the corner and run into yourself.
Check out the incredible LEGO Store!
The LEGO Store at Mall of America thrills kids with its huge figures made entirely from LEGO bricks. An entire wall is filled with LEGO bricks, separated by color and available for purchase. You can also buy LEGO kits here. The best part? The LEGO brick building stations just outside the store. Here kids can use their creativity to build creations from LEGO bricks while parents rest their feet.
Enjoy Dinner & A Movie.
The magic red button is one of my kids' favorite things about going to a movie theater nowadays. If you haven't been to a dine-in theater, there is a magic red button at your seats which will send an attendant to take your order or deliver your delicious meal. The CMX theater coming to Mall of America is going to be a great thing to do at Mall of America. You'll enjoy reclining seats, deluxe dining options plus beer, wine, and cocktails.
American Girl Store & Bistro
My daughter would absolutely love the American Girl store at the Mall of America. If you have a little girl this is definitely one of the best things to do at Mall of America. Not only can you check out all the dolls, but you can also dine at the American Girl Bistro with your own doll.
Things to know about Mall of America
Visit the Mall during a layover – The Mall of America is literally next door to the Minneapolis Airport and is a 5-7 minute uber ride away, so if you have a few hours on a layover, don't waste your time in the airport. Head over to the Mall of America
Special Uber Pickup Spot – If you are taking an Uber from the Mall of America, there is a special pickup spot designated for Uber
Concierge everywhere – Everywhere you go, there are people to help guide you to where you want to go, so you never feel like your lost.
It's own zipcode – Yes, the mall is so big, it has it's own zipcode
You might also Enjoy!
The ULTIMATE Guide to Washington DC with Kids
The ULTIMATE Guide to New York with Kids [25 Amazing Tips]
Pin for Later – Top 9 Incredible Things to do at Mall of America with kids
Latest posts by Michael Mamian
(see all)