We recently visited Portland for a little spring break vacation. While we expected the amazing food in Portland we did not expect to find so many amazing Portland waterfalls. There are countless waterfalls 30 minutes to two hours outside of Oregon's largest city that you need to check out, perfect for a little road trip through Oregon. You'll love the bright green moss and lichen that cover damp boulders and trees. The sound of water rushing over rocks surrounded by ferns. The mist floating from the base of a waterfall. The waterfalls in Portland are so unique and amazing.
The Columbia River Gorge Scenic Area
This gem is no stranger to adventurers. It's packed with unique basalt formations, hikes, and waterfalls that will stun you with their magnificence–and it's only 30 minutes from Portland! The Eagle Creek Fire ravaged many areas of our precious gorge, but firefighters were able to protect some of the most iconic falls. The Gorge offers waterfall viewing and hiking opportunities for people of all ages and abilities. Some of the most famous Oregon waterfalls can be seen from your car! There are right around 80 waterfalls in the gorge alone, so there's plenty of room to find less populated waterfalls, too.
Waterfalls You Can See From Your Car
Multnomah Falls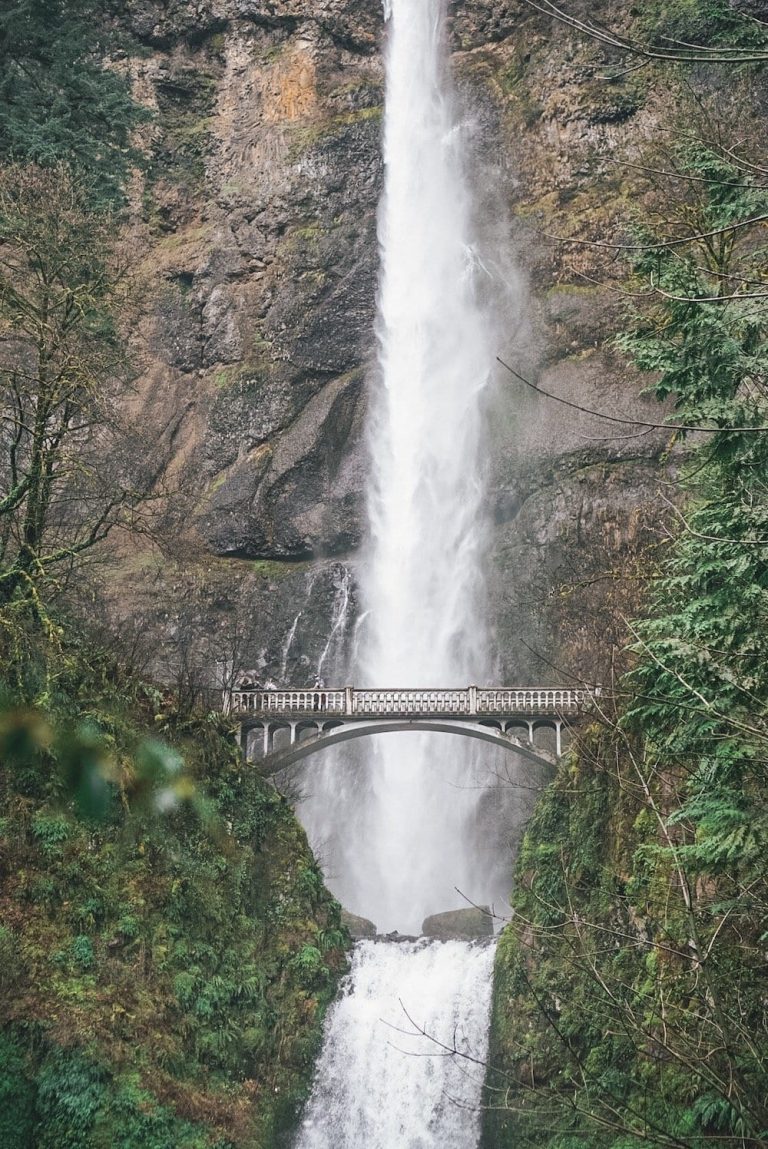 We visited Multnomah falls on the 2nd day of our journey. It truly is the crown jewel of the gorge. This 620-foot tall waterfall towers above all other falls in Oregon. This is the tallest waterfall in Oregon. This tiered waterfall is divided by an easily accessible and beautiful bridge. If you are going to visit just one waterfall, this is the one of all the portland waterfalls you should visit.
You can grab a bite at Multnomah Falls Lodge before your waterfall hike. You can also check out the gift shop, grab a treat at the coffee stand, then hit the viewing platform to snap a picture. Yes, you can view these falls from the car, but I highly recommend taking the path to the bridge. The trail is paved and easy to hike. Once you are on the bridge you will see the power of the falls, it is simply amazing.
The trail beyond that is not paved and is rated as moderate. We hiked up to the top and I have to say the view from the bottom is better, however, hiking 2.4 miles and up switchbacks to the top of the falls is still worth the effort!
The drive is about 30 minutes East from Portland and definitely is worth a visit. You can check out more about the falls here.
Wahkeena Falls
A unique waterfall. The watery staircase snakes up to the tiered falls at the top. A 0.2 mile gentle hike is all you need to watch the water flow back down to the parking area. The trail is also connected to the trail that climbs to the top of Multnomah Falls. So, basically, you get two falls for one with the Multnomah Hike.
Horsetail Falls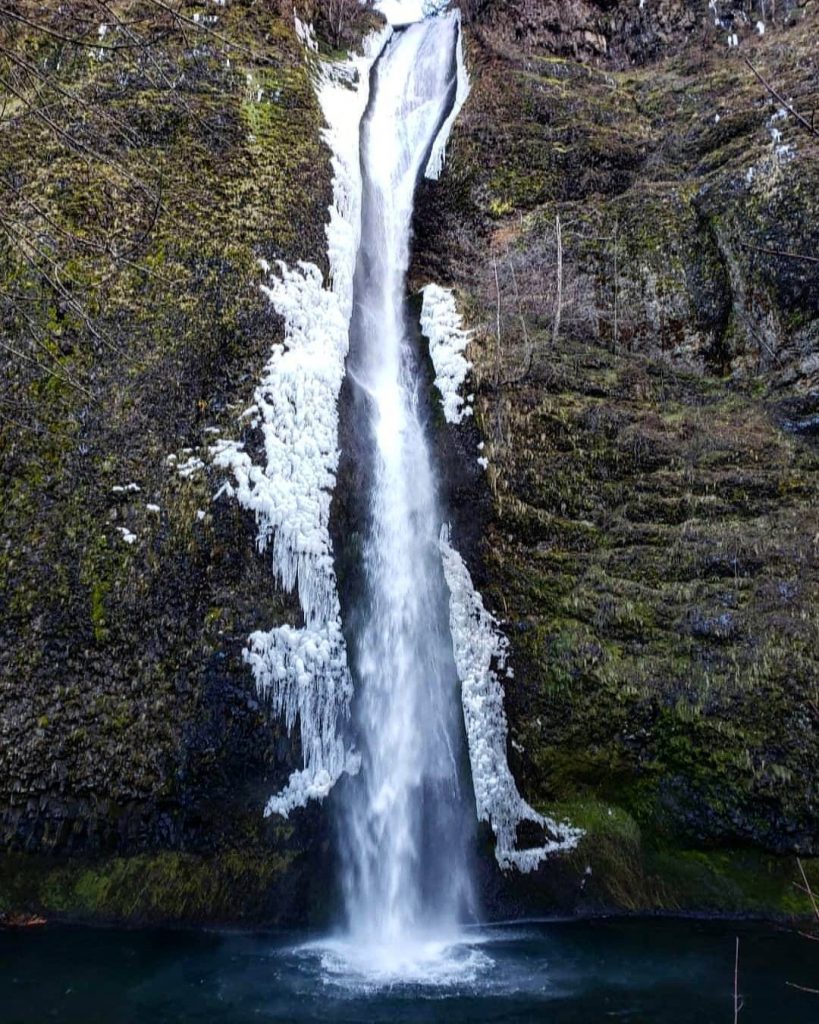 This 176 foot waterfall is the first you'll see if you enter the Oregon side of the Columbia River Gorge from the east. Be sure to park before you gawk! Cross the two-lane Historic Columbia River Highway to get to the viewing platform from the parking lot. If you walk down to the pool at the bottom, the sound of the falls will take over and you won't hear cars or people talking above you. Bliss.
Portland Waterfalls with A Short Hike?
Fairy Falls
If you continue on the Wahkeena Trail for just over a mile, you'll find this lovely fan type waterfall. Because Fairy Falls looks like it came straight out of a storybook, these falls attract many visitors. The fairy falls are not as magnificent as Multnomah, but they are so beautiful as they gracefully fall to the ground. It's about a 2 mile hike and fairly easy to navigate.
Check out more about the falls here!
Oneonta Falls
A classic Columbia Gorge experience on a hot day. The trail to the lower falls is about a mile out and back and involves some shallow wading in the cool water. Unfortunately, the trail to get to them is currently closed due to damage from the Eagle Creek Fire, but the falls will be glorious when the trail reopens.
Bridal Veil Falls
This area is now considered a ghost town, but the post office remains in business for brides-to-be eager to send wedding invitations from Bridal Veil, Oregon. The 120 foot falls can be seen halfway between the short 1.4 mile out and back hike and are a stunning sight. Stairs help you up to a romantic viewing platform. There aren't usually as many people here as there are at the more accessible falls.
Latourell Falls
You're in for a treat with Latourell Falls. The lichen-covered basalt formations surrounding the falls will have you stunned. The powerful mist coming from the falls is refreshing on a hot day. You can see the lower falls from the parking lot, but the 2.1 mile trail will lead you straight to the action at the bottom and to the upper falls.
Silver Falls State Park
We were heading south of Portland to Eugene for my son to visit the University of Oregon. On our way down we decided to check out Silver Falls and they were spectacular. It's about an hour south or Portland.
This area boasts another group of epic waterfalls that you can't miss. The Trail of Ten Falls is a 7.8 mile hike tucked in a canyon in Silver Falls State Park with several trailheads to start from. As advertised, the trail contains at least ten notable and bucket list worthy waterfalls, as well as several smaller seasonal falls. This is a popular area and you will see many other people along the way.
Overall the trail is an easy to moderate, but often muddy, hike that features waterfalls you can walk behind. That's right! There are even a few benches you can use to have a picnic or meditate on. It's an incredible experience. Their names are simple, but their impact is powerful.
See the backside of water at these Silver Falls
South Falls
One of the most iconic falls in the park. South Falls is a 177 foot masterpiece that you can enjoy from every angle.
Lower South Falls
Wider and shorter than South Falls, Lower South Falls fans out to a wide shower-like appearance. These falls will give you a show from the slender trail carved through basalt.
Middle North Falls
Another set of vertical curtain falls that has a narrow walkway behind it. It's a truly magical experience.
North Falls
Our final walk-behind falls. The deep alcove allows for many visitors and several benches to choose from. A stone staircase leads down to the falls and allows for many different perspectives of the falls.
Less Populated Falls
Willamette Falls
Want to know something cool? Willamette Falls is the second largest waterfall (in volume) in the United States! Its location is tricky. The falls are surrounded by an abandoned paper mill (Oregon City side) and an active paper mill (West Lynn). There is a platform to view the falls on toward the end of the promenade in Oregon City. You'll likely hear and see barking sea lions and fishing boats nearby. Sturgeon love the area!

University Falls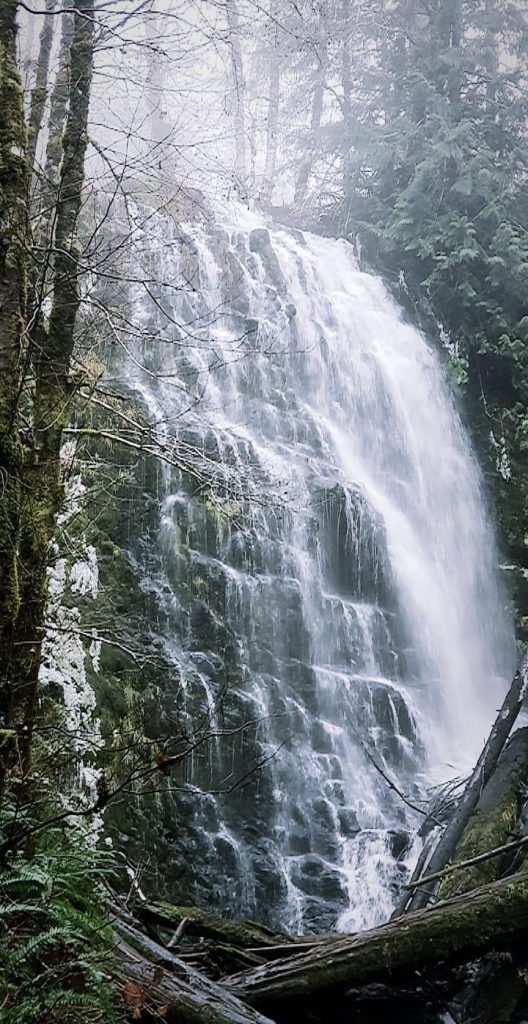 An honorable mention due to its relative solitude, stunning display, and ease of access. These falls are located in Tillamook County near several clearcuts and ATV roads. They are best viewed in winter and there are great picnic spots available (ground, no tables) if the weather allows it!
Ramona Falls
These falls are located on the Pacific Crest Trail near Mount Hood. The trail is 7 miles roundtrip and it might be difficult getting little ones to see them. Getting across the Sandy River can be tricky and dangerous, so arm yourself with knowledge and humility before attempting the trek. The thin and misty veil of water in a wide cascade will be your reward for your bravery.
Panther Creek Falls
In my opinion, we saved the best for last of the portland waterfalls. Panther Creek Falls is a chaotic and complex set of falls that is harder to get to than many of the others. It's located near Carson, Washington in the Columbia River Gorge. The trail is under a mile out and back, but the trail is unmarked. Sometimes you'll be able to spot an arrow painted in the road that points to the trailhead. The viewing platform is the safest place to feast your eyes on this wonder, though some dangerous and discouraged slippery rock scrambles will get you to the bottom. Take care not to underestimate these rustic trails and stay safe!
There are countless more waterfalls to explore near Portland. It's easy to see why photographers and adventurers are drawn to this fairytale landscape. If you take the time to sit and feel the awesome power of waterfalls, you will be surprised by how therapeutic they prove to be. That being said, may your trails be happy, and full of waterfalls and adventure.
Map of Portland Waterfalls & Surrounding Are Waterfalls
Looking for more amazing Oregon Adventures – Check out Crazy Family Adventures – 26 OREGON COAST ROAD TRIP STOPS YOU DON'T WANT TO MISS
Have Questions about Portland or Portland Waterfalls? Feel free to leave a comment or DM us on our Instagram Page!
You Might Also Enjoy:
Seattle Marina- 8 Amazing Things To Do With or Without Kids in Tow
Amazing things to do in North Shore Oahu! My favorite part of Oahu!
Pin for Later – The Incredible Portland Waterfalls [15 to Check Out]!