Every year after Christmas Break, my kid's first question is "What are we doing for Spring Break?" Thus, begins our search for the ultimate spring break. This year we decided we wanted to do an adventure in the snow. After our amazing summer in Deer Valley, we decided to head back to Utah for some Spring Break Skiing. Here is why you should check out Utah for Spring Break Skiing
The Ski Utah 5th & 6th Grade Passport
Skt Utah has an amazing program if you have kids in the 5th & 6th Grade. for just $45 your 6th grader can ski at 13 different Utah resorts one time. And for 5th graders, the deal is even better. For $45 your 5th grader can ski or ride 3 times at each of Utah's resorts. With Shea being in 6th grade and Ella being in 5th grade this deal is perfect for our family.
If that wasn't enough the pass has a ton of other bonus offers including discounted buddy passes, lessons and more. You can find out more about the Ski Utah Passport here.
Incredible Luxury Resort – Stein Ericksen Resort
On our Spring Break Skiing trip to Utah, we decided to visit two amazing resorts to ski. Each offered some amazing amenities and of course incredible skiing. Our first stop was Stein Ericksen Resort in Deer Valley.

The Stein Eriksen is absolutely a dream skiing resort. From the moment you check in the service is top-notch. We checked in pretty late in the evening, it only took a few minutes to check-in and by the time I turned around to go to the room, our bags were already in the room.
Incredible Service
The next morning we set off for our first day of skiing, we first got set up with our skis and poles from Ski Butlers, which is incredible. They bring your rental gear right to the resort, size it up and make sure you are all set.
Once we were all set up the staff at Deer Valley took our equipment to our own private locker (included with stay). Once we were ready to ski, the staff assisted us with getting on our boots and brought our skis out to the mountain. It was the best. No carrying your skis anywhere, this was a real dream.
Ski Lessons
Since we are still on the newbie side of skiing we set ourselves up with some ski lessons. I was a little concerned that it might be a long weekend as Ella had zero recall of how to ski from the last time she went two years ago. (She crashed after 2 seconds of skiing). But after a couple of hours, we were all skiing down the mountain. She did an amazing job. Everyone on the mountain is super helpful as well, whether it is guiding you to which run to take, or helping a certain dad find his ski he lost on the lift (true story).
Complimentary Stein Eriksen Amenities for Kids….and Dad too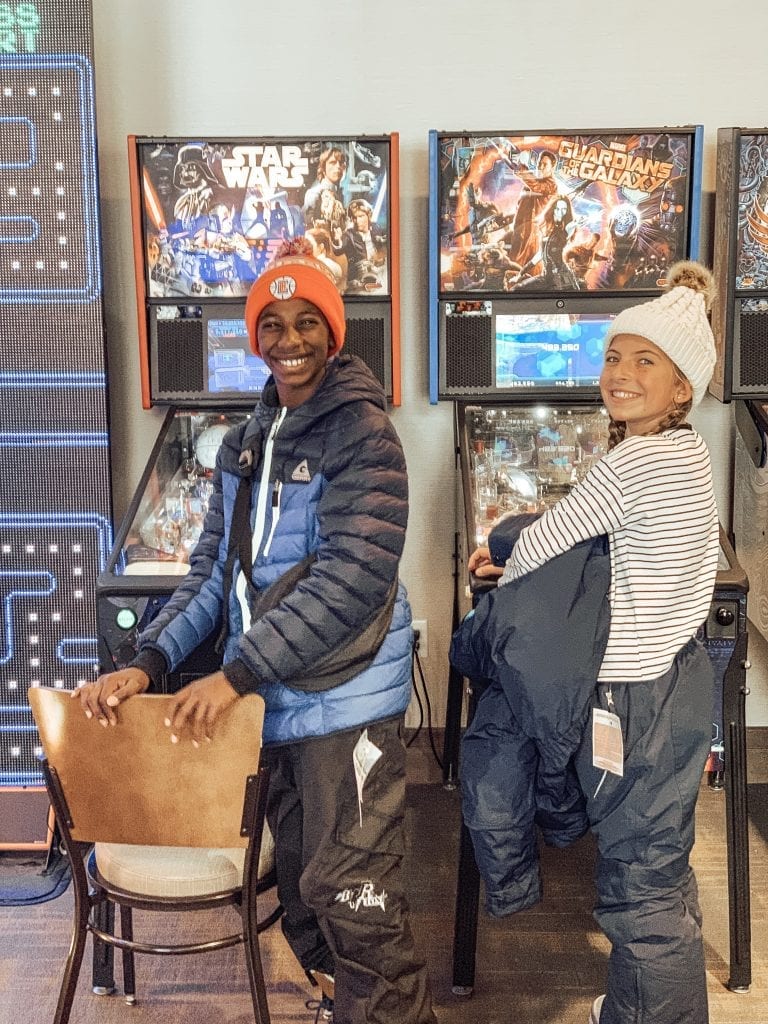 After a full day of skiing, we headed to the Champions Club at the Stein Eriksen for a little Ski Apres and some arcade games. All the games at the Champions Club are complimentary, so dad and the kiddos had a blast playing air hockey, giant Pac Man and Galaga (which my husband was very proud that he set the high score), pinball and many more. Plus, from 4-5 you can enjoy some complimentary S'mores which really is the perfect ending to the day.
Deer Valley Dining
If there is one thing you need to know about Deer Valley, it is that it probably has the best food of any ski resort you will ever go to.
Breakfast
In the morning at the Stein Eriksen Lodge guest can enjoy an exquisite complimentary buffet. I am used to concierge lounges with a few items on the buffet, this one takes it to a whole new level. There is a full hot buffet with eggs, pancakes, eggs benedict, amazing bacon, and more. Then you can grab some amazing pastries including a S'mores danish.
Plus, if you don't like the way the eggs are prepared in the buffet, say you want over easy instead of scrambled. Just ask your waiter and they will do it for you.
If you are not staying at the resort book a reservation for their Sunday brunch. I have heard it's incredible and if the complimentary breakfast was as good as it was, I imagine the brunch is spectacular.
Dining On the Mountain
One of my least favorite things is eating in the lodge after skiing. Usually, you are grabbing a very overpriced burger, sandwich or chicken tenders and it's pretty lackluster. Not at Deer Valley. I could not believe the items available at the mountain lodge. There was a full-on Pho bar which Ella loved, Shea enjoyed some unbelievable short rib tacos. Ella had to have the giant carrot cake to give her some more energy for more skiing.
Unique Dinner Experience
If you are looking for a dining experience unlike any other, I would highly recommend checking out Fireside Dining. There you enjoy a four-course buffet that is so unique. You can start off your adventure with a sleigh ride (additional charge) if you book one with your reservation. Once you are seated you begin your experience with a fireside cheese platter, where you grab a plate of cheese melted by the fire and then add on a wide array of toppings.
As you continue on your dining experience you get to enjoy so many incredible items which are cooked by the fire, including lamb, duck, stews and then finish it off with a chocolate fondue which is warmed by the fire. Ella is still talking about how amazing the cheese was.
Incredible Experiences in Heber Valley
After an amazing couple days in Deer Valley, we were heading over to Solitude Mountain. Just 15 minutes away we stopped in Heber Valley for some pretty incredible experiences. Heber is a little winter wonderland. While the summer is Heber's busy season with golfing and mountain biking, during the winter, there is still a ton of fun activities to do.
Snowshoeing in Heber
We stopped by the Heber Valley Visitor center and rented some snowshoes. There are a ton of trails to snowshoe in Heber and we hit up right near the visitors center. The kids had a blast plowing through the snow and of course, having many a snowball fight along the way. We have found ourselves come across a flock of ducks, which were absolutely adorable.
The views are absolutely incredible, you truly feel like you are walking in a winter wonderland. After a full day of skiing, we wanted to still be active but also wanted a break from skiing, so snowshoeing was the perfect experience.
In addition to Snowshoeing, you can also head to the visitor center to rent Fat Tire Bikes and Cross Country Skis
Have a Soak in a Giant Crater –
That's right you can have a soak in geothermal spring, hidden within a 55-foot tall, beehive-shaped crater. At Homestead Crater, the water is about 90-95 degrees and truly is a one of a kind experience. We had no idea what to expect when we entered the crater but it was such a relaxing experience. We all switched out of our ski clothes in the changing room provided and hopped in the water for about an hour soak.
By the time we got out, it was so relaxing the kids instantly fell asleep on the way to our next destination, Solitude Mountain. There were a ton more you can do in Heber, I really wished we had more time. Here are some of the other activities you can enjoy:
Tubing
Snowmobiling
Ice Castles
Sleigh Rides
Fat Tire Bikes
Cross Country Skiing
You can check out all the fun things to do in Heber, here!
After a day off of skiing, we were ready to once again take on the mountain and ski at Solitude Mountain Resort. When you stay at Solitude Mountain you get to enjoy a ski in/ski out experience. We headed right from our room to the slopes. The other thing I love about Solitude is how close everything is. The restaurants, ice cream shops, pool, and slopes are all walking distance, so once you park your car you'll likely not need it til you leave.
An Incredible Ski Lesson –
We once again decided to do a half day lesson to keep improving on our skiing and we were so happy we did. We probably had one of the most impressive ski instructors I think we will ever have. Helen, not only taught us so many skills that our kids were riding up banks and trying to do jumps by the end, but she also made sure she took the time to truly get to know each one of us as a person. Now to the impressive part, Helen was 80 years old (yes 80!) and she was tearing down the mountain and basically all of our goals for our life. I could honestly say all of our skiing improved more than we could possibly imagine.
The Mountain
We really enjoyed skiing on Solitude Mountain. It is still only 30 minutes from the airport but, since it is a little bit away from Park City the mountain is not as crowded. The snow was amazing and the slopes were great. Sure, we weren't skiing down any Black Diamonds but the fact the mountain was less crowded let the kids feel confident enough to take on slopes they normally wouldn't.
Delicious Dining –
Now, after Deer Valley, I was concerned that we were quite spoiled and nothing would even come close to their level of food. But, I have to say that Solitude Mountain's food was quite impressive.
In the Morning
If you are grabbing breakfast at Solitude I would recommend checking out St. Bernards. There you can get a delicious breakfast buffet. The homestyle potatoes are stellar and Shea devoured the eggs. It's a great start to the day
Dining On the Mountain
Once again I was pleasantly surprised by the dining on the mountain. At Solitude Mountain, you can enjoy some delicious Indian Cuisine at Roundhouse, which we absolutely love, plus they have there own unique twist on poutine that I recommend everyone give a try.
Dinner at Honeycomb Grill
Honeycomb grill was definitely the highlight of our dining experience at Solitude. They had a wide variety of delicious meals including a mouth-watering burger. It is in a beautiful yet relaxed setting and the food and service is truly top notch. Save some room for dessert, and I would say get the chocolate pudding (pictured above). While I am normally not much of a pudding fan, this one was incredible, topped with pretzels and a delicious sweet Chex mix, it's quite the treat.
Overall
We loved both Deer Valley and Solitude Mountain and can't wait to check out more resorts in this beautiful state! Park city is a great place for first time skiers. Our friends over at Crazy Family Adventure have an awesome list of the top family ski destinations. It includes some more spots in Utah, and is worth checking out as you plan your next trip!
Overall, for spring break skiing, Utah is an absolutely perfect spot. The snow and slopes are amazing, they have an incredible ski program if you have kids in 5th or 6th grade, plus for those who don't ski, there are a ton of fun activities to do and delicious meals to eat. All in all, we could not have had a better experience, well except for when dad lost his ski, but it made for a good story.
---
Want to learn about the best ski resorts in Utah? Check our Trekaroo's article here!
---
Questions about Spring Break Skiing Utah? Ask in the comments
20 Super Spring Break Ideas for Families in 2019 – luxe trips that won't break the bank
The Ultimate Ski Trip Packing List + [FREE PRINTABLE]
How to Choose the Best Beginner Skis for New Skiers!
Pin for Later – Spring Break Skiing – Utah
Latest posts by Mama Munchkin
(see all)