Just a short ride away from Houston and Austin lies the wonderful city of San Antonio. I recently sent my travel editor (aka my sister Emma), on a journey to discover some hidden gems when looking for things to do in San Antonio with kids.
This quintessential Texan city is bursting with culture, history, and that lovely southern charm that no one can deny. There are a lot of great things to do with your kids in San Antonio.
You will find underground caverns, great theme parks, historical sites, a wonderful zoo and aquarium, museums and plenty of amazing restaurants in this culturally diverse city.
---
1) Natural Bridge Caverns – An Absolute Must for those Adventurers
If you and your family are the adventurous types, you need to head down to the Natural Bridge Caverns. You will travel 180 ft below the surface on a family-friendly guided tour where you can see incredible underground chambers filled with spectacular formations.
The cavern tours are amazing – naturally – but Natural Bridge Caverns is more than just a cave. With surface attractions like the Canopy Explorer Ropes Course and Canopy Zip Lines, you can sky high and test your balance on four stories of obstacles above the Texas Hill Country. There is plenty for the little ones to do, too!
If you are really adventurous take on the adventure tour where you will be crawling through some tight nooks and crannies which remind me of my boys adventure caving in Banff
Look how cool these caves are!
---
2) Guinness World Records Museum
The Guinness World Records Museum has a variety of incredible attractions in one location. You and your kids can journey down into an ancient tomb of an Egyptian God with Tomb Rider 3D, or test your bravery at the Haunted Adventure.
Beyond that, you can even attempt to break your own Guinness World Record in the Attempt Arena!
---
3) Visit the Splashtown Water Park in San Antonio
With 20 acres of rides, slides, and water fun, Splashtown San Antonio is sure to delight your entire family. You'll find a massive wave pool, 40 slides of varying excitement, and fun beach games like volleyball.
This is a great thing to do with kids to get a break from the San Antonio heat! Take some time to cool off for an afternoon. It's a win for everyone!
---
4) Ultimate Mirror Maze/Vault Lazer Challenge
The Amazing Mirror Maze is easily one of the most unique and exciting attractions in San Antonio. It is a 4D experience for the entire family, which features a large maze full of thousands of mirrors and laser lights. You can go through the maze as many times as you want!
There's also the "Funny Mirrors," which distorts your features in silly ways.
Check out this a-maze-ing thing to do with kids in San Antonio!
---
5) Battle for Texas: The Experience
If you're looking to give your little ones an exciting history lesson, you can experience the Battle of the Alamo.
The experience features a large group of actors that show us the daily lives of early Texas settlers, the events that led up to the Texas Revolution, and the climactic Alamo battle. It is so immersive you will feel like you're traveling back in time to the frontier days of Texas.
---
6) City Sightseeing Double Decker San Antonio
One of the best ways to get acquainted with San Antonio is via the CitySightseeing Hop-on Hop-off Tour. You'll get to see all the best of San Antonio, from the Riverwalk to Southtown.
Along the way, you'll be informed about the city's most significant landmarks, neighborhoods, and hot spots. The hop-on and hop-off tours travel to just about every attraction on our list as well!
Book this fun thing to do with kids in San Antonio today!
---
7) The Alamo – A Historical Must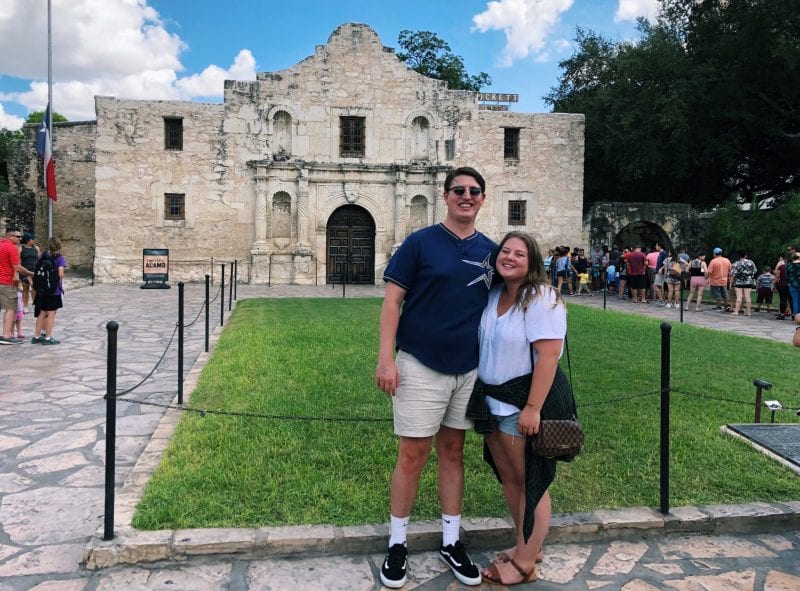 The Alamo was one of six Spanish Catholic missions founded on the San Antonio River. It was later used as a fort during the Mexican battles for independence from Spain. In 1835, during the Texas Revolution, a group of Texans occupied the Alamo. Today, it is a National Historic Landmark and museum. Admission is free, although donations are accepted.
Learn more about The Alamo here!
---
8) San Antonio Aquarium
The San Antonio Aquarium is one of the best places for sea-loving families to interact with thousands of animal species, including reptiles, fish, birds, and more.
There are plenty of interactive exhibits too, such as the touch tank. Watch jellyfish gently float and glow, admire families of seahorses playing, and see Giant Pacific Octopus snack on crawfish.
---
9) San Antonio Botanical Garden
Botanical gardens are some of the best places for people to experience the natural world in a condensed environment.
The San Antonio Botanical Garden is a large 38-acre area with tons of trails, roses, native plants, ponds, and a glass conservatory. There are 15 fun spaces that encourage unstructured play and exploration. You will also find a small cafe that you and your family can enjoy lunch when you're done!
Learn more about this fun activity to do with kids in San Antonio here!
---
10) San Antonio Detours
Don't want to deal with the hassle of creating an itinerary and following it throughout the day? Let San Antonio Detours do it for you! San Antonio Detours allows you to create custom tours for food, beer, wine, history, art, scavenger hunts and much, much more!
Their tickets sell out fast, so find your perfect tour now!
---
11) San Antonio Explorer Pass
As an added bonus, we highly recommend getting your San Antonio Explorer Pass. The San Antonio Explorer pass will allow you to enjoy deals on many of the major San Antonio attractions.
You can save up to 45% on tickets to SeaWorld, Six Flags Fiesta Texas, Texas Hill Country Ranch, and iFly Skydiving, as well as a variety of other attractions on our list!
---
12) San Antonio Zoo
Another amazing kid friendly thing to do in San Antonio is the San Antonio Zoo. From alligators to zebras, the 35-acre zoo has a collection of over 3,500 animals representing 750 species from around the globe. This is truly one of our favorite things to do in San Antonio with kids!
---
13) SeaWorld San Antonio
One of the many amazing amusement parks in San Antonio is Sea World. At Sea World, you can experience up-close animal interactions, dive into the world beneath the waves on thrilling rides like the Great White coaster, and enjoy awe-inspiring shows.
Check out Discovery Point, where you can experience dolphins through nose-to-bottlenose encounters. Be sure to catch a show or parade, too!
Book your SeaWorld experience here!
---
14) Six Flags Fiesta Texas
Six Flags Fiesta Texas has all the classic theme park fun kids love and perfect for those who have older kids.
With six distinctly themed areas within the park, there's something for the whole family to enjoy. They have everything from water rides to little kiddie park rides like bumper cars to major roller coasters. So whatever type of theme park entertainment you prefer, you can find it at Six Flags Fiesta Texas.
---
15) The Buckhorn Saloon & Museum and Texas Ranger Museum
To explore the legends of the old west, you must visit the Buckhorn Saloon at the Texas Ranger Museum. For over 131 years, The Buckhorn Saloon has been known as a spectacular gathering place.
There's a Café, Gift Shop, Shooting Gallery and two museums inside. While your kids check out the different exhibits and run around the gift shop, you can have a drink at the oldest saloon in Texas!
This is one of the most "San Antonio" things to do with kids!
---
16) Tower of the Americas
For some of the best views of the city, head up to the Flags Over Texas: Observation Deck. You'll get 360-degree views and learn about the landmarks you'll see from the top.
Then, you can fly over Texas when you take a turn on the Skies Over Texas: 4D Theater Ride. This thrill ride takes visitors to exciting scenes throughout Texas, including a Friday night football game and a space shuttle NASA.
---
17) UNESCO World Heritage Yanaguana Missions Tour – The Unforgettable Experience
San Antonio would be nothing without the historic missions that were apart of its foundation. The UNESCO World Heritage Yanaguana Missions Tour allows you and your family to explore and have a Antonio Missions national historical experience as well as gain better insight into how the city of San Antonio came to be.
Book a tour of the missions here.
---
18) Witte Museum
Another fun experience to add to your list of things to do in San Antonio with kids is the Witte Museum. Located on the banks of the beautiful San Antonio River in Brackenridge Park, the Witte Museum is San Antonio's premier history and science museum. It was established way back in 1926.
You will learn all about the history of Texas, dating back to prehistorical times. It is one of the best places in Texas to experience nature, science, and culture, all in one building!
Check out the museum! It is a great for things to do in San Antonio with kids!
---
19) San Antonio Spurs
If basketball season is underway (October-April), catching a San Antonio Spurs game is a great experience for families and friends of all ages. Delicious food, world-famous basketball players, entertaining half-time shows, the legendary Coyote mascot are a few reasons you'll have a blast at a Spurs game.
The San Antonio Spurs are 5-Time NBA Champions. The team plays its home games at the AT&T Center in San Antonio.
You can check the schedule here!
---
20) LEGOLAND Discovery Center San Antonio
Visitors to LEGOLAND Discovery Center can enjoy 2 rides, a 4D cinema, MINILAND San Antonio, 10 LEGO Play Zones and more! Families with children ages 3-10 won't want to miss out on the fun!
The Discovery Center is located inside the Shops at Rivercenter in the heart of downtown San Antonio, steps away from the historic Alamo and World-Famous River Walk! Make sure you add LEGOLAND as another bucket list item for things to do in San Antonio with kids!
It is really affordable, check it out.
---
21) The DoSeum
DoSeum is a great place to have hands-on experiences. "Through interactive play, we inspire a journey of life-long learning, ultimately enriching lives and positively impacting the community."
---
22) Morgan's Wonderland
Morgan's Wonderland, the world's first ultra-accessible family fun park, encompasses 25 acres of rides, attractions and activities for everyone, and all are welcome!
http://www.morganswonderland.com/
---
23) San Antonio River Walk
Explore the San Antonio River Walk's official website for family-friendly fun year-round; parades, festivals, museums, shopping, entertainment, dining, music, culture, and history are just some of the fun that awaits!
---
24) Ripley's Believe It or Not! San Antonio
Kids and adults alike will get a kick out of all the strange and unbelievable things at Ripley's Believe It or Not!, the strangest place in San Antonio.
Visitors can browse through 18 themed galleries with over 500 exhibits in this "Odditorium" dedicated to examining the bizarre and unusual phenomenon.
How about practicing your laser tag shooting skills on an exciting adventure through a world of monsters and mayhem on the Tomb Rider 3D Ride? This interactive ride takes you on a journey to the ancient tomb of the Egyptian God, Anubis. Make sure to add this to the list of things to do in San Antonio with kids!
Learn more about Ripley's here.
---
25) Ripley's Haunted Adventure (Terror on the Plaza)
Put your bravery to the test with this haunted house experience. Featuring real, live actors, creepy artifacts and props, and mind-bending special effects, it's a truly harrowing experience.
Here's more info about the creepy experience.
---
26) Wild Encounters – The Unforgettable Experience – An Absolute Must
Wild Encounters is one of San Antonio's "Unforgettable Experiences" that allows you and your family to get up close and personal with some of nature's largest mammals! While seeing the elephants and giraffes is a spectacle on its own, the real treat is getting to feed the zoo's hippos!
Learn all about this unforgettable thing to do in San Antonio with kids here!
---
27) Pedicab Tours –
Forget Uber! One of the coolest ways to see the city of San Antonio is on a pedicab tour! These tours will take you to all of the hidden gems that San Antonio has to offer!
---
Map of Things to Do in San Antonio with Kids
---
Why You Should Go
You've heard the saying that "everything is bigger in Texas".
The biggest thing, however, will be the everlasting memory of visiting a one-of-a-kind city with your little ones. San Antonio truly has it all, and we hope our list of things to do with kids has inspired you to go outside your bubble during your San Antonio vacation!
---
Pin-It for later: 27 Amazing Things to Do in San Antonio with Kids
Is there any noteworthy San Antonio spot that we left off of our list? Let us know in the comments!
If you enjoyed learning about things to do in San Antonio with kids, you May Also Like:
The Best Texas Getaway for Families; Rough Creek Lodge and Resort
12 Wonderful Things To Do in Waco, TX [Magnolia & More!]
Why I Love Loews Ventana Tucson Canyon: a Family-Friendly resort
Is San Antonio a good place to visit with kids?
San Antonio is probably the best place in Texas to visit with kids. There are amazing amusement parks, zoos, historical sites, and so many family friendly restaurants.
Can kids go to the Alamo?
Yes, An Alamo Trip Guide leads a one-hour tour, which includes stops to the Alamo's historic church and battlefield before coming to an end at the exhibit. The cost is $40 for adults (12 and older) and $30 for kids (ages 5–11).
How many days do you need in San Antonio?
3 days seems like the perfect amount of time to visit San Antonio. There is plenty to do for a longer trip, but 3 days seems like the best to get a good feel for San Antonio