Mill Ave. may be most well known for its popularity among Arizona State University students, but before the sun sets and the bars open their doors, the Mill Ave restaurants are actually a great place to grab a meal with friends or family.
The street is lined on both sides with tons of options from breakfast to dinner with great vibes and super friendly service. Here are a few of our favorites that we think you'll enjoy.
---
The Best Mill Ave Restaurants for Families
When it comes to family-friendly dining options near Mill Avenue in Arizona, there are several restaurants that offer a welcoming atmosphere and delicious meals to satisfy both parents and children. Here are some of the best Mill Avenue restaurants that families are sure to love!
---
This is one of the most popular breakfast spots in town, but don't be intimidated by long lines on the weekend because they move quick. After you wait in line to order, you can sit wherever you'd like. Their patio area is great on sunny mornings.
I can't decide if their sweet or savory breakfast options are better, so I say try both. PS they have lunch too and it's pretty delicious! A full kid's menu is available too!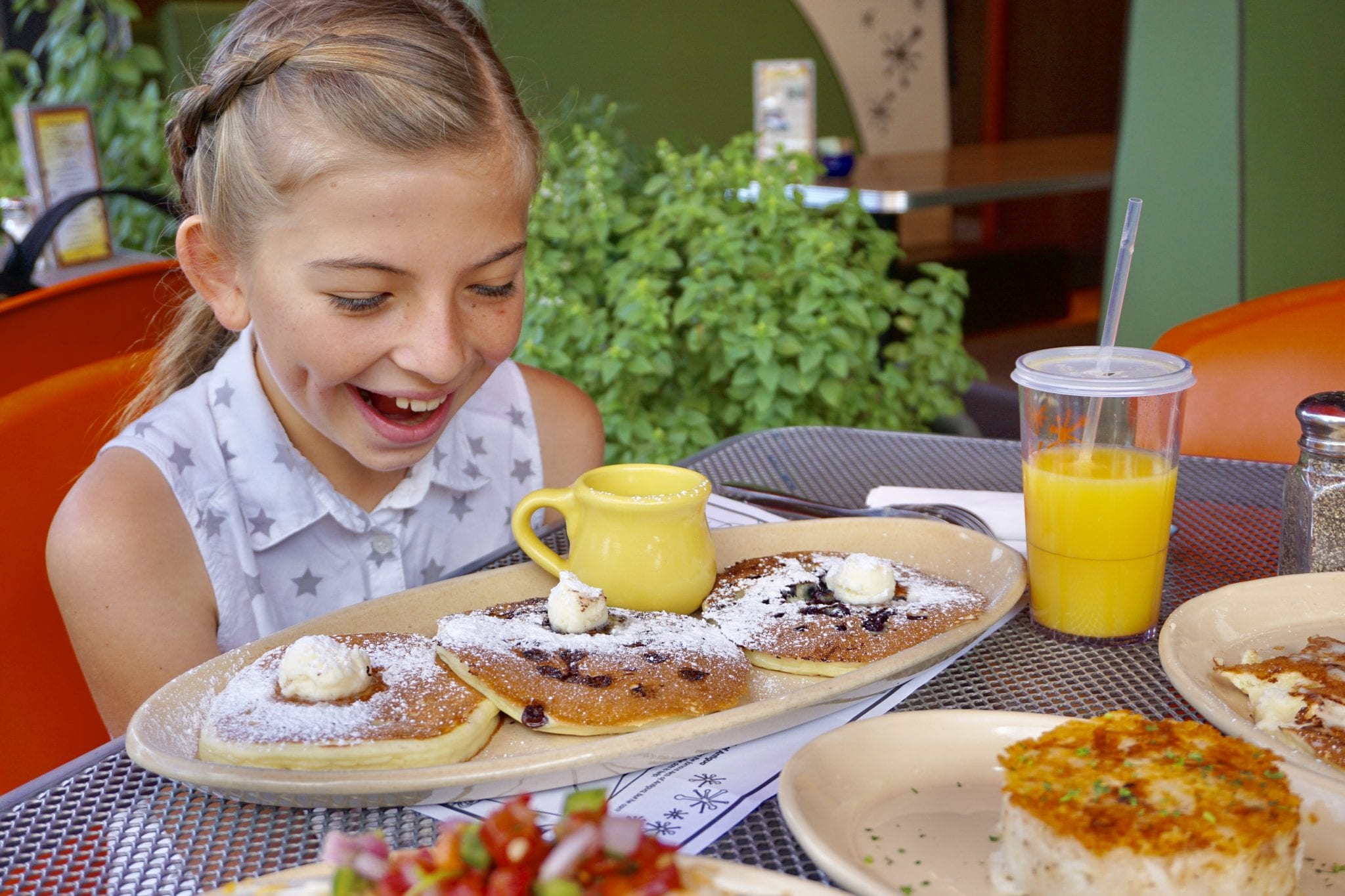 ---
Whatever your breakfast craving is, sweet or salty or crazy, Snooze has it all. We love their pancake flights because you can choose any combination of 3 pancakes! Their pineapple upside-down option is one of our favorites.
As for salty, their breakfast burritos are delicious and will keep you full all day long. The vibes in this place are great and they are sure to kickstart an awesome day. Snooze is not actually on Mill Ave, but one street over on College which is a really quick walk. The kids will also love the ping pong table set up on the patio.
---
Located in a historic building, Postino Annex is a popular spot known for its extensive selection of bruschetta, salads, and paninis. The restaurant offers a relaxed ambiance and a spacious outdoor patio, making it an excellent choice for families looking to enjoy a leisurely meal together.
---
Blasted Barley [for brunch on Mill Ave]
Blasted Barley is serving up brunch from 8 to 1 pm, and when you see how fun and relaxing their patio is you might just want to stay that whole time.
They've got huevos rancheros, biscuits and gravy, and a French toast breakfast sandwich that you have to try. Endless mimosas are only $15, which is definitely a steal around here.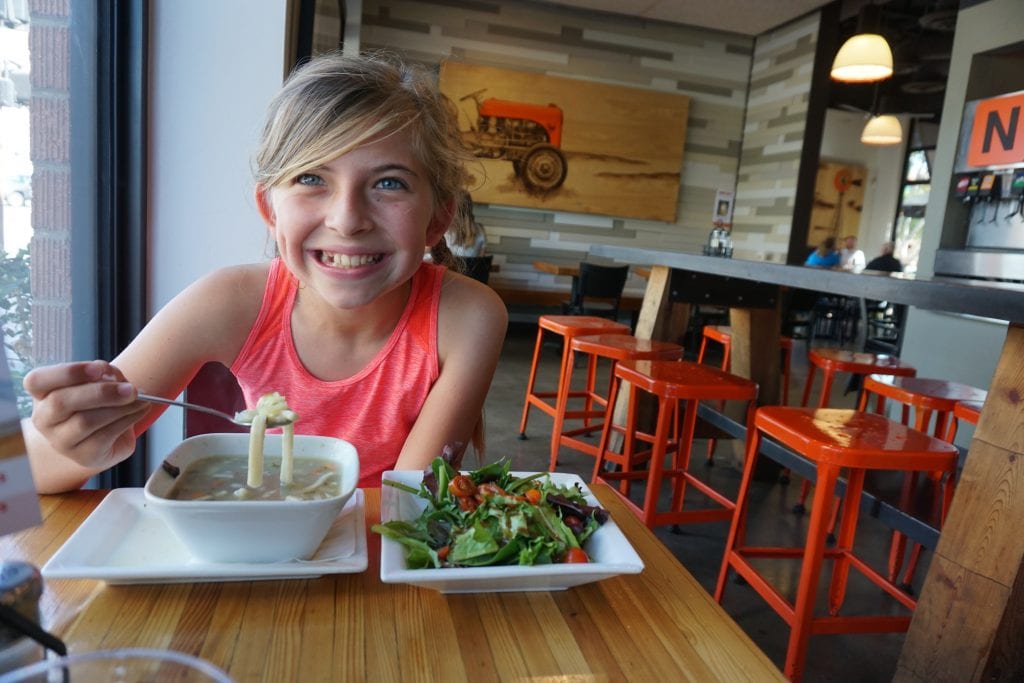 This isn't any ordinary taco shop, but it sure is tasty. Tacos come loaded with a special garlic sauce and lots of feta, which is a surprisingly yummy twist the adults and adventurous kids will LOVE.
Their Taco Tuesday specials are what they're known for, but the line can get pretty long so unless you're really pinching pennies or have some time to spare I would come any other day.
---
Rehab Burger Therapy
Wings, burgers, pasta, sammies, salads and so much more make this the perfect Mill Ave restaurant for all of us who are just a little indecisive. It was founded by a group of friends who just wanted a place to remember "the good ole days" and it radiates that friendly open vibe.
---
Spinelli's Pizza
If you ask any college kid walking down the street where to grab a pizza slice, they will definitely point you towards Spinelli's. The slices are piping hot and giant! You can run in to grab a quick slice or stay awhile and enjoy the full bar and college atmosphere.
---
Desert Roots Kitchen
Desert Roots is so unique with its daily changing menu of made from scratch vegan food. You can tell their staff truly believe in their food movement and pour love into the restaurant. They make healthy taste oh so delicious.
---
La Bocca Urban Pizzeria + Wine Bar
This is probably one of the most trendy Mill Ave Restaurants, making it perfect for a date night. Their wood-fired pizzas are delicious and just the right size for sharing.
Happy hour is every day at this Mill Ave restaurant from 3-6:30 pm with tons of food and drink specials. They don't offer a kid's menu but most of the items on the menu are kid-friendly and shareable like pizza & pasta.
---
Ra Sushi Bar [Best Sushi Restaurant on Mill Ave!]
RA Sushi Bar has multiple locations throughout the valley and they've got an amazing reputation for serving fresh delicious sushi which is pretty impressive being out in Arizona. Their presentation is always beautiful and they have a happy hour + reverse happy hour.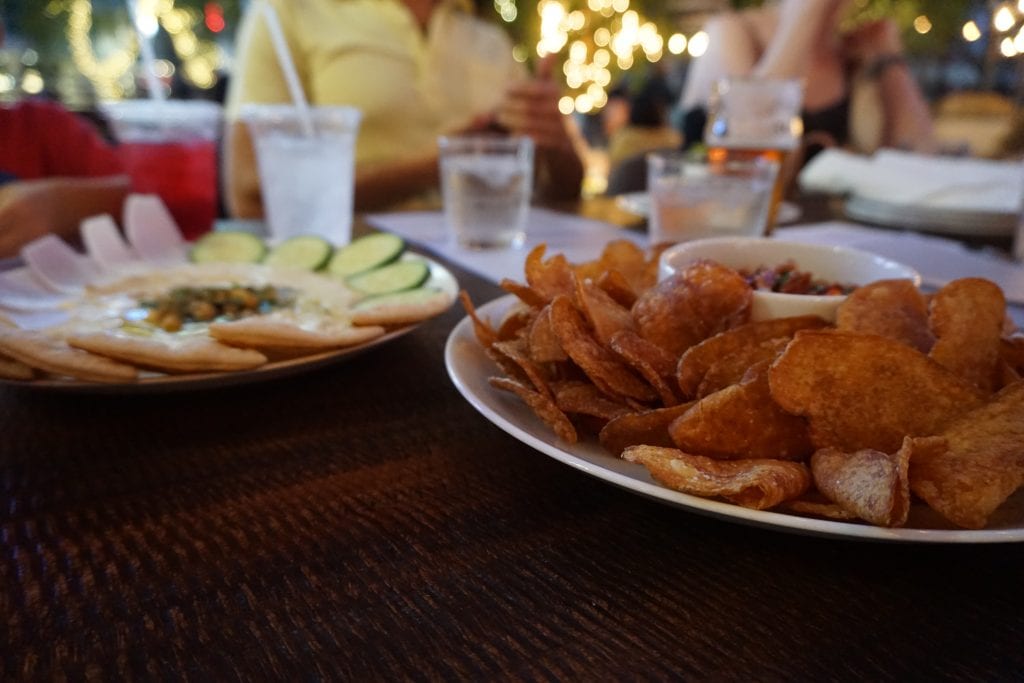 ---
Pedal Haus
Lunch and great craft beer options are what Pedal Haus does best. It's a great place to share appetizers with lots of friends. The atmosphere is great and pretty much a beer garden with lots of outdoor seating and even fireplaces to sit around.
Don't miss out on their all day Sunday specials like ½ off wings and $3 beers.
---
Slickables [Favorite Dessert Spot on Mill Ave!]
Ice cream shops are all pretty great, but ice cream shops that specialize in making ice cream sandwiches are the best. Slickables has a variety of fresh baked cookies and yummy ice cream flavors, so you can come up with your perfect ice cream sandwich.
They have gooey chocolate brownies as an option too.
---
Sparky's Old Town Creamery
Ella couldn't stop talking about the delicious creamy creation she put together at Sparky's. This cute independent ice cream shop offers a wide selection of ice cream & sorbet flavors but, what kids will love, is the ability to choose different candy toppings to get mixed in.
---
Tell me about your favorite Mill Ave Restaurants in the comments below!!
---
If you enjoyed reading about Mill Ave Restaurants, you might also enjoy:
THE 10 BEST TEMPE MARKETPLACE RESTAURANTS YOU'LL LOVE
TRAVEL EXPERTS REVEAL THE BEST LUXURY RESORTS FOR FAMILIES!
THE 14 BEST OLD TOWN TEMECULA RESTAURANTS YOU'LL LOVE!
---
*Disclaimer- this post is in partnership with Tempe Tourism. All thoughts and opinions, as always, are 100% my own.
Learn more about Mill Avenue Restaurants and Downtown Tempe at here.
---
Pin for Later- The Best Mill Ave Restaurants for Families you'll Love!