Being from Southern California we often take for granted all the amazing things Southern California has to offer families. So, as our oldest is headed off to college we have been trying to do some of the things he has always wanted to do, and to our surprise, one of those was a Southern California road trip. We only had 5 days to accomplish our road trip so we tried to pack in as much fun as possible from Hollywood down the coast.
*This post is in partnership with Visit California, all thoughts and opinions are our own.*
Day 1 – Hollywood
Our first stop on our trip was Hollywood, the kids hadn't been to Hollywood in over 11 years and we have never stayed there overnight so they were pretty excited to check it out. Let's check out all the things to do in Hollywood.
Dine LA Taco Trek
We arrived in the evening to Hollywood and with a bunch of teenagers, the first stop was bound to be food. And the one food that our whole family can get behind is our love for tacos. Los Angeles, has the Dine LA Taco Trek where you can explore the 25 Best Tacos in Los Angeles.
We visited Pico's Sky Gourmet Tacos which are known for their amazing shrimp tacos and their "sassy sauce" The shrimp tacos are soooo good, you can't beat it. I would also recommend trying out their steak tacos and shrimp burrito, all were phenomenal.
---
Shopping at the Grove
After our dinner, we headed just a mile down the road to enjoy some shopping at The Grove. The Grove is a beautiful outdoor shopping destination. In addition to the wonderful shops, they have a trolley car to take you around the Grove, movie theaters, dining and a Farmer's Market. Ella ended up visiting the 3-story Barnes & Noble and stocked up on some new books (we will provide a list of her favorite books soon).
Day 2: Hollywood
Rent Scooters & Explore Hollywood Blvd.
Hollywood Blvd is filled with tons of Iconic sites from iconic theaters like Grauman's Chinese Theater, El Capitan, Pantages to the stars on the Walk of Fame. Hollywood Blvd goes for quite a while and there is a ton to see. Dad and the boys woke up early and decided it would be fun to rent some bird scooters and check out all the iconic sites before the crowds arrived. It was a great way to get around.
In a little over an hour they got to see all the sights plus had a blast motoring around Hollywood.
---
Universal Studios
If you are doing a Southern California road trip with the family it is pretty much a given you have to visit Universal Studios. Each year Universal Studios seems to add more fun and entertainment to their park. This year the new rides we had to check out was the revamped Jurassic World ride, which was absolutely incredible. Far better than the original. We also checked out the new Pets ride which my daughter Olivia loved.
Of course you have to check out the Wizarding World of Harry Potter while you are there and the iconic Universal Studio's tram tour. I will do a whole post on Universal in the next coming days, because there is so much to do.
*Pro Tip* – If you don't have much time purchase the Universal Express Pass. We did and got on every major attraction during the 6 hours we were at the park.
---
One of a Kind Dinner at Barton G
I am not the type of person to splurge on a dinner, but when one of my cousin's told us about Barton G, we had to check it out. Every dish is served in some sort of extravagant display.
We started off with some appetizers, the popcorn shrimp, which of course came in a popcorn machine and a garden salad which arrived in a wheel barrow.
For entrees, the displays become even more extravagant. The filet mignon arrived with a 4 foot fork, the honey glazed fish arrived in a bee keeper contraption and the chicken arrived in a bird cage. On top of that the dinner itself was absolutely delicious
For dessert we enjoyed Marie Antoinette's cotton candy head and the funnel cakes which were served with a carnival game that actually worked. It was simply amazing. This place is definitely unique and worth a visit.
---
Where to Stay in Hollywood – Kimpton Everly
We stayed at the Kimpton Everly and loved it. It is centrally located to everything in Hollywood, a few blocks to the walk of fame, a 5 minute drive to Universal Studios and we had a room where we could see the Hollywood sign. For large families like ours they have a one bedroom suite with an adjoining room. It was perfect for our large crew and the styling of the rooms, especially the bathroom was so cute.
While you are at the Everly check out Jane Q, their breakfast establishment. The avocado toast was our favorite. In addition to great rooms there is a fun lounge on the lobby floor where the kids enjoyed playing pool, and speaking of pool (this time the water kind) their is a rooftop pool where Olivia swam to hearts content.
Day 3: Huntington Beach
On day 3 of our Southern California road trip, we took a 45-minute drive south to the ocean and one of my favorite beaches in the world Huntington Beach. There are so many things to do in Huntington beach, it is ridiculous. You could easily spend a week there and not run out of fun things to do.
Huntington Boat Rentals
Our first stop in Huntington Beach was Huntington Harbor Boat Rentals. There we chartered a Duffy boat and cruised around Huntington beach harbor. It is super fun to relax on the water for a few hours. I highly suggest picking up some sandwiches and drinks from Jan's Health Bar and enjoy a nice meal on the water.
Pool Day at the Waterfront Beach Resort
After our boat ride, we decided it was time to do a little relaxation at the Waterfront Beach Resort. After we checked in we headed to one of their two pools. The first pool we checked out had two waterslides, a jacuzzi, a massive pool, and a sand area all set out with a beautiful view of the ocean.
This was the perfect spot for the kids to get out their energy while mom and dad relaxed and unwound. We also headed over to the other pool on the north side of the resort. This pool is also massive with a jacuzzi but has a more relaxed vibe as there are no waterslides and thus fewer children.
Dinner at the Iconic Duke's Restaurant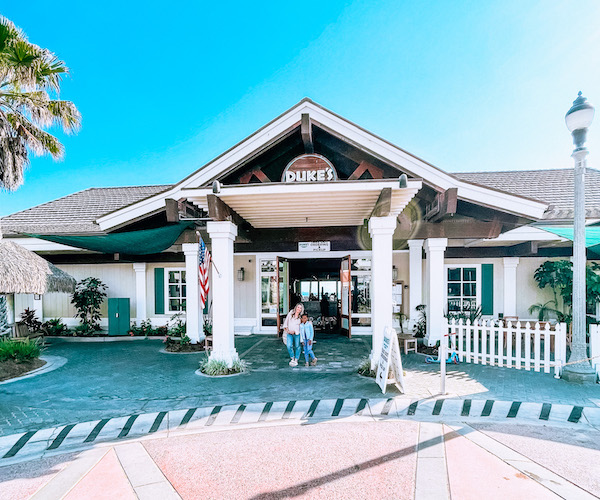 Located right next to the pier, Duke's Huntington Beach is our favorite place to dine every time we come to Huntington. Whether you are enjoying a delicious Mai Tai, their awesome Macadamia Nut crusted fish, or have their famous Hula Pie, this place is a delight.
In addition to those staples, we also devoured the nachos (perhaps the best we ever had) and fish tacos. I suggest making reservations as the place does book up.
Walk the Pier + Sunset Bonfire & Smores
After the delicious dinner, we were quite stuffed so we talk a walk along the beautiful Huntington pier before we headed over to the Sunset Beach Bonfire. This turned out to be one of our favorite things to do in Huntington beach. Head over to Huntington beach's Waterfront Adventures and book a sunset bonfire package.
You can customize the package with S'mores or hot dogs and chips. It is the perfect way to enjoy a beautiful Huntington beach sunset.
Where to Stay – Waterfront Beach Hotel
As you can tell by our pool day, we were staying at the Waterfront Beach Hotel. This hotel is the perfect place for a family to enjoy Huntington beach. The location is perfect, right across the street from the beach and just a couple of blocks to the pier.
As you read above the pools are an absolute blast. On top of that, we loved the beach-themed rooms with amazing views. We had two connecting rooms to fit our large family which were perfect for coming back after a fun day at the beach.
Day 4: Huntington to Oceanside
After a delicious breakfast at Mama's on 39 in Huntington, we headed further south (just about an hour) to Oceanside, California for some more beach fun. Oceanside is once again one of those places with so many things to do, so we had to pick out spots with limited time.
Kayaking and Paddle Boarding
One of the things we have never tried in Oceanside was kayaking and paddleboarding in the harbor. So we stopped by Boat Rentals of America and rented a few boards and kayaks for an hour. It turned out this was one of our favorite places to rent kayaks. Kayaking and Paddleboarding is fun on their own, but in Oceanside, you have the chance to see all sorts of marine life, from seals to sea birds to sea lions. It was pretty amazing!
Lunch and Pool Time at the Resort
After a very busy morning, we decided to unwind at our resort The Seabird (I will go over how much I love this resort a bit later) and have a little lunch by the pool. The Seabird has such an amazing pool, it is set out looking over the beautiful beaches of Oceanside. The service is amazing as well, there is always someone around to set up a chair for you, offer fresh towels, or whatever else you might need.
We rented a cabana to unwind and take a break from the sun. It was the perfect break we needed before we adventured out for some more activities.
Sight Seeing & California Surf Museum
Later in the day, we decided to do a little sightseeing and also hit up the surf museum in Oceanside. Our first stop was the Top Gun House, the iconic house was recently moved and of course, we had to swing by it.
Next, on our journey were the murals of Oceanside. Oceanside has some incredible murals around town. My youngest absolutely loved them and would point them all out as we drove along the road.
After snapping some pics of some cool murals we swung by the California Surf Museum. The California Surf Museum was one of those museums you have to take the kids to. My kids are not the museum-loving kids I wish they would be, but this museum absolutely grabbed their attention. There are so many amazing exhibits from the story of Bethany Hamilton to the timeline of surfboards. Everybody absolutely loved this stop. It is a must-see in our book!
For dinner pretty much everyone was craving pizza. We went off to Privateer Coal Fired Pizza for some dinner. Although everyone was craving pizza, most veered off their original plan when they saw the menu. They had some amazing pasta dishes, Ella got the shrimp Linguini and Shea went with Spaghetti and meatballs. Plus their appetizers were amazing (Get the Garlic Crostini!).
Our favorite dish was the Cassidy Pie, Tomato sauce, shredded mozzarella, Grana Padano, pineapple, jalapeños, pepperoni. It was such a good pizza and with that little bit of spice that I love.
Oceanside Pier
After dinner, we headed to Oceanside Pier and then took in a local street fair, which had some amazing Hawaiian Malasadas. The pier looks beautiful at night so I highly recommend checking it out.
Day 5: Oceanside
Just because it was our final day in Oceanside, did not mean we were going to let it ruin our fun.
We slept in a little on our final day and then we were all ready for a nice big breakfast. We headed over to Beach Break Cafe because we heard about their amazing coffee cake and banana nut-crusted french toast. Be prepared, the portions at this place are massive, our eyes were definitely bigger than our appetites.
Surrey Bikes with Wheel Fun Rentals & Some Beach Time
After breakfast, we headed back towards Oceanside pier to enjoy the beach for the day. I don't know what it is about a surrey bike, but the kids and I always love to do it. There is just something about a bunch of people piling onto a bike that makes everyone laugh and have a good time. We grabbed ours from Wheel Fun rentals which have surrey bikes all along the coast of Southern California from Coronado to Oxnard.
We really enjoyed the surrey bikes here because you could simply ride along the beach the entire time. After, surrey bikes we took some time to enjoy the beach. My oldest brought along his surfboard to enjoy some surfing and the rest of us just enjoyed playing in the sand and water.
---
Final Stop – Shopping
As we were checking out all the murals the previous day, Ella noticed numerous shops she wanted to check out. So, after we checked out of the hotel we did a little shopping spree at some adorable shops. Her favorites were Reap & Sow – (Which I loved too because it had Clean beauty products), Rising Co which has such cute items that were exactly her style, and the SeaHive which is a cute vintage marketplace. Ella loved these stores so much, that she has planned her birthday around heading back and visiting these stores again next month.
Where to Stay in Oceanside
We stayed at The Seabird Resort, and absolutely loved it. I loved it so much I immediately placed it on our top resorts to stay in Southern California list. From the moment you walk in you know, this is going to be an incredible stay. The decor is casual but classy and the little touches (like gold plated sea bird footprints) are absolutely adorable.
I absolutely loved the rooms and you can't beat the view! Our room looked over the pool and then directly out to the ocean, it doesn't get much better than that. Inside the rooms are little touches that make your stay so much more welcoming, like the cozy robe and slippers and the high-end Illy coffee maker.
Inside the hotel is also a spa and a library. Miss Ella's first stop was hitting up the library. Like I said above, the pool is so nice, and the spa looks out directly over the ocean. We stopped by early in the morning on our check-out day to enjoy it one last time.
Overall
Overall, the Southern California road trip turned out to be one of the top highlights of this summer. If you are looking for more tips on planning a Southern California road trip check out Visit California's website here and feel free to DM us on Instagram and also check out our Visit California Highlights in our Instagram stories.