As you know, we LOVE travel in our family, and we love finding little gorgeous pockets to travel to within the US. Nestled in the foothills of the Siskiyou Mountains is Ashland, Oregon, a small but picturesque town that has become a hotspot for vacationers thanks to its loads of outdoor activities, a stellar art scene, culture, and festivals.
---
Our List of the Best Things to do in Ashland Oregon
Whether you're a solo traveler with some serious wanderlust, a group of friends looking for the ideal backdrop to kick back, or a family with children in need of things that cater to children and adults alike, you'll likely find just what you're looking for in Ashland.
Here are the top 11 best things to do in Ashland Oregon that will make your visit unforgettable!
---
Hit the Slopes of Mt. Ashland
If you're visiting in the winter, head about twenty minutes south and check out Mt. Ashland, a resort situated in the Siskiyou Mountains that boasts a vertical drop of over 1,100 feet.
Mt. Ashland offers twenty-three runs spread out over two hundred acres of skiable terrain, with something for all skill levels. The resort also has four chairlifts and a surface lift, providing access to the top of the mountain.
Seasoned skiers will love the digs offered by Mt. Ashland, but beginners will find a lot to love too since it offers a ski school on site as well.
The school offers lessons for all ages and skill levels, from beginner to advanced, so even the would-be pros can learn a thing or two!
Given its close proximity to Ashland and the surrounding Rogue Valley, Mt. Ashland is a great spot to check out if you're looking for a great place for skiing, snowboarding, and other winter sports.
---
Visit Crater Lake National Park
Famous for its natural beauty and crystal-clear waters is Crater Lake National Park, which got its name from the long-collapsed Mount Mazama volcano from which it was formed. Established in 1902, this stunning park is home to the deepest lake in the United States, and one of the deepest in the world at that.
If you're wondering if you can take a dip in this gorgeous lake, the answer is yes, but beware. The water can be quite cold, especially in the colder months of the year. If you want to get out on the lake without catching a chill, book a guided tour on a boat and learn more about the history of the park.
You and your family can hike, camp, or explore one of the many diverse ecosystems the park has including forests and meadows. A more leisurely way to check out the lake and its surroundings is by taking a drive on Rim Drive. It is over 30 beautiful miles of road that wraps around the lake, offering stunning views.
In the snowy months you can go skiing, sledding, or snowmobiling.
Keep your camera handy because you will see some of the most breathtaking views when visiting Crater Lake National Park.
---
See a Play at Angus Bowmer Theatre
Named after its founder, producer and director Angus Bowmer, the Angus Bowmer Theatre is now one of the oldest theaters still operating in the United States. Currently, it is home to the renowned Oregon Shakespeare Festival, which puts on a selection of Shakespearian plays from February through October every year since the 1960s.
Now you might be thinking that Shakespeare might fly over your little ones' heads. No worries there! The Angus Bowmer Theatre also puts on more modern plays that will keep your children engaged and entertained.
During the Shakespeare Festival, your family can catch a production, then go shopping at one of many restaurants or kick back in one of Ashland's nineteen public parks.
While "all the world's a stage," the actual stage at Angus Bowmer is a definite must-see while visiting Ashland.
---
Experience the Natural Beauty of the Rogue Valley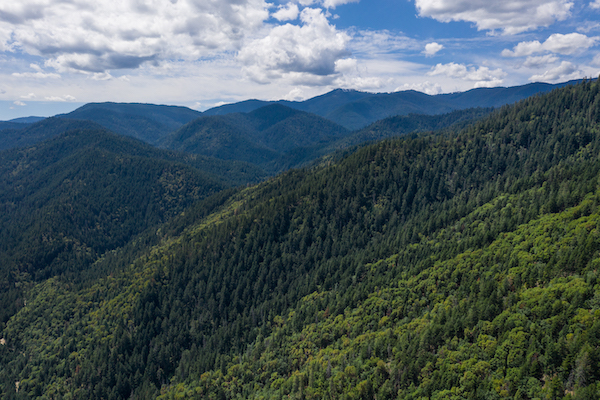 The Rogue Valley sits just north of the California border, encompassing Ashland, Medford, Jacksonville, Grants Pass, and many other areas in the region.
The valley is surrounded by majestic mountains, including the Siskiyou, Cascade, and Coastal ranges, and is home to the winding Rogue River, which offers an array of recreational opportunities such as fishing, rafting, and kayaking.
Whether you're into the great outdoors or want to check out a visually-stunning area while visiting local attractions, there's always something to do in the Rogue Valley. Visitors can explore historic towns such as Jacksonville, known for its well-preserved 19th-century buildings and gold mining history, take a scenic drive along the Applegate Valley Wine Trail, or set up a tent in one of the numerous parks in the area and kick back beneath the stars while enjoying campfire treats.
With its diverse mix of natural beauty, outdoor activities, and cultural attractions, the Rogue Valley is a unique and rewarding destination for travelers of all ages and interests, making it more than earn its spot on our list.
---
Catch a Flick at the Ashland Independent Film Festival
The Ashland Independent Film Festival, sometimes abbreviated as AIFF, showcases independent films from around the world. Founded in 2001, it has since grown into one of the premier film festivals in the Pacific Northwest.
The festival typically takes place over five days in April and features over one hundred films, including documentaries, features, shorts, and animation. The AIFF attracts filmmakers, actors, and film enthusiasts from around the world, making it a lively and exciting event.
Film buffs tend to love the film screenings primarily, but the festival also hosts panel discussions, workshops, and special events, such as filmmaker Q&A sessions and after-parties. If you're into film, you'll find a lot to love about the AIFF.
---
Visit the ScienceWorks Hands-On Museum
By day, this museum is the ideal place to bring your little scientist; by night, it's the place to be for some adult fun.
The ScienceWorks Hands-On Museum was built by families in order to help students from Oregon learn about science in an interactive way that would help them to better understand Oregon's standards for science in school. All of the exhibits are constructed in house with the help of experts.
There are exhibits to teach young minds about nature, noise, rockets, illusions, engineering, and much more. Every single exhibit is interactive, so there is no area that is off limits for even the smallest visitors.
When the sun goes down, the fun doesn't stop at ScienceWorks. The museum hosts events for guests 21 and older that revolve around a theme where visitors can dance, play, and have a drink or two.
With events held for children, adults, and families held throughout the year, it doesn't take an Einstein to see why you should visit ScienceWorks Hands-On Museum while in Ashland.
---
Go Wine Tasting
It might not hold the gravitas of Napa, but the Rogue Valley is renowned for having more than one hundred wineries, each with their own unique offerings and ambiance.
Of these, Irvine Roberts Vineyards is a standout winery, known for its exceptional Pinot Noir and Chardonnay. Visitors can enjoy stunning views of the surrounding mountains while sipping on a glass of their award-winning wines.
For those seeking a more intimate experience, Dana Campbell Vineyards offers personalized tastings in a cozy cottage overlooking the vineyards.
Belle Fiore Winery is another must-visit spot, boasting a beautiful Tuscan-inspired tasting room and a wide variety of wines, including Cabernet Sauvignon, Syrah, and Viognier.
And for those who want to combine their wine tasting with a hike, Grizzly Peak Winery offers a unique experience with its on-site hiking trail and picnic area.
Whether you're a seasoned wine connoisseur or just enjoy a good glass of wine, the Rogue Valley offers a wine tasting experience that is sure to delight!
---
Check Out the Oregon Cabaret Theatre
Inside a remodeled church is something you may not expect to find– a cabaret theater!
The Oregon Cabaret Theatre showcases musicals, comedies, and whodunits that allow the audience to get in on the action.
What is really cool about this theater is that it's a dinner (or brunch!) and a show. The menus change depending on what performance you're watching, as the food and drinks will change to reflect the setting or theme of the show.
Is there anything better than watching Kinky Boots while enjoying Pan Seared Salmon Chaudree followed by a pineapple upside down cake? I don't think so!
---
Visit Southern Oregon University and Schneider Museum of Art
Located on the Southern Oregon University Campus is the Schneider Museum of Art, which features contemporary art from prominent artists. This wonderful museum is completely free and open to visitors, families, and all members of the Ashland community.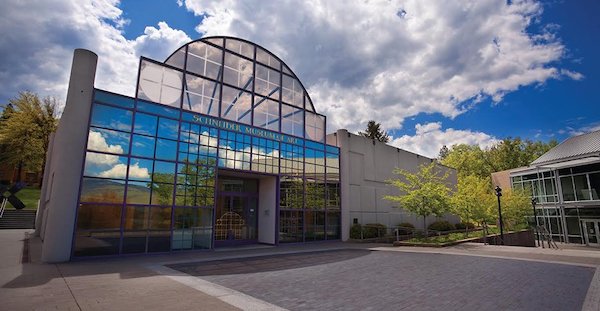 Inside you will find over three thousand pieces of art that mostly reflect the culture, history, and environment of the Pacific Northwest. There are permanent installations and work on display, but they also have temporary exhibits for up and coming artists to showcase their work.
Also, down the street from Southern Oregon University is what was once Carnegie Library. Named for the famous philanthropist Andre Carnegie, the library was built way back in 1912.
While now the original building is a children's library, it is still worth visiting to take in the gorgeous architecture and maybe stop in for story time for the little ones.
---
Go Shopping in Downtown Ashland
When I tell you that Downtown Ashland only encompasses a half-mile strip, you may be wondering how much action can be packed into a small space. Get out your notepad because there is a lot to see and do!
The Ashland Public Library has classes and clubs for all ages to enjoy. Of course, there are a ton of books, movies, and music too.
Remember the Shakespeare Festival we talked about before? Well, that's located right in Downtown Ashland.
When you reach Calle Guanajuato, there will be a beautifully painted building façade depicting a colorful village. This is where you can shop at the Lithia Artisans Market.This distinctive market provides an opportunity for local artists and crafters to sell their one of a kind pieces of work.
Not only can you buy artwork you won't find anywhere else, but the Lithia Artisans Market also participates in annual fairs where you can enjoy local food and live music.
From there you can walk or bike to Lithia Park and literally stop and smell the roses in their rose garden, unwind in their Japanese garden, or take a walk on one of their several hiking trails.
If you're still hungry, you can grab a bite at The Black Sheep Pub & Restaurant, the Brickroom, or one of several other great places to dine.
Want to burn off that delicious meal? Take a lap around Ashland Plaza Mall and step inside one of their many unique stores. Pick up some souvenirs at Simply Ashland or at Old World Artifacts.
Downtown Ashland is the place to be, and an absolute must-visit during your trip!
---
Experience the Oregon Shakespeare Festival
Ashland, Oregon is home to one of the most renowned theater festivals in the world, the Oregon Shakespeare Festival. Every year, thousands of people from all over the globe visit Ashland to witness world-class performances of classic and contemporary plays.
The Oregon Shakespeare Festival is known for its diverse repertoire, which includes not only Shakespeare's plays but also works by other playwrights. The festival's season typically runs from February to October, featuring up to 11 productions on any given day. Learn more about the festival here.
---
Frequently Asked Questions about things to do in Ashland Oregon
When is the best time to visit Crater Lake National Park?
For snowy activities, visit the park between November and May.
For summer activities, plan your visit for June through September. 
Where can I buy tickets for a production at the Angus Bowmer Theatre?
Check out upcoming plays and get tickets here!
Are food and drinks included in the price of a ticket for the Oregon Cabaret Theatre?
The ticket fee is separate from the meal and drinks. 
A separate bill will be provided if you choose to dine there.
When is the Schneider Museum of Art open?
Currently, the museum is open Tuesday through Saturday from 10:00 am to 4:00 pm. However, hours and days may change. 
Make sure to check here before your visit.
---
If you enjoyed our list of things to do in Ashland Oregon, you might also like:
7 AWESOME THINGS TO DO IN ASTORIA OREGON YOU'LL LOVE!
9 AMAZING THINGS TO DO IN NEWPORT OREGON THAT YOU'LL LOVE!
TOP 10 PLACES FOR THE BEST COASTAL VACATION RENTALS IN THE UNITED STATES
---
Pin-it for later: Best Things to do in Ashland Oregon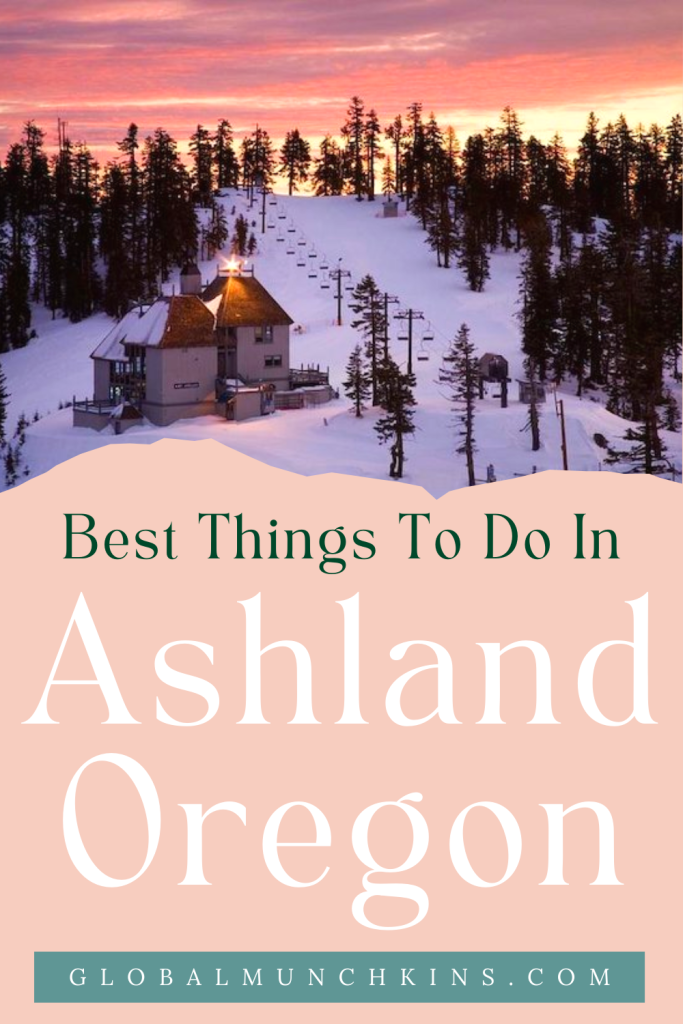 Latest posts by Ashland Hendrix
(see all)