When you tell your friends and family you're headed to Astoria, they may assume you're talking about the neighborhood of Queens, New York City. While that's also an impressive destination, it couldn't be further from the kind of experience you'll have in Astoria, Oregon.
Unlike its urban counterpart that shares its name, Astoria in Oregon is a port city in Clatsop County that provides America with their first settlement to the west of the Rocky Mountains. Located about 2 hours from Portland, this town has a storied past and sights that are drenched in history.

Beyond that, it's also a great destination for those that love country vibes and excellent seafood! Let's dive into our top picks for things to do in Astoria, Oregon
Astoria Riverwalk
Why You Should Go
Looking to marry your love for long hikes and history? The Astoria Riverwalk is just the place for you, featuring a lengthy stretch of trail along the Columbia River including a section that once was part of the great railroad that spanned across the United States.
This historic trail offers great photo ops and serenity as the perfect backdrop for a scenic stroll. One such trail culminates at Tongue Point, which is a peninsular promontory that rises over 300 feet above sea level. Lewis and Clark led their famous expedition right to this exact location in 1805 before moving onward to make camp at Fort Clatsop.
The Astoria Riverwalk is a delight for fitness enthusiasts and history buffs alike. Plus, there's almost no better place to catch a sunrise or sunset than at the end of that trail.
Astoria Riverfront Trolley
Maybe you need to give those howling dogs a rest after a brisk walk along the Columbia River, or maybe you're just not the walking type in the first place.
No matter, the Astoria Riverfront Trolley is a themed attraction that offers an inexpensive and fun-filled ride through the city, pit-stopping at some of the most iconic locations in all of Astoria.
The full round trip ride will take approximately 1 hour and visit iconic locations including the Astoria Aquatic Center, Astoria Column, Astoria-Warrenton Area Chamber of Commerce, Columbia River Maritime Museum, Flavel House, Fort Astoria, Fort Clatsop National Memorial, Fort Stevens State Park, Heritage Museum, and Uppertown Firefighters Museum..
Simplify your travel and hop on the trolley to ride as the locals once did, and sometimes still do, to all the great spots in Astoria!
Columbia River Maritime Museum
Why You Should Go
Astoria is filled with museums and attractions that are great for both inquisitive adults and naturally curious kids that love to learn while having fun.

The Columbia River Maritime Museum is one of the best spots to learn a thing or two about the local marine life and nautical history while also putting a fun spin on education. The museum boasts one of the largest collections of Pacific Northwest artifacts, as well as scientific exposition, hands-on seminars, and other fun features like 3D movie screenings available at an additional fee.
With so much to do and see at the Columbia River Maritime Museum, it's no wonder it's rated as one of the best attractions in Astoria.
Astoria Column
Why You Should Go
It may look unassuming from the ground, but the Astoria Column is one of the highest rated attractions available in town. It's also one of the literal highest attractions, stretching 125 feet into the sky to offer a 360-degree field of view to those willing to ascend its 160-plus steps to the pinnacle.
Constructed in 1926, the Column is a beacon that represents everything Astoria is known for. It is tall, proud, and rich with history.
The views of the Astoria-Megler Bridge and Pacific aren't the only thing the spire is known for. The exterior is also the home to a hand painted mural that depicts the early history of the city.
With perfectly situated adjacent picnic tables and park benches, it's a great spot to take in the views, admire the art, and have a quick and quaint lunch before getting back on the go.
Fort Stevens State Park
Why You Should Go
Who doesn't love a great park? Now drop in some age-old military equipment and hear the oohs and ahhs from your kids and family history buffs at Fort Stevens State Park.
From this sweet spot along the northwestern coast of Oregon, you have free rein to explore over 30 military features of yesteryear including barracks and cannons amidst campgrounds and coastline.
If you're not quite interested in the storied history, that's okay! The park itself is a beautiful sprawling green mecca with ample space to stretch out, walk any of the nearly 4,000 acres of trails and undisturbed nature, or lounge on the sandy beaches below.
But the real icing on the cake here is the Peter Iradale shipwreck which met its demise over a century earlier and remains a monument for visitors to acknowledge and admire on the shore. Just make sure everyone has a recent tetanus shot before touching that thing! Better yet, admire from a distance, kids. It's not a children's museum!
Downtown Astoria
Why You Should Go
Even if you have no specific destination in mind, a stroll down the streets of historic Downtown Astoria will provide you inspiration in spades.
Often considered a diamond in the rough when it comes to Oregon and the Northwestern United States, Downtown Astoria is a hub for burgeoning businesses, boutique vendors, fine dining, street eats, and with extensive art and culture sprinkled in with attractions like the George Flavel House Museum and the Oregon Film Museum as well.
Give yourself a full day to wander about and take in the sights. That way you have ample time to amble into establishments, find some sweet deals on one-of-a-kind items, or grab a quick bite of any of many great eateries in the area.
If you're really feeling the need for a little structure, you can always whisk your little ones in any of the museums or other attractions to offer some extra stimulation before taking it to the streets once more.
Heritage Museum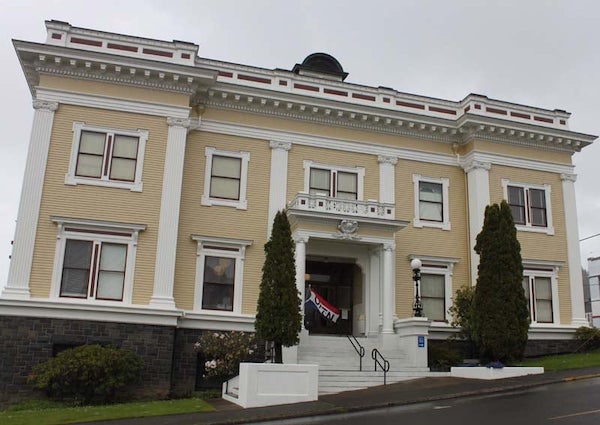 Why You Should Go
The first thing you'll notice about the Heritage Museum is the lemon yellow exterior adorned with bright white accents indicative of an old word of architectural techniques and design. Of course, the building itself is a living relic, but it also houses artifacts that are over a century old!
Protected and operated by the Clatsop County Historical Society, the museum sits perched atop a hill overlooking the downtown region making it an excellent destination after a promenade through city blocks. Inside, you can explore the exhibits including tools used by Native Americans prior to Lewis and Clark officially charting the region as well as a partially reconstructed Prohibition era speakeasy saloon where bootleggers and flappers once thrived.
Map of Things to Do in Astoria Oregon
Frequently Asked Questions about Things to Do in Astoria Oregon
How long is the Astoria Riverwalk?
For the most dedicated power-walkers and hikers, the full Astoria Riverwalk trail is 6.4 miles long and provides a tour of essential sights like Youngs Bay, the Astoria-Megler Bridge, and the Maritime Memorial among others.
How much does it cost to ride the Astoria Riverfront Trolley?
The Astoria Riverfront Trolley only costs $1 to hop on and you may ride as long as you like. For a grand total of $2, you get a day pass that allows you to ride all day! This is our favorite option when hitting all the sights in Astoria, as it's inexpensive and essentially guarantees you won't get lost!
Can you camp at Fort Stevens State park?
At Fort Stevens State Park, it's not only possible to camp but it may very well be one of the best camping destinations in all of the Northwestern United States. Featuring a whopping 482 campsites, campers are welcome to enter the park for $5 per vehicle and set up camp for $21 per night.
The campgrounds feature RV hookups and some yurts and cabins available for rental as well. One yurt and one cabin are also pet-friendly, so you can bring your furry best friend along too! Just make sure to reserve in advance since dog-friendly accommodations are very limited here.
If you enjoyed our list of things to do in Astoria Oregon, you might also like:
TOP 10 BEST THINGS TO DO AT NIGHT IN SEATTLE
Pin for later