Fayetteville, Arkansas is a wonderful place to visit if you have littles, or even older children. From retro arcades to tons of outdoor activities, Fayetteville, Arkansas is both a kid-friendly and adult friendly city.
With the neighboring cities of Bentonville and Springdale there are literally pages of fun things to do here.
Although Fayetteville is the second largest city in Arkansas, don't let that scare you away. Fayetteville has a small town vibe, with friendly people and a fun atmosphere similar to Oklahoma City.
The culture here is unique, with a combination of small town South, college town, and a fast-growing Metro area. Check out our list of fun things to do in Fayetteville with kids below!
---
Things to do in Fayetteville with Kids
Fayetteville, Arkansas is a vibrant and exciting city that offers a wealth of activities and attractions for visitors of all ages. The city has a rich history, which is reflected in its many museums and cultural institutions. Whether you're interested in learning about the city's past, enjoying the great outdoors, or attending a performance, Fayetteville has something for everyone.
---
ARKADIA RETROCADE
WHY YOU SHOULD GO
Arkadia Retrocade is one of the most popular things to do in Fayetteville. For only five dollars, you get unlimited play on retro arcade games from the 70s, 80s, and 90s, as well as foosball, board games, and even an Atari 2600 set up on an old TV.
There's even a snack bar if you get hungry working out those hands and thumbs. If you're looking for a place to entertain your kids and take a trip back in time, this is the place for you!
---
WHY YOU SHOULD GO
Just a few miles outside of Fayetteville is a beautiful State Park built by the Civilian Conservation Corps in the 1930s. This park is open year round for camping, hiking, mountain biking, horseback riding trails, and tons more programs and special events led by park interpreters.
There are over 135 campsites, some with hookups, some hike-in only, and some in the horse camp which includes the bathhouse and access to the horse trails. There are caves to explore and amazing views from the tops of the trails–Perfect for the explorer in you!
We definitely recommend adding this gorgeous park to the list of things to do in Fayetteville!
---
WHY YOU SHOULD GO
One of my favorite things to do in Fayetteville, Arkansas with kids is located near the beautiful Lake Sequoyah. Flying Q Farms offers their knowledge about horses to a variety of people, especially kids, in several different ways.
Their goal is to help people become successful with their own horses or the farm's horses. They offer short summer camps, which include horseback riding and different riding styles, craft projects, and first aid.
They also offer horseback riding lessons for adults and children, including how to handle horses, and the different disciplines (showing and riding horses). Flying Q also offers guided trail rides for ages five and up along the lake with their unique horses.
---
WHY YOU SHOULD GO
Arts Live Theater is one of many theaters in the area, this one specifically designed as a physically and emotionally safe and inclusive space for children to explore their theatrical skills. The theater was selected as part of a program, which works to "build leaders in diversity, equity, and inclusion" by including peer learning and coaching sessions with experts in the field.
Arts Live Theater is currently in its 37th season of producing amazing plays starring children from the ages of 6 to 18. They offer workshops, classes, and camps for those who want to come, learn, and perform.
If you enjoy theater, then you must add the Arts Live Theater to your list of things to do in Fayetteville, AR!
---
WHY YOU SHOULD GO
The Botanical Gardens of the Ozarks is a wonderful destination for all ages. There are twelve themed gardens and the region's only native butterfly house, which delights kids of all ages. The gardens are committed to education and environmental awareness and aim to teach others about horticulture, conservation, and other cool things about science and gardening.
The Botanical Gardens hosts lectures and workshops for all ages, including Little Sprouts, Earth Day, Butterfly Days, and Firefly Fling. The gardens are beautiful year round and celebrate the natural beauty of the Ozark region.
---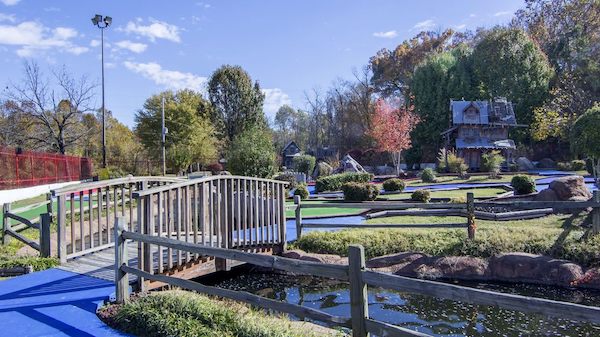 WHY YOU SHOULD GO
Lokomotion is a popular destination for all occasions, from birthdays to snow days, or even just a fun afternoon. Lokomotion has the only go-karts and bumper boats in the area, which draw lots of people to the fun park. Lokomotion also features two mini-golf courses, spin-zone bumper cars, an arcade, and laser tag.
Lokomotion also features everyone's favorite junk food like: pizza, wings, fries, ice cream, breadsticks, and hot dogs. Come have fun and you may end up on LokoTV, where interviews with special guests, fun tips, and behind the scenes information is posted.
---
WHY YOU SHOULD GO
Did we mention laser tag? Modern Mission is laser tag and more. It's "Where Heroes Come To Play." Modern Mission features both indoor and outdoor activities all year, such as airsoft (you can bring your own equipment or rent MM's), archery, and outdoor laser tag for your platoon.
As for indoor activities, you can play indoor laser tag, throw axes, participate in virtual reality survival games, such as Gorn or Arizona Sunshine, or a rhythm game like Beat Saber.
Modern Mission is perfect for groups or individuals who want to make new friends by joining a team. They even offer a summer camp in June for ages 7-13, playing archery games, airsoft, and indoor/outdoor laser tag, with guest speakers on a variety of topics.
Make sure to add the Modern Mission to your list of things to do in Fayetteville!
---
WHY YOU SHOULD GO
The Arkansas Air and Military Museum is a unique part of Fayetteville's and the country's aviation history. The large all wood hanger and the displays of original artifacts provide a timeline of the colorful history of military conflicts. The historic aircrafts are unique because many of them still fly.
The displays range from 1919-1939 ( the golden age of aviation) to the jet age, including Vietnam-era Army helicopters and a Navy carrier fighter. The AAMM also offers a variety of discussions called "Taxiway Talks" and events like the Sweetheart Hangar Dance.
---
WHY YOU SHOULD GO
Hammontree's Grilled Cheese is a destination all on its own. Located in the heart of Downtown Fayetteville, Hammontree's is a popular restaurant that features fifteen grilled cheese sandwiches,, a build your own cheese sandwich, with 26 cheese options! 8 meat options, 6 veggies, and 7 sauces and spreads.
Not only do they have amazing sandwiches they constantly have a variety of made from scratch soups daily to pair with them! Perhaps you'll feel the call of the wild with the" Pig Sooie," or a "Chewbacca," or even feel a little literary with "Where the Wild Things Are."
---
TERRA STUDIOS
WHY YOU SHOULD GO
Terra Studios is the home of the original Bluebird of Happiness® and the Pink Bird of Hope®, both hand crafted glass keepsakes to remind yourself of the beauty of nature and the happiness the natural world can bring. Terra Studios is also home to a six-acre park, filled with imaginative gnomes and trolls, and an art gallery.
The studios also offer art classes and demonstrations by local artists. Terra Studios has a mission to use art to create a better world. Come visit the wonderland of creativity and find your magic.
---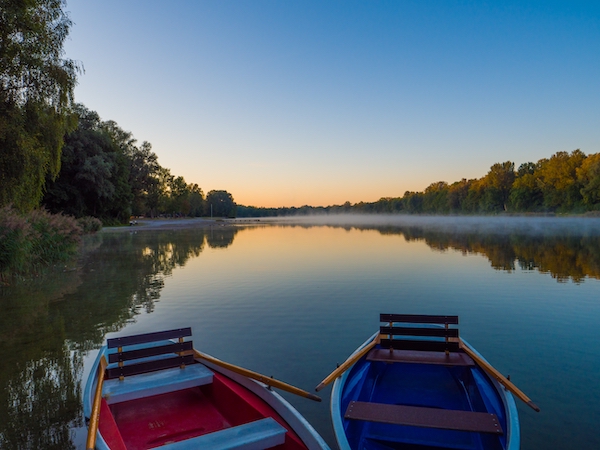 WHY YOU SHOULD GO
Lake Fayetteville is perfect for outdoor enthusiasts. With over 450 acres of land and 194 acres of water, Lake Fayetteville is an excellent choice for fishing and outdoor activities, including disc golf, boating, biking, hiking on paved and unpaved trails.
The marina also offers boat pedal, kayak, and bike and scooter rentals. There are a ton of ways to enjoy the nature and beauty of the lake and the park. The trails also connect to the Botanical Gardens as well, so if you have the time, you can tackle two amazing destinations in one visit!
---
WHY YOU SHOULD GO
Ozark Escape is so much more than just puzzles and games. It's an immersive, interactive experience, claiming to take you from everyday life and on a journey to a new reality. Ozark Escape offers several different rooms of varying difficulty and interest, such as "Camp Sasquatch," "Curtain Call," or "The Haunting of Violet Manor."
Ozark Escape also employs "Experience Coordinators" to help enhance your experience and lead you through the game. Ozark Escape also requests players to submit their own ideas for games and rooms to play. Come enjoy testing your wits against serial killers, sasquatches, monsters, and ghosts.
---
FAYETTEVILLE FARMERS MARKET
WHY YOU SHOULD GO
The Fayetteville Farmers Market has been around since 1973 and year-round offers locally produced vegetables, flowers, fruits, plants, meats, honey, jam, eggs, juried crafts and art. All of the products sold at the market are produced within 60 miles of Fayetteville– All Arkansas grown and made!
The market is not only for buying and selling amazing products, but anybody can set up a booth, such as musicians, non-profit and community groups, performers, and even political candidates can open a booth at the market. The market can be enjoyed by everyone, rain, snow, or shine!
---
Why You Should Go
The University of Arkansas is a major attraction in Fayetteville. This large public university is home to over 27,000 students and offers a variety of academic programs.
Visitors can explore the campus and take in a game or concert at the Walton Arts Center, a performing arts venue located on campus.
---
APPLE SEEDS NWA
WHY YOU SHOULD GO
Apple Seeds is Northwest Arkansas's teaching farm. It not only highlights the importance of healthy habits and nutrition, but allows kids to experience the cycle of planting, growing, harvesting, cooking, and eating their own food. Not only does the program help educate children with hands-on learning and virtual field trips, but it donates a lot of what they grow to food insecure families.
The farm runs on donations and funds raised by events, like summer camps and special dinners. Come on down and grow your own dinner or enjoy one made by one of the farms's visiting chefs!
---
WHY YOU SHOULD GO
Baum-Walker Stadium, the Razorback baseball stadium, can hold over 10,000 spectators, and consistently does. The Omahogs, as they are affectionately known, due to their ability to reach the Super Regionals, hold court at this beautiful field and grounds.
The stadium is consistently voted one of the best facilities in the country, not only for the players, but for the fans. There is a certain charm about the field, when it's empty, but especially when it is full of fans, players, and cheers. No game here is the same, so come experience a once in a lifetime opportunity to be a part of Razorback.
---
Map of Things to Do in Fayetteville with Kids
Frequently Asked Questions about things to do in Fayetteville
When is the best time to visit Fayetteville?
April to May has the best weather in Fayetteville. December to January are the chillier months with an low average of 29. Warmest months are June, July and August.
What can I do in Fayetteville with kids?
Lokomotion Family Fun Park
Arkadia Retrocade
Altitude Trampoline Park
Flying Q Farms
112 Drive-In Theatre
Prairie Grove Aquatic Park
Gator Golf Course
Lights of the Ozarks
What is Fayetteville Arkansas known for?
Fayetteville, Arkansas is known for its rich history, vibrant cultural scene, and beautiful natural surroundings.
---
If you enjoyed our list of things to do in Fayetteville with kids, you might also like:
15 AMAZING THINGS TO DO IN MARCO ISLAND
15 UNBELIEVABLY FUN THINGS TO DO WITH KIDS IN CHARLOTTE
25 KID FRIENDLY THINGS TO DO IN COLORADO SPRINGS [ 12 ARE FREE! ]
15 AWESOME THINGS TO DO IN TULSA WITH KIDS YOU'LL LOVE!
50 THINGS TO DO WITH KIDS IN SAN DIEGO (20 ARE FREE!)
---
Pin for Later: 16 THINGS TO DO IN FAYETTEVILLE, ARKANSAS WITH KIDS YOU'LL LOVE TOO!