After us deep diving into Ashland, Oregon, we also took a look at another beautiful Oregon town to explore, Medford!
This charming city located in southern Oregon offers a wealth of activities and attractions that are sure to delight visitors of all ages and interests. From scenic outdoor adventures to cultural experiences and delicious culinary offerings, there's something for everyone in Medford.
---
Our List of the Best Things to do in Medford Oregon
Need a few recommendations? We put together a list of the 10 best things to do in Medford Oregon, so you can make the most of your visit. So, pack your bags and get ready to explore!
---
1. Visit the Harry and David Country Village
Harry and David Country Village is a shopping complex featuring a wide variety of shops and attractions, including the flagship Harry and David Country Store, which sells gourmet foods, chocolates, and gifts. The most popular item, hands down, is the Moose Munch popcorn, made with caramel, chocolate, and nuts for a delicious and delectable treat.
The Harry and David Country Village is designed to resemble a quaint New England town, with brick walkways, vintage street lamps, and charming storefronts. It's a foodie paradise, featuring a candy shop, fudge shop, bakery, wine tasting room, and a cafe where visitors can grab a quick meal or snack.
If you're hankering for a tasty treat or looking for some great photo ops, you'll love the Harry and David Country Village, and your kids will too. Make sure to get that Moose Munch out of their teeth before snapping those Insta pics!
---
2. Go Wine Tasting
What's a vacation without your best friends– Barbera, Sangiovese, Syrah, and Zinfandel?
Medford sits in the heart of the Rogue Valley wine region, so it's the perfect place to taste some local wines. There are many great wineries in the area, each with their own unique offerings and styles.
Here are some of the best wineries to check out in Medford: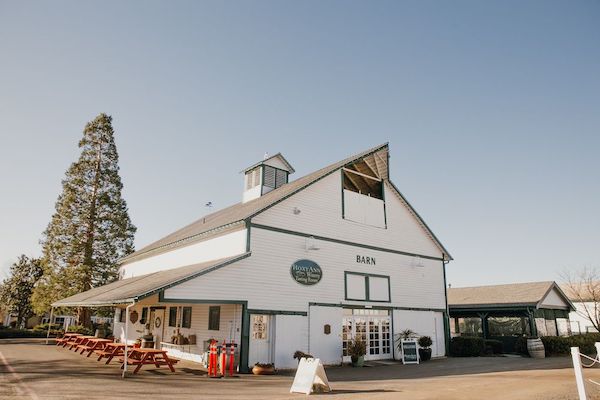 RoxyAnn Winery: You don't have to put on the red light, but you should put out some red wine at RoxyAnn Winery! This family-owned winery has been producing wines in the Rogue Valley since 2001. They specialize in varietals like Tempranillo, Viognier, and Syrah, and they also have a tasting room and vineyard tours available.
Belle Fiore Winery: This stunning winery in nearby Ashland has a European-inspired chateau and offers a variety of wines, including Chardonnay, Cabernet Sauvignon, and Malbec. They also have a restaurant on site that offers fine dining and beautiful views of the vineyards.
Del Rio Vineyards: This winery in nearby Gold Hill is located on a historic property that dates back to the mid-1800s. They produce a variety of wines, including Pinot Noir, Cabernet Sauvignon, and Syrah, and they offer tastings and vineyard tours.
2Hawk Vineyard and Winery: This winery has a modern tasting room and a beautiful outdoor patio with views of the vineyard. They specialize in producing small-batch wines, including Tempranillo, Cabernet Franc, and Malbec.
Dancin Vineyards: This winery is known for its award-winning Pinot Noir and Chardonnay, as well as its beautiful tasting room and outdoor patio. They also have a wood-fired pizza oven on site that serves up delicious pizzas to pair with their wines.
---
3. Experience the Great Outdoors
There are plenty of places for family fun in Medford, but some of the best spots are right outside in the great outdoors.
Take Prescott Park, for example. This 1,740-acre park located in the foothills of the Siskiyou Mountains features hiking and mountain biking trails, picnic areas, and scenic overlooks. One of the most popular hikes in the park is the Table Rock Trail, which offers panoramic views of the Rogue Valley.
The park is also home to Roxy Ann Peak, which offers stunning views and is accessible via a short hike or a scenic drive. It's a fantastic place for picnics, photoshoots, and wildlife watching.
There are many other outdoor destinations in the Medford area to explore as well, including the Cascade-Siskiyou National Monument, the Oregon Caves National Monument, and the Ashland Watershed.
If you're a hiker, fisherman, or bona fide nature lover, you'll find a lot to love in Medford.
---
4. Check Out the Craterian Theater at the Collier Center
From plays and musicals to concerts and comedy shows, the Craterian Theater at the Collier Center for the Performing Arts is a performing arts venue located in downtown Medford.
The 732-seat theater was built in 1924 and has undergone several renovations over the years, most recently in 2010, but still includes many original components making it not only a place for the arts, but a historical landmark as well.
In addition to hosting performances, the Craterian Theater also offers educational programs for children and adults, including classes, workshops, and camps centered around dance, music, theater, and other performing arts.
The theater is a beloved community institution and has hosted performances by many famous artists over the years, including Tony Bennett, Willie Nelson, and the Moscow Ballet.
Whether you are a lover of the performing arts or just looking for a fun night out, the Craterian Theater at the Collier Center is a must-visit destination in Medford.
---
5. Visit the Rogue Valley Mall
Today's modern age is slowly seeing a decline in in-person shopping malls, but the Rogue Valley Mall is still a great place to visit while in town.
First opened in 1978, the mall has undergone several expansions and renovations over the years. Today, it is one of the largest shopping destinations in Southern Oregon, attracting visitors from throughout the region.
The Rogue Valley Mall is home to over one hundred stores, including major retailers like Macy's, JCPenney, and Best Buy, as well as popular brands like Bath & Body Works, Victoria's Secret, and H&M. There are also a number of smaller, locally owned businesses, as well as restaurants, cafes, and a food court.
That's not all; in addition to the shopping and dining, the Rogue Valley Mall has a 14-screen movie theater, an indoor playground for kids, a virtual reality arcade, and a miniature golf course.
The mall hosts a variety of special events throughout the year too, including fashion shows, food festivals, and holiday celebrations.
If you're looking to spend a day shopping, sightseeing, and experiencing an array of entertainment options, the Rogue Valley Mall makes a great destination that everyone can enjoy!
---
6. Take a Tour of the Historic Jacksonville
Historic Jacksonville is a small town located just five miles west of Medford. Founded in the mid-1800s during the gold rush, it was once a bustling hub of commerce and transportation in the region. Today, Historic Jacksonville is a popular tourist destination known for its charming historic buildings, fascinating history, quaint shops, and restaurants.
The town's historic district features over one hundred historic buildings, many of which have been beautifully preserved and restored. Visitors are welcome to take a self-guided walking tour and explore the town's rich history and architecture.
Some of the notable buildings include the Jacksonville Presbyterian Church, the Beekman House, and the Old City Hall.
Beyond the history, Historic Jacksonville is also home to many great shops, restaurants, local art galleries and wine tasting rooms. Historic Jacksonville also holds various events and festivals throughout the year, including the Jacksonville Victorian Christmas Celebration, the Britt Music & Arts Festival, and the Jacksonville Farmers Market.
If you and your family are in need of a cool day trip outside of Medford but not too far, look no further than the charming town of Historic Jacksonville. You're bound to love what you find!
---
7. Visit the Medford Railroad Park
The Medford Railroad Park is a unique attraction that celebrates the region's rich railroad history. The park is located on a 3.5-acre site and features a variety of exhibits, displays, and attractions related to trains and railroads.
Of course, the main draw of the Medford Railroad Park is its collection of historic locomotives and rail cars. Guests can explore vintage railcars, passenger cars, cabooses, and even a steam locomotive.
There are also model train displays, a handcar ride, and a variety of other exhibits that showcase the history and technology of rail transportation.
There's loads to do beyond looking at trains. You can check out the gift shop, picnic area, playground, take a train ride on the miniature train that circles the park.
The Medford Railroad Park is run by a dedicated group of volunteers who are passionate about preserving the region's railroad heritage. The park is open to the public year-round, and admission is free, although donations are appreciated.
---
8. Visit Crater Lake National Park
If you're looking for a cool spot to take a day trip, Crater Lake National Park is about an hour's drive north and offers stunning beauty you won't find nearly anywhere else.
The park is named after Crater Lake, which is a massive, deep blue lake that was formed nearly eight thousand years ago when Mount Mazama erupted and collapsed.
The lake is one of the deepest in the world, with a maximum depth of nearly two thousand feet. Its mesmerizing deep blue color of the water is due to its purity and depth, and the lake is surrounded by steep cliffs which rise up to two thousand feet above the water level. It is truly an awe-inspiring place and among some of the most beautiful in the world.
Crater Lake itself is the park's main attraction, but there's so much more than that. Visitors can hike the park's many trails, go fishing or boating on the lake, or stop at the various viewpoints and overlooks throughout the park. You might even catch a glimpse of the wildlife, which includes black bears, elk, and mountain goats.
It's a bit of a trek from Medford, but it's well worth the visit. We couldn't recommend Crater Lake National Park more highly.
---
9. Make a Day Trip to Grants Pass
If you're into road tripping around Medford, Grants Pass is another great stop nearby. Located about thirty miles northwest of Medford, the city is situated along the banks of the Rogue River and boasts natural beauty and small-town charm.
One of the main attractions in Grants Pass is the Rogue River, which offers a variety of recreational opportunities such as rafting, fishing, kayaking, jet boat tours, hike to lodge, floating, and salmon fishing. The river is also home to a variety of wildlife, including bald eagles, ospreys, and black bears.
Grants Pass also has a historic downtown area, featuring shops, restaurants, and galleries housed in historic buildings that date back to the early 1900s.
Check out the Applegate Trail Interpretive Center, which tells the story of the Applegate Trail, and the Rogue Valley Growers Market, a vibrant outdoor market where visitors can purchase locally grown produce, crafts, and other goods, while you're in town.
---
10. Take the Tots to Kid Time Children's Museum
Have the kids been good during all the hiking, sightseeing, wine tasting, and other mostly adult-oriented attractions listed above?
Reward that good behavior with a trip to the Kid Time Children's Museum. This interactive museum is designed specifically for children from birth to ten-years-old, and offers a wide range of exhibits and activities that are both educational and entertaining.
The museum features more than 12,000 square feet of exhibit space, including a science lab, art studio, theater, and numerous themed play areas.
Some of the most popular exhibits include the "Construction Zone," where children can build and play with a variety of construction materials, and the "Farm to Market" exhibit, which teaches children about farming and food production.
Your kids will likely love the Kid Time Children's Museum, but there's no reason you won't too! It's a wonderful destination for family fun, providing you and your children a great opportunity to learn, explore, and have fun in a safe and welcoming environment.
---
Frequently Asked Questions about things to do in Medford Oregon
Where are the best places to eat in Medford?
What are the best things to do with kids in Medford?
Is Medford near any major cities in Oregon?
There are several major cities within driving distance, including Ashland, Grants Pass, Klamath Falls, and Eugene.
Redding, California is not too far as well, roughly a two hour drive from Medford.
---
If you enjoyed our list of things to do in Medford Oregon, you might also like:
TOP 13 BEST THINGS TO DO AT NIGHT IN SEATTLE
23 AMAZING SPRING BREAK IDEAS FOR FAMILIES YOU'LL LOVE!
20 AMAZINGLY FUN & WEIRD THINGS TO DO IN PORTLAND WITH KIDS
---
Pin-it for later: Best Things to do in Medford Oregon
Latest posts by Ashland Hendrix
(see all)