A few years ago we took a Southern Coast road trip and Myrtle Beach along with Hilton Head were on our bucket list of stops. Myrtle Beach is one of the best places in South Carolina to take the kids. With fun oceanfront activities and countless exciting attractions, there is so much to see and do in Myrtle Beach that it can be slightly overwhelming to come up with an itinerary.
Luckily, we're here to help!
Come with us as we explore the top 10 things to do in Myrtle Beach with the kids!
Ride on the Skywheel
Why You Should Go
One of the top attractions to see in Myrtle Beach is the Skywheel. At a max height of 190 feet, it is the East Coast's largest Ferris wheel. Get up to the top and enjoy scenic views of the gorgeous Atlantic ocean while taking in jaw-dropping panoramic views of the downtown Myrtle Beach area.
Visit The Wax Museum
Why You Should Go
From mazes to celebrity wax figures, there are plenty of ways to enjoy the Hollywood Wax Museum Entertainment Center. Once you've gotten through your list of life-size wax figures, you can challenge your cognitive abilities by trekking through the Maze of Mirrors. The older kids might even enjoy Outbreak: Dread of the Undead 3D attraction.
Explore the Sea at Ripley's Aquarium
Why You Should Go
The Aquarium is a wonderful indoor attraction in Myrtle Beach with thousands of colorful ocean critters to see. Pet some stingrays or horseshoe crabs before heading to the moving sidewalk, which takes you on a ride through a glass tunnel under the massive shark tank. While there, make sure to stop by the Discovery Center to learn about the resident wildlife.
Walk on the Grand Strand
Why You Should Go
The Grand Strand is the heartbeat of Myrtle Beach, providing residents and visitors with more than 50 miles of white sands and breathtaking ocean views. Plus, there are plenty of attractions to enjoy on the Grand Strand, as well as beach activities, such as swimming, fishing, jogging, sandcastle-building, and sunbathing. If you're looking for the perfect beach destination for all ages, make sure to hit the Grand Strand.
Get Some Exercise at Rockin Jump
Why You Should Go
If the kids aren't quite tired out, there's nothing like some good old-fashioned exercise to get the job done. Rockin Jump is a massive playground filled with safe and exciting attractions, including the Open Jump Arena, the Jousting Pit, and the 360 Slam Dunk Arena. Once your little ones are done jumping around, head over to the full-service cafe for a bite.
Rev Your Engines at the Broadway Grand Prix Family Race Park
Why You Should Go
There's nothing more exhilarating in Myrtle Beach than a day spent at the Broadway Grand Prix Family Race Park. This former NASCAR Speedpark offers an adrenaline rush for all ages. Even the young ones can enjoy the Tot Rods, Carousel, Kiddie Speedway, Bumper Boats, and SkyCoaster. When you're all done on the track, you can even enjoy some rock climbing and mini golf for family bonding.
Pirates Voyage Dinner Show
One of the BEST Myrtle Beach Activities that we did as a family was the Pirates Voyage Dinner and Show. The show itself totally exceeded our expectations. They had amazing acrobats, sea lions and even mermaids in the show!
The audience was divided into two different teams which totally engaged the kids (they love a competition), plus they had a ton of audience participation acts which had us busting at the seams. Why is it so funny to embarrass your family?? It was all in good fun though no worries.
During the show, you are served a 4-course pirate meal. I was worried initially because it was a fixed menu and I don't eat meat. But, turns out they had a vegetarian option for me which was nice. Make sure to save room for dessert because the apple turnover was amazing!
Get In Touch With Wildlife at the Brookgreen Zoo
Why You Should Go
A wonderful family-friendly spot in the city is the Brookgreen Zoo, especially for nature lovers. Beyond the fascinating animal diversity, there are plenty of gardens and sculptures to marvel at. Some of the best exhibits for the little ones include the Dr. Seuss exhibits and the dinosaur exhibits. Plus, you'll get to explore some of Myrtle Beach's most fascinating native species, such as the Marsh Tacky horse.
Scream Your Heart Out At Family Kingdom
Why You Should Go
Family Kingdom is Myrtle Beach's seaside amusement and water park, which is filled with incredible rides and attractions. Hit the roller coasters for a thrill or make your way on over to Splashes Water Park to cool down. It is highly recommended that you don't take children here if they are under 6, as there is not much for the young ones to do.
Enjoy the Fun Warehouse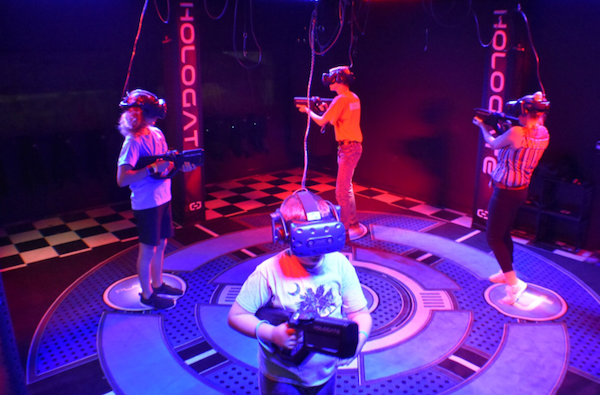 Why You Should Go
The Fun Warehouse is an indoor amusement park that features a wide variety of exciting activities. Some of the best attractions include the go-kart race track, laser tag, soft play inflatables, and the mini bowling facility, Once you're done playing around, treat the kids to some pizza and ice cream!
Stay Cool at Myrtle Waves
Why You Should Go
As the largest water park in the region, Myrtle Waves is the perfect place to stay cool during the summer holiday. Your older kids will enjoy the adventurous turbo twister slides, while the little ones can splash around on the raft rides. There are plenty of family-friendly rides to enjoy and plenty of ways to escape from the SC sun.
Map of Things to do in Myrtle Beach with Kids
Frequently Asked Questions about Myrtle Beach
When is the best time to visit Myrtle Beach?
The prime time to visit Myrtle Beach is between the months of June to August.
When is off season for Myrtle Beach?
The off season is usually from November through February.
What can families do in Myrtle Beach?
The Grand Strand
Brookgreen Gardens
Go Ape Ziplining & Treetop Adventure
Miniature Golf
Family Kingdom Amusement Park
Arcades at the Myrtle Beach Boardwalk
Myrtle Beach SkyWheel
Broadway at the Beach
WonderWorks
Ripley's Aquarium
Alligator Adventure
If you enjoyed this article on things to do in Myrtle Beach with the kids, you might also enjoy:
21 AMAZING THINGS TO DO IN HILTON HEAD ON YOUR NEXT VACAY
THE BEST MYRTLE BEACH ACTIVITIES – ULTIMATE GUIDE TO MYRTLE BEACH