Come explore the City of Brotherly Love! Whether it's summer vacation, a road trip from D.C., school night, winter holiday, or a weekend getaway, there is always a unique adventure to embark on! Overall, Philadelphia is a very easy city to travel around – either it be using public transportation, driving, or on foot!
And, if you start early enough in the morning, visiting multiple neighborhoods and tackling multiple of these "phantastic" events can definitely be in the cards! Check out our list of things to do in Philadelphia with kids below!
Why You Should Go
Being the birthplace of the United States, Philadelphia is full of American history! Sitting in Center Square on John F Kennedy Blvd, is Philadelphia's City Hall which presents William Penn standing on top! However, did you know that the current day City Hall is not the original? There were two other City Halls before this one was built in 1871. Today, this building is the largest municipal building in the United States! Public rooms that are featured on tours is the City Hall Chamber, The Mayor's Reception Room, Conversation Hall and the Supreme Court Room,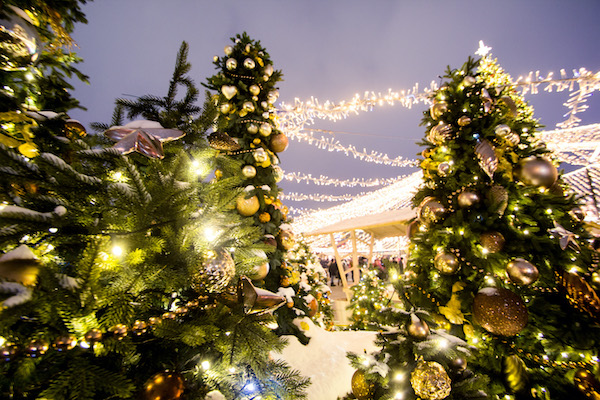 Why You Should Go
Each year from Thanksgiving to Christmas Eve, the space around City Hall and across the street at Love Park, the heart of the city glows with Christmas magic. With more than 100 vendors set up, window shopping at the wide variety of international shops is a must-do each holiday season. In addition to shopping, enjoy live musicians, taking a photograph in front of the huge Christmas tree and other holiday extravaganza! At nighttime, make sure you stick around the free Deck the Hall Light show that is played on City Hall each hour! Or, walk around the corner to the Christmas Light Show and Dickens' Village at Macy's for a 100,000 light show that has been playing since 1956.
Franklin Institute – Philadelphia Science Museum
Franklin Institute is an amazing place to take the kids. There are so many fun activities for the kids on this hands on museum. There is a planetarium and and so many fun exhibits in this please touch museum. You can find yourself spending hours in this exhibit.
Check out their special exhibitions like Bubble extravaganza and their haunted science experiments.
---
Why You Should Go
As you explore Philadelphia, you will be amazed at the vast quantity of mural art that brightens the city streets! In fact, the city has been nicknamed the "Mural Capital of the World"!
The Mural Arts self-guided tour allows you to follow a map throughout the city that pins multiple murals and learn about the artist and history of each one! Each mural tells a different story, which one will be your favorite? 
---
Philadelphia Zoo
The Philadelphia Zoo offers a wide variety of attractions. This is America's first zoo with a unique and exciting neighborhood in Philadelphia where wildlife and people cohabit. Discover the displays, the activities, and more.
Your kids will love the scavenger hunt as they explore all the amazing animals of the Philadelphia Zoo.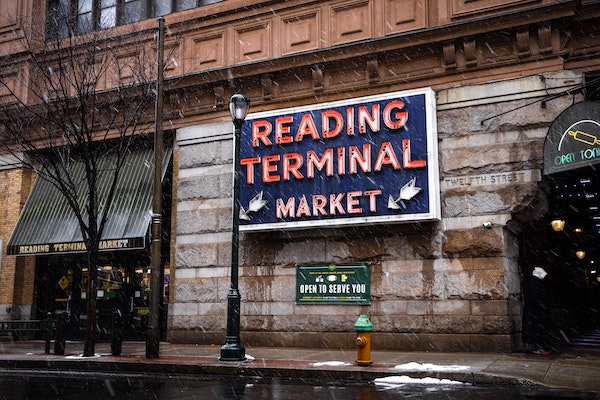 Why You Should Go
Showcasing more than 80 vendors, the 125 year old market cannot be beat! Spend time walking up and down the busy aisles, taking a whiff of the delicious fresh food that is for sale, ranging from produce, sandwiches, ice cream, soft pretzels, sushi, and more.
Other handmade goodies such as quilts, candles, and other crafts are for sale as well! This is one of our favorite things to do in Philadelphia with kids and plenty of options of delicious food!
Why You Should Go
Join in on the 120-year-old tradition and cheer the Mummers as the strut down Broad Street on one of the first days post New Years. With over 10,000 children and adults performing, there is no one who doesn't watch in awe as the colorful performers play music and dance bright performances.
The groups begin the parade at City Hall and travel south down to Washington Ave.
Why You Should Go
Walk, run, scooter, or bike around the piers overlooking the Delaware River! Explore pop up art markets at Cherry Street Pier, relax in the grass on Race Street Pier, and enjoy fireworks multiple times a year – the waterfront allows you to make exciting memories with your family.
Running from the spring through the fall there are multiple family friendly events that occur all day long at the waterfront – all you need to do is walk down it to join in the fun!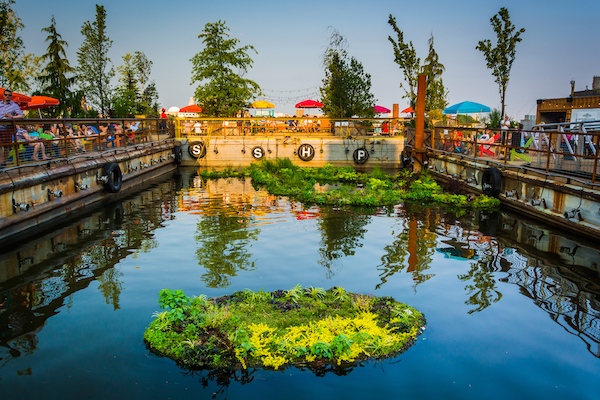 Why You Should Go
Come kick your shoes off and relax in a hammock at Spruce Street Harbor Park, found on the Delaware River waterfront. Opening each spring and closing each fall, the endless colorful hammocks–some which fit more than one person–overlook the Delaware River and are a perfect place to chill during the day or night.
During the summer, local markets, live music, and outdoor movie screenings will occur as well, making the park a very popular hangout spot! 
Why You Should Go
Known for the giant crack that runs down it, is it really a trip to Philadelphia if you don't visit the Liberty Bell? One of the 26 sites that make up the Independent National Historical Park, the Liberty Bell is located on the Independence Mall and is next to Independence Hall.
Not only is checking out this symbol of freedom a learning experience for all participants, you'll also need to walk down beautiful cobblestone streets to get to it! Walking around Old City is a fun adventure of its own! 
Why You Should Go
It would be a shame if you didn't wander by the Betsy Ross House, also located in the historic Old City neighborhood. While it is not free to tour inside the home, it is memorable to walk over and explore the grounds the home sits on.
Additionally, sitting in front of the home includes a "Once Upon a Nation Storytelling Bench" where students sitting on the bench will be greeted from 11am-4pm during the summer months by dressed up characters, ready to share about our nation's history! 
Why You Should Go
Arguably one of the most recognizable landmarks in Philadelphia, checking out the Philadelphia Art Museum is a must when traveling to Philly, even if you choose to not tour the museum. Once you arrive, snap a picture with the fictional character Rocky Balboa, and blast Gonna Fly Now as you race up the Rocky Steps!
At the top, don't forget to admire the city skyline before heading inside! The museum follows a "Pay What You Wish" admission on the first Sunday of every month and Friday evenings from 5:00pm-8:45pm. 
Catch a Game or Take a Tour of Citizens Bank Park
If you love baseball then you definitely should take in a Philadelphia Phillies game at Citizens Bank Park. The stadium is beautiful and the crowd is always pretty electric. Even if a game is not going the stadium does host tours where you can check out the dugout and get to walk on the field.
Why You Should Go
Come tour breathing taking art – featuring Van Vogh, African Art, Picasso, Greek antiques–and more–at the Barnes Foundation. The first Sunday of each month is free admission at the museum, and each month spotlights a different theme.
Throughout the day there are various activities for family fun – including different art activities, storytime, and music and dance performances! However, it is important that you pre register the Thursday before to guarantee your spot! 
Why You Should Go
Cheer on a regatta or come just to check out the awesome local crew boats on the 19th-century boat houses that run along Kelly Drive. Each club featured on the row is a member of the Schuylkill Navy of Philadelphia, known for being the oldest amateur athletic governing body in the country.
The best time to go may be during the springtime when you can walk along the freshly bloomed cherry blossom trees and gawk at the spectacular city skyline. Each night the boathouses light up as well, displaying an array of colors to represent Philly sports teams, holidays, and awarenesses. 
Why You Should Go
If you're looking for fun things to do in Philadelphia with kids, this park has been children's favorite for over 100 years. The Smith Memorial Playground and Playhouse can be found in East Fairmount Park.
Sitting on over six acres, the playground has more than 50 pieces of fun for children under 12 to play on, that are exclusive to all students. The newly renovated playhouse also includes creative indoor fun, too! There are also free events throughout the year as well – Play-A-Palooza, Healthy Halloween, and Winter Wonderland.
Why You Should Go
Philadelphia is the best of both worlds – it's not all typical city life! There is also over 1,800 acres of nature to explore at Wissahickon Valley Park. Keep your eyes peeled for plenty of wildlife, including indigo bunting birds, eastern box turtles, and woodchucks as you hike or bike through one of the various trails you can choose from. Make sure you wear durable sneakers and pack plenty of water and snacks, as there are endless places to stop and picnic along the way!
Why You Should Go
Enjoy a walk on the Manayunk Bridge! The Manayunk Bridge begins at the top of Green Lane and connects to the Cynwyd Heritage Trail in Lower Merion. Arrive at the bridge shortly before sunset and enjoy the picture perfect pink, purple, and orange sky while overlooking the Schuylkill ! Halfway across the bridge you will see the "Philadelphia / Lower Merion" stones at your feeting showing that once you cross over, you are leaving Philadelphia!
Map of Things to Do in Philadelphia with Kids
Frequently Asked Questions about Things to do in Philadelphia with Kids
What is the best way to spend a weekend in Philadelphia?
Philadelphia's Magic Gardens
City Hall
Reading Terminal Market
Famous Elfreth's Alley
Philly Mural Mile
Liberty Bell & Independence Hall
Betsey Ross House
Rocky Stairs
Take A Stroll Through Rittenhouse Square
Rodin Museum
What are things to do in Philadelphia with kids in the Winter?
Go sledding and then enjoy some Hot Chocolate
Explore the Virtual Calendar
Take a Winter Hike
Indoor Mini Golf
Visit an Indoor Water Park
Create at the Art Museum
Ride the Snowflake Train
Visit Adventure Aquarium
If you liked our list of things to do in Philadelphia with kids, you might also like:
15 EXCITING THINGS TO DO IN BOSTON WITH KIDS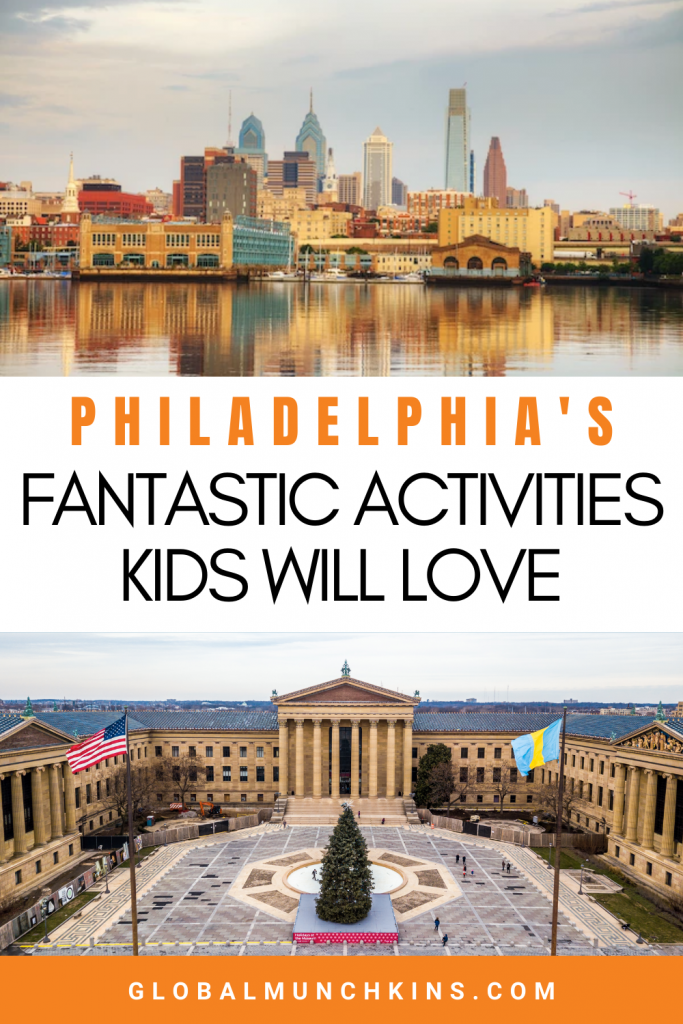 If you enjoyed our list of 15 Fantastic Things to do in Philadelphia with Kids, you might also like:
15 Amazing Things To Do With Kids In Salem!
15 Exciting Things To Do With Kids In Syracuse, New York
10 Amazing Things To Do With Kids In Sacramento
50 Things To Do With Kids In San Diego (20 Are Free!)