When people hear about a Florida vacation, they instantly think of one of the many theme parks in Orlando. However, that's not always the case. There are so many other family-friendly vacation destinations in Florida, including Miami!
Miami, Florida, is unique. When people think of Miami, they think of South Beach and the nightlife it has to offer. But, that is not everything that this wonderful city has to offer. They also have weeks worth of things to do for kids in Miami.
Whether you are on your way to Miami to sail out on a cruise or to make Miami your only destination on your vacation, there are enough things to do for kids in Miami to last you a lifetime.
We've compiled a rather extensive list of things we highly recommend you do while you vacation here in fantastic Miami, Florida.
Bill Baggs Cape Florida State Park
On the southern part of Key Biscayne, you will come across Bill Baggs Cape Florida State Park. There are 175 State Parks in Florida, and Bill Baggs Cape Florida State Park has made a list for more reasons than one.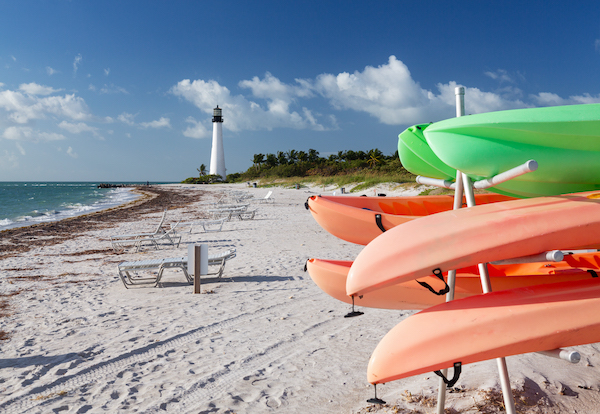 Why Will Kids Love It?
As previously mentioned, you'll find the Bill Baggs Cape Florida State Park in the southern portion of Key Biscayne. This park has some of the best beaches to go to. While here, you can learn about the area's history and wildlife and partake in many activities.
They provide covered pavilions with picnic tables perfect for a picnic in the park. If you do not want to bring food with you, there is a Lighthouse Cafe that serves up some delicious bites.
You should carve out some time to climb to the top of the Cape Florida Lighthouse. Kids will love climbing up the 65-foot-tall structure and seeing out through the area. Of course, do not forget to explore as well because there is a lot of native wildlife you'll see along the way. They also have other traditional outdoor activities such as cycling and kayaking.
Dezerland Park
Trying to find something to do on a rainy afternoon? You'll want to make your way over to Dezerland Park.
Why Will Kids Love It?
The name may be off-putting because you think it's a park. Most parks are outdoors, but that is not the case for Dezerland Park. Dezerland Park is entirely indoors and perfect for the days when the rain will be in the area.
This enormous attraction consists of arcades, trampolines, virtual reality, go-karts, ropes course, glow-in-the-dark mini-golf, simulators, rock climbing, roller skating, and bumper cars.
This is not a be-in and out in a 2-hour attraction. Kids will not want to leave. Do not plan to do this if you have other plans afterward. We recommend dedicating at least an entire afternoon here, or else you'll have some grumpy children who didn't get to partake in everything they've ever wanted.
So parents sit back and grab a bite to eat and enjoy the atmosphere.
Everglades Safari Park
Besides being known for its theme parks, Florida is also highly known for its Everglades, which people call the swamp land. Many tourists don't know that Miami sits next to the Everglades!
So, the next attraction on the list is the Everglades Safari Park.
Why Will Kids Love It?
Kids love anything that is not their ordinary day-to-day life. So, heading down to the Everglades Safari Park is a must. Not only will kids be able to partake in many activities, but they can also learn about Florida's ecosystem uniquely.

The Everglades Safari Park offers an airboat tour ride straight through the everglades. This will allow guests to learn about the ecosystem and see it firsthand. Of course, be prepared. There is a high chance you'll see an alligator or two on this journey.
After the airboat ride, you will have a chance to watch an educational presentation on alligators. When that is over, you'll even get an opportunity to hold a baby gator too! Kids will love this! Not only is it a fun experience for the whole family, but it also is an educational activity too.
FunDimension
Just a few blocks from the Wynwood Walls is FunDimension. This attraction will be perfect to use as a compromise with your younger kids who may not like looking at the Wynwood Walls.
Why Will Kids Love it?
This is on a similar level as Dezerland Park. It is a vast indoor fun center. FunDimension offers bumper cars, arcade games, a 7-D theater, and laser tag. This is another place that you will want to spend more than just an hour or two in. Of course, parents do sell beer and wine, so again sit back and enjoy yourself while your kids are off having the time of their lives.
Don't forget this is also a perfect spot to dip into when the forecast shows rain.
Gold Coast Railroad Museum
Have a train enthusiast in your family? You will not want to miss out on the Gold Coast Railroad Museum!
Why Will Kids Love It?
The Gold Coast Railroad Museum has over 40 historical railcars and offers train rides every weekend, along with being able to see a display model train. It is a perfect outing for the train enthusiasts to see all these fantastic railcars in this museum and learn about their history.
Gold Coast Railroad Museum is a few feet away from Zoo Miami so you can do both activities in a single day. Also, if you will be on vacation during the first Saturday of the month (except March), you should visit this museum as it is free!
Jungle Island
Ready to head to a tropical Jungle Island? Jungle Island fits the bill!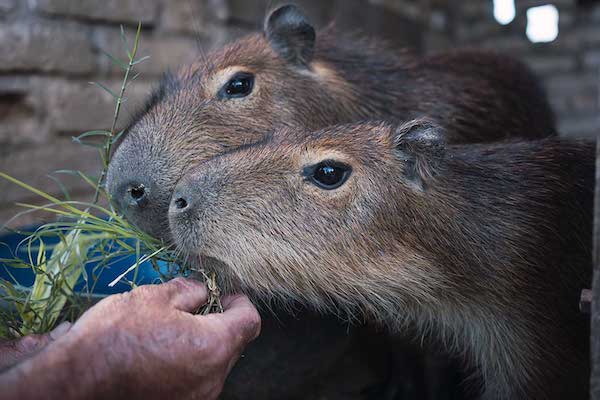 Why Will Kids Love It?
You can get up close at Jungle Island with various animals, including parrots, sloths, kangaroos, orangutans, and lemurs. There are live shows, a playground, and even a petting zoo.
While this attraction can be a bit pricey, it is well worth it because you'll see tropical jungle animals, unlike a traditional zoo where you can see all sorts of animals. Their live shows are not just cute, but they are educational.
The Jungle Island also has additional activities not included in your park admission. You can pay extra for the zip line and their SuperFlight experience.
Matheson Hammock Park
For traveling with toddlers, you'll want to listen closely to Matheson Hammock Park.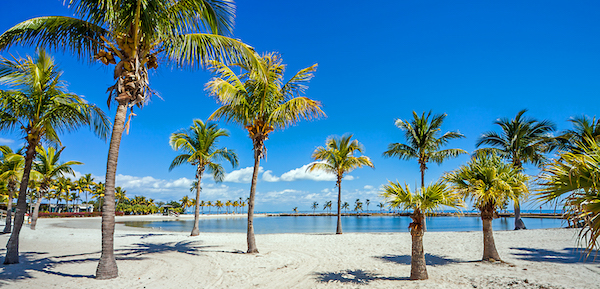 Why Will Kids Love It?
We all know you are coming to Miami because of the beaches too. If you have toddlers at your party, you know the beach can be stressful with waves. This is where Matheson Hammock Park will come in.
This is an entirely toddler-friendly beach. There are no waves. This beach is a manufactured atoll pool, perfect for little kids to wade through for hours of fun. In the park, there are a few nature trails that you can explore, along with a restaurant and snack bar to grab a bite to eat at.
Miami Children's Museum
Anything with children in the name is always a must-do because it is created with children in mind. This is why Miami Children's Museum has made the list.
Why Will Kids Love It?
There are so many activities for the children to explore! Every single activity in the Miami Children's Museum is an educational activity. This is scaled down to children's level, making them feel in charge. There's a child-size grocery store and bank, to name a few things you can find here.
This can be an all-day activity. Your child will love feeling like they are the grown-up in this situation and doing grow-up things.
Miccosukee Indian Village
A unique thing to do for kids in Miami is visiting the Miccosukee Indian Village.
Why Will Kids Love It?
School-age kids have learned about Native Americans, especially during Thanksgiving time. The Miccosukee Indian Village is a Native American village you can visit. This will take a school lesson and turn it into something tangible for them.
Here they offer a guided tour that takes you around the village, and you get to learn about this tribe's culture and history and see demonstrations. This is the perfect place to take photos and take in the culture of this Native American tribe.
They also do an alligator show, where tribespeople will wrestle an alligator, which kids love to watch.
Venetian Pool
There are so many things to do for kids in Miami, but one thing that your kids will continue talking about after you come home is your trip to the Venetian Pool.
Why Will Kids Love It?
Of course, you are probably wondering why a pool is on the list when you can go to the beach. Well, this is not like any pool. This is a unique style pool. It has Italian architecture, waterfalls, and tropical foliage. It is something you must experience in person.
There is a shallow pool for children to have hours of fun. There is even a grotto too perfect for them. Of course, they won't want to live, so you can stop and pick up lunch at the cafe on-site and make a whole afternoon out of this lovely area.
Wynwood Walls
We briefly mentioned the Wynwood Walls when talking about FunDimension. This is on the list for those children who love art and taking lots of photos!
Why Will Kids Love It?
This is an outdoor museum where you will walk by many murals of various artists' famous works. You've probably seen these murals on Facebook and Instagram. It is always a must-do.
This is the place to be for kids who love having their photos taken and seeing art. You can spend as much time here as you'd like and then head down to the FunDimension arcade to finish your night off.
Zoo Miami
Zoo Miami is the perfect thing to do for kids in South Florida.
Why Will Kids Love It?
Who doesn't love zoos? Especially going to the one and only subtropical zoo you'll find in the continental United States. This zoo has different species you won't see in other zoos around the country.
Zoo Miami is nested on 750 acres and has over 3,000 animals, including rhinos, elephants, gorillas, hippos, crocs, vipers, and more. They have a monorail that you can ride on to get to the exhibits if you do not want to walk in the summer heat. They also have a splash pad for kids to run through and a carousel.
Where to Stay in Miami with kids?
The JW Marriott Miami Turnberry Resort & Spa is the perfect place for a family to stay in Miami. Located just outside of downtown Miami at Aventura, Florida is this beautiful resort.
This resort has everything for families. For mom and dad, there are beautiful golf courses, an incredible spa and amazing dining.
For the kids, you have an incredible swimming pool with a massive lazy river, water slides, flowrider and splash play area. This is by far my favorite place to stay in Miami with kids.
Map of Things to Do with Kids in Miami
Frequently Asked Questions about Things to Do with Kids in Miami
What can you do with younger kids in Miami?
Zoo Miami
Phillip and Patricia Frost Museum of Science
Seaquarium
Flamingo Park
Lincoln Road Mall  
Ocean Drive
Miami Children's Museum
Jungle Island
When is the best time to visit Miami with kids?
The best months would be between March and May, when the weather is on average in the 80's and definitely before hurricane season, which usually starts in June.
If you enjoyed our list of things to do with kids in Miami, you might also like:
FAMILY-FRIENDLY LUXURY FOUND IN MIAMI AT THE PALMS HOTEL & SPA
THE NFL EXPERIENCE MIAMI – WHY IT'S OUR FAVORITE EVENT OF THE YEAR!
11 OF THE BEST THINGS TO DO AT UNIVERSAL CITYWALK ORLANDO
---
Do you have Teens? Check out this article from Kids are a Trip and learn about 25 things to do with Teens in Miami!
---
Pin for later: things to do with kids in Miami