For the past 5 years, we have loaded up the munchkins in the wee hours of the morning for a road trip out for a spring break Arizona road trip during spring break training. Like many travelers, the initial trips were solely based around watching the major league baseball games during their cactus league games.
But, as the years have passed we have found that Arizona has a lot more than baseball to offer young families. Here is a list of our top 10 Things to do in AZ for Spring Break. You should also check out our Ultimate Guide to Nearby Tempe with Kids Too!
1. Arizona Grand Water Park
The Arizona Grand Resort and Spa is a luxury hotel situated in Phoenix AZ. In 2014 it was voted as the #1 Staycation Spot in Arizona and it is also the only AAA Four Diamond All Suite Resort in Arizona. Although, better known by our munchkins as "The Water Slide Hotel"  for good reason too as Arizona Grand is home to their very own Oasis Water Park, voted by the Travel Channel as one of the country's Top 10 Water Parks and one of the best hotel pools.
Our kids could spend ALL day going up and down the slides, floating around the lazy river, playing in the wave pool and just hanging out in the splash parks. And, it doesn't end when the sun goes down.
On certain nights the hotel offers movies at dark so the kids can float around the pool and watch a movie plus they have been known to offer s'mores certain nights as well. Definitely, munchkins dream and we all know when the kids are happy… mom and dad are happy too!
Tempe is right next door, check out this video of 5 Top Reasons Kids Love Tempe, AZ.
2. Enjoy Dinner inside a Movie theater
I know many cities have dine-in movie theaters now that offer full menus however we have not found one as affordable as the AMC Dine-In Theatre Esplanade 14.
The kids get a kick out of pressing the red button on their counter and ordering refills of their sodas. The hubs and I love some of the healthier and tasty menu items like the hummus tray and salads. Plus, the seats are nice and cozy too. This is a great way to take a break from the heat and relax.
Pin for Later-
3. Hockey Game
Yes… the town is painted with baseball fans but Arizona is also home to the Coyotes -a major league hockey team. We love to take a break from baseball and chill in the ice rinks (pun intended- ha!).
The Coyotes fans are pretty into the game and so the arena has a great family-friendly atmosphere. I highly recommend catching a game while you are in town. Maybe you can score an awesome free shirt that your munchkin will insist on wearing repeatedly. Gotta love his style!!<<sarcastic wink>>
4. Rustler's Rooste Restaurant
Spring Break Arizona style would not be complete without a unique dining experience. Make sure to stop by the Rustler's Rooste -while I would not rate their food very high- it is worth a visit if you are traveling with munchkins. The restaurant sits on the top of a hill so it has some gorgeous views around sunset. But, it's not known for its views… people go there specifically for the entertainment.
It has a live steer out in front of the restaurant to greet you, they pop paper bull horn hats on the kids as they come in and then they send the kids down a slide to enter the dining area. I mean seriously… what kid doesn't want to go down a slide… IN A RESTAURANT???
Once inside you hear the live band playing their western music and you often see magicians and balloon artists making their way around all the tables. Then as if the kids weren't having enough fun they end the kid's meals with a can of homemade cotton candy.
5. The Westin Kierland Resort & Spa Phoenix-Scottsdale
We like to move around during our visits and another great hotel option for us has been the Westin Kierland Resort. This resort offers Villa accommodations as well as traditional rooms which make it super easy for larger families to fit comfortably. Kierland also has a water area. Theirs includes a 110-foot waterslide, FlowRider, lazy river a shallow pool for the wee little ones and water splash area. They offer cabanas to rent too but, I have found plenty of shade without having to pay. It also has an adults-only pool for those traveling without littles 😉
Another great aspect of staying at Kierland is all of the activities they offer. From Princess & Pajama parties to yoga, hiking, and golf. They print out a handy guide called a "Pathfinder" weekly and they usually have it posted ahead of time online here
[Check out our
Favorite Scottsdale Airbnbs
Here]
6. CHURN Ice Cream is a delicious thing to do in Phoenix az
Anyone that knows me knows I am S.E.R.I.O.U.S. about my ice cream eating- ha! But, seriously… I LOVE ice cream and I am hard to please unless you've made it from scratch. So, you can bet I was S.T.O.K.E.D. when I found a homemade ice cream shop in Phoenix AZ.
Churn is part of the Upward Projects Restaurant Group. They feature delicious freshly churned ice cream, coffee, baked treats and novelty candies. The BEST part is all of their yumminess comes sans the nasty additives, chemicals etc… that many ice creams have these days  (2 fist pumps in the air).
If you fancy yourself a visit I highly recommend making your own ice cream sandwich creation with their fresh baked cookies. It will not disappoint!
7. Eat breakfast at The Farm at South Mountain- Morning Glory Cafe
Speaking of deliciousness- minus the bad chemicals- why not have a super tasty farm to table breakfast on a local Arizona farm. Amazing setting and a delicious Monte Cristo sandwich… its a little slice of heaven. You need to get there early as it doesn't take long for a line to form.
However, if you do catch the crowd you can always take the munchkins on a walk around Maya's Garden and see the gorgeous flowers. Or take them near the kitchen coop for a lesson on where real food comes from 🙂  Our munchkins love to bring a ball and play some football while we wait as there is plenty of room to play.
*Note the restaurant I mentioned is open seasonally, so check their website before you go- http://www.thefarmatsouthmountain.com/morning-glory-patio/
8. Shopping – My Personal Spring Break Arizona Activity
SHOP til you drop… and you can with all the lovely shopping malls I found in Scottsdale. There seem to be malls all over the place. Indoor, outdoor you can find both. And, while the munchkins may not last long there seemed to be enough to keep them entertained for me to get my shop on. Scottsdale Fashion Square, Kierland Commons and Scottsdale Quarter just to name a few 😉
9. Downtown Scottsdale
Downtown Scottsdale is pretty charming. There are shops, galleries, bars and tons of dining options. If you have your munchkins with you I definitely recommend the Sugar Bowl Ice Cream Parlor for a fun dessert. The games have seen better days (think chuck e cheese type) but the pink booths and giant sundaes will keep smiles on everyone's faces.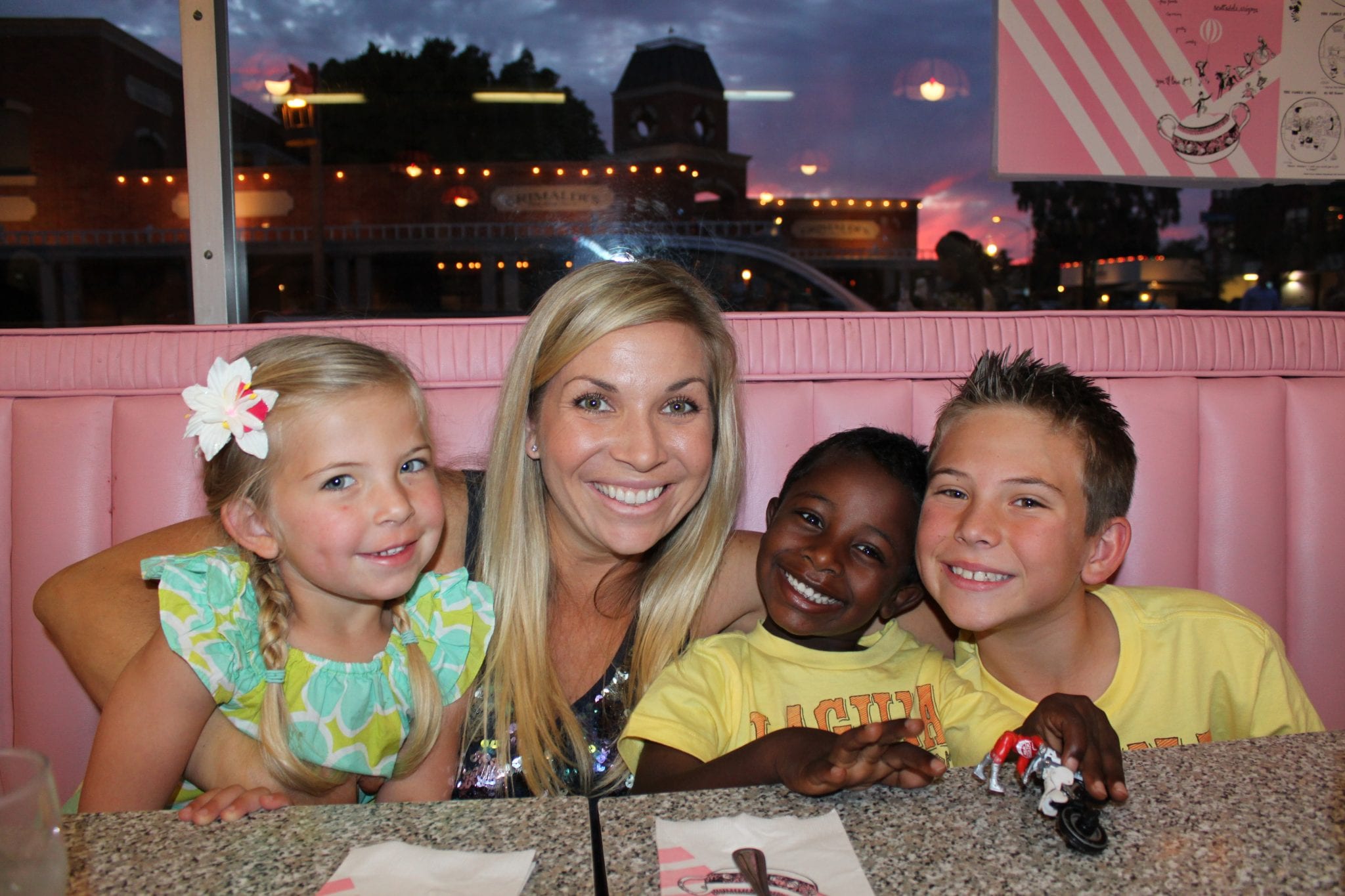 10. Visit a Dude Ranch – 
Tanque Verde Dude ranch is one of those experiences you'll never forget. You get to ride horses, wrangle cattle, mountain bike and so much more. Check out my full review here.
Bonus: Okay… Baseball makes the list
It is spring training for Pete's sake and it's pretty cool to see the players in their preseason. Make sure you arrive extra early to the games and line up along the fence with some new baseballs and ballpoint pens. We have been pretty fortunate and have gotten autographs from players almost every time we visit!!!
We also prefer sitting on the lawn where you can chat with the outfielders. The kids get a kick out of it!! Just make sure to bring plenty of sunscreen and shade. It will be H.O.T.!!!!! You can look up the cactus league schedule here. And if you're spring break is in April check out the Arizona Diamondbacks at their beautiful ballpark.

What are your favorite kid-friendly activities in Arizona??
You should also check out this awesome post-