Park City is an absolutely beautiful ski town, and even better they have some of the coolest lodging options. We have been in love with Park City for a very long time, and as our family has grown we have realized what a great spot it is for family vacations.
Whether you want to hit the slopes or cozy up by a fire with hot cocoa, this is the perfect place to do it and have a Park City vacation. When trying to decide where to stay in Park City, Utah there are a lot of things travelers should consider like location, price tag, what best fits your family needs, and amenities offered.
---
The Stein Eriksen Lodge is located in Deer Valley Resort's Silver Lake Village at 8,200 feet, and it sits on over 10 acres. It is 45 minutes from Salt Lake City International Airport and a few minutes from Historic Main Street in Park City. On top of the wonderful location, the Lodge is very kid friendly with a brand-new family friendly pool and the Little Explorers Child Care Services.
Not only does this include an indoor camping experience, but also a Park City Scavenger Hunt. You will also be pleased to know they offer on-site professional babysitting services.
Since Stein Eriksen Lodge is located in Deer Valley Resort, it is located in the middle of the mountain which makes it easy for skiing in and out. This is considered some of the best skiing in the United States, and you can use the convenient Stein Eriksen Sport, the onsite ski and gear rental shop and you can buy your lift ticket(s) at the onsite Deer Valley Resort Services Counter.
If you want to go snowboarding, then you will need to go 3.9 miles to the Park City Resort and Canyons Village. There are complimentary shuttle rides to the Park City Resort or Historic Main Street. Onsite, there are many great dining options for everyone. There is the award-winning Glitretind Restaurant, the Troll Hallen Lounge, .5 The wine collection at the Lodge, the Champions Club and First Tracks Kaffe. Check out the resort here!
Location: 7700 Stein Way, Park City, UT, 84060
Rating: 4.7 Stars
---
The Pendry
Mike recently checked out the Pendry and it is definitely one of the best places to stay in Park City. Located at the base of the Canyons Ski Resort, the Pendry offers luxurious amenities, which are perfect after a long day of snow activities.
The rooftop pool and jacuzzi is an absolute must to check out. with beautiful views of Park City, it is hard to find a more scenic spot to unwind. The rooms are modern and filled with little touches that show the hotel is really paying attention to the guest needs. Of course you get the standard robes, and incredibly comfortable bedding but I love things like the built in humidifier in the closet to help you recover from the cold winter air.
There are several restaurants on property, plus a wonderful gym and spa. And if you forgot anything… like he did, the Pendry is located right in the heart of the village so it is easy to pick up those items you forgot to pack. Check current prices here!
The Montage Deer Valley is about 40 minutes from Salt Lake City Airport and five minutes from Main Street. Also, it has the largest spa in Utah, five restaurants- one of which is a pub with a bowling alley and onsite shops. As a matter of fact, the Montage Deer Valley is one of the most kid-friendly Park City lodging options. In fact, you can have your kids take some archery lessons, which was one of our favorite things to do during our deer valley summer visit.
There is a Canine Ambassador program, where the Bernese Mountain Dogs greet guests daily. I love the wide range of activities for families including photography, family yoga and s'mores every night.
Another key point is The Paintbox, which will be a favorite among your kids and has crafts, movies, mountainside scavenger hunts and more. While guests visit, they can collect 12 Montage Merit Badges to earn an award that signifies that they "conquered" the mountain.
Montage Deer Valley is one of the best ski resorts in America with its ski in and ski out access. The on-site Compass Sports can help you buy lift tickets, ski rentals and current ski clothing. There are other ski services including boot warming, hot chocolate for when you're done skiing or the spa. Learn more about Montage Deer Valley here.
Location: 9100 Marsac Avenue, PO Box 4680, Park City, UT 84060
Rating: 4.7 Stars
---
We stayed at the Silver Baron Lodge last summer and were wowed by this place. We were in a room that slept up to 16 people and had it's own private jacuzzi. This place is the perfect spot for a large or multi-generational family vacation to Utah.
The Silver Baron Lodge is near the bottom of Deer Valley Resort and is close to historic Main Street in Park City. The Lodge offers activities and amenities year-round for everyone. Some of these amenities include in-town transportation, private rooms with hot tubs, complete kitchens, fireplaces and living areas, complimentary breakfast buffets during ski season, internet access, complimentary après-ski, bell service and yoga classes during ski season.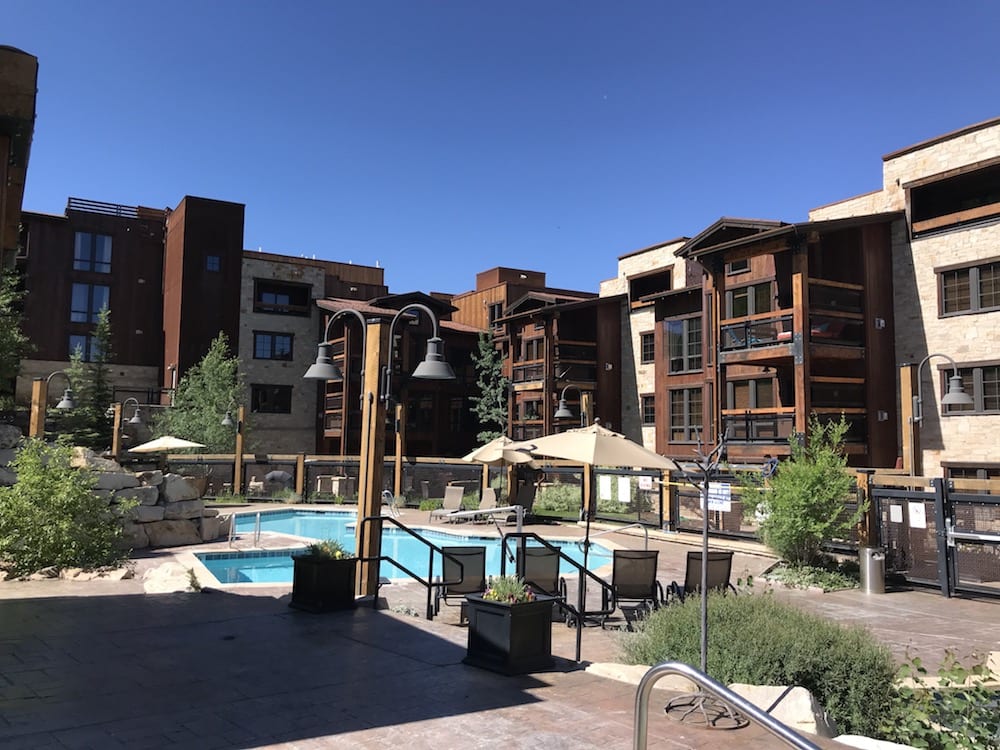 In addition to being luxurious, the Lodge is very family friendly. First of all, there is a heated pool with a water slide. Not to mention a range of organized activities for children; some of these supervised activities are arts and crafts, decorating cookies, projects with beads and decorating picture frames. Also, when it comes to skiing there is a shuttle to take you to ski locations. You cannot buy lift tickets or ski rentals onsite but linked are places around Deer Valley that you can. Book your stay at the Silver Baron Lodge!
Location: 2880 Deer Valley Drive Park City, UT, 84060
Rating: 4.7 Stars
---
The Waldorf Astoria Park City is at the bottom of the Park City Resort, which is five minutes from Main Street in Park City and 35 minutes from Salt Lake City International Airport. The Waldorf Astoria Park City is the largest golf and ski resort in the US. Giving this Park City lodging some sick bragging rights! During ski and snowboard season there are over 300 trails and a 22-foot half pipe for guests to enjoy.
The Frostwood Gondola will take you to the base of the Park City resort, so you can experience these activities and 16 dining options. Onsite, there is ski valet and they will be responsible for your gear and bring it to the gondola daily during your vacation.
Also, there are Ski Butlers in the rental shop to maintain equipment, provide in-room equipment fittings, exclusive Rossignol equipment, and support while you're on the mountain.
The Waldorf Astoria is dog-friendly and will provide food and water bowls, beds and treats during a guest's stay. For kids, there is the Little Miners Camp. It is an indoor camping experience that includes a custom tee-pee in the room with a stuffed animal, lantern and a book.
Also, s'mores are served at 7:30 pm at the main fireplace in the outside pool area. There are a variety of dining options and breweries near the hotel. Check out booking options here!
Location: 2100 Frostwood Drive, Park City, UT 84098
Rating: 4.5 Stars
---
Located 45 minutes from Salt Lake City International Airport, the Hyatt Centric Park City offers great ski in and ski out experiences with the Sunrise chairlift. There are many trails and slopes, opportunities to go cross country skiing or go zip lining across the Park City Mountain Resort. Deer Valley Resort is close too, so guests who like to snowboard can go there.
Onsite there is the Aloha Ski & Snowboard Rental. Also, onsite there are the Wasatch Adventures Guides, the in-house activities company, adventures can include ice climbing and snowshoeing.
A unique perk of the Hyatt Centric Park City is the onsite dining. The Escala Provisions Company Restaurant & Bar has locally sourced food and unique cocktails. Also, there is the Escala Provisions Company The Market for quick meals.
Another feature of the Hyatt Centric Park City is the year-round heated outdoor pool, which is great for kids. Book your stay here.
Location: 3551 North Escala Court Park City, Utah, 84098
Rating: 4.6 Stars
---
Marriott's Summit Watch – The Park City Resort in the Middle of it All
Marriott's Summit Watch is about 45 minutes from Salt Lake City International Airport and another great option for Park City lodging. Within one mile from the hotel guests have access to the Deer Valley Ski area, Park City Golf Course, and Park City Mountain Resort.
You will also find the Alpine Slide, Mountain biking trails, miniature golf, tennis, and volleyball nearby.
If your goal is to find Park City lodging with easy access to many activities, this is definitely the one. Moreover, each room in the Marriott Summit Watch has a full kitchen and onsite there is a BBQ area. Guests of the Marriott's Summit Watch have access to Park City Mountain Resort for skiing by using the Crescent Lift, PayDay Lift, Town Lift, and the Red Pine Gondola.
On the other hand, if guests want the Family Adventure Pack they will have to buy it online.
Onsite there are lots of great activities for families and children. Some of them include life-size Jenga, sunrise meditation and Protein Powerball demonstrations.
In addition, there is the Silver Station Activities Center where kids can eat cereal, watch cartoons, do arts and crafts or take part in a kid's night in. As for back in the room, there's Wi-Fi, a flat-screen TV and a DVD player with movies.
Obviously, this is perfect for families with children who have spent a long day at the slopes! Another fun family attraction that's close to the Marriott Summit Watch is the Alpine Slide. Learn more about the Marriot Summit Watch here!
Location: 780 Main Street, P.O. Box 4109 Park City, Utah 84060
Rating: 4.5 Stars
---
More articles you may enjoy:
Things To Do in Park City During the Summer
15 STUNNING AIRBNBS IN PARK CITY FOR EVERY BUDGET
THE BEST PARK CITY DISCOUNT LIFT TICKETS [+ HOW TO FIND THEM!]
---
Pin It for Later: Must Stay Park City Lodging [6 Resorts that are Simply Incredible]
Latest posts by Mama Munchkin
(see all)