Ever since my daughter was three years old, she has been obsessed with the Grinch. Last year we decided to get some Annual Passes to Universal right around Universal Studios' Grinchmas. After visiting Grinchmas last year and going again yesterday, I can for certain say that Grinchmas is my favorite time to visit Universal. Don't get me wrong, the park is great all year long, but I am pretty much a sucker for everything Christmas and Universal does an amazing job of celebrating the holidays.
Why Universal Studios Grinchmas is the best time to visit Universal!
"Grinchmas"
This year on December 1-2 & 8-9, and daily from December 14 – December 30 you can check out Universal Studios Grinchmas. As you enter the park head straight ahead past the Starbucks (try to resist) and you will run directly into Whoville. You can't miss the giant 60 ft. Whoville tree that twists and turns in a very Whoville type of way. Here are some of my favorite things to do at Grinchmas.
Visit with the Grinch – The kids love visiting with the Grinch, he is hilarious as he interacts with the kids. He definitely shows his feisty side as you join him for a photo opp. Plus, just a few steps over you can also have a photo opp with Grinch's adorable dog Max.
Enjoy the Shows – This one was more for mom, Martha May Who-vier and the Who Dolls perform musical sets to usher in the Christmas season in style. You can also enjoy The Who-liday Singers—a boy-band ensemble will perform a cappella concerts featuring a mix of Christmas favorites and pop rock.
Visit with other characters from Whoville – Around Whoville you will find other great Who's to interact with including the Mayor, Cindy Lou Who, A Who-vie Star and more
Visit the Whoville Post Office and Write a Letter to the Grinch – Over in Whoville you can get a postcard from the Whoville Post Office where you can write the kind things you did this year and send them to the Grinch
Holiday Tree Lighting – A few times during the evening you will enjoy a joyful celebration with the Grinch for the Holiday tree lighting.
Delicious Grinchmas Treats – From Grinchmas colored cotton candy to cupcakes and donuts, there are plenty of delicious treats abound.
Christmas in the Wizarding World of Harry Potter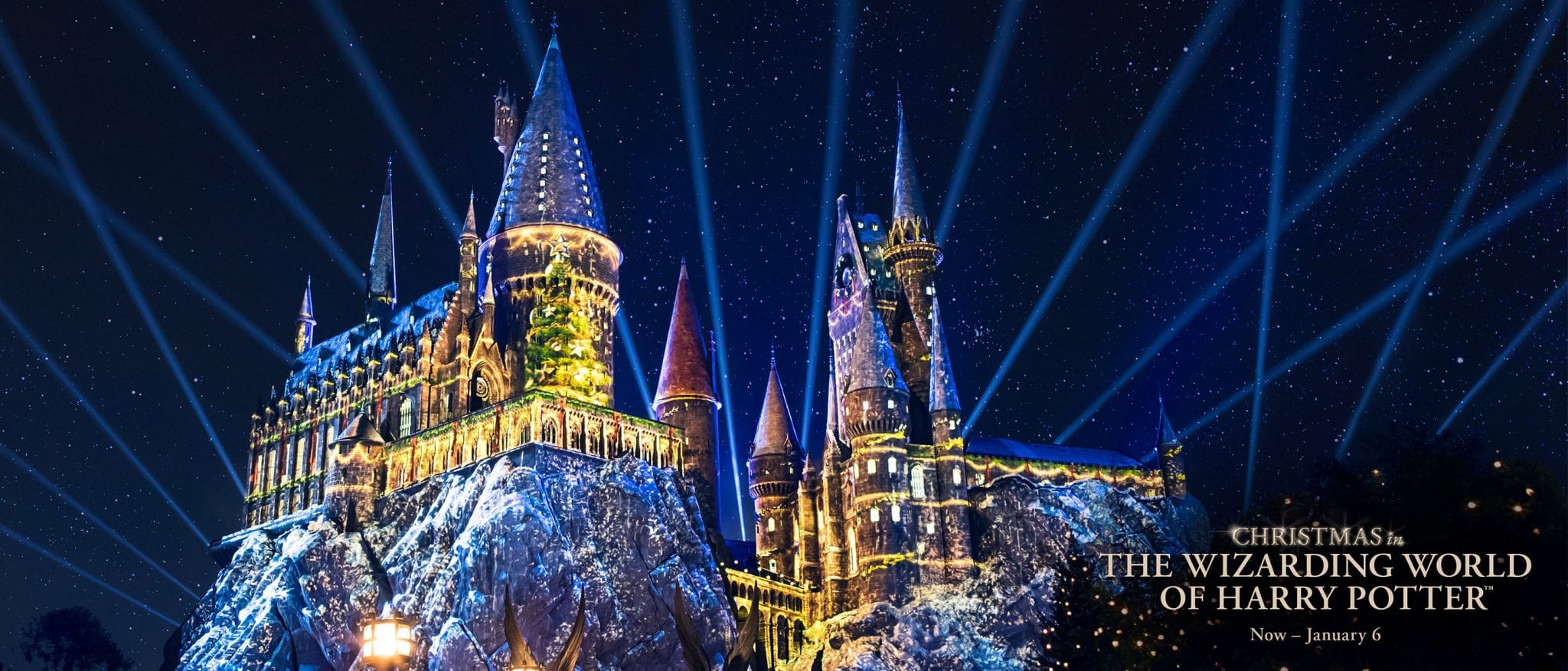 From November 17 – January 6 you can enjoy Christmas in the Wizarding World of Harry Potter. The Wizarding World of Harry Potter is always an incredible place to visit and during Christmas, it is even more special. For the first time ever, guests can experience glistening snowfall in the land at night. Hogwarts castle transforms into a dazzling light projection spectacular with a unique Christmas twist.
Pro Tip – If you see a huge crowd outside Harry Potter, do not panic. Universal breaks up the number of people that can enter the land to keep crowds down. So, if you see a huge crowd outside, don't worry. The line is only a few minutes long. Once you get in Harry Potter land it is not very packed at all so you can enjoy the shows.
Another delicious reason to visit is to enjoy the hot butterbeer. Although my kids did not give a try as they refuse to break way from the classic butter beer.
Other things which we did not get to see at Harry Potter Christmas:
The annual holiday reunites the a cappella Frog Choir, comprised of Hogwarts students and their giant throaty frogs, who return to entertain guests with their harmonized holiday-themed songs.
Collectible merchandise including a variety of decorative Hogwarts castle snow globes, Hogwarts crest and mascot ornaments representing each of the houses, as well as a collection of unique tree toppers and house pennant garland.
"The Magic of Christmas at Hogwarts Castle" will illuminate Hogwarts School of Witchcraft and Wizardry with colorful imagery and impressive dimensional animations that dance across Hogwarts castle in tandem to a musical arrangement from the Harry Potter movies.
Even More Great Activities at Universal Studios Grinchmas
While you are at Universal Grinchmas, of course, you need to hit up all the incredible rides, including Minion Mayhem, Transformers, the Mummy, the Simpsons and of course the main attraction the Universal Tram Ride. Plus, characters abound in their Holiday Best. You can see Shrek & Fiona, Kung Fu Panda, Spongebob and more.
With the combination of Whoville and the holiday dressed characters, there is always some entertainment everywhere you turn. Lastly, in City Walk, you can visit the big guy himself, Santa Clause on his sleigh.
Universal Studios is a fun park to visit throughout the year, such as the Lunar New Year Celebration, but Grinchmas is truly my favorite time to visit the parks.
You Might Also Enjoy:
13 Drool Worthy Pics that'll make you go to Voodoo Donuts CityWalk TODAY!
How to Buy Universal Studios Hollywood Discount Tickets – 9 Easy Ways!
Top 7 Things to do at Knott's Merry Farm This Holiday Season
Pin for Later: Why Universal Studios Grinchmas is the best time to visit Universal!
Latest posts by Mama Munchkin
(see all)