When Henry County adopted "20 miles comfortable south at Atlanta" as their motto, they sure did get it right. It's comfortable in so many more ways than you would imagine, and everywhere you visit somehow instantly feels like home. From pizza joints to 300-acre farms, this county is filled with businesses that have been passed down generation after generation cultivating the ultimate family-friendly atmosphere. If anything is an absolute must do in Henry County, it would be Southern Belle Farm in the little town of McDonough.
The 3 Best Reasons to Visit Southern Belle Farm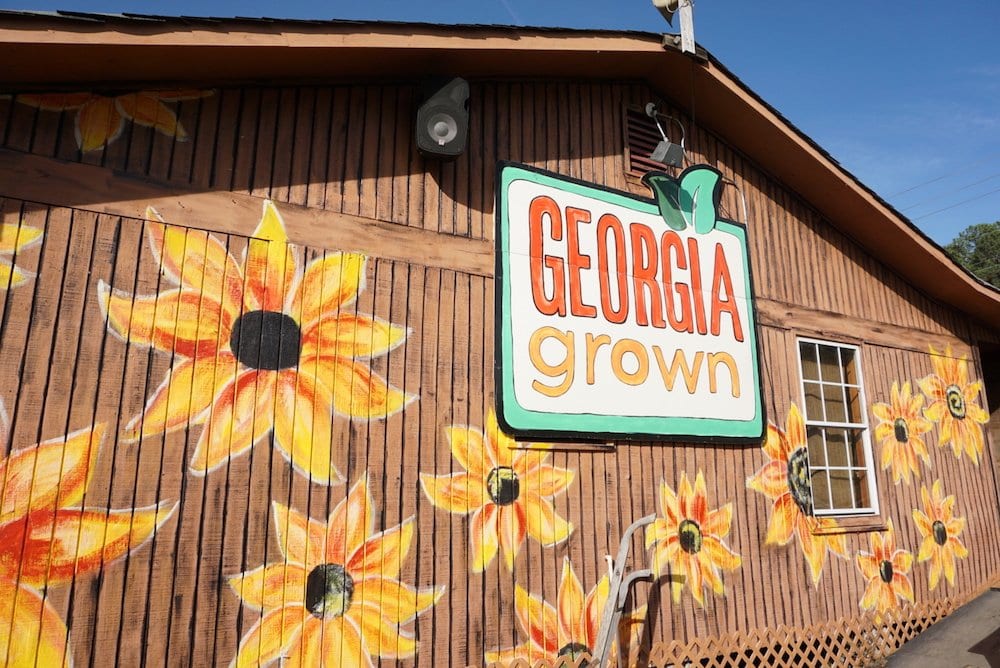 I was sold on the experience pretty much as soon as our car pulled onto the grounds, but sweet peach ice cream from the country market sealed the deal. You are instantly surrounded by families laughing and enjoying all that Southern Belle Farm has to offer. It feels like so much more than just your typical pumpkin patch or farm experience, and that's because it is! This farm is absolutely a year-round attraction with tons of different wholesome activities and seasonal u-pick goodies.
Full Day of Family-Friendly Activities
The main attraction at Southern Belle Farm is truly the seasonal picking. It is what draws people in from all over Georgia, and let me tell you it is well worth the trip! In the spring, you will find big juicy strawberries to pick. Then into the summer and fall, you and your kiddos can pick blueberries, blackberries, peaches and of course pumpkins. As if all that is not enough to make Southern Belle one incredible farm, they have fresh pre-cut trees in the winter as well. With each season comes an incredible list of activities that will have you creating lifelong memories, from your typical farm games & rides to visiting Belle's Barn full of animals to pig races and festive hayrides.
All these activities are included in a single admission price which varies by season, so you can take it slow or jam pack everything in. The choice is all yours! The pig races are definitely a highlight and not to be missed. It is absolutely hilarious to see them run around their little track and brings everyone from the farm together for a good laugh! Check out the farm's current schedule here, as activities and hours change with the seasons around Southern Belle.
Educational Value at Southern Belle Farm
The next best reason to visit Southern Belle Farm as a family has got to be all the educational value this place offers. Most kids these days do not get the chance to see where all their food comes from and how it grows. As Southern Belle is a real working farm, it provides a great chance for kids and parents alike to get a real feel for what farm fresh means. At Southern Belle, they take this whole learning thing up a notch. During the early week hours when the farm is closed to the public, schools from near and far come in for field trips making this a place you know you can trust to teach your child something worthwhile. The dairy barn exhibit is one of the coolest learning opportunities on the farm and you can see exactly how we get our milk!
Food, Food, Food
Last but far from least, one of the best reasons to visit Southern Belle Farm is to experience their country market. It is stocked full of local goods like jams & jellies, honey, canned peaches, ciders, and fresh produce. Say hello to the best souvenirs ever! That's not all though, there's also fresh made goodies that are nearly impossible to resist on the spot. I've already mentioned their peaches and cream ice cream, but it's so good I just have to remind you again! They've also got fresh bakery items like fried pies and seasonal cobblers. If you're looking to get a true taste of Georgia, this is the place to be.
More to Do in Henry County
Glimpses of the Past in Henry County
    Georgia holds so much history, and the people of Henry County make some of the funniest and kindest storytellers you will ever meet. If you find yourself in Georgia, you absolutely must make your way to the Heritage Park Veterans Museum. It is run completely by veterans themselves and rather than timelines and battle outlines, they want to pass on the real like stories of people who fought for our country to the next generation. It's a totally kid-friendly museum with lots of real artifacts that can be picked up, things to climb onto and into, and even a little spot to experience the feeling of a real bunker. It is an extremely special and rare experience to be in a place so many artifacts being told stories by the people who truly experienced them.
    For the thrill seekers, there is another awesome way to connect with the past while in Henry County. You can take a helicopter ride in a Vietnam Era Huey or the Cobra with the Army Aviation Heritage Foundation. It is an experience like no other! They are one of the only organization who can actually give rides to civilians like this. I sat right in the jump seat of the Huey and could even hang my feet over the edge. There's no better way to get a view of Georgia, that's for sure.
Becoming a Professional Cookier
    By no means am I a baker or a talented artist, so I was a little intimidated to be decorating cookies with Crumbles by Nicole. She has literally won the contest, The Great Holiday Baking Show, for doing just that. These fears faded away the moment we stepped into her studio though and were met by her bubbly personality. Before she began her journey as a cookier, Nicole was a kindergarten teacher and this patience and enthusiasm to teach shines through. She offers tons of different class options, from groups of very young children to classes for adults with varying skill levels. You could even do a class together as just a family! In the end, no matter how amazing or awful you have decorated you get to walk away with some pretty delicious cookies.
A Walk on the Wildside at Noah's Ark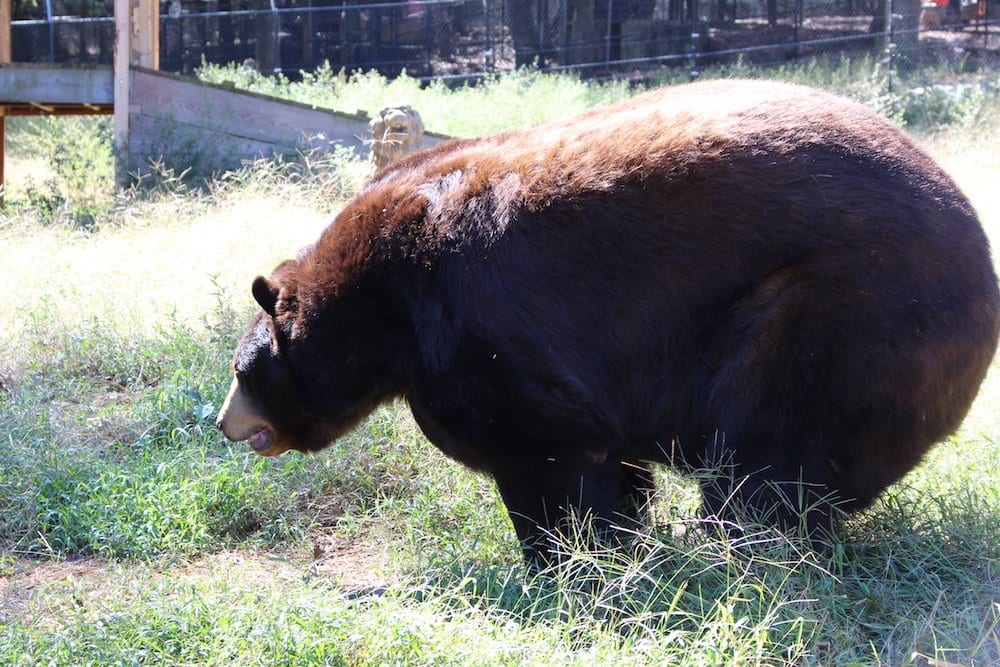 Zoos are a hot topic these days, and while many families want to give their kiddos experiences seeing animals up close and in person it's hard to support institutions that might not be doing the best for the animals. You can rest assured the animals in Noah's Ark have downright ended up in the best hands. These animals come from neglect, being unwanted, and often times abuse to Noah's Ark beautiful 250-acre beautiful sanctuary to be cared for and loved on for the remainder of their lives.
To top it all off you get to walk ark
Round the park and see the animals completely free of charge, so there's nothing holding you back from heading to Henry County to experience this incredible little place doing big things.
    We took the WOW, Walk on the Wildside, tour which takes you inside the first fence. This tour is an absolute must do for families who love animals and want to learn more about them. You can also know about creatures incredible stories. The fee is only $75 and you will get to go inside the fences for about an 1.5 hours with a volunteer from Noah's Ark who the animals know well and will come right up to. Our volunteer could call the tiger's by name and they would come running to greet her. The relationship was really incredible to see!
You Might Also Enjoy:
The BEST Myrtle Beach Activities; ULTIMATE Guide to Myrtle Beach
How to Survive a Two-Week Southern Coast Road Trip without Losing Your Mind (well we came close)
The Ballantyne Hotel in North Carolina; an Incredible 5 Star Resort
Excellent Kid-Friendly Activities in Savannah GA by 365 Atlanta Traveler