One of the things that I always tell all my fellow parent friends, is that we only get 18 summers with our kids, so enjoy the parenting journey to the fullest. Life is too short not to live and make memories.
Travel is one of the ways we enjoy making memories and if you know me, you know I love a good discount! Did you know that some of the best savings are from an AARP discounts?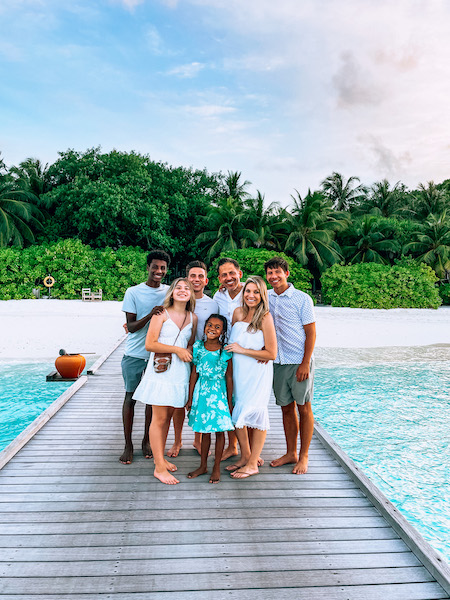 Whether making memories for your family means jetsetting to distant destinations with your family or gathering to dine out on a Tuesday evening because you've simply been dying to try that new Thai place, there can be an AARP discount that can help fit into the family budget!
That is why we have a list of the best AARP discounts out there.
Let's get real for a minute. We all know we should be tightening our belts and saving money these days. With six kids running around, I feel like I'm constantly shelling out cash for one thing or another. But that doesn't mean we have to go without the things we need or love.
Family quality time is important to us, so my Husband and I always are planning on the next adventure, activity or challenge to do with our kids!
That's where AARP Discounts come in, everyone! Seriously, this membership is a lifesaver for modern American families like ours. It's all about making smart financial decisions so we can keep a little extra cash in our bank accounts each month. And who doesn't want that, am I right?
So if you're feeling the pinch and want to stretch your dollars a little further, consider joining AARP and taking advantage of their sweet discounts. Trust me, your wallet (and your stress level) will thank you!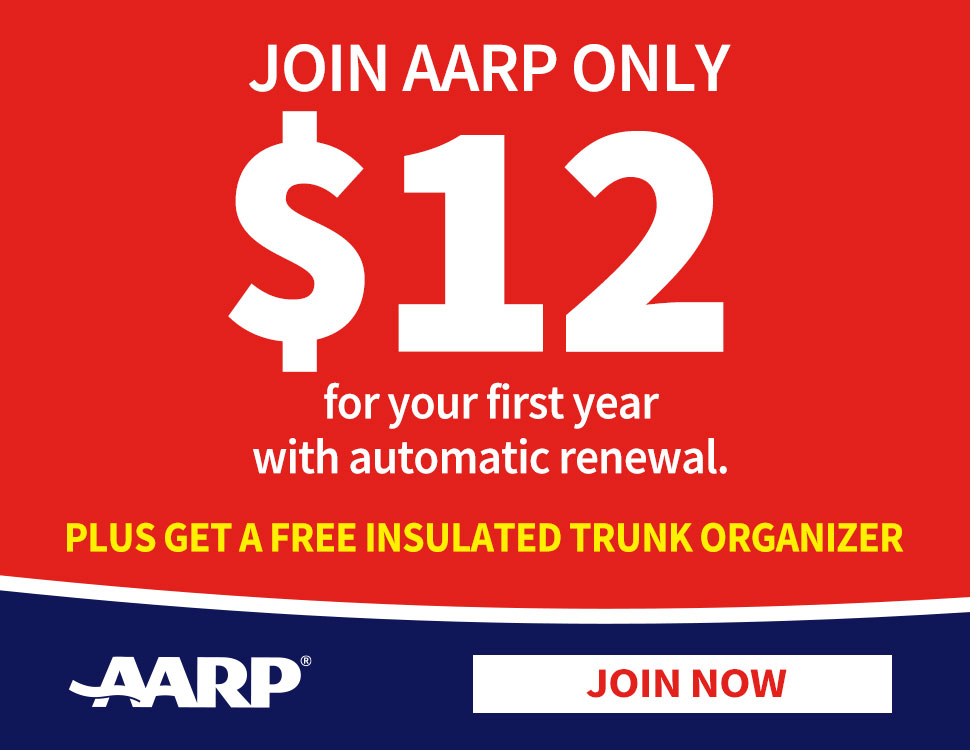 ---
What is AARP?
AARP, or the American Association of Retired Persons, is an organization whose "mission is to empower people to choose how they live as they age."
For $12 per year, AARP provides their members with a wide variety of benefits aimed at helping its members live their best lives. Discounts span across various categories, from health and financial tools to travel and restaurant discounts.
While AARP is geared towards Americans over the age of 50, everyone 18 and older is eligible for a membership. Yes, you heard that right! As long as you are 18 years old, you are eligible! You do not have to be older than 50 or an actual retired person to be an AARP member.
---
What kind of discounts does AARP provide?
In the broad sense, AARP discounts are meant to allow its members to live their best lives. They span across a wide variety of categories, providing value and savings no matter what you're getting into.
AARP discount categories include:
Insurance
Restaurants
Travel
Shopping & Groceries
Health & Wellness
Gas & Auto Services
Technology & Wireless
Entertainment
Finances
Family Caregiving
Work & Jobs
Home & Real Estate
Community
Advocacy
Magazines & Resources
That is a lot of discounts, especially for large families like mine!
Simply showing your AARP membership card unlocks hundreds of discounts and benefits that effectively pay for your membership in only a few uses. Members wind up saving hundreds to thousands of dollars annually, helping them live their best lives year after year!
Here are some of the best AARP discounts and our favorites that you could be taking advantage of today.
AARP Movie Discounts
The movies is one of our favorite activities to do with the kids because it is loads of fun! What we love most is that theaters nowadays are often equipped with state-of-the-art sound systems, luxurious seating, and incredibly high-quality projectors and screens including the infamous IMAX experience.
Last time we did go to the movies though, we had a bit of a sticker shock! Ticket prices are at an all-time high, however, so AARP members will be pleased to know their membership provides a 35% discount off tickets at movie theaters including AMC and Cinemark theaters.
The savings don't stop there. AARP members are free to enjoy a delectable selection of concessions at 25% off regular prices. If you have a hankering for a small popcorn and small soft drinks combo, the AARP membership provides a flat $3 discount on this combo.
How do you nab the savings? Simply flash that AARP membership card and the staff will take care of the rest. Discounted movie tickets and popcorn? Yes, PLEASE!
AARP SeaWorld Discounts
There's no place like SeaWorld. Its one-of-a-kind blend of theme park attractions with marine life showcases make it an exciting visit for everyone.
Whether you're in Orlando, San Diego, or San Antonio, you'll enjoy the high-octane roller coasters, gorgeous gardens, incredible shows, and, of course, the sea life including orcas, dolphins, sharks, and much, much more.
AARP members will be pleased to hear that their membership awards them $5 off the standard ticket price every day except for Tuesdays. On Tuesdays, SeaWorld offers $8 to honor the "Terrific Tuesdays" promotion.
That's plenty of incentive to visit SeaWorld and see the sea life there!
AARP Car Rental Discounts
AARP is all about you getting out there to live your best life. Sometimes, that means just hitting the road for a road trip, jet setting to faraway lands, or simply leaving town for a refreshing escape.
If you need some wheels for your next getaway, AARP and Budget Car Rental have got you covered. Members enjoy up to 35% off rentals. With savings like these, splurge on your next trip and grab something sleek and stylish like a Mustang or a Camaro.
AARP Cell Phone Discounts
If you follow us, you know that teenagers kind of rule our house right now, which means a lot of cell phones! Luckily, there are AARP discounts for mobile phones as well!
AARP members enjoy $10 off their bill every month if they use AT&T as their carrier. The $10 off is a great deal, but the fact that it's on one of America's most trusted and reliable networks make the savings even sweeter.
AARP Hotel Discounts
We love a good hotel and of course, you'll need somewhere to stay during each getaway and vacation.
In the spirit of "living your best life," you'll want something with modern day conveniences and luxurious amenities. You want a hotel that offers a stay that elevates your vacation from "that trip you took" to an unforgettable experience.
AARP members enjoy 10% off Hilton brand hotels. Those include:
Hilton Hotels and Resorts
Waldorf Astoria Hotels and Resorts
LXR Hotels and Resorts
Conrad Hotels and Resorts
Canopy by Hilton
Signia by Hilton
Curio Collection by Hilton
DoubleTree by Hilton
Tapestry Collection by Hilton
Embassy Suites by Hilton
Tempo by Hilton
Motto by Hilton
Hilton Garden Inn
Hampton by Hilton
Tru by Hilton
Homewood Suites by Hilton
Home2 Suites by Hilton
Hilton Grand Vacations
No matter where you're headed, you're sure to find swanky accommodations that make you feel like pure royalty.
As if this deal isn't sweet enough, AARP members also receive 10% off at IHG hotels as well. IHG hotels include:
Holiday Inn
Holiday Inn Express
Candlewood Suites
Six Senses Hotels, Resort, Spas
Regent Hotels and Resorts
InterContinental Hotels and Resorts
Vignette Collection
Kimpton Hotels and Restaurants
Hotel Indigo
Voco
HUALUXE Hotels and Resorts
Crowne Plaza Hotels and Resorts
Even Hotels
Avid Hotels
Atwell Suites
Staybridge Suites
AARP members are preferred at Hilton and IHG hotels, providing excellent incentive to get out and travel. The savings make the trips well worth it.
AARP Roadside Assistance Discounts
Let's be real, nothing kills a good mood faster than car trouble. It's the ultimate buzzkill, am I right? But fear not, because I've got a hot tip for you: Allstate Roadside Assistance is where it's at with your AARP discounts!
Whether you're stuck with no gas, a flat tire, a dead battery, or any other kind of vehicle problem, you need high-quality roadside assistance to get you back on your way. And Allstate is the real deal, my friends. They'll have you up and running (or rolling) in no time flat.
And here's the kicker: AARP members get Allstate Roadside Assistance for only $5.50 per month. Can you believe it? Nonmembers might pay more than $15 monthly for the same service.
That's a no-brainer! If you're not already an AARP member, now's the time to join and take advantage of this sweet discount. Trust me, your future self will thank you when you're cruising down the road with peace of mind.
AARP Airline Discounts
The travel discounts that AARP members enjoy are unparalleled. Not only does this mitigate the annual AARP membership cost and make it well worth the affordable price tag, but it also inspires members to finally take that trip they've always dreamed about.
Don't just sit back and let life pass you by. Become an AARP member and enjoy incredible discounts at British Airways. Depending on the destination, members enjoy $65 to $200 off round-trip tickets purchased online.
Members receive $65 off bookings made on British Airways website if booking World Traveller or World Traveller Plus, the economy and premium economy options respectively. Business class, or Club World as British Airways endearingly terms it, tickets are eligible for up to $200 off for AARP members.
It's an excellent deal from an excellent airline, which provides service to over 130 destinations in Europe, Asia, the Middle East, and Africa.
AARP Local Discounts
AARP encourages folks to get out and explore their wanderlust, but if you prefer to stay at home, there is also so much for you with AARP discounts. Did you know that Members also enjoy discounts right at home at the place they love to visit regularly?
AARP members receive 50% off at local coffee shops, giving you a great reason to go out for that morning coffee and take in the morning from a premium local establishment that makes a delicious cup.
If you're looking for something sweet instead, AARP members also get 50% off from local ice cream parlors. That's great for the ice cream aficionados, but members also receive 25% off at Froyoland if frozen yogurt is more your thing.
That's not all– AARP members enjoy between 10% and 25% discounts at many local restaurants. After all, nothing beats making a reservation for you, your family, and friends and getting out on the town to relax and unwind for a short time.
What could be better than a night out enjoying an excellent local restaurant and then finishing up with ice cream or froyo? This is just another of the many ways AARP allows to you enjoy "la dolce vita."
---
Final Thoughts
With a $12 annual price tag, becoming an AARP member pays for itself almost immediately. This allows AARP members to get out there and live life to the fullest for a fraction of the cost that nonmembers would be paying.
Do yourself a favor and apply for your membership today!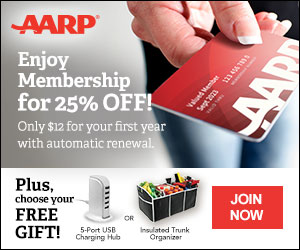 ---
Frequently Asked Questions about AARP discounts
How do I receive AARP discounts?
All it takes for most deals is simply showing the AARP membership cards. Once you show the card, staff will apply all discounts you are eligible for.
How do I know what other discounts I am eligible for with my AARP membership?
When in doubt, ask the staff, whether it's a global company or a local mom-and-pop shop. The on-site staff should be acquainted regarding what discounts they offer to AARP members.
In addition, more information regarding AARP discounts is available here.
Do I have to carry the card with me?
There's a digital version available through the AARP Now App that you can use instead of a physical card. More details are available here.
---
If you enjoyed our list of the best AARP discounts, you might also like:
THE BEST TIPS FOR BUYING CHEAP PARK TICKETS ORLANDO
[10 EASY WAYS] TO SCORE SAN DIEGO ZOO DISCOUNT TICKETS
DVC RENTAL [10 MUST KNOW THINGS] BEFORE YOU BOOK!
---
Pin-it for later: Our List of the Best AARP Discounts