Calling all Mamalorians and Dadalorians! Want to make your Disney trip even more magical? Along with our ongoing search for awesome Disney shirts, we've searched for amazing matching family shirts, couple shirts or Mickey shirts, we now embark on out greatest endeavor, some incredible Star Wars Disney Shirts.
Disney Star Wars themed shirts are a fun way to create a memorable theme for the trip and pack the force with you for those long days at the park.
That said, we went ahead and put together a list of our favorite Star Wars Disney shirts, so you can find the best shirts, Disney families will ALL love!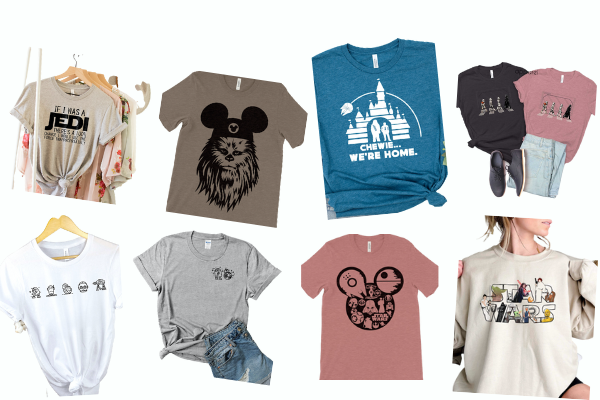 ---
The Best Star Wars Disney Shirts
Star Wars Disney shirts have become a popular fashion trend among fans of the iconic franchise. These shirts not only show off your love for Star Wars, but they also provide a sense of nostalgia and excitement for fans of the classic films.
Here are some of the best Disney Star Wars shirts and why it's awesome to wear them to Disney Parks.
---
Mini Logo Star Wars Shirt
A cute and modern style featuring some of the favorite characters. I love the. minimalism in this shirt and how cute R2D2 is!
This is perfect if you're looking for a more subtle themed shirt
---
Chewbacca Star Wars Disney Shirts
How can you not love this Star Wars Disney Shirt? The Mickey ears on Chewbaca just makes me smile.
---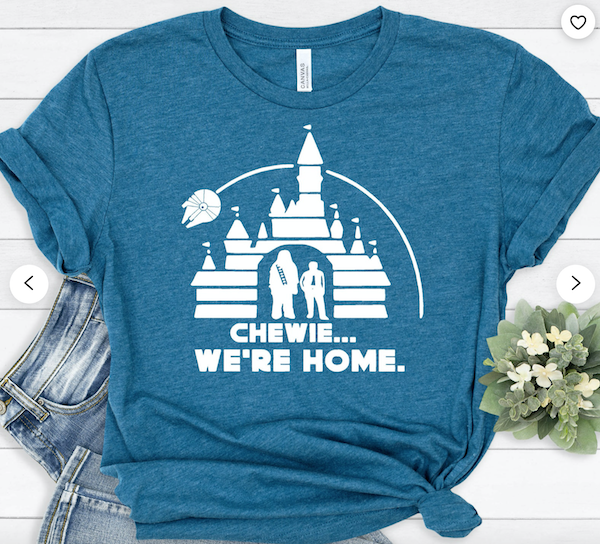 Are you a fan of Han Solo and Chewie?There really is no place like Disney, feels like home for us too.
---
The Dark Side Disney Shirts
This Darth Vader shirt with a Mickey Balloon might be an all time favorite of mine.
Something is always humerous about the thought of Darth Vader having a good time at Disneyland
---
Love this Stormtroopers theme for your whole troop. You can customize colors too.
---
Mickey Logo Star Wars Shirt
A classic with the Mickey silhouette and all the Star Wars themed icons.
Love that the Millennium Falcon and Death Star are in the Mickey ears!
---
The Classic Star Wars Shirts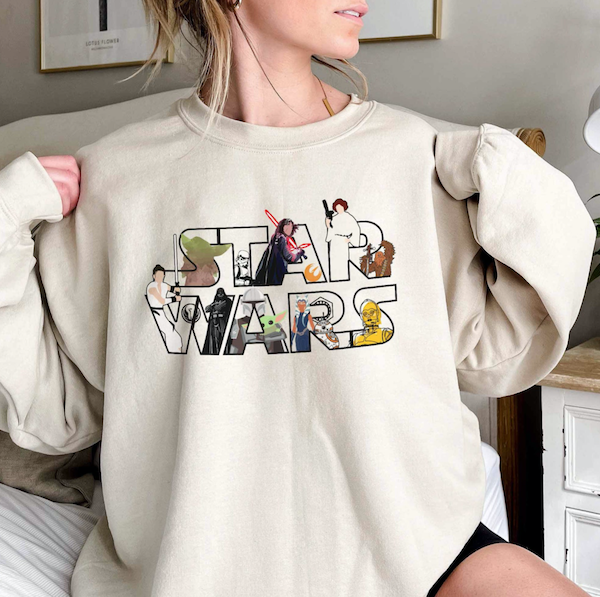 Here is a style I love for outside the park for everyday wear.
Plus it's always good to have a sweatshirt with you for nights at the park.
---
The classic and iconic intro is one of our top picks.
We also love how simple it is and think pairing it with your favorite jeans and comfy shoes would be perfect for a Disney Parks day!
---
Family Star Wars Disney Shirts
Last but not least, Mandalorian theme for the whole family.
---
Similar but available in fun colors, and c'mon "The Child"… pretty much perfection!
---
If you enjoyed our list of our favorite Star Wars Disney Shirts, then you might also like:
25 CUTE DISNEY SHIRTS YOU'LL ABSOLUTELY LOVE!
10 AMAZING MICKEY MOUSE FAMILY SHIRTS FOR YOUR DISNEY VACAY!
33 AWESOME MATCHING DISNEY FAMILY SHIRTS [+3 WEIRD ONES!]
---
Pin-it for later: The Best Star Wars Disney Shirts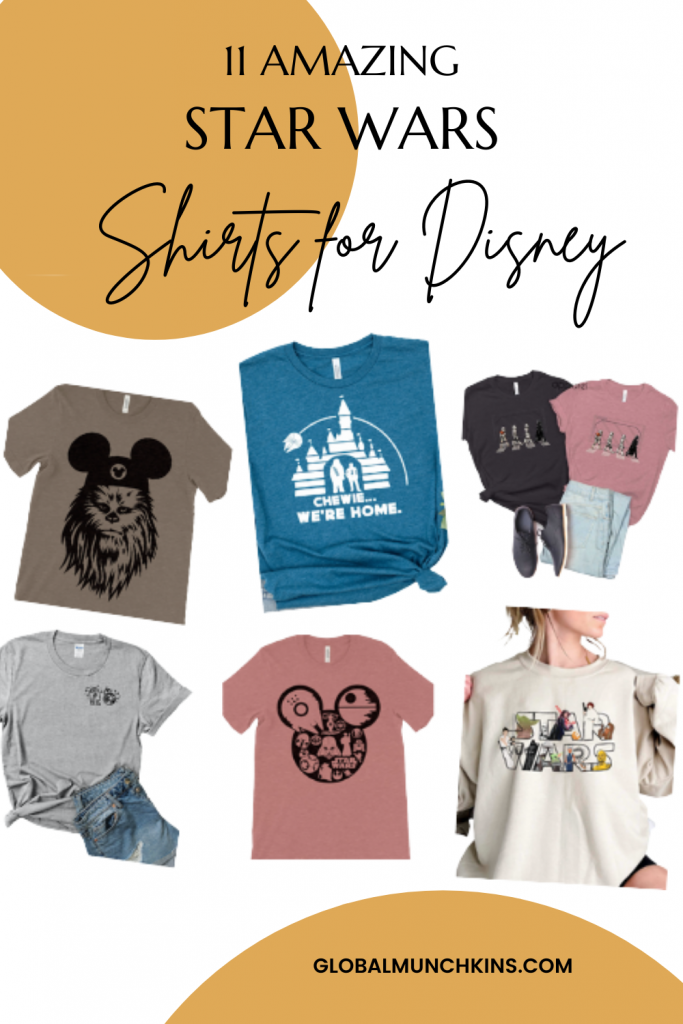 ---
Frequently Asked Questions about Star Wars Disney Shirts
What did Disney do to Star Wars?
Disney acquired the rights to Star Wars in 2012 for $4 billion and has since produced new Star Wars films, TV shows, and theme park attractions.
What is the oldest Star Wars ride Disney?
The oldest Star Wars ride at Disney is Star Tours: The Adventures Continue, which originally opened on January 9, 1987, at Disneyland in California.
The ride was updated and re-themed in 2011 with the addition of new destinations and characters from the Star Wars prequel trilogy, and then again in 2019 to include elements from the sequel trilogy and the Star Wars: Galaxy's Edge land.