We have sailed with Disney Cruise Line 5 times in the past 6 years and so on this #FlashbackFriday I thought I would share a few of the reasons the munchkins and I LOVE Disney Cruise Line.
5 Reasons Disney Cruise ROCKS!!!

I remember planning our first Disney Cruise Line Vacation. It seemed like the next logical step since we had taken several trips to DisneyWorld and living in SoCal Disneyland was our weekend go to. But, something about being out in the middle of the ocean, on a ship, with my kids also completely terrified me. With encouragement from close friends and family who had charted that territory with kids in tow before me I went ahead and booked that trip. 6 years later and we have boarded that boat 4 more times plus gone on several other cruises (read more about those here & here). So, let me go ahead and push aside your fears and give you some insight on why Disney Cruise Line will Rock Your World!!!
1 Disney Cruise Line – Castaway Cay
In case you were not aware Disney has an incredible private island in the Caribbean called Castaway Cay and it is INCREDIBLE!!!! Like, seriously maybe my favorite place in the world. Why? You ask…. well the water is crystal clear and warm. All the food on the food on the island is included. And, there is SO much fun to be had. In fact when it comes to getting back on the boat at the end of your day you are going to want to cry. Or hide out on the island and live there forever.
I definitely recommend taking advantage of the inner tube, snorkeling, and bike rental package while you are there. It always seems to be the perfect amount of activities for us and its pretty reasonably priced too.
Our normal routine is heading over to grab chairs as soon as we get off the boat. *Chairs and umbrellas are both offered free of charge. Next, we take the kids snorkeling. That usually tires them out a bit so we relax at the beach, let the kids float around in the inner tubes or play in the sand until lunch.
After lunch we typically head out for a bike ride around the island. They have kids bikes available with and without training wheels plus bike seats for babies and toddlers. We love taking the path over to the lookout and then letting the kids climb up and peer out over the island. It is so peaceful back there. *You can also get some great photos of the ship and the island while you are at the top of the lookout!
After our bike ride we are usually ready to jump back in the cool water so we head to the water slides. By this time the lines for the slides has usually waned and the kids enjoy going up and down over & over again!
Another fun activity for kids is the Castaway Cay Stingray Adventure. This one does require an additional charge but as you can see by the thousand+ positive reviews on Tripadvisor here this activity is definitely a winner! Our older son enjoyed himself but at first, the rays swimming around his ankles was a bit nerve-wracking. So, beware if your kids are nervous about things like that. Castaway Cay is a stop on every Disney Caribbean Cruise.
2 The Service
Hands down the absolute BEST service we have had on any cruise has been with Disney Cruise Line. Their cast members bend over backwards to ensure that you are enjoying every second of your vacation. I also love the way that they do dining. You rotate through their different restaurants but always with the same waitstaff. So, you get to know them really well. Each night they will have your kids drink orders ready to go, some bread at the table and some magic tricks ready to keep the little ones attention.
And, you have to love how their staff jumps in and gets everyone up dancing and having a good time. They are amazing people and their commitment to your pleasure shines through. My oldest never wants to get up and dance at things like this in a restaurant. But, when his buddy Sam (our waiter) asked he just couldn't refuse 😉
Besides great staff, Disney Cruise Line also goes above and beyond by offering things like complimentary strollers and wagons at Castaway. I love how they think of all the details so that you don't have to.
[bctt tweet="@DisneyCruise thinks of all the details so you don't have to. Read more of why Disney Cruise Rocks here-" username="globalmunchkins"]
3 Kids Clubs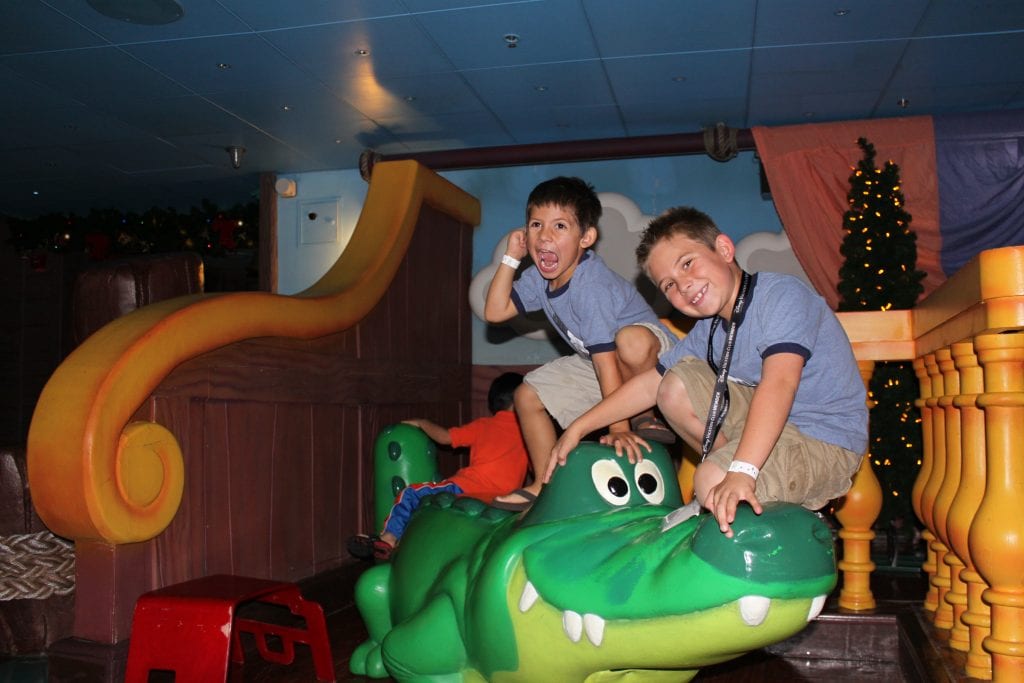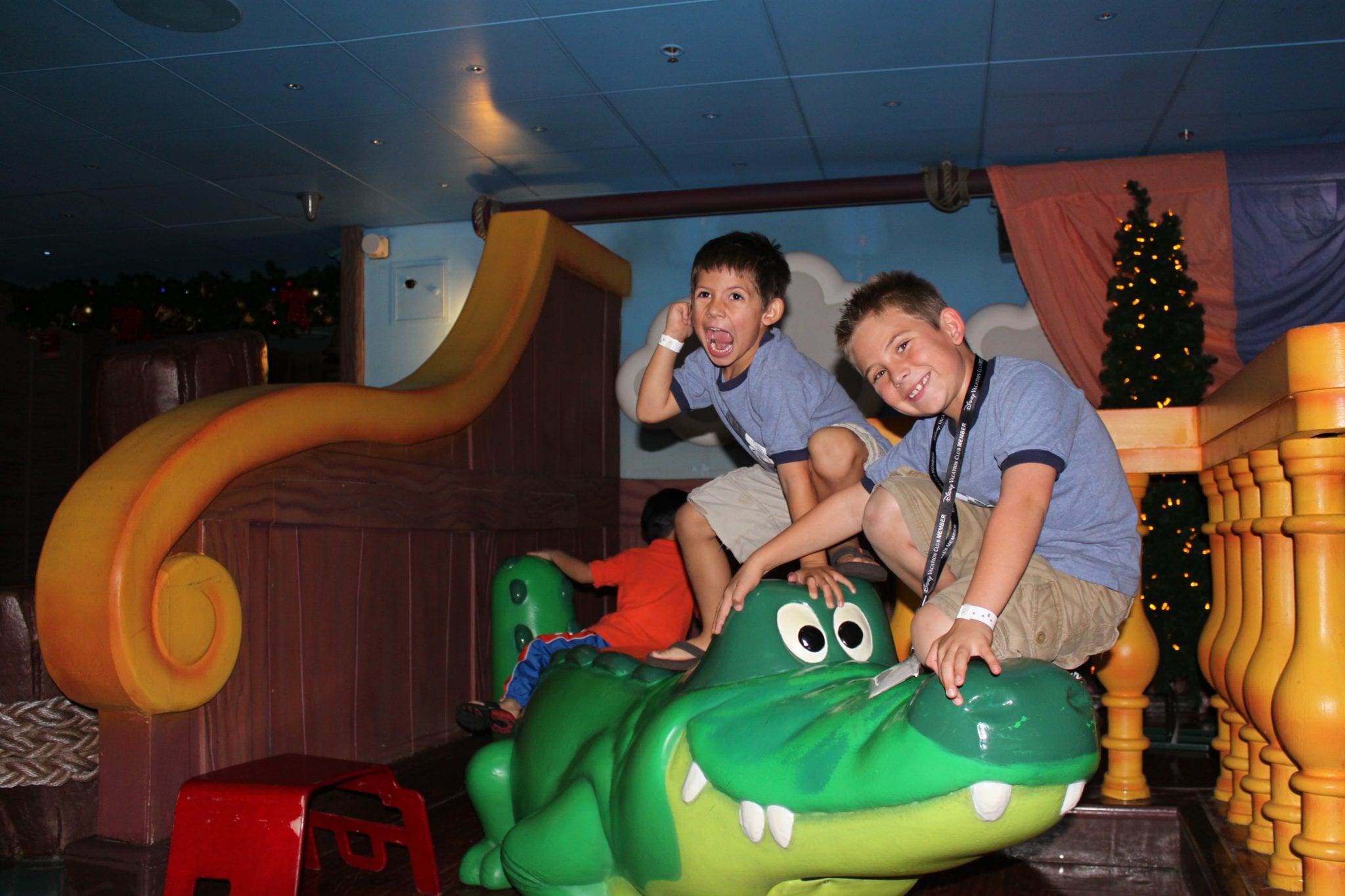 You know how I feel about INCLUDED Day Care by now. Ummmm…. major LOVE for it!!! But, the key here is the Kids Club has to be one that the kids actually want to go to or the mom guilt will eat you up inside. Thankfully, Disney's Oceaneer Club is one of, if not THE best kids club of all. There are two separate spaces the Oceaneer Club where they play, have characters visits, do crafts etc… And, then there is the Oceaneer's Lab where the kids get to dress up as little scientists and create things. Below my boys were helping to create their own Stitch's Space Goo- so cool!
Not only do the characters come to visit the clubs but they also host really cool events like  Goofy's Slumber party… featuring a pillow fight with Goofy himself. I mean seriously… how cool is that!
And, when the kids are having a blast at the kids club hanging out with disney characters, you and your hubby get some alone time to hang out and relax. I don't know about you but that is pretty dreamy for me. I have come home from way too many vacations feeling exhausted and tapped out. Disney Cruise Line is one of the only vacations (Aulani is another read about that here) where I come back home feeling refreshed!
4 Disney Characters
Of course, as you would expect cruising onboard a Disney Cruise ship means there are plenty of opportunities for your kids to hang out with their favorite characters. There are scheduled meet and greets around the boat, at Castaway Cay and at the kids club. And, then there are also quite a few moments where you just randomly run into characters walking around the boat. I find the characters onboard Disney Cruise Line to be much more relaxed and playful so the kids get a lot of quality interaction. From ages 3-9 I think its pretty magical!!!

5 On Board Activities
Disney's Cruise Staff keeps the entertainment schedule bumping. There is always so much to do on board. Whether you love game shows, broadway style shows, music, dancing, cooking demos or contests there is something for everyone. The first time onboard we kind of stood back like wallflowers and didn't engage much. For example pirate night we packed a hook and a few eye patches for the kids (see the above pic). Now after going a few times we have joined in on the crazy (note the picture below).
I would urge anyone who is heading out on a Disney Cruise for the first time to GO FOR IT!!! Pack full on pirate outfits for the whole family, get your cruise door fish extender and some magnets while you are at it. I promise the majority of people onboard are doing it. Remember this is your vacation. Your time to let loose, have fun with your kids and create memories that will last a lifetime.
BONUS
6 Getting Onboard is Half the Fun!
When you walk in to Disney's Cape Canaveral building the excitement is in the air. Kids are running around, parents have big smiles on their faces… it's like everyone dreams are coming true. For good reason too. What is better than vacation day 1? But, I love how Disney embraces those feelings and adds to them. We love getting picked up from the resort or airport in the Disney Cruise Line bus. And, then there is nothing like walking through the giant Mickey Ears on your way to boarding the boat. It's SO DARN FUN!!! I hope I have given you a glimpse, as I ran through memory lane, on this #FlashbackFriday of why Disney Cruise Line rocks. I know it can be pricey so try booking during slower months of the year. They usually have some great deals right around Sept.- Nov. and their Thanksgiving cruise is awesome!!!
Pin for later-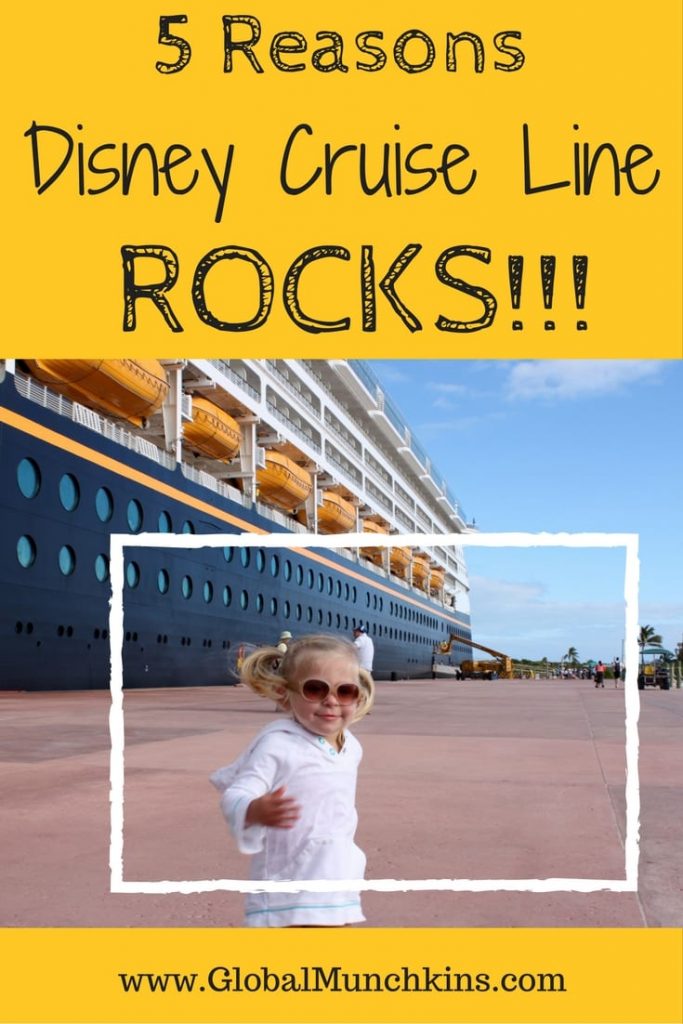 If you have questions about Disney Cruise Line please leave me a comment.
I respond to each and every one 😉
*This post may contain affiliate links which won't change your price but will share some commission.