*We were guests of Adventures by Disney. We attended a press trip to experience their New York City Short Escape. All thoughts & opinions are our own.
Chatting it up with the stars of Frozen on Broadway, taking an epic bus ride through the city with surprises at every turn, and scoring VIP treatment on set at Good Morning America were just some of the highlights on our recent trip to New York with Adventures by Disney. What I will never forget though is the enormous smile my daughter had plastered on her face from the beginning to the end of our whirlwind girls trip to NYC. Today I am sharing a peek into what it is like to travel with Adventures by Disney (outside of the theme parks) + I'm giving you my top 3 reasons to book your own Adventures by Disney experience too!
3 of the Best Reasons to Book an Adventures by Disney Vacation
Exclusive Access- aka Pixie Dust!
One of the reasons we have traveled with Disney so much over the years (Disneyland, Disney World, Aulani, Disney Cruise Line) is because when you travel with Disney there is always an underlying magic that inherently pops up again and again. It is what makes a Disney vacation extra special and that definitely was the case with our New York City Short Escape.
The pixie dust came in the form of front of the line privileges, backstage access, and once in a lifetime experiences that only Disney could manage.
A great example of this was our Good Morning America Studio Tour. As we approached the studios I noticed a line with other tour guides waiting for their chance to be let in and I prepared for a long wait but as we got closer a gentleman opened a door and whisked our group directly into the studios to an upstairs green room. While we waited we were given an inspiring pep talk from one of the stage managers from Good Morning America. It was an incredible experience and one that Ella and I will not soon forget. It was also an experience that was totally exclusive to Adventures by Disney guests that morning.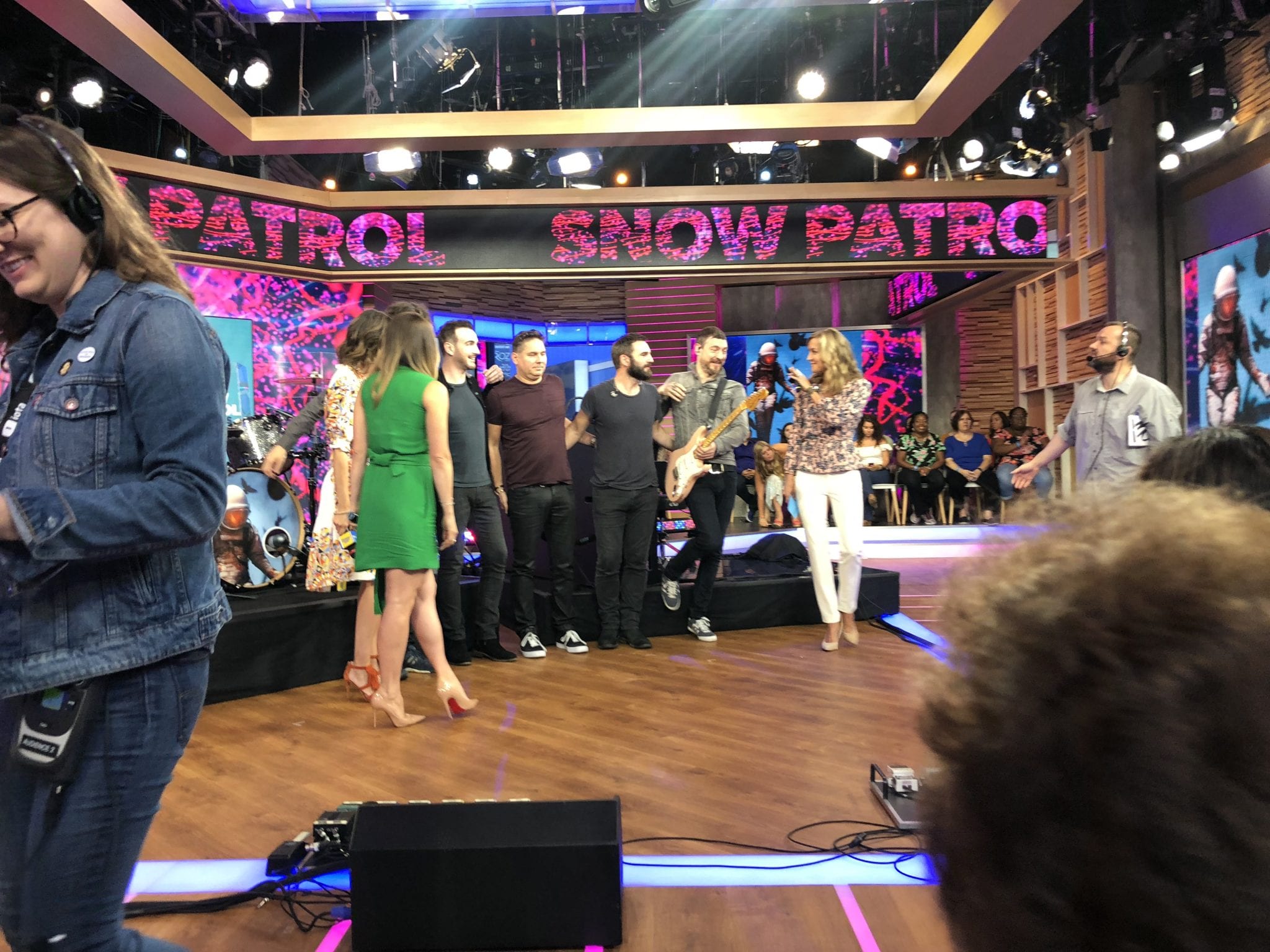 After our pep talk we were given behind the scenes tours and then we were invited to sit in the audience for the entire Good Morning America show. We got to meet Michael Strahan and Lara Spencer plus I got to chat for a second with special guest Chrissy Teigan (she shared her amazing whole fish recipe). If you want to know how good our seats checked out the video below… do you see me??
My 5-Minutes of Fame on GMA- look towards the bottom right.
Another excellent example was our Frozen on Broadway experience. Not only did Adventures by Disney book us amazing seats for the show (we were in the "snow zone"") but we also got to take lessons at the Broadway Theater Workshop where we learned some of the "Fixer Upper" song & dance routine AND we got to chat with the stars of the show after the performance as well. It took an amazing experience over the top it was absolutely MAGICAL- no other way to describe it!!!
Okay, I can't stop there is another experience I just have to mention. Adventures by Disney took us on a private tour of the New Amsterdam Theater where we got to go behind the scenes and learn about some of the history of the theater (it was built in 1903) and we were taken into an area that held archived Disney Broadway costumes and props AND they let us play with them!!!! It was so much fun!!!
I could go on and on about the magic but I think you are getting the point. Disney is a powerful source and we you travel with them you gain access to all sorts of amazing experiences that are not available to the general public and that makes traveling with Disney a little extra special!!
Extraordinary Service from Beginning to End
Another reason to travel with Adventures by Disney is your vacation will be worry-free! Forget about having to stress over every detail because your adventure guide will personally attend to each one of them for you, they even anticipate your needs. They have your flight numbers, your admission tickets, handle transportation and make sure you are comfortable and happy the entire time.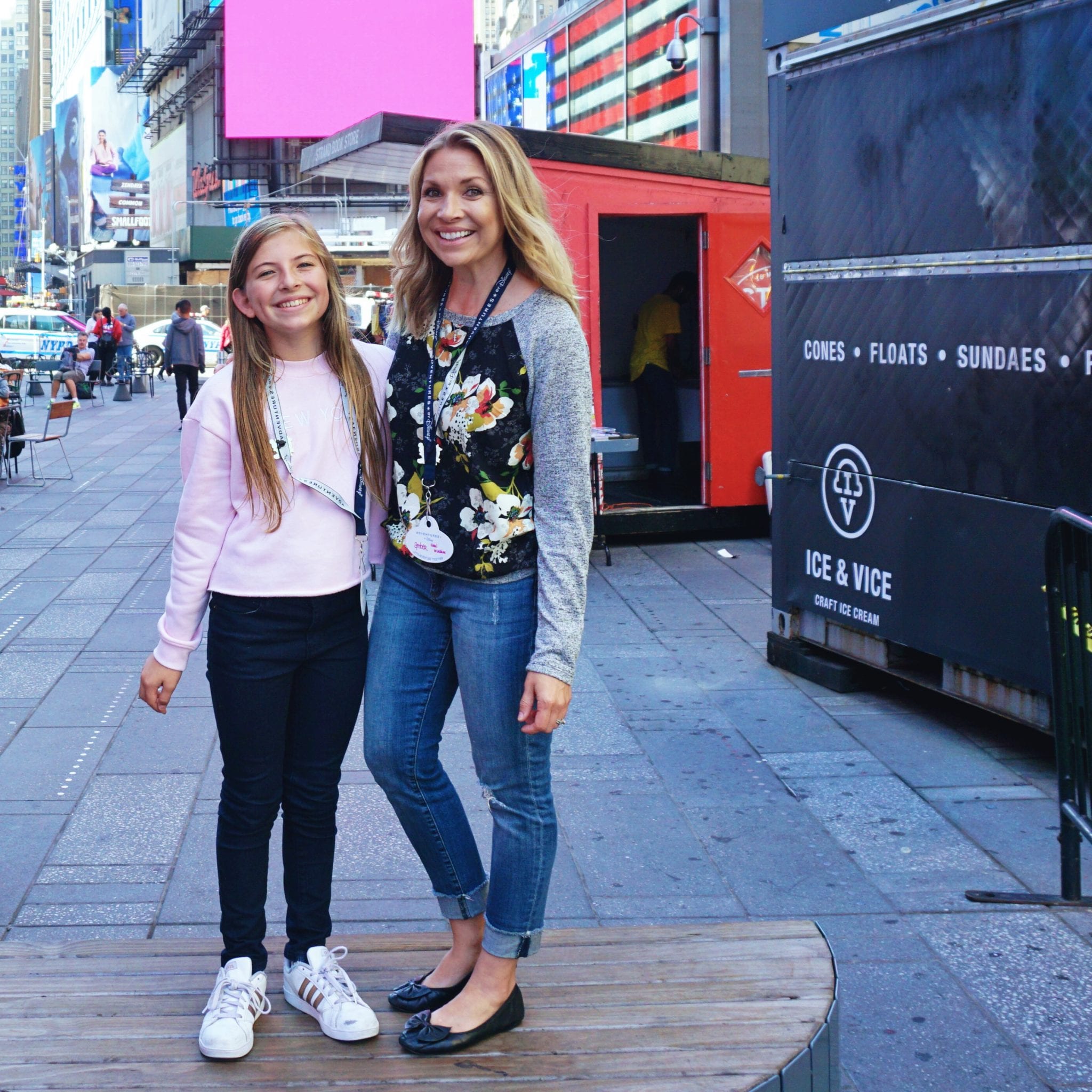 I also read that at least one of your Adventure Guides on every Adventure by Disney vacation is a local. I found that our local guide was able to give insights that only a resident could give including unique stories and recommendations of where we should go and what we should do on our downtime.
So Much Is Included
An element I hadn't anticipated when I initially looked at the costs involved in booking an Adventures by Disney vacation is everything that is included in their packages- it was seriously SO MUCH!!
Did you know that almost every detail and fee is included? This includes transportation within your trip (even transfers from the airport and hotel), taxes and most gratuities, accommodations (at some very fancy places), tickets and admission to events and attractions, most meals and snacks (we even enjoyed room service), plus luggage and concierge services. It is another reason trips with Adventures by Disney are hassle-free!
BONUS- Created with Families in Mind
One of the most valuable reasons to travel with Adventures by Disney is they understand the unique needs of family travelers. They make sure to plan in special activities for junior adventurers while still scheduling tours that the grown-ups will enjoy too. Having a trained Adventure Guide taking care of all the details also allows you to be more fully present with your children so that you can soak up the magical experience you are on.
I was only able to get a taste of what it is like to travel with Adventure by Disney but they have me hooked and wanting more already!!!
Our Itinerary*
*Keep in mind we were invited as press to experience a taste of the actual "New York City Short Escape" vacation. The actual itinerary covers even more amazing experiences!!
Day 1- Arrivals
Arrive in New York City and check in at the Intercontinental Hotel in Times Square- which happens to be in a fantastic location. Check out the view from our room below.
Meet with our Adventure Guides in the hotel lobby.
Free Time– Ella and I took this time to visit the Hearst Tower (had to stop by the O, The Oprah Magazine Headquarters to check in with some friends), explored Times Square and found a delicious lunch spot!
Welcome Dinner– there was a reception dinner at our hotel which was a great opportunity to meet the other adventurers on our tour.
THE RIDE: NYC Tour– hands down the BEST bus tour I have ever taken. This was no ordinary tour too, it was super interactive and very fun!!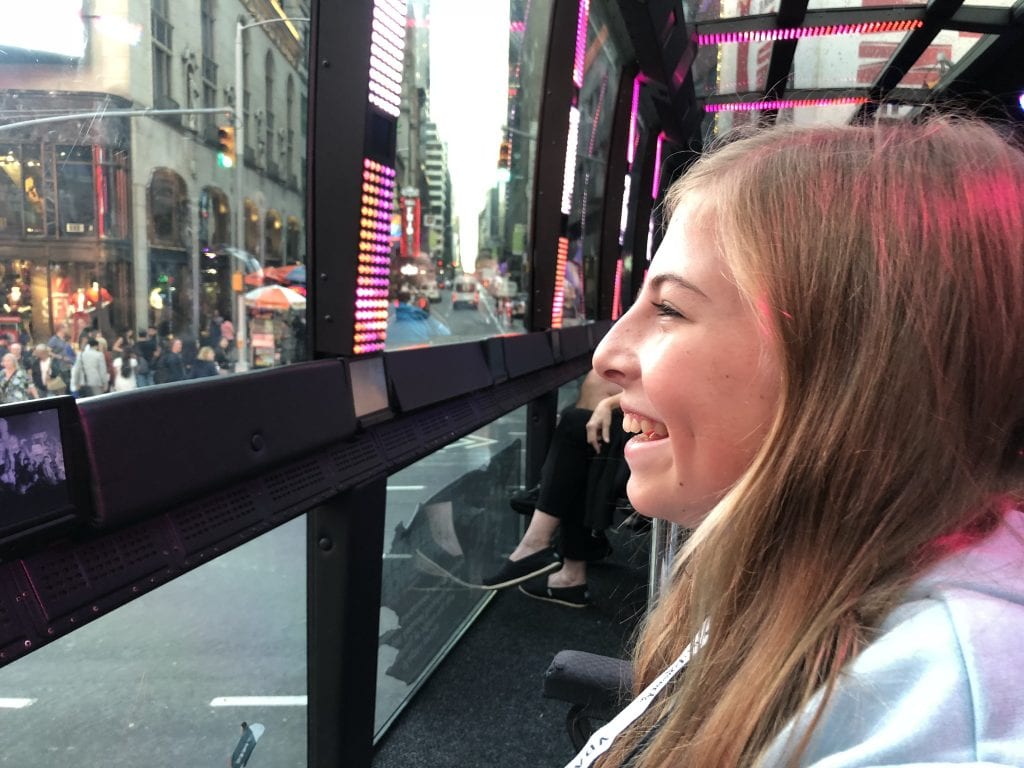 Explore on Our Own– but we had so much fun earlier and knew we needed to wake up early so we ordered a room service dessert and called it a night.
Day 2- Full Day with Adventures by Disney
Good Morning America Backstage Visit We met bright & early at 5:45 am to go behind the scenes on an exclusive VIP tour of ABC's popular morning live show. We got to chat with one of the stage managers while we waited for our set tour. Then we were given seats in the audience and were able to watch the entire taping of Good Morning America. Ella and I were pretty stoked to get to say hi to Chrissy Teigan (special guest), Emma Stone, Lara Spencer, and Michael Strahan. It was an absolute blast!!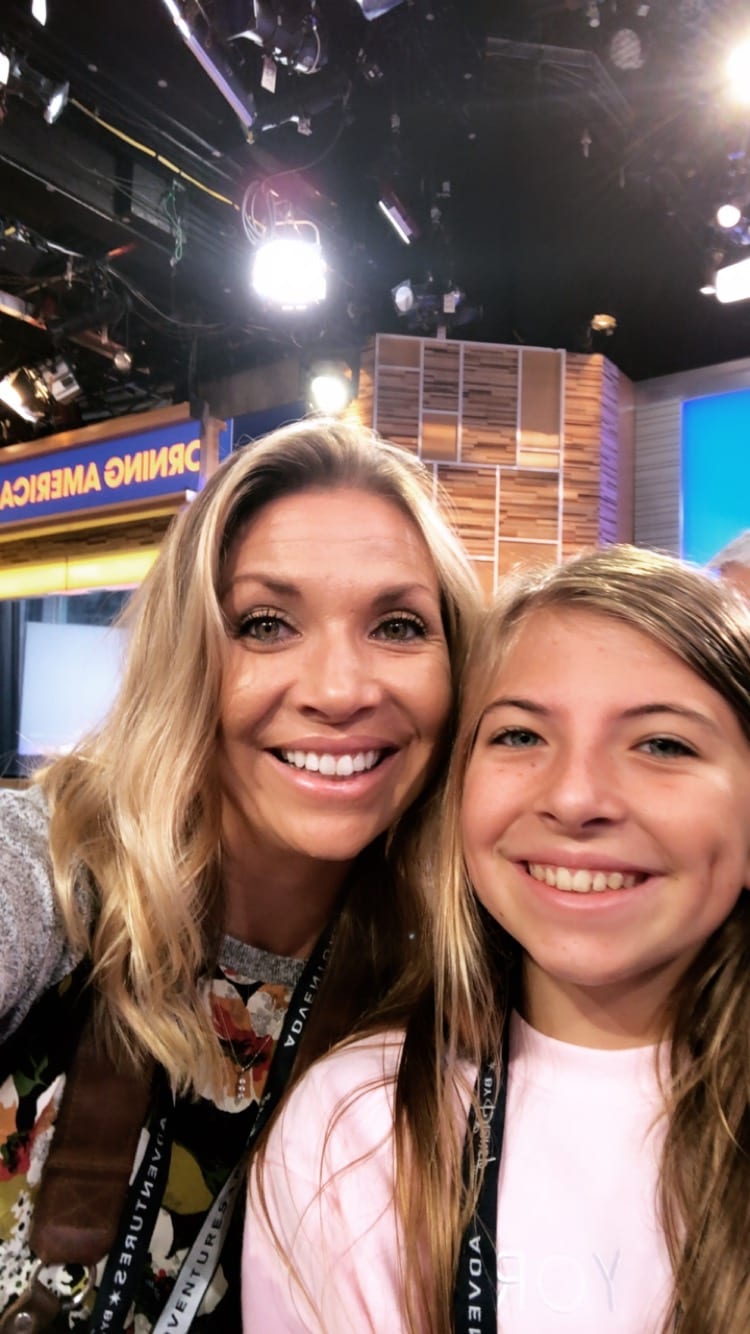 Times Square- We had some extra time after finishing up at GMA to explore Times Square. Ella and I had a blast at the Disney and M&M stores.
Private Tour of the New Amsterdam Theatre- I hadn't heard of the New Amsterdam Theatre before and so I wasn't sure what to expect (nor was I very excited) however, this experience turned out to be super cool. We were able to go behind the scenes and even play with some of Disney's costumes and props from their Broadway shows.
Lunch at John's Pizzeria in Times Square– Everyone knows when you visit NYC you have to eat pizza. Of course, there are plenty of places people will swear by but Adventures by Disney has picked one that is truly unique (and delicious)! At John's Pizzeria not only do you get to taste an authentic New York pizza but the restaurant itself is actually a converted tabernacle church making it extra special. There was a stained glass ceiling that was absolutely beautiful. It was quite a treat!
Broadway Workshop Experience– Another experience I was a little hesitant about was the Broadway Experience. I was super nervous about having to sing and dance with other people. However, the instructors created such a fun space our entire group ended up having a blast- including me! And, when we saw Frozen that night it felt pretty cool to know that we knew one of the routines.
Free Time– I love that Adventures by Disney included some free time. It provided the much needed down time that most tours don't schedule in but that is absolutely necessary when you travel with young kids. It also allows you to visit attractions that may not be on the itinerary but are something that you are interested in seeing/ visiting.
See Disney's Frozen: The Broadway Musical I mean- seriously this may have been one of the most memorable moments I have ever had with my daughter. It was completely magical. Adventures by Disney secured the best seats we were in the "snow zone" and when the confetti rained down my daughter's face lit up- it is one of those special moments I will remember forever. On top of that, we were able to chat with the stars after the show.
Day 3- Departures
Transportation to the airport. I mentioned this because I wanted you to know what a smooth process it was to depart from our trip. We received a text the night before (and were also verbally told) what time our car would be meeting us and it also included all of our flight confirmation & times. To my surprise our Adventure Guides were downstairs to see us off in the morning even though we had a 4:30 am pick up time (we requested a super early flight out). I could not believe the extent Adventures by Disney went to in order to make sure our trip was seamless. It was very impressive!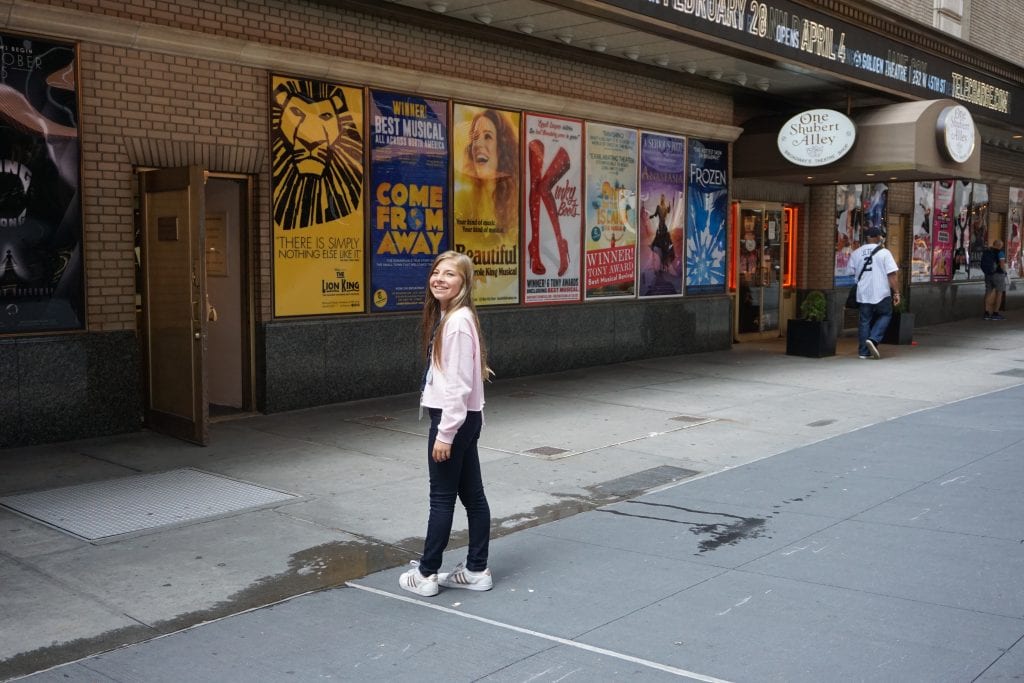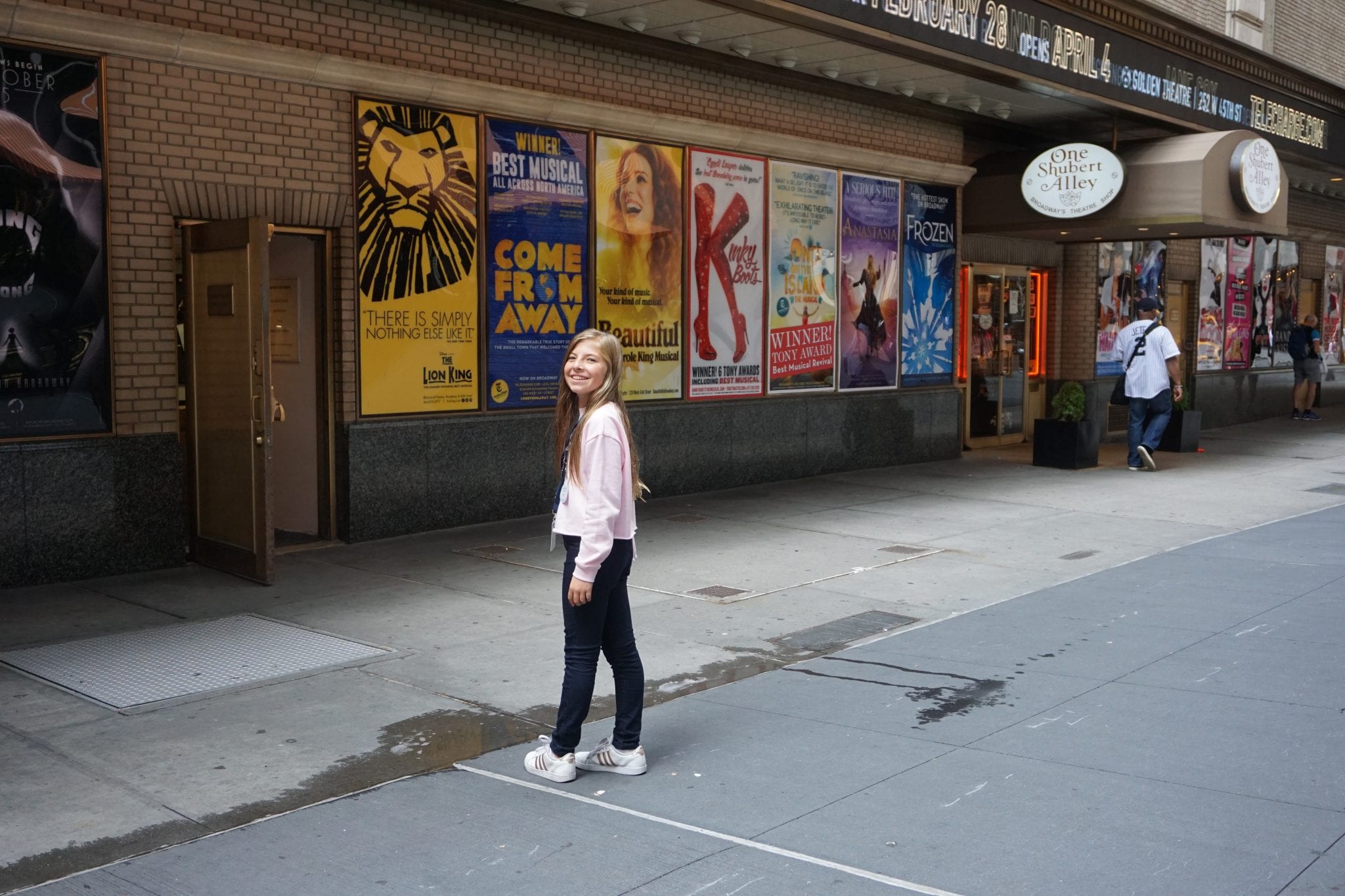 This trip was one of the most incredible travel experiences I have ever had, and we've had some amazing experiences including an awesome New York trip before. It is just that Adventures by Disney adds in an element of magic with their amazing connections and extraordinary service. They can take you to places the general public just doesn't have access to and they anticipate your every need. It's incredible!! I can only hope to travel with them again. I am already dreaming of their Norway trip.
If you need help planning and booking your magical Adventures by Disney vacation, contact our friends at Tink's Magical Vacations. They are truly Disney Experts, and not only are their services FREE, but they will save you both time and money.
Which Adventures by Disney trip are you dreaming of?
You Might Also Enjoy:
9 Fascinating Facts I Wish I Knew Before Booking a DVC Rental
7 Reasons why a Disney Travel Agent will make your trip 100% better!
The Ultimate Guide to Disney Paris! Top Tips & Tricks You Need to Know!
Latest posts by Mama Munchkin
(see all)