We've been lucky enough to visit Disney's Aulani Resort & Spa 10 times now and it is one of those resorts that when you get there, you never want to leave. You will find yourself spending entire days just relaxing at the resort.
In fact, the resort actually had to expand its food offerings from when it first opened because so many guests spent most of their days at the resort rather than venturing out.
Well, there are now plenty of amazing Aulani restaurants that you can dine at from character dining to fine dining while spending the day at this beautiful resort.
Disney Aulani Restaurants Guide
In this guide, we will go over every dining option, plus a few great options located across the road (a 5 minute walk) from the resort.
---
Ulu Cafe – Quick Poolside Dining
Ulu Cafe is probably our most common stop to grab lunch while at Aulani. Ulu Cafe is a quick service Aulani restaurant with plenty to choose from. In the morning they have a wide variety of Quick Service options including items freshly made.
Our favorite items are the egg, bacon & avocado wrap, the fresh-made acai bowls, and the bountiful breakfast plate.
If you want something sweet for breakfast they have fresh made pastries including some amazing malasadas. You can also grab fresh fruit, coffee, juices and more.
In the afternoon you can enjoy delicious Kalua Park sandwiches and pizza. They also have fresh salads, a poke bar (our favorite), yogurt parfaits, delicious pastries, Mickey ice cream bars and popcorn.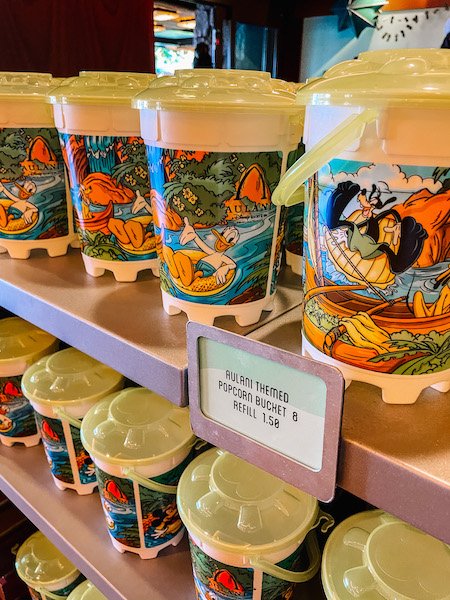 (Snag the refillable bucket on your first visit and refills are only $1.50 thereafter)
If you have a refillable mug (I highly recommend purchasing) you can grab coffee as early as 6 am, and they have coca cola freestyle machines to enjoy your favorite drinks throughout the day.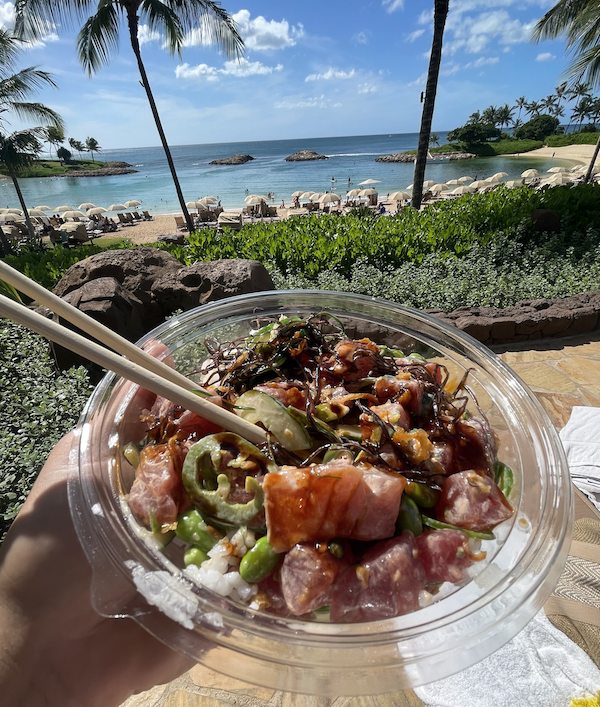 ***Money Saving Tip *** At night, Ulu cafe serves a whole pizza for $25 which is probably the most affordable meal you will find at the resort.
---
Makahiki Buffet (Character Dining)
Breakfast
To continue on our Aulani restaurants guide, we cannot forget their character dining experience. The Makahiki Buffet offers a great atmosphere for dining at Aulani. In the morning, you can enjoy a delicious buffet filled with savory items, sweet treats and more.
You" find yourself enjoying eggs, biscuits and gravy, grits, fresh fruit, muffins, and so much more!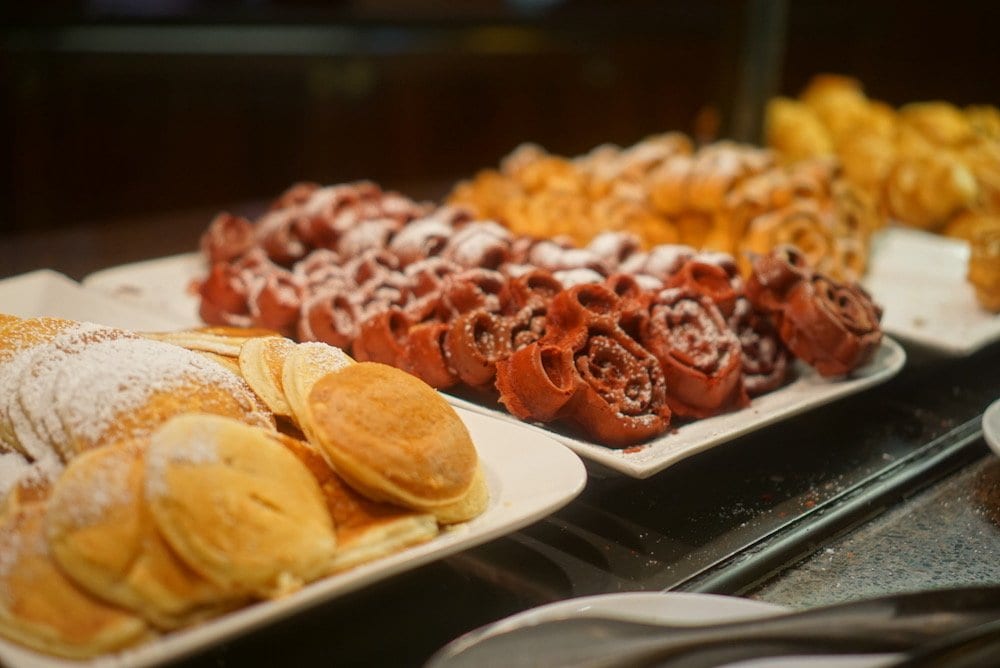 The things I loved were some of the Hawaiian dishes they have in the buffet including Macadamia Nut Pancakes, malasadas, egg fried rice and they also have a create your own omelet bar.
You will also find yourself encountering numerous characters including, Mickey, Goofy, Minnie & Stitch, while Aunty entertains the kids with some music and some fun parades. (You can check out my full Aulani character breakfast review here)
Prices are $39 for adults and $20 for kids. The character breakfast usually runs from 7:00 am – 11:00 am, but it is always good to double-check the restaurant hours to make sure they are open when you plan. I highly recommend making reservations
---
Dinner
We have actually spent a few Thanksgivings at the Makahiki restaurant. Once again, they have a bountiful buffet with a Prime Rib cutting station, delicious Mahi Mahi, sushi, salads, island favorites like Poi, plus a special menu for the little ones. My favorite dessert they serve is the bread pudding with warm vanilla sauce drizzled on top.
Makahiki does offer a character dinner as well which will have Stitch and friends come around and visit the tables.
Character dinners are available on Sunday, Monday, Wednesday & Thursday. Prices are $54 for adults and $27 for kids age 3-9. Non – character dinners are Tuesday, Friday & Saturday – Prices are $50 for adults and $23 for kids ages 3-9
**** Currently do to Hawaii State Regulations – a buffet is not available but instead a prix fixe menu. You can check it out here.
---
'Ama 'Ama (Aulani Premiere Dining Experience)
'Ama 'Ama is Aulani's signature restaurant with no only the most spectacular food at the resort but also a breathtaking view looking over the Ko'olina pond. 'Ama 'Ama serves breakfast lunch and dinner. Dinner reservations are highly recommended, but for lunch and breakfast, we have been able to walk in without any problem. 
---
Breakfast
Choose from breakfast favorites, like eggs, waffles, bacon and pastries. Or, opt for island specialties that feature fresh fish, local fruit, Portuguese sausage or other native ingredients.
Lunch
Savor American favorites with an island twist—including sandwiches, salads, soups and seafood.
Dinner

While the menu rotates to highlight seasonal ingredients, dinner offerings showcase sustainable seafood, steaks and pasta.
---
Oleo Room
If you are looking for a great atmosphere to have some drinks and pupus (appetizers) Oleo room is a great spot. In the evening you will find half off select appetizers all while enjoying some great live music. Local artists are brought in to sing a mixture of Hawaiian tunes and some Disney favorites.
---
Off the Hook & Poolside Dining
Off the Hook is the Poolside restaurant/bar. There you can enjoy burgers, salads, some really good fish tacos, flatbread pizzas and more. This menu also accounts for if you are ordering from one of the poolside waiters.
---
The Kawa'a Luau
While technically not an Aulani Restaurant the Kawa'a luau has some of the best food Aulani has to offer.
This Disney Aulani luau put together an incredible spread of delicious salads, fresh island fruit, seasonally-sourced vegetables, local seafood, ahi poke, braised imu-style pork, teriyaki chicken + carving stations with whole roasted Hawaii-raised suckling pig and slow-roasted prime rib.
Of course, what else would you expect at Disney's Aulani Resort, right? All of the food found at the resort is delicious!!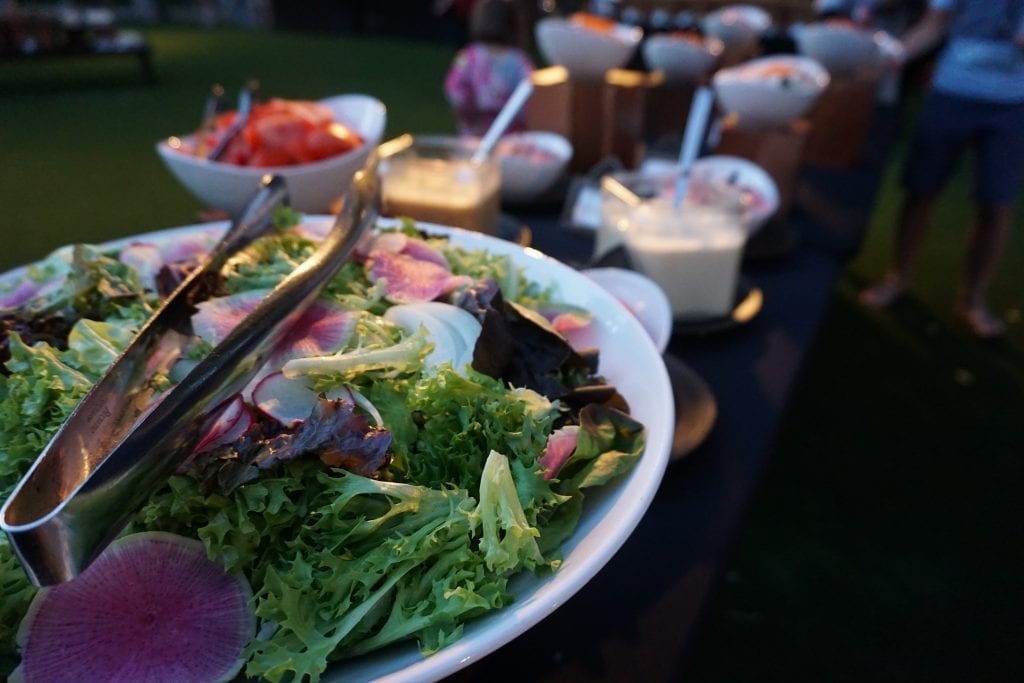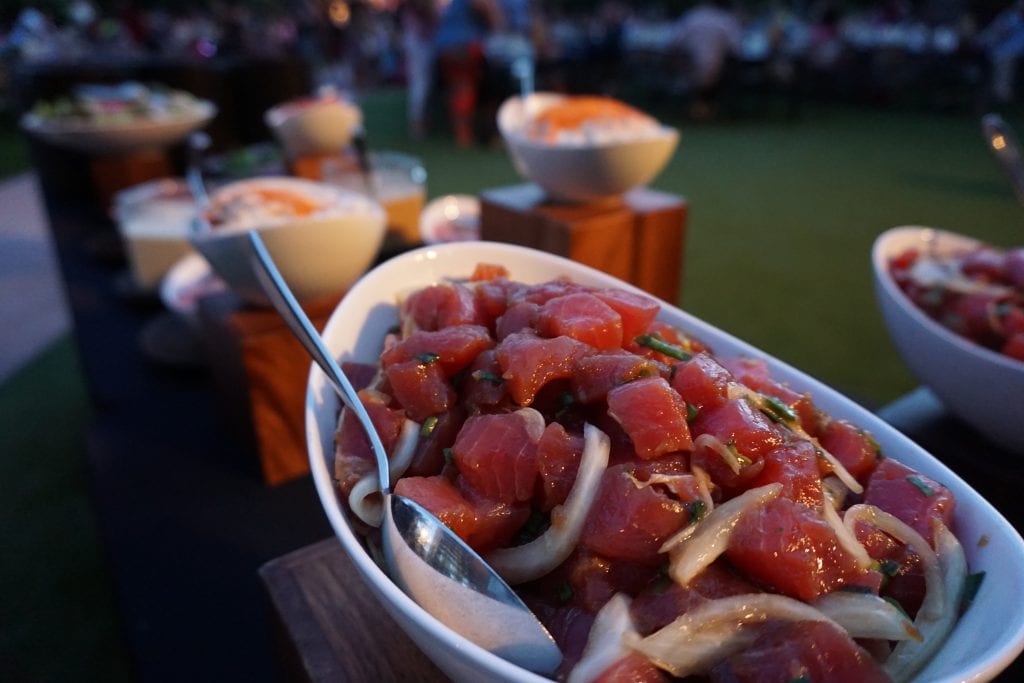 Of course, you have to pace yourself at the luau though because you won't want to miss the decadent house-made desserts. These desserts include haupia-coconut and banana bread puddings (my personal favorites), macadamia nut brownies, guava cakes, tropical fruits & berries and more!
You can check out our full review of the Kawa'a Luau here
---
Mama's Snack Stop
Mama's snack stop is another one of the quick service Aulani restaurants which serves up the classic poolside quick service dishes
You can grab chicken tenders and fries, fish and chips, but I recommend the ono sandwich or the coconut breaded shrimp. They also have kids meals which also include chicken strips and peanut butter and jelly sandwiches.
---
Papalua Shave Ice
If you are coming to the islands, you have to enjoy some Shave Ice. In fact, it's one of my 25 must things to do on Oahu. Aulani actually has some pretty incredible shave ice.
You can it in the classic hawaiian style with condensed milk drizzled on top and ice cream on the bottom or simply go with the shave ice.
Of course, you can add a little Disney Magic and add Mickey Ears to your snow cone for $1 more.
---
Little Opihi's Beachside Snack Stop
If you are craving the oh so delicious dole whip served up at Disneyland and Disney World, then this is your stop. Little Opihi's is located right at the bottom of the pool stairs alongside the beach and is the only place along the beach to grab a quick snack.
You can get Chips, Fresh Fruit, Ice Cream, and Sandwiches. They also serve pretzels, a quick little fun fact, they used to serve Mickey Pretzels but they no longer do because the ears kept falling off in the humidity.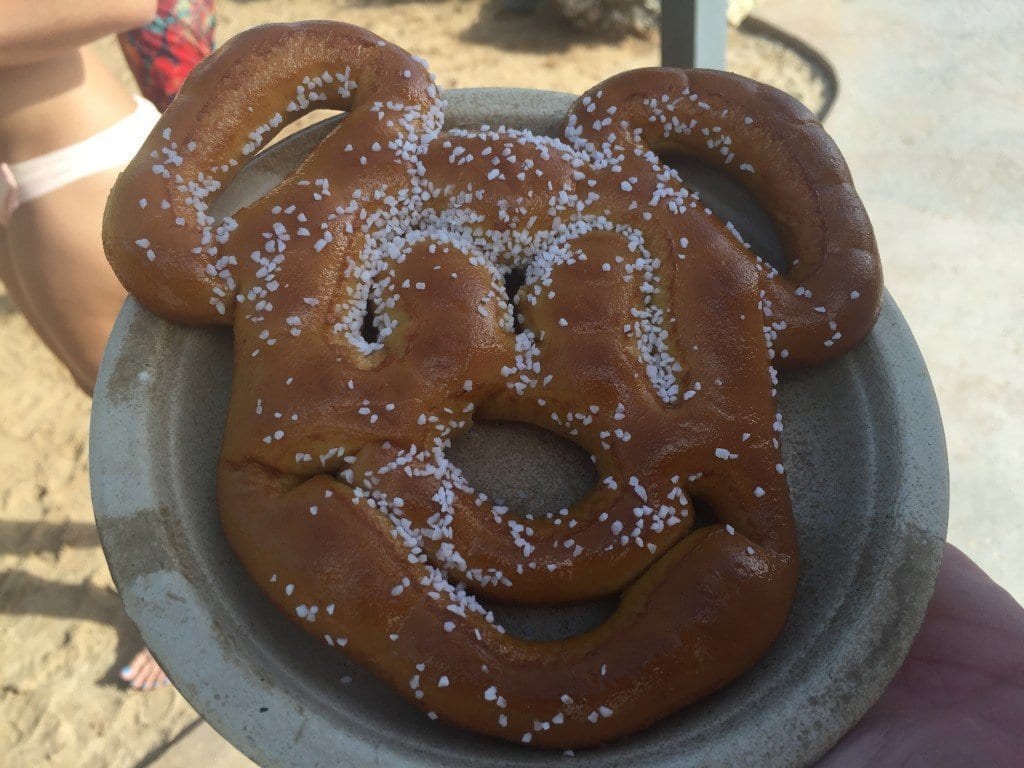 ---
Restaurants Across From the Aulani
Right across the street from Aulani (just a 5 minute walk) you will find an assortment of restaurants and markets if you want to save a little money and there are a couple of very nice places to dine as well.
---
Monkeypod Kitchen
This is a premier dining spot. The food is amazing, the atmosphere is great and the prices aren't bad for the quality of food you receive.
They serve one of the best Mai Tai's you will ever have plus a wide variety of dishes. You can read about Monkeypod more in my Wailea Dining Guide as they also have a location in Wailea, Maui.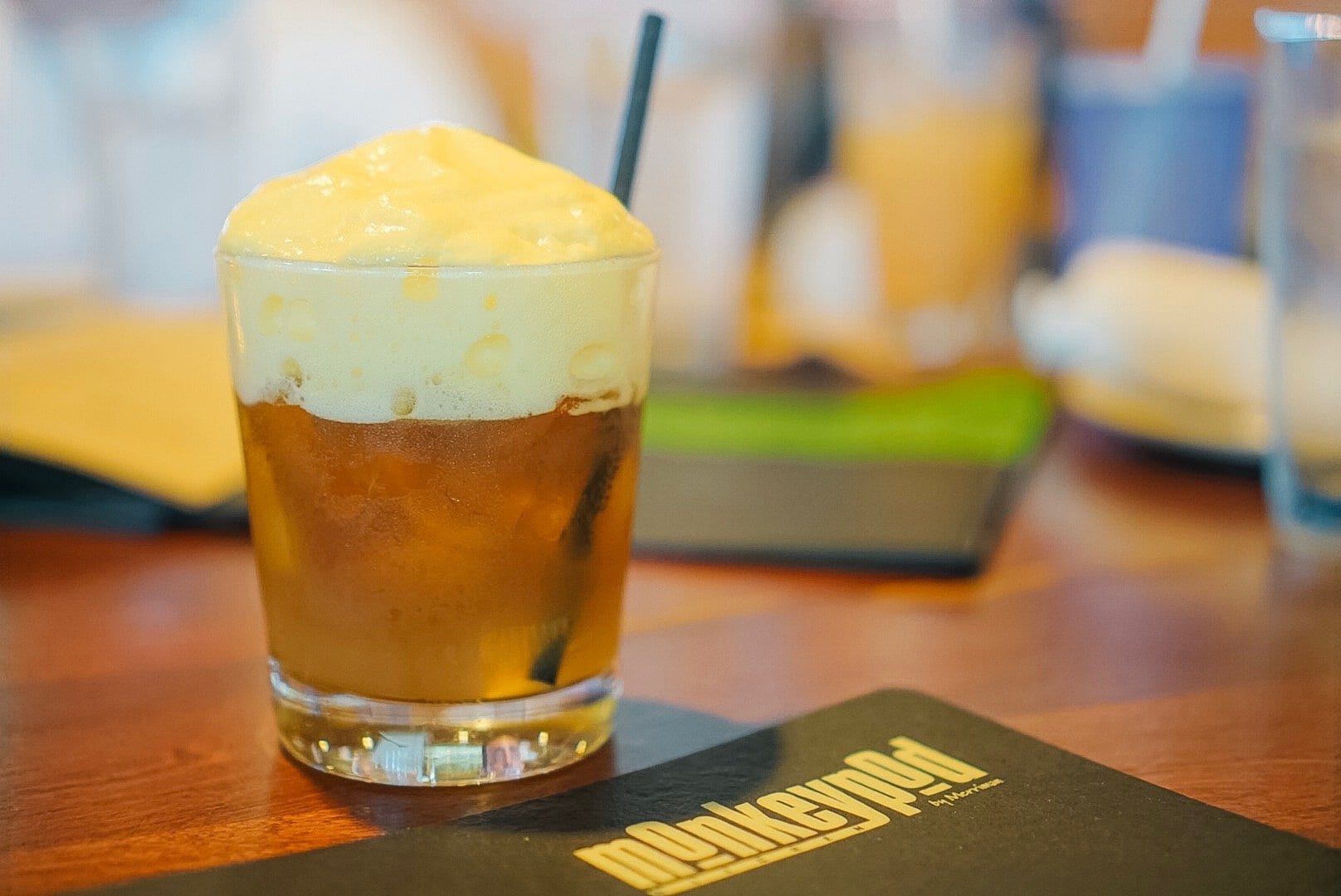 ---
Island Market
If you are in the need of some groceries, a good sandwich or Hawaiian Mixed plate, then check out this stop. There are a ton of breakfast and lunch options plus all your basic needs like eggs, milk, soda, beer etc..
---
Pizza Corner
Pizza Corner has some pretty good pizza. Nothing to go crazy over but it is very affordable and has a ton of different options.
---
There you have it. Pretty much every dining option you can possibly enjoy at or near the Aulani resort and Spa.
---
If you have any questions feel free to leave one the comments.
---
Pin for Later: Aulani Restaurants Guide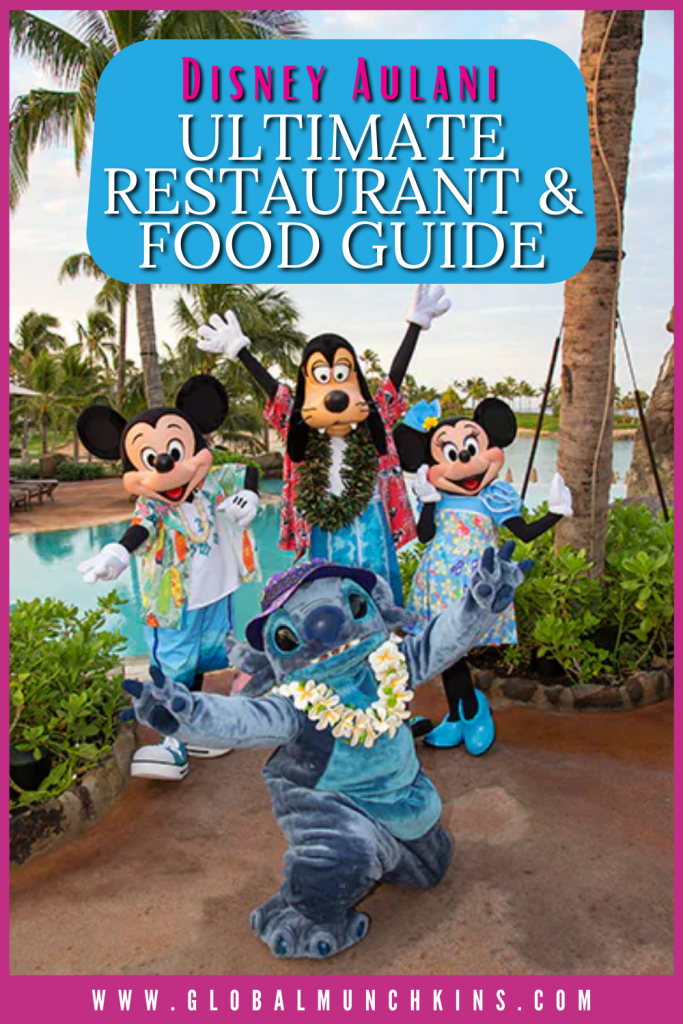 ---
Frequently Asked Questions about Aulani Restaurants
Can Non Guests Eat At Aulani
Yes, you can dine at Aulani without staying at the resort. You just can not enjoy the pools and other activities at the resort.
Where should I eat at Aulani
There are several offerings from fine dining to quick service. If you want a sit down restaurant go with Makahiki or Ama Ama. For some quick to eat, head over to Ulu Cafe.
How Much is the character Breakfast at Aulani
Character breakfast at Makahiki is currently $39 for adults and $20 for kids ages 3-9. Kids under 3 are free!
---
If you enjoyed reading about Disney Aulani Restaurants, you might also enjoy:
DISNEY AULANI REVIEW, ULTIMATE GUIDE + 15 MONEY SAVING TIPS
KA WA'A – DISNEY'S AULANI LUAU | 5 REASONS YOU'LL LOVE IT!
EVERY DISNEY ARTICLE – DISNEY WORLD, DISNEY CRUISE, DISNEYLAND, AULANI & MORE