When it comes to a Disney World vacation, there is a wide selection of Disney resorts and hotels that guests can choose to stay at. But how do you choose which one is best for you and your family? The Disney Deluxe Resorts are the creme de la creme of the Disney Resorts. Disney has three levels of resorts, Deluxe, Moderate, and Value resorts to offer their guests an experience that fits within your budget. We break down a list of the best deluxe Disney resorts and what makes each one special. 
Disney's Beach Club & Yacht Club Resort – Best Deluxe Resort Pool
The Yacht & Beach Club is my absolute favorite resort. It could be nostalgia as this was the first resort I ever went to with my husband. On one side you have the yacht club, which is decorated after, you guessed it, a nautical theme, and on the other side is the more laid back beach club.
Amenities
The resorts share a 3-acre pool with a lazy river, three whirlpool spas, and a giant shipwreck slide which is spectacular. There are also poolside cabanas with full cocktail services that guests can choose to rent for relaxation. One of my favorite aspects of the resorts is that there is an entertainment team that comes out to play games with the kids so parents can sit back and relax.
The resort is also located across the way from Disney's Boardwalk. It's a great place to visit especially at night. Guests can benefit from the different activities that take place in the area. Some of these activities include street performers, some great places to grab a bite and my kids' favorite surrey bike rentals.
One of the things I love about the resort is walking through the lobby as all the kids are so excited to be at Disneyworld, the lobby smells of the beach and it's just a great atmosphere to enjoy.
Dining
Cape May Cafe
Cape May Cafe is a great character breakfast (#5 on my list of favorite character dining), where you can dine with Minnie and friends, it's one of my favorite character breakfasts. At night they have a clambake which is buffet style, I say it's kind of meh + expensive. I prefer to dine somewhere else.
Beaches & Cream
You have to visit Beaches & Cream at least once during your visit. There is a sit down part of the restaurant for burgers fries and sundaes, the main attraction is the kitchen sink with 21 scoops of ice cream, many toppings and a whole can of whipped cream. There is also a walk-up window where you can get many delicious ice cream treats.
Yachtsman Steakhouse
The fine dining option featured at this resort is the Yachtsman Steakhouse located at the yacht club. This steakhouse provides a variety of food, such as steaks and seafood. It is a family-friendly location, but guests must adhere to the dress code at this dining experience.
Transportation to Parks
Since this resort is so close to Epcot, you can easily walk to the park and enjoy some delicious dining and fun rides at Epcot. If you are heading to Hollywood Studios you can take a boat ride over to the park (you can also take a boat ride to Epcot as well). If you are heading to the other parks you need to take the complimentary Disney Bus or your own car.
Disney's Polynesian Villas & Bungalows – Best Dining
Disney's Polynesian Resort is the most tropical deluxe resort with some of the best views. Not only are there deluxe room options, but guests can also choose to stay in a waterfront bungalow with a beautiful view of Magic Kingdom. The bungalows have two bedrooms, two bathrooms, a spacious living room and dining area, and their own private deck with a plunge pool.
Amenities
This resort includes two pools, one with a 142-foot-long water slide and one that is more for leisure swimming and relaxing. Guests also can partake in a variety of tropical activities onsite, including hula dance lessons and pool parties.
Each night, the Electrical Water Pageant passes through Seven Seas Lagoon, making this resort a perfect viewing area for it. Guests are also able to get a great view of the Magic Kingdom fireworks from their view own resort.
Dining Options
There is a variety of dining options at this resort for guests to enjoy and honestly some of my favorite. Even if we are not staying at this resort we find our way to the Polynesian
Ohana
Ohana has two different dining events. In the morning this includes a character breakfast with Lilo and Stitch, where you will be served family style a plethora of Hawaiian favorites.
At night, they have a family feast where there is entertainment, the kids can participate in coconut races, it truly is a ton of fun! (You can check out my full review here)
Kona Cafe
Kona Cafe has some amazing food and I highly recommend grabbing a meal there. I love their fish selections, but they also have some incredible desserts and quite a delicious breakfast.
Lastly, the Pineapple Lanai is where you can grab one of Disney's famous Dole Whip's without waiting in the massive park lines!
Transportation to the Parks
This is a resort located on the Monorail so guests can easily take the monorail to Magic Kingdom or Epcot. There is also bus transportation to all parks available too.
Disney's Grand Floridian Resort & Spa – Most Luxurious Resort
We stayed at the Grand Floridian Resort for the first time this past summer. All I have to say is wow! I was not actually expecting to like it that much as I am not a fan of Victorian themed anything. The resort is so well done and has some of the most beautiful grounds of all the resorts.
Located right beside Disney's Polynesian Resort, the Grand Floridian Resort is the perfect luxurious place for guests to relax. It is a Victorian-themed resort that focuses on elegance and sophistication. Live orchestra music plays in the lobby, and guests can enjoy a perfect view of Magic Kingdom.
Amenities
One of the most notable features of this resort is the world-class spa, salon, and health club. There is a full range of services both at the onsite salon and spa, including facials, massages, haircuts, and hair styling. There are also Couture packages available for both adults and kids, which allows them to get styles that are inspired after different Disney characters.
There is a pool at this resort that features a 181-foot-long water slide and cabana rentals along the water. Guests can also rent boats and set sail on specialty cruises. These specialty cruises can include a fireworks cruise, a pontoon boat tour, or an elegant yacht rental with the option for butler services.
Lastly, they have an amazing spot to enjoy watching Fireworks right in the courtyard by the boat docks. The resort pipes in music from the fireworks show so you can sit back and experience the spectacular fireworks right from the comfort of your resort.
Dining
Plenty of deluxe dining options are also located at this resort, so guests are not limited to what they eat during their trip. One of the dining options included onsite is the award-winning Victoria & Albert's, which is known for its elegant theme and cuisine.
There is an amazing character breakfast at 1900 Park Fare where you can interact with characters like the Mad Hatter, Alice, and so many more. We had a blast having breakfast there.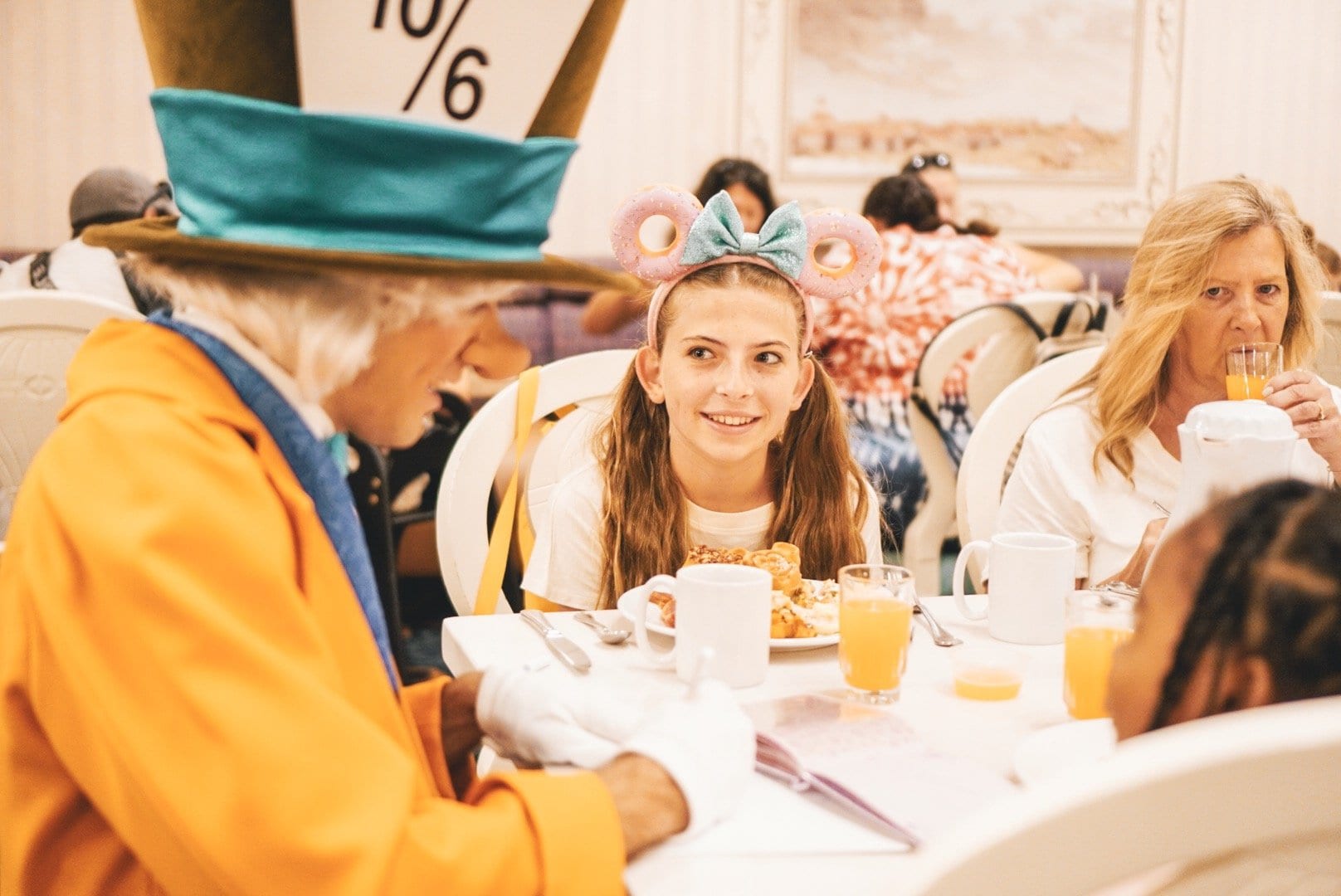 The quick service dining is pretty delicious as well, some amazing pizzas are served 24 hours a day, plus they have a great salad bar, and some tasty sandwiches.
Transportation to the Parks
This resort is also located on the Monorail so guests can easily take the monorail to Magic Kingdom or Epcot. There is also bus transportation to all parks available too. You can also take a small boat to the Magic Kingdom from the Grand Floridian!
Disney's Contemporary Resort – Best View
With the monorail gliding right through one of this resort's buildings, this option is definitely the most modern choice. Since it is right next to the Magic Kingdom, guests can book a Theme Park View which will give you an incredible view of the fireworks over Sleeping Beauty's Castle. You can even turn to a specific channel in your room to play the firework music as the show begins.
Amenities
There are two accessible pools at this resort. One of which features a 17-foot water slide and water playground while the other is a quiet, relaxing pool that is suitable for all ages. These are nice pools, but they do not compare to the pools at places like the Beach Club or Animal Kingdom Lodge!
This resort features plenty of other amenities for all guests. One of which is a large arcade area located on the fourth floor of the contemporary tower. Guests can also partake in fun and relaxing pastimes such as basketball, yoga, and fishing.
Dining
California Grill
The California Grill restaurant is located at the of this resort, and is one of the more iconic restaurants at Disney World. Meals include variety of American and seafood options, and while the food is incredible, the views are even better from the restaurant. It has excellent views of Magic Kingdom, making it a perfect spot during the fireworks at night. Resort guests can enjoy breakfast, lunch, and dinner at this high-end dining option.
Chef Mickey's
The most popular character dining experience is located at the Contemporary. Chef Mickey's! You can enjoy a buffet dining experience with Mickey, Pluto, Goofy, Donald & Minnie. It's a ton of fun as the characters come around to the tables and play with the kids.
Transportation to the Parks
This resort is right next to Magic Kingdom, so I would suggest just walking to the Magic Kingdom (10 minute walk) This is also a resort located on the Monorail so guests can easily take the monorail to Magic Kingdom or Epcot. There is also bus transportation to all parks available too.
Disney Animal Kingdom Lodge – One of a Kind Disney Resort
I would rank Animal KiThis resort option is perfect for any family with an animal lover. This is because there are over 30 species of exotic animals right there near your hotel room.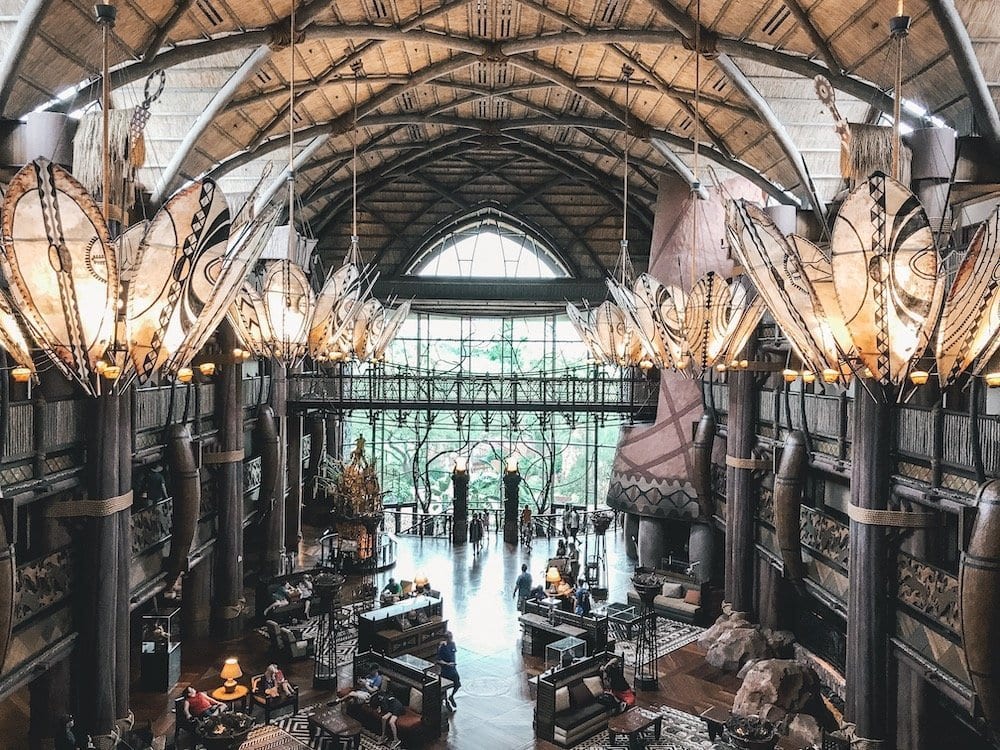 Amenities
When staying at the lodge, you can pay to have a savannah room. I highly recommend it as you can see giraffes, zebras and other animals right from your balcony. If you don't have one of these rooms you can still check out the animals at numerous lookout spots throughout the resort. Also, if you are a DVC Member try booking the concierge level, it is truly one of the best Deluxe Resorts concierge in all of Disney World!
Pro Tip – Some nights they have night viewing with infrared goggles to see the animals at night. It's a great experience and included with your stay
The pool at Animal Kingdom Lodge is probably my 2nd favorite pool at Disney World behind the Beach Club Resort. They have 2 pools, The Uzima Springs is an 11,000-square-foot pool with a water slide attached to it. There is also a wading pool for young children and two whirlpool spas. Then, the Samawati Springs is a 4,700-square-foot pool with a water slide too, a super fun water play area, ping pong, pool bar and more.
Dining
Animal Kingdom Lodge has some incredible dining probably right up there with the Polynesian.
Jiko
Jiko is an all you can eat African themed buffet. The food is not only plentiful but also very delicious. Definitely try out their zebra domes dessert, as it is a house specialty.
Sanaa
Sanaa is an East African/Indian inspired restaurant. This is actually my favorite restaurant in all of Disney World. It is located in the Kidani Village, before you eat check out the animals right outside the restaurant. The dinner is filled with delicious meats, sauces and probably the best naan bread I have ever had.
Transportation:
This is probably the weak point of Animal Kingdom Lodge. While it is close to the Animal Kingdom, you still need to take the bus as you will have to with to all the other parks.
Disney's Saratoga Springs Resort & Spa
This Victorian-styled hotel is the best option for guests looking to stay at a peaceful and relaxing location. It is inspired by the historical Saratoga Springs, which is a New York retreat in the late 1800s that was known for its horse racing and spas.
Amenities
Senses, a Disney Spa is also featured at this resort. This is a full-service spa that is inspired by wellness retreats from 19th century New York. There is a wide selection of spa services to choose from, including massage therapies, facial treatments, and a relaxation room.
Of course, no resort would be complete without a pool area. This resort has two pools: The Paddock Pool and the High Rock Spring Pool. The Paddock pool includes a 146-foot-long water slide and a whirlpool spa shaped like a horseshoe. The High Rock Spring Pool has waterfalls and its own built-in waterslide. Both pools also have areas with smaller water slides for the kids.
Dining
The Dining at Saratoga Springs is ok, but it is just a 10 minute walk away from Disney Springs (or just a short boat ride) where you have more than plenty of dining options
Disney's Boardwalk Inn (Closest to multiple parks)
Amenities
A great option for convenience, the Disney's Boardwalk Inn is located directly on Disney's Boardwalk, which is full of shops and events. Guests can enjoy carnival games, unique dining, and nightlife events right outside their room while staying at this resort.
This resort has its own carnival-styled pool area with elephant statues and a roller coaster-themed water slide. It also includes a pool specifically for the kids and a whirlpool spa. There are also two other leisure pools available for guests that prefer to relax.
There are many other recreational events offered near this resort, such as movies under the stars and surrey bike rentals along with other events on the boardwalk.
Dining
There is also a wide selection of dining options within walking distance of your resort, including the Flying Fish, which is a seafood dinner option, and the ESPN Club, which offers lunch, dinner, and bar service.
Transportation
This resort is walking distance from Epcot and Hollywood Studios (or you can take a boat ride), and plenty of transportation options are present for guests going to these two parks and any of the other parks as well. 
Disney Riviera Resort – The Newest Disney Deluxe Resort
The newest addition to the deluxe resorts is the Disney Riviera Resort. We absolutely loved this resort. The pool is amazing with a huge water play area for the little ones and some super fun slides.
Transportation
Riviera is linked to the Disney skyliner which can take you to Epcot and Hollywood Studios with a quick 7 – 10 minute ride through the sky. For Magic Kingdom and Animal Kingdom you will need to take a Disney bus or your own transportation
Check out my full review about Disney Riviera here!
Perks of Staying at a Disney World Property
There are several perks when you are staying at a Disney World Resort vs. staying off property.
Free Transportation:
When you stay at a Disney Resort, whether it is a deluxe, moderate or value resort you get to enjoy Free Transportation to and from the airport via Magical Express. During your stay, you can enjoy all of Disney's Free Transportation, including their 300+ buses, the monorails, boats, and the new Disney Gondola's.
Book Fastpass + 60 Days in Advance (30 Days before non-Disney Resort Guests)
Another perk of staying at a Disney Property is the ability to book your fast passes 60 days in advance is a huge perk. There are center rides that you can not get Fastpasses unless you book close to 60 days in advance. You can check out our complete Fastpass guide to each of the parks so that you can choose the best rides for your vacation.
Animal Kingdom FastPass- Complete Guide + Tips & Tricks!
Magic Kingdom FastPass! Tips and Tricks to Choose the Best Rides
Epcot FastPass – Complete Guide + Amazing Tips & Tricks!
Hollywood Studios FastPass Guide: A Quick Easy Way to Maximize Fun!
Disney Magic –
There is something inexplicably magical about staying at a Disney Resort. You can't just point out one thing that creates that Disney feel, it really is all the little things. From the incredibly helpful staff, to the little things like little tv areas at check-in for the kids and stickers they hand out to kids.
Disney Resorts help carry on that magical experience from the parks to the resort. My kids love coming back to a room with staff playing games in the lobby or pool, and they love when the housekeepers make something into mickey mouse ears. All in all, it is just so much fun to experience a Disney Deluxe Resort.
How to Book a Disney World Resort Stay:
If you need help planning and booking your magical Walt Disney World vacation, contact our friends at Tink's Magical Vacations. They are truly Disney Experts, and not only are their services FREE, but they will save you both time and money. But don't take just our word for it. check out all of their amazing Testimonials.
How to Save Money at the Disney Deluxe Resorts
There are two easy ways to save money at Disney Deluxe Resorts.
DVC RENTALS – Save 30-50% OFF Your Room
One of my favorite Disney World tips is DVC Rentals. Disney Vacation Club members can book villas at the deluxe resorts. Even though you might not be a Disney Vacation Club Owner, you still can rent point from owners. Disney Vacation Club members are allowed to book resort stays for their guests. There are several sites that allow you to "rent" points from a member. This can save you a considerable amount of money if you are planning to stay on property. Our favorite DVC Rental site is the DVC Request. See how much you could save by renting points by clicking here. (You can rad all about my first dvc rental experience here)
Book Through a Disney Certified Travel Agent
One of the downfalls of booking a DVC rental is usually you have to plan pretty far in advance. That being said, we used to always book our trips on our own. Not anymore, when you use a travel agent, not only will you save yourself a heck of a lot of time trying to plan everything out, but they can actually SAVE YOU MONEY!
We use Tink's Magical Vacations and they are amazing. They not only provide park maps, dining reservations, tips, but they also are always searching for updated specials. So, even if you book a room at one price and Disney puts it on sale later, they will immediately call and get you the lower price. Check out more about their services here!
If you have any questions about Disneyworld or these Disney Deluxe Resorts, please feel free to ask in the comments.
You Might Also Enjoy:
Disney World Tips & Tricks [Over 100 Amazing MUST KNOW Tips
Magic Kingdom Fastpass! Tips and tricks to help you choose the Best Rides
Disney Souvenirs [25 Awesome Gifts for your Next Disney Vacay!]
Latest posts by Mama Munchkin
(see all)