Are you heading to a Disney Park during a birthday for yourself or someone special? Did you know that Disney is notorious for making sure to wish you a Happy Birthday when you are there that day?
Wearing a Disney Parks birthday button is one way to show Cast Members that it is your birthday! Another way, is to pick one of our many Disney birthday shirts below and showcase it in the park that day!
---
Are you a fan of Disney snacks just like us? If so, you are going to want to purchase this adorable Best Day Ever Disney shirt for your birthday! We also loved that you can select your favorite color for your special day!
---
We are in love with this colorful and simple Best Birthday ever shirt that we found on Etsy! The pastel colors really give off that Fantasyland theme!
---
Want a custom shirt for your birthday at a Disney Park? We loved this adorable Mickey Balloon birthday shirt! We loved that you can customize the name and number for your little one's birthday!
---
Do you have a Disney Princess fan in your life? We thought this adorable Disney Princess customizable birthday shirt is perfect for the little Princess in your life!
---
Celebrating a second birthday soon at Disney? This fun an funky Mickey Mouse second birthday shirt will be the perfect addition to the day!
---
This Birthday Boy Mickey Mouse shirt will bring a smile to any little Disney fan in your life! We also loved that it comes in many different color options!
---
Most of the time when you are celebrating your birthday in a Disney Park, you are surrounded by people who love you! That said, we loved these simple Disney Birthday shirts for the Birthday person and squad!
---
Indeed princess Belle is a favorite among girls and especially young girls.
Similarly, a princess Belle Disney birthday shirt is an excellent option for those Beauty and the Beast fans!
It is mainly for toddler girls and can easily make your wonderful young lady feel on top of the world by wearing this funky and excellent birthday shirt on her special day. It will also help her flex her clothes in front of her friends and look extremely pretty.
---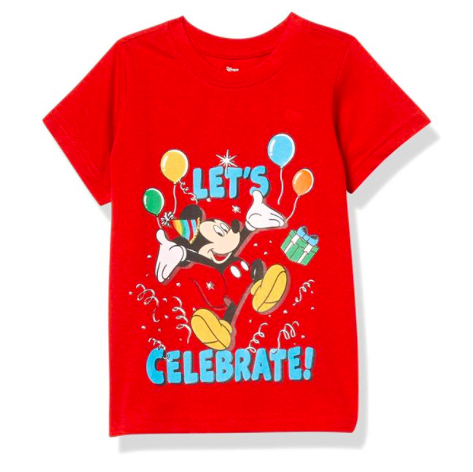 This wonderfully funky shirt is for ALL the Mickey Mouse fans out there. As it is of vibrant red color, it provides the exact Birthday feel to any party this shirt is worn to. Also, who doesn't like Mickey Mouse or isn't already a fan of him, as we all have grown up watching him and aspiring to meet him one day?
This Mickey Mouse Disney Birthday shirt reads 'Let's Celebrate' instead of the typical 'Happy Birthday' sign, making it wearable for anyone attending a birthday, not just the birthday boy or birthday girl.
You can quickly wear it to any birthday event and join in the celebration while creating a funky and, at the same time, unique style statement that is sure to make heads turn and admire your dressing sense. This excellent Disney birthday shirt is made of 100% cotton, so it will also be the most comfortable and relaxing option if you prefer wearing comfy and soothing clothing.
---
Winnie the Pooh is also one of the most loved and admired cartoon characters of all time. These cartoon characters weren't only adorable but also managed to teach us many meaningful things as well.
This Winnie the Pooh Disney birthday shirt for kids is in a customized black color, making it a favorite among many people. Its black color makes it a safe option, while the colorful print on it that reads 'It's My Birthday' makes it vibrant and funky to wear for a cheerful event.
You can choose your preferred size of this Disney birthday shirt and either gift it to someone or keep it for yourself. This lovely Disney birthday shirt is a great clothing option to don at any birthday event, whether you're the host or a guest.
---
This colorful and vibrant Mickey and Friends Disney birthday shirt has all the funky elements in it. It has all of Mickey's friends imprinted on it so that you can have a slice of all his friends' cuteness. Plus, it reads, 'Hey! It's My Birthday' which makes it quite funky and fantastic to wear.
It can easily indicate to anyone that sees you about your Birthday so that this birthday shirt can act as a self-explanatory clothing option. As it is in blue, it can also be combined, worn, and styled with different color options to create your desired look.
Additionally, the color is not gender-specific, so both boys and girls can wear it. This specific Disney birthday shirt is for adults and is made of cotton stuff, making it a wonderfully comfortable clothing option.
---
Just as Mickey mouse is everyone's favorite, so is Minnie mouse, his partner in everything. A Minnie Mouse Disney birthday shirt is also a tremendously fun and classic option to wear on one's Birthday. This Disney birthday shirt is also available for adults, so it is an excellent option for adults to wear on their birthdays.
This lovely birthday shirt is funky and stylish at the same time and is bound to attract everyone's attention wherever you go. It reads 'It's My Birthday' with a colorful print of Minnie Mouse on a purple-colored base.
You can pair it with a black or white pair of jeans or trousers to create a balanced and sophisticated look. The color and design of the shirt, however, can easily make anyone look good and bright no matter who wears it.
---
Fairy tales are what we all have grown up listening to and reading. One of the most iconic and loved fairytales of all time is of Snow White, who also made us all love her with her unconventional bravery and beauty.
If you love her story like all of us, wearing a Snow White Disney birthday shirt is all you need to do then. This adult birthday shirt has a charcoal grayish-black color on its base with Snow white imprinted on it with all her beautiful colors and beauty.
This Disney birthday shirt reads 'Happy Birthday with flowers and colors blooming around the message. This unique combination of colors in print makes this shirt a funky and bright option to wear on one's Birthday, making your Birthday all the more special.
---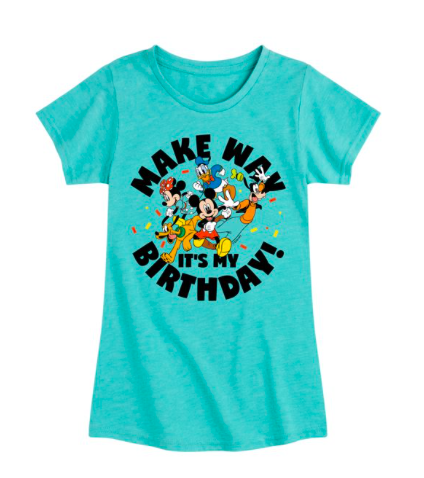 Here is one more Disney birthday shirt with Mickey and his friends on it. This one is specifically for toddlers or young girls, so you can definitely have it for your little baby girl. The turquoise color of the shirt makes it a sober and decent option, while the print blends in the perfect amount of fun into the shirt.
The colorful print of Mickey and their friends make it a joyful and vibrant piece of clothing, while the message on the shirt reads 'May way! It's my Birthday which makes it the cutest option to wear. Making your toddler wear it on their Birthday will make everyone go crazy over their cuteness.
It is a comfortable and relaxing fit for any toddler or young girl, so you wouldn't have to worry about them feeling uncomfortable or irritated while wearing it. Plus, the message on the shirt also makes it a good pick for any age group, as you won't have to be specific about your child's age.
---
The cutest pick from our list of Disney birthday shirts has to be the Happy Bow-Day Disney birthday shirt. The pink color makes it a perfect fit for toddlers and adult girls, as pink is mostly a favorite among most girls.
Plus, the shirt's print makes it the cutest option to wear on one's Birthday. This Disney birthday shirt reads 'Happy Bow-Day' with Minnie Mouse printed on the shirt, a little cat squeaking out of her bow, and a cupcake on her head.
While there are many classic Disney cartoons and movies that we all have been watching for decades, there are many recent excellent animated movies as well that have become equally popular. One great example of this is the Frozen franchise.
While everyone is a fan of the Frozen theme, girls have a special kind of connection with it. Whole birthday parties are being decorated and celebrated according to the Frozen theme. Opting for a Frozen-themed Disney birthday shirt will be your best decision.
This frozen-themed birthday shirt reads 'Fearless like Anna on my 7th Birthday'. While this Disney birthday shirt can only be worn by girls turning 7, more age-related options are also available for this theme.
If your little girl is a Frozen fan, this Disney birthday shirt will be the perfect gift for her Birthday, which she can flex on her Birthday with friends.
---
Frequently Asked Questions about Disney Birthday Shirts
Why choose Disney Birthday Shirts?
Disney offers a range of customized, personalized and theme-based birthday t-shirts. With a wide range of unisex and gender-focused t-shirts with funky messages, it would boost the fun element at a birthday celebration.
Are Disney birthday shirts a comfortable choice?
Disney offers a wide collection of birthday shirts, including unisex and gender-based shirts. They feature a super soft, high quality and comfortable fabric that would suit wearers of all types.
What styling options do I have with Disney birthday shirts?
Disney birthday shirts can be worn with loose leggings, a pair of classic denims, tied up as a knot with wide-legged jeans and more. The benefit of Disney birthday shirts is the versatility and endless styling opportunities they provide.
What Disney shirts are prohibited at Disney?
You will likely be prohibited from entering Disney if you're wearing homemade Disney shirts displaying obscene or offensive languages and messages. Also, clothing that is torn, transparent or of an inappropriate material can be prohibited entry too.
CONCLUSION
While there are many different clothing options that one can opt for to look stylish and their best, one's Birthday indeed calls for something extra extraordinary. Wearing the fun Disney birthday shirts mentioned above can do the trick here.
If you enjoyed our list of Disney Birthday shirts, you might also like:
11 AMAZING STAR WARS DISNEY SHIRTS YOU'LL LOVE!
THE BEST SUMMER DISNEY WORLD OUTFITS
20 AMAZING DISNEYBOUND OUTFITS YOU'LL LOVE!
WHAT TO WEAR TO DISNEY [HEAD-TO-TOE GUIDE + 4 AWESOME LOOKS]
33 AWESOME MATCHING DISNEY FAMILY SHIRTS [+3 WEIRD ONES!]
Pin-It for later: 16 Fun and Festive Disney Birthday Shirts You Must Try