If you're a Disney fanatic like me, you've probably fantasized about wishing upon a star and finding yourself back in Disney World. It's often dubbed the happiest place on earth, after all. But let me spill some tea… Disney World's got some stiff competition. And it's floating on water.
Introducing… the Disney Wish cruise liner! It set sail in July 2022 and has been making waves ever since. There are shows, shopping experiences, water fun, and of course, some drool-worthy dining experiences. But here's a twist: Unlike your typical cruise where you revisit the same dining room each night, on the Wish, you rotate through different dining realms. That's right – a fresh, enchanting world every evening!
Having sailed the Wish three times now (yes, three!), I've got some juicy insights for you.
Your Complete Guide to Disney Wish Restaurants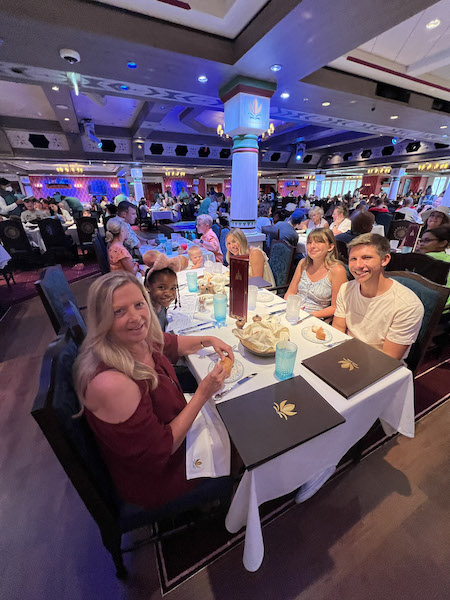 Out of all the dining experiences, Arendelle holds a special place in my heart. Why? One word: Olaf. The snowy goofball visits every table, and trust me, it's a total heart-melter! This spot offers the first Frozen-themed theatrical dining.
Your experience picks up right where Frozen II left off and invites its guests to celebrate the engagement of Queen Anna and Kristoff! Think singing, dancing, and even a little bit of Elsa's magic sprinkled in between. The ambiance is so immersive that by the end of the meal, you'll be checking if you have ice powers too.
The whole family will absolutely love the immersive and interactive experience that Arendelle: A Frozen Dining Adventure has to offer.
The Atmosphere of Arendelle
Every table in this restaurant has a view of the action so you won't miss a thing. The restaurant is designed in the style of a theater-in-the-round, which means that the 360-degree stage sits at the center and the tables surround it for the perfect view of all the magic.
Invisible fiber optics located in the ceiling help to bring Elsa's magic to life. The panoramic windows magically transform from fantastic views of the ocean to the magnificent lights of the Aurora Borealis that teleport you from the Disney Wish to Iceland.
If you have visited Disney World or Disneyland, then you know that Easter eggs are everywhere in all of their parks. Well, at Arendelle it's no different. Without spoiling the fun make sure to check out the intricate designs on the plates and the napkins at your table. See what – or who, you may find!
---
A Nordic-Inspired Cuisine Dream
If you are watching your diet, you may want to "Let it Go" while you're dining at the Arendelle. This Nordic-inspired menu combines traditional flavors and ingredients to create delicious family-friendly food.
For your appetizer, I recommend Elsa's Royal Baked Scallops which is a Shrimp Tarragon Bisque contained inside a golden and flaky pastry. Or perhaps the Nordic Cucumber, Potato, and Carrot Salad which is fresh and delightful.
For entrees you can choose from things like the Juniper Spice Roast Chicken Breast with Scallions, Duck Confit Double-Fried Potatoes, and Estragon Wild Mushroom Ragout to make you feel like you are dining in a cozy pub in Reykjavík.
As for me, I always go for pasta. The Arendelle Kjottkake (good luck figuring out how to pronounce that one). What you need to know is that it has Braised Meatballs and a Rosemary Cream Reduction that sits on top of a bed of perfectly cooked Egg Noodles.
If you're a vegetarian or you're trying to save room for dessert (pro tip: always save room for dessert on the Disney Wish), then you may want to order the Queen Iduna's Potato Lefse which is coated in a Marjoram Butter Crust and contains Heirloom Carrots and Spinach with Asparagus and Brussel Sprouts sitting alongside in a decadent Aquavit Jarlsberg Cream.
No meal is complete without a dessert and Arendelle has so many tasty options to choose from you may have to splurge. The Eplekake (Apple Cake) surrounds Vanilla Bean Ice Cream that has been drizzled with Caramel Sauce. The signature dessert is Troll Family's Rock Chocolate Bar. This chocolate lover's dream come true is a Chocolate Cake adorned with Pistachio Cookie "Rocks" and Elderflower Meringue.
While this array of menu options may be making your mouth water, you might worry that your child will turn their nose up at the fancy plating and the ingredients they can't quite say yet. Fear not, my friend. Arendelle has a complete children's menu which includes fare that they are more familiar with such as mini cheeseburgers, pizza, and penne with meatballs.
**Foodie Tip**: The baked scallops are seriously a showstopper. When they landed on our table, even the adults were all, "Whoa, what's THAT?"
---
For those who crave that classic cruise ambiance, 1923's got you covered. It feels like a nostalgic nod to old Hollywood with a touch of Disney magic. The decor is a visual treat, taking you on a trip through Disney's storied history.
This restaurant was named after the year the Walt Disney Company was founded and you'll see original drawings and artwork on the walls! This one-of-a-kind restaurant balances sophisticated dining while still being family-friendly.
The Ambiance of 1923
When you dine at 1923, you will be seated in one of two dining rooms named after Walt and Roy Disney. The decorations are truly a feast for the eyes, as there are more than 1,000 props, drawings, and animation tools on display. The tables are lined with traditional white tablecloths, matching napkins, and tableware adorned with gold.
We had a beautiful, huge window right next to our table the last time we ate at 1923 so we could look out to sea!
---
The Menu at 1923
1923 blends Asian, European, and South American cuisines making each dish one of a kind. Keeping with Disney's Californian roots, you will find a huge selection of Napa Valley wines for adult guests.
You'll have a great selection of appetizers at 1923, including Hyperion Four-Cheese Tri-Color Tortelloni, Burrata Mozzarella Cheese & Prosciutto di Parma, and Duck Confit.
As for the main course, the Filet Mignon was the unanimous winner at our table! The Seared Verlasso Salmon Filet is also a wonderful choice, as is the Moroccan-Spiced Roasted Kabocha and Butternut Squash. The latter is a vegetarian dish that includes Zaalouk, Garbanzo, Cinnamon Brown Rice, Couscous, Cilantro, Arugula, Pita, and Harissa Dairy Free Yogurt.
For dessert, the Atwater Fuji Apple Cheesecake is contained in a Sweet Dough Shell with Caramelized Apples on top of a Rolled Oat Crumble. This little slice of heaven is topped with gold leaf to keep with 1923's glamorous theme. There is also a classic Ice Cream Sundae called the Hollywood Hills Hot Fudge Sundae with Vanilla ice cream, Brownie Bites, Whipped Cream and, you guessed it, hot fudge.
I almost always get two desserts (one being the sundae) just in case my pick doesn't live up to expectations! Might as well live large, right?
As sophisticated as 1923 is, you don't need to worry about what your little ones will eat at this establishment. If your child isn't an adventurous eater there is a children's menu that has options like a mini cheeseburger, chicken pot pie, and a selection of ice creams for dessert.
**Foodie Tip**: Skip the ahi tuna appetizer, go for the burrata mozzarella instead (you can thank me later).
---
Our toddler was practically over the moon with this one! It's a cinematic dining experience, where you, dear diner, are also the hero. The interactive elements made it super engaging. And it's not all for show – the food's worth the hype too.
Guests will watch Avengers: Quantum Encounter unfold on the big screen as Ant-Man and the Wasp are conducting experiments when something goes terribly, terribly wrong– dun, dun, DUN!
You will be able to help our heroes out with your own Quantum Generator at your table (our toddler was absolutely mesmerized by this). Will you be victorious or like Ant-Man, will you fall "short"?
Worlds of Marvel Setting
This restaurant was designed to look very futuristic. The ambient neon lights and reflective lighting make you feel like you are inside Tony Stark's laboratory or the Guardians of the Galaxy Spaceship.
It's okay if you're not sure exactly what they are referencing. You don't have to be a super Marvel fan to enjoy this restaurant.
---
Worlds of Marvel Marvelous Food
For your starter, there are Steamed Bao Buns which have Seared Ginger Pork Belly, Toasted Sesame Seeds, Pickled Daikon, Spring Onions, and Mirin Soy Honey Glaze nestled between two fluffy buns. The Hearts of Palm Ceviche with Tamarillo, Sweet Potato, Purple Onion, Lime, Cilantro, Bell Pepper, and Infinity Stone Popcorn looks like a plate of jewels.
For your entrée, the Berbere Spice Pork Chop with Wakandan Vegetable Pilau, Pomegranate, Rainbow Chard, and Roasted Scallion sits atop a Red Pepper Sauce that can be enjoyed by heroes and mere mortals alike. Our family voted it the best dish unanimously.
If you're familiar with the fan-favorite post credit scene in The Avengers film you'll want to order the Lamb Shawarma Salad with slow-roasted cumin spiced pulled Lamb leg in mini-pitas, Iceberg, Endive, Romaine Lettuce, Vine Tomatoes, Surnac Onions, Pickled Red Cabbage, Roasted Chickpeas, Cucumber and Lemon Yogurt Dressing.
If you have the appetite of the Hulk, then get ready for dessert. The Subatomic Sticky Date Pudding comes paired with a Salted Coconut Macaroon and Vanilla Ice cream. The signature dessert of Worlds of Marvel is the Cheesecake Byte with Fresh Strawberries, Whipped Cream, and Strawberry Jelly Sauce.
Another pro tip for you: there are tiny chocolate chip cookies that are not on the menu. These teeny treats were shrunk by Ant-Man and the Wasp. So if your appetite hasn't shrunk as well, ask your waiter for this bonus dessert.
Like the other restaurants listed before, Worlds of Marvel also has a children's menu which includes items such as chicken tenders, pizza, and a Mickey Ice cream bar for dessert.
**Foodie Tip**: Don't even think about leaving without trying the Subatomic Sticky Date Pudding. I declare it my favorite dessert across all the dining rooms. Yep, it's that good.
---
Adult-Exclusive Restaurants
If you'd like a higher-end experience, there are two adult-exclusive restaurants on the Wish. Remember, you must have reservations made in advance to dine at these restaurants and they have additional fees.
Enchanté by Chef Arnaud Lallement
Enchanté is all about the seasonal ingredients hand-selected by the 3 Michelin-starred Chef Arnaud Lallement. You can dine here for dinner, a champagne brunch, or for a 5-course dessert menu. Whatever experience you choose, the menu is a collection of delightful international dishes.
Palo Steakhouse
Get the best of both worlds at Palo Steakhouse where a romantic Italian restaurant meets a modern steakhouse. The setting is inspired by Cogsworth from Beauty and the Beast with a moody color palette, ornate clocks, and a gorgeous ocean view.
As for food, you have the option of eating brunch or dinner here. Both have delicious menus including everything from Australian wagyu to Japanese Kobe, lasagna bolognese, apple cinnamon waffles, and salmon benedict.
---
Quick Service Dining Options
The 3 dining rooms are incredible, but we would be mistaken if we didn't mention the quick-service dining options available to you on the Wish. You can grab some of these options anytime throughout the day, even late night!
Marceline Market
Marceline Market is a food hall. We typically eat here for breakfast as there are tons of choices ranging from eggs benedicts to yogurt and fruit to waffles. It is also open for lunch and table-service dinner.
Mickey & Friends Festival of Foods
These are the open-air food stalls located on the pool deck. You have the choice of Mickey's Smokestack Barbecue, Donald's Cantina, Daisy's Pizza Pies, Goofy's Grill, and Sweet Minnie's Ice Cream.
I highly recommend the BBQ (the kielbasa is shockingly good) and Goofy's Grill chicken tenders.
---
Now that I've got your mouth watering, are you ready to book your next Disney Cruise on the Wish? If you do happen to find yourself on the Wish soon, remember to embrace the magic, enjoy the unique dining rotations, and maybe, just maybe, let it go (the diet, I mean).
Frequently Asked Questions about Disney Wish Restaurants
Do the restaurants on the Disney Wish accommodate dietary requests and food allergies?
Yes, the Disney Wish's restaurants all offer vegetarian, gluten free, sugar free, and dairy free options as part of their regular menus. Kosher meals can be made available upon request.
How can I make sure I get to visit all three of the Disney Wish's restaurants?
The Disney Wish has something called rotational dining which allows its guests to enjoy all three of the main restaurants. When you check into the Disney Cruise Navigator App you will receive a restaurant schedule and table number. Each evening as you rotate restaurants the same waitstaff who already know your dining preferences will rotate with you.
Can you pick your table at Arendelle: A Frozen Dining Adventure?
You cannot pick your seats, but fear not! If you are concerned that you may not have the closest view of your favorite characters they will stroll through the aisles at various times during your dining experience so you can see them up close. 
Will I understand Avengers: Quantam Encounter if I haven't watched the Marvel movies?
You don't need to do a marathon of binge watching all of the Marvel movies to understand Avengers: Quantum Encounter. The charm and humor will come across. However, if you're not a Marvel fan you may miss some inside jokes.
Is there an adults only dining option on the Disney Wish?
Yes! Enchanté is an adult's only dining restaurant not included in your dining rotation. Enchanté is themed after the film Beauty and the Beast in both its decor and its French cuisine inspired menu. This 3 Michelin Star restaurant may have you saying "sacrebleu" when you see the bill, as this spectacular dining experience comes with a hefty price tag of $600 USD.
If you enjoyed reading our complete guide to Disney Wish Restaurants, you might also like:
TRAVEL EXPERTS REVEAL [100 AMAZING] DISNEY CRUISE TIPS YOU'LL LOVE!
41 AWESOME MATCHING DISNEY FAMILY SHIRTS [+ WEIRD ONES!]
DISNEY CRUISE FOR FLORIDA RESIDENTS: EVERYTHING YOU NEED TO KNOW AND THE BEST PERKS
Pin for Later – The Best Disney Wish Restaurants
Latest posts by Ashland Hendrix
(see all)