Boo! The scariest thing of all is how close we are to the fall season already! School is back and while we might not be quite ready to say goodbye to summer, but how can we not get a little bit excited when we think about a Disneyland Halloween? To ease you into transitioning to Fall, we've brought together all there is to know about the very best party of the Halloween season. You guessed it, here's the Ultimate Guide to Disneyland Halloween 2019. We'll be announcing the spooks, the snacks, and all there is to do at the not so scary Disney celebration. The parks undergo their Autumn transformation from September 6 to October 31st this year, giving you almost two months to experience the magic.
California Adventure Halloween:
As you know Disneyland Resort has two amazing parks and for the Halloween festivities, both parks are in full Halloween mode. In fact, many of my favorite Halloween activities are at California Adventure. Inside California Adventure there are two areas that scream Halloween (pun intended).
Cars Land Halloeen –
Over in Cars land, the entire land is transformed into a "Haul-o-ween" Extravaganza. Everything is completely transformed from the tires on the road to the stores, it is definitely worth seeing. Here are some of the amazing ghoulish fun you can have in Cars Land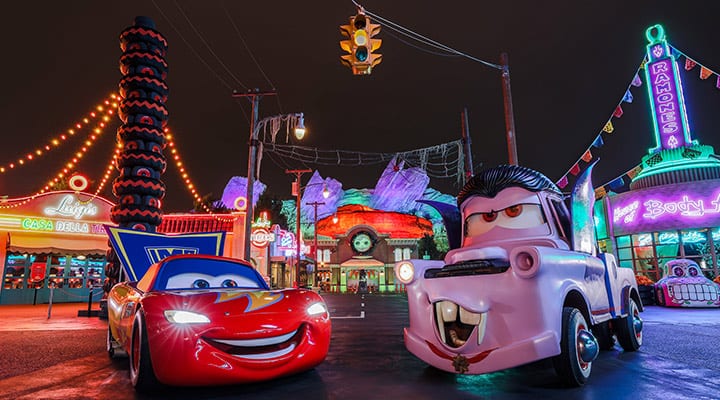 Take pictures with Mater and Lightning Mcqueen as they are dressed up in their best Halloween outfits.
Ride Luigi's Honkin' Haul-O-Ween – guest will spin around on the roadsters that dance to some fun Halloween Music
Mater's Graveyard JamBOOree – While tractor-trailer dance partners swirl Guests around the graveyard, Mater becomes the life of the party by crooning creepy country tunes with a Haul-O-Ween twist—including "Welcome to Radiator Screams,"
Pro Tip * Definitely take time to enjoy all the decorations at Cars Land and allow time for picture taking as it is one of the best decorated areas in the park. I absolutely love it.
Main Entrance & Hollywood Land –
When you enter California Adventure there are two great places to take a picture. The first is the entrance as Oogie Boogie lurks over the California Adventure sign. The second is with the Headless Horsemen Statue. Then veer left and head over to Hollywood Land for some great entertainment including:
Guardians of the Galaxy – Monsters After Dark – One of my kids favorite rides in the park is the newly transformed Guardians of the Galaxy Ride at California Adventure (formerly Tower of Terror) – During Haloweentime, the ride is transformed once again to Guardians of the Galaxy Monsters after Dark, where the mission changes and this time you have to rescue Groot.
Meet Vampirina in Hollywood Land
If your little one is as obsesses as my 4 year old is with Vampirina then this is the spot for you. Take a bite out of Transylvania life—meet the girly, ghoulish, fang-tastic friend in a very cute area that your kids will love.
California Adventure Delicious Treats
A Disneyland Halloween is not complete without some amazingly ghoulish treats. California Adventure does not disappoint. Check out some of these delicious items, plus since California Adventure serves alcohol you can grab some pumpkin spiced beverages.
Mickey Bread with Fangs

Pumpkin Spice Funnel Cake Fries
Spokey Cone Macaron
Green Apple Spell Lemonade
Bacon Cheddar Ale Soup
Anti Vampire Pizza
Spicy Pepper Jack Dog
Karl Strauss Oktoberfest Beer
Pumpkin Hard Cider
Disneyland Halloween Time
Disneyland Halloween Time is something everyone should do once. The entire park will be decorated with what they have claimed to be even more decorations than the previous years! Which is not a surprise as every year we go there seems to be more and more decorations. Of course, the iconic giant pumpkin on Main St will still be there as the best photo opp of the season!
**Pro Tip – The lines to take a picture in front of the Mickey Pumpkin can get long. So, if you see a short line jump at the opportunity, (or you can take the picture at an angle like this one)
Must See Disneyland Halloween Attractions
On top of the park decorations, two rides are also totally transformed.
Space Mountain

takes on a spooky twist by whisking you off to the Ghost Galaxy. There's projection effects and a whole new soundtrack. You might want to keep your little ones off this attraction during the Halloween season if they're easily scared because it is pretty dark. Space Mountain typically has a long line, and it can be even longer in this season so make sure to get to the park early to get your Fastpass or book with the new Disney MaxPass.
Haunted Mansion is also famously transformed for the entire holiday season. It features characters from "The Nightmare Before Christmas" and collides Halloween and Christmas together. You also might want to grab a Fastpass for this attraction as the holiday version can up the wait quite a bit!
Characters Dressed in their Halloween Best – One of my kids' favorite things to do was to see what costumes the Disney characters would be wearing.
Both of these rides are must-see, but ghost galaxy can be somewhat frightening for little ones (plus there is a 40″ height requirement) On the opposite spectrum, Haunted Mansion is actually a lot less scary than the original and all my kids have always loved this ride.
Disneyland Halloween Treats & Souvenirs
You can find just about anything orange, cinnamon, and pumpkin spice flavored on the lists below. We've included some of the yummiest treats and snacks that Disney has announced they will be selling this Halloween season. The only downside is trying to choose just one! Plus, if that is not enough fun there are quite a plethora of super cute souvenirs to enjoy as you visit the Theme Park's stores
Here is a list of some of the delicious treats
Candy Corn Churros

Pumpkin Spice Churros
Maleficent Churro
Abuelita Horchata
Spider Bundt Cake
Mickey Pumpkin Spice Beignets
Graveyard Cupcakes
Halloween Hot Dog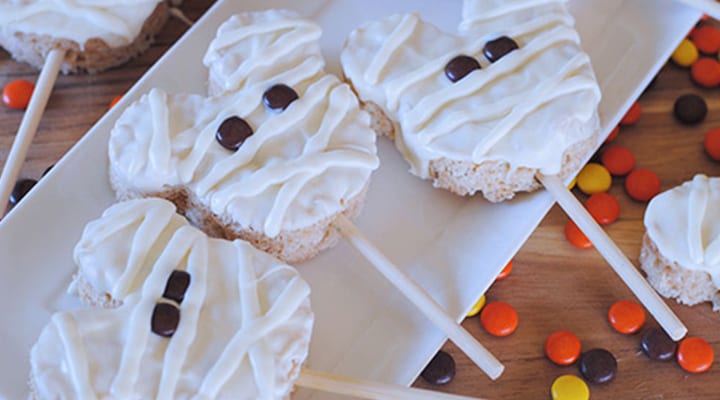 Oogie Boogie Bash at California Adventure – Additional Fee
New for 2019 is the Oogie Boogie Bash at California Adventure. Oogie Boogie Bash is a separate paid event where everyone can put on their best costumes and enjoy an amazing party in California Adventure. While, normally kids can always dress up as their favorite Disney character, at this event kids of all ages can dress up and join in on the fun.
That being said, your costume may not be obstructive, offensive, objectionable or violent. Plus, nothing that resembles a real weapon. Check out the costume guidelines here!
Pro Tip * While the event usually begins at 6 or 7 pm, you can show up to the park 3 to 4 hours before and enjoy some fun at California Adventure before the party starts.
What's Included:
The Oogie Boogie Bash is filled with unique fun events and shows (see below)
Parking is included with the price of admission. Admission is free for those under 3!
Trick or Treating will be available throughout the parks. Enjoy all the delicious candy you want.
Photo Pass. Scan your ticket on the Disneyland App and all your photos will be available for download for 45 days after your event.
Events at Oogie Boogie Bash
Villainous World of Color Show– NEW!
Get ready for a spectacle as you head to Paradise Pier for a spectacular show as the villains take over Paradise Bay. This show is a standing room only show, so try your best to get the little ones up to the front.
Immersive Trick or Treat Trails – NEW!
Collect goodies along trails featuring spooky music, fun décor and the Villains themselves—including Oogie Boogie and the Mad Hatter—as they oversee the festivities from their thrones.
Redwood Creek Challenge Trail Transformed – NEW!
Explore Redwood Creek Challenge Trail like never before as Disney Villains create an enchanting world, twisting the forest into a hauntingly beautiful grove of color, sound, light and shadow.
Mickey's Trick & Treat Live Show – NEW!
Mickey and friends will be all dressed up and headline a live show filled with not-so-scary Halloween tales—at the Disney Theater in Hollywood Land.
DescenDance – NEW!
Also in Hollywood Land is a dance party with the Isle of the Lost dance crew! Dance it up and have a ball to your favorite Descendants songs.
Character Meet & Greets Dressed in their Halloween Best!
One of my favorite things to do is to see the characters in their Halloween get-ups.
Carthay Circle
Hold onto your hats as clouds of black bats coil 'round Carthay Circle's Bell Tower while spellbinding effects transform the building.
Frightfully Fun Parade with the Headless Horsemen – All your favorite characters will be a part of this Disneyland Halloween Parade with hauntingly good music and a ride by the Headless Horsemen
Small Wait Time for Rides – My favorite part of the night is since everyone is trick or treating and Disneyland limits the number of people who can attend, the lines for all your favorite rides are super short. Now that is a serious win!
Get Tickets for the for Oogie Boogie Halloween Bash here, this event sells out fast every year so purchase tickets early on.
2019 DATES, TIMES & TICKET PRICES
Dates and Times
Passholder Ticket Price
Regular Ticket Price
Tues, Sept 17, 2019
6:00 PM to 11:00 PM
$100
$110
Thurs, Sept 19, 2019
6:00 PM to 11:00 PM
$100
$110
Sun, Sept 22, 2019
6:00 PM to 11:00 PM
$120
$120
Tues, Sept 24, 2019
6:00 PM to 11:00 PM
$100
$110
Thurs, Sept 26, 2019
6:00 PM to 11:00 PM
$100
$110
Sun, Sept 29, 2019
6:00 PM to 11:00 PM
$120
$120
Tues, Oct 1, 2019
6:00 PM to 11:00 PM
$120
$120
Thurs, Oct 3, 2019
6:00 PM to 11:00 PM
$120
$120
Sun, Oct 6, 2019
6:00 PM to 11:00 PM
$145
$145
Tues, Oct 8, 2019
6:00 PM to 11:00 PM
$120
$120
Thurs, Oct 10, 2019
6:00 PM to 11:00 PM
$120
$120
Sun, Oct 13, 2019
6:00 PM to 11:00 PM
$145
$145
Tues, Oct 15, 2019
6:00 PM to 11:00 PM
$120
$120
Thurs, Oct 17, 2019
6:00 PM to 11:00 PM
$120
$120
Sun, Oct 20, 2019
6:00 PM to 11:00 PM
$145
$145
Tues, Oct 22, 2019
6:00 PM to 11:00 PM
$120
$120
Thurs, Oct 24, 2019
6:00 PM to 11:00 PM
$120
$120
Sun, Oct 27, 2019
6:00 PM to 11:00 PM
$145
$145
Tues, Oct 29, 2019
6:00 PM to 11:00 PM
$145
$145
Thurs, Oct 31, 2019
6:00 PM to 11:00 PM
$145
$145
Happy Haunts Tour
During Halloween time, you can book a special tour to get the full experience of the parks spookier side. It is a 2 hour walking tour that includes historical lessons about the park. You'll also get to ride multiple attractions and likely go on some sort of Halloween themed journey. You can find more information here. Book this cool experience for just $99!
If you need help planning and booking your magical Disneyland vacation, contact our friends at Tink's Magical Vacations. They are truly Disney Experts, and not only are their services FREE, but they will save you both time and money.
Have you been to Disneyland Halloween Time? What is your favorite thing to do?
You Might Also Enjoy:
Disney Fastpass Secrets – How to use Disney MaxPass like a Pro
How to Buy Discount Disneyland Tickets; [9 Easy Ways to Save!]
Disneyland Birthdays- 10 Tips to Make the Day EXTRA Special
Pin for Later – Disneyland Halloween! An Ultimate Guide + Must-See Attractions