School is back and while we might not be quite ready to say goodbye to summer, but how can we not get a little bit excited when we think about a Disneyland Halloween? To ease you into transitioning to Fall, we've brought together all there is to know about the very best party of the Halloween season. You guessed it, here's the Ultimate Guide to Disneyland Halloween 2023.
One of my favorite Disneyland tips is to visit the parks during this time of year. The weather is great (most of the time) and the parks are all decked out with amazing Halloween decorations.
Whether you are heading to the Oogie Boogie Bash (a separate ticketed event) or just buying tickets to head to the parks for all the fun spooks and snacks, you are sure to have a blast at the not-so-scary Disney celebration.
The parks undergo their Autumn transformation from September 1st to October 31st this year, giving you almost two months to experience the magic.
California Adventure Halloween
As you know Disneyland Resort has two amazing parks and for the Halloween festivities, both parks are in full Halloween mode. In fact, many of my favorite Halloween activities are at California Adventure. Inside California Adventure there are two areas that scream Halloween (pun intended).
Cars Land Halloween
Over in Cars Land, the entire land is transformed into a "Haul-o-ween" Extravaganza. Everything is completely transformed from the tires on the road to the stores, it is definitely worth seeing. Here are some of the amazing ghoulish fun you can have in Cars Land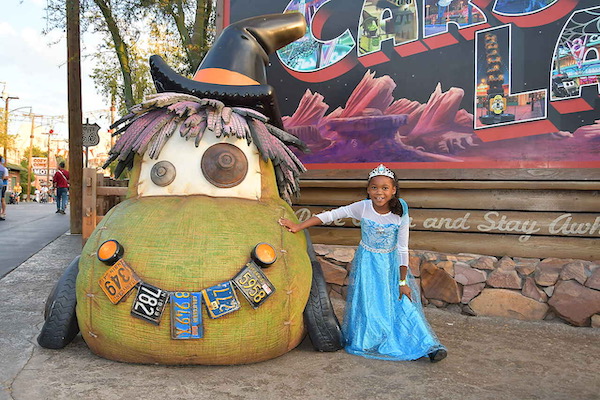 Take pictures with Mater and Lightning Mcqueen
The two cars are dressed up in their best Halloween outfits.
Ride Luigi's Honkin' Haul-O-Ween
You will spin around on the roadsters that dance to some fun Halloween Music. It's a great ride for little ones and has no height limit.
Mater's Graveyard JamBOOree
While tractor-trailer dance partners swirl Guests around the graveyard, Mater becomes the life of the party by crooning creepy country tunes with a Haul-O-Ween twist—including "Welcome to Radiator Screams"
*Pro Tip Definitely take time to enjoy all the decorations at Cars Land and allow time for picture taking as it is one of the best-decorated areas in the park. I absolutely love it.
---
Plaza De La Familia
If you love mariachi bands, delicious Mexican food, and beautiful displays then definitely stop by Plaza de la Familia. Plaza de la Familia is located at the back of California Adventure next to Goofy's Sky School.
These decoration stay up from September 1 to November 2 as they are in celebration of Día de Los Muertos, not actually Halloween.
---
Main Entrance & Hollywood Land
When you enter California Adventure there are two great places to take a picture. The first is the entrance as Oogie Boogie lurks over the California Adventure sign. The second is with the Headless Horsemen Statue. Then veer left and head over to Hollywood Land for some great entertainment including: Guardians of the Galaxy – Monsters After Dark!
One of my kids' favorite rides in the park is the newly transformed Guardians of the Galaxy Ride at California Adventure (formerly Tower of Terror). During Haloweentime, the ride is transformed once again to Guardians of the Galaxy Monsters after Dark, where the mission changes and this time you have to rescue Groot.
**Pro Tip*** This ride is not available until 3 p.m. The ride shuts down from 2 pm to 3 pm, so get in line at about 2:45 pm and you will have a very quick wait.
---
California Adventure Delicious Halloween Food & Treats
A Disneyland Halloween is not complete without some amazingly ghoulish treats. California Adventure does not disappoint. They have expanded their dining with so many incredible Halloween-themed meals, snacks, and treats. Check out some of these delicious items, plus since California Adventure serves alcohol you can grab some yummy pumpkin-spiced beverages.
In California Adventure our favorite items were the Cookies & Candy Sundae (pictured above), the Mickey Vampire Sourdough Bread, and the Oogie Boogie Macaron. There are literally at least 50 Halloween-themed food items just in California Adventure alone.
---
Halloween Time at Disneyland
Disneyland Halloween Time is something everyone should do once. The entire park will be decorated with what they have claimed to be even more decorations than the previous years. This is not a surprise as every year we go there seems to be more and more decorations!
Iconic Mickey Pumpkin on Main St.
Of course, the iconic giant pumpkin on Main St. is a must-stop. The giant Mickey pumpkin makes for the best Halloween photo op. Photopass photographers will be there to take your pictures, they will even take pictures with your camera or phone. You can get all your Photopass pictures for one day for only $19.99
**Pro Tip The lines to take a picture in front of the Mickey Pumpkin can get long. So, if you see a short line jump at the opportunity, (or you can take the picture at an angle like this one) Typically the Middle of the day around 12 pm & 3-4 pm are the sweet spot.
---
Must-See Disneyland Halloween Attractions
Haunted Mansion Holiday
Unlike Walt Disney World, (which is a real missed opportunity in my opinion) Disneyland has one of the best ride transformations ever.
Haunted Mansion Holiday where Jack Skellington transforms the Haunted Mansion into the Nightmare before Christmas. This year is its 21st year at Disneyland (I honestly don't know why they don't transform the Disney World Haunted Mansion as it is such a big hit)! Wait times can get long for this ride, we were at the park on a pretty quiet day and only waited 20 minutes but be prepared for a wait.
If you haven't been on it, it is a pretty spectacular transformation as you enjoy gingerbread smells, an incredible real gingerbread house and so many more fun Nightmare Before Christmas decorations and animatronics.
---
Halloween Screams
Disneyland Park transforms their nighttime show and fireworks display with your favorite Halloween characters including Jack Skellington and his ghostly dog Zero. The show is a must-see event!
---
Characters Dressed in their Halloween Best
One of my kids' favorite things to do is to see what costumes the Disney characters are wearing! Everyone from Mickey to Goofey will be in their Halloween attire. Plus, you might catch Jack Skellington and Sally walking around the park as well.
---
Disneyland Halloween Souvenirs
Halloween merchandise is one of my favorite things, I am a sucker for all things Disney and Halloween. You can find just about anything orange, cinnamon, and pumpkin spice flavored on the lists below.
We've included some of the yummiest treats and snacks that Disney has announced they will be selling this Halloween season. The only downside is trying to choose just one! Plus, if that is not enough fun there are quite a plethora of super cute souvenirs to enjoy as you visit the Theme Park's stores. Check out the Disney Parks Blog for all the newest Disneyland Halloween gear.
Disneyland Halloween Food & Treats
Just like California Adventure, Disneyland has a plethora of holiday-themed food and treats. We focused mainly on the delicious treats side gobbling up some caramel apples and mummy macarons. Again, check out the Disney Parks blog for the complete list of Halloween items!
Here are some of our favorites from over the years:
Souvenir Popcorn Bucket – Last year the Halloween Bucket was an adorable Mickey Mummy Souvenir Popcorn bucket. When we went to the parks they were sold out so if you see it, grab it.
---
Oogie Boogie Bash at California Adventure – Additional Fee
The Oogie Boogie Bash is a separate paid event where everyone can put on their best costumes and enjoy an amazing party in California Adventure. While, normally kids can always dress up as their favorite Disney character, at this event kids of all ages can dress up and join in on the fun. You can check out my full review of the Oogie Boogie Bash here.
If you need help planning to visit Disney and need help booking your magical Disneyland vacation, make sure to get in touch with our favorite travel agents. These people are truly Disney Experts, and not only are their services FREE, but they will save you both time and money.
---
Have you been to Disneyland Halloween Time? What is your favorite thing to do?
---
Pin for Later – Disneyland Halloween 2023! An Ultimate Guide + Must-See Attractions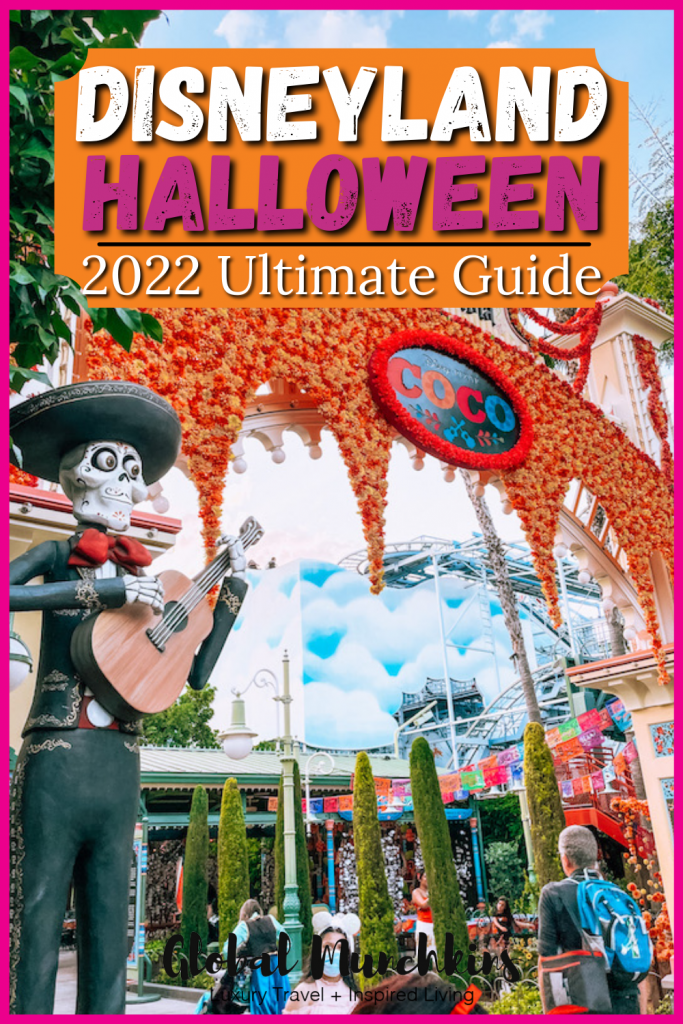 You Might Also Enjoy:
How to Buy Discount Disneyland Tickets; [9 Easy Ways to Save!]
Disneyland Birthdays- 10 Tips to Make the Day EXTRA Special
Frequently Asked Questions
Is Halloween Time an Additional Fee
No, Disneyland's Halloween time is included with general admission. The Oogie Boogie Bash is an additional charge
Is Disneyland busy at Halloween time
Yes, it used to be one of the parks slow times of year, but with the new additional of Halloween attractions it is now one of the busiest times.
Latest posts by Mama Munchkin
(see all)