Looking for a Disney Aulani Review? Let me shed some light on this amazing family-friendly resort in Hawaii. We have visited 15 times in the past 10 years, and there are very few places we return to with our kids over and over again. Mainly because the world is just so big and there is so much left for us to uncover.
However, there are certain AMAZING destinations, like Disney's Aulani Resort & Spa, that we just can't seem to get enough of. And, it's not just our family.
Disney's Aulani was voted No. 1 in the Travel + Leisure World's Best Top Family Hotel: USA. Take a look at this gorgeous resort, read my complete Disney Aulani review + get my insider tips to help you plan the most amazing Aulani vacation EVER!
*** Check out Our Complete Review of What Has Changed Since Aulani's Reopening, Here***
The ULTIMATE Guide to Disney's Aulani
I am SO excited to finally sit down and put in writing may Disney Aulani review and why I LOVE Aulani SO MUCH!!!
You see… Aulani is one of the few vacations where I actually come home rested and relaxed. Do you hear me… I come home RESTED & RELAXED after taking a vacation with FIVE kids ages 4-16 years old. So, for all, you parents out there who are saving vacationing until your kids have grown this post is for you!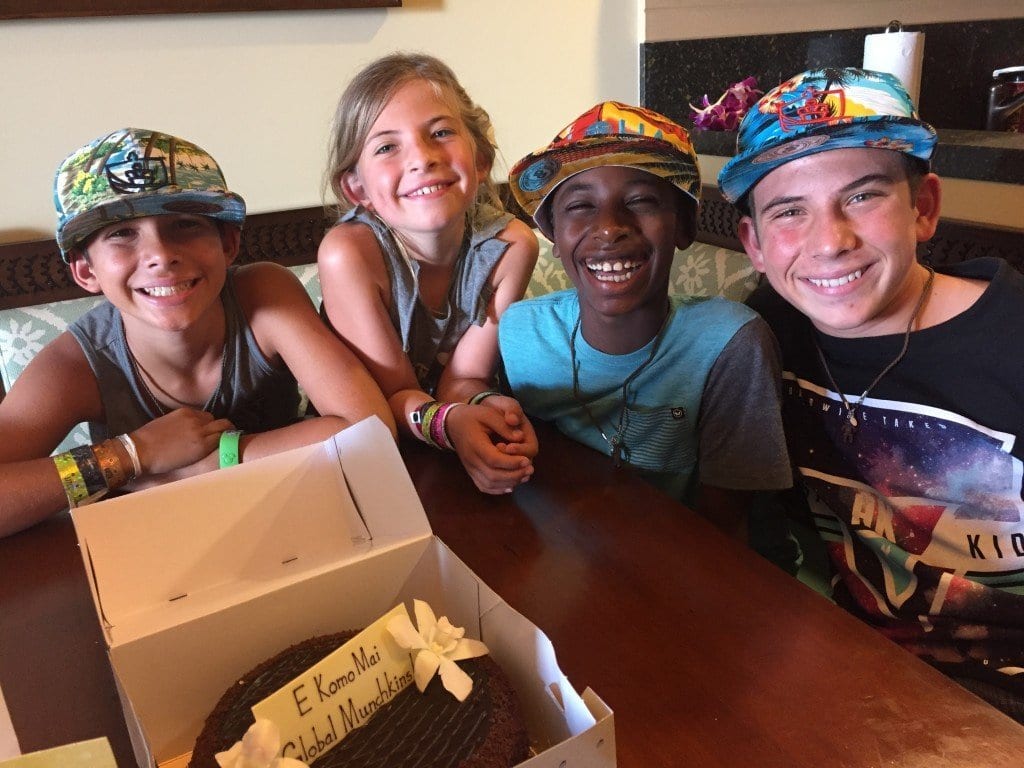 Aulani Review
From the moment you pull up to the stunning Hawaiian resort you know you are in for a treat. Super friendly staff greet new guests with a lei (women) or kukui nut necklace (men), and kids receive their very own Menehune necklace.
To the naked eye, the resort is a stunning architectural masterpiece that embodies the spirit of Hawaii.
A fine luxury resort that offers world-class service, amazing spa treatment, gorgeous amenities, many dining and quick service options and more. But, take a peek through a child's eye and you will find Aulani to be an enchanting place with magic around every corner.
At Aulani, A Disney Resort & Spa, you will have SO much to do, the only difficult decision will be where to start? We recommend taking full advantage of Aulani's incredible pools, splash area, lazy river and of course, the water slides.
But, make sure to check your daily 'Iwa because there is a host of activities (many of which are complimentary) that happen every day too!
Spa treatments at Disney Aulani are top notch and I highly recommend you book one. Especially, since the kids club is included in your stay for kids 3+. Did you know that Laniwai (Aulani's Spa) offers O'ahu's only outdoor hydrotherapy garden?
Aulani Pools & Recreation Review
Yup… Aulani for the win here BIG TIME!!! There are 8 pool/ water areas on property plus a gorgeous beach cove. You can swim in the pools, enjoy the spa, float in the lazy river, head down the slides, paddle board in the cove and snorkel in the man-made Rainbow Reef.
Or drop the kids off at the INCLUDED Kids Club– Auntie's Beach House and enjoy some quiet time at the adult pool and spas. One thing is for sure this view NEVER gets old!!!
The infinity pool above is our FAVORITE SPOT. The pic is taken from my chair!!!
Did you know… the pool pictured in the photos above has whale and dolphin noises playing underwater. The kids get a kick out of it!!
Keiki Cove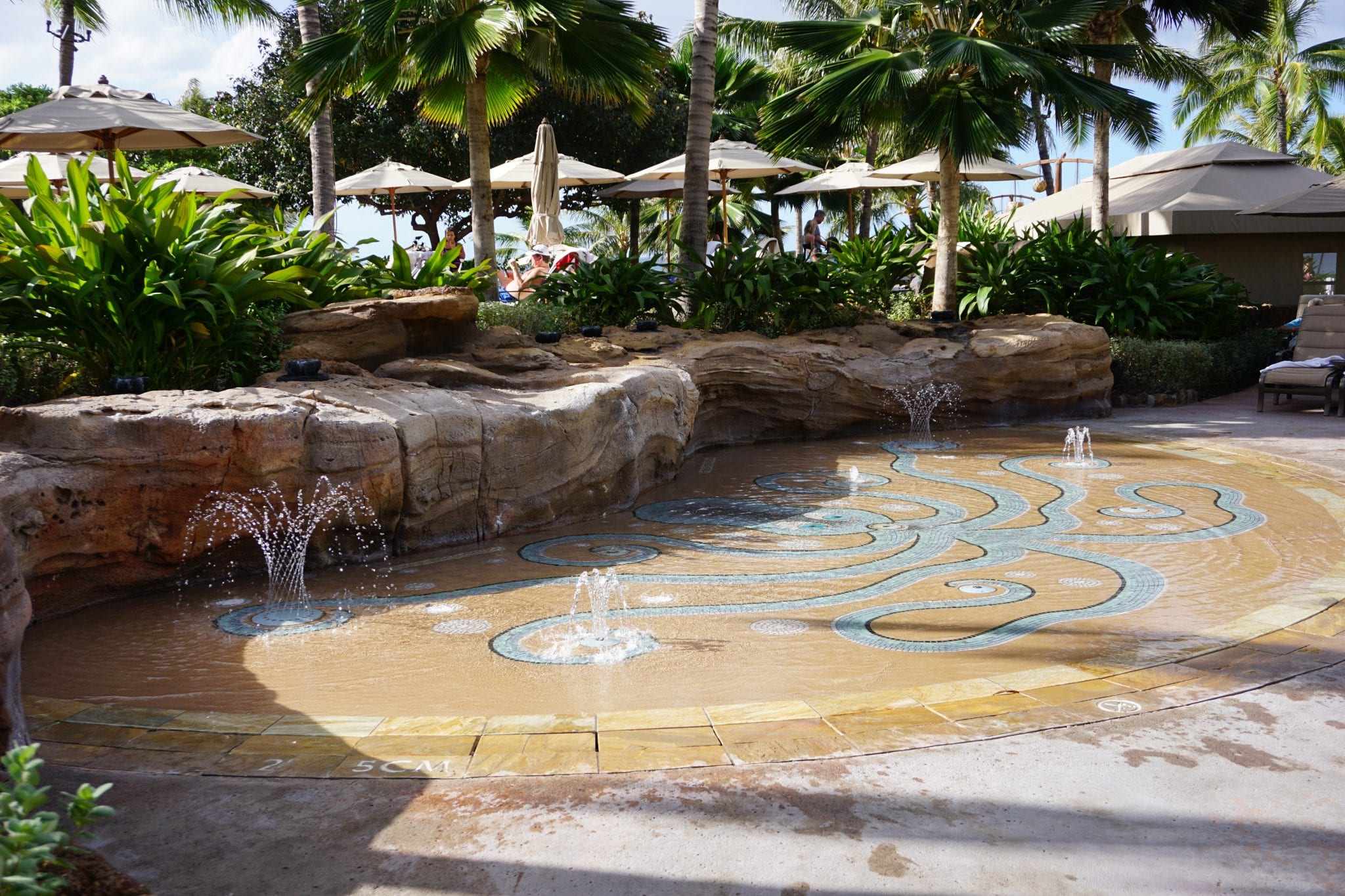 The Keiki Cove Splash Area lights up and plays music when kids come by on the Menehune Adventure Trail!!! This is the perfect spot for babies and toddlers.
Menehune Bridge Play Area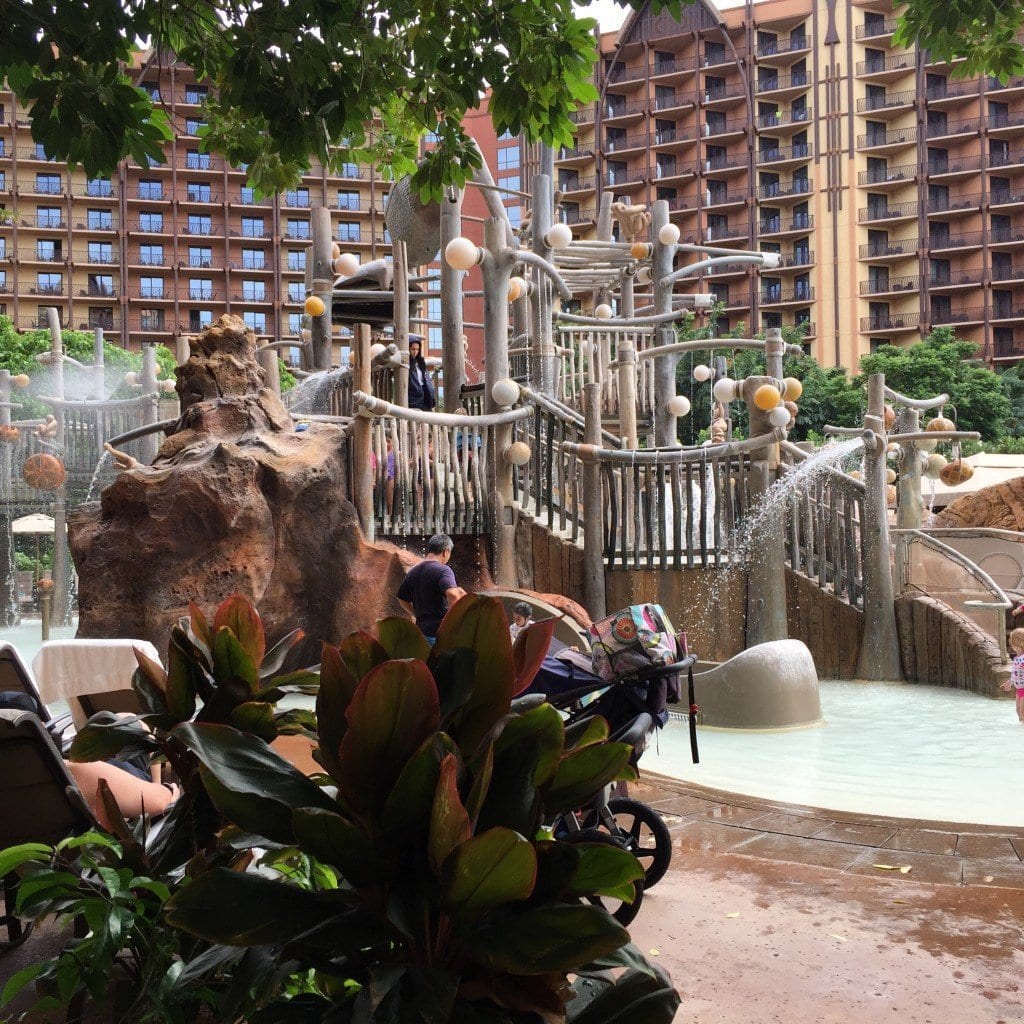 The kids love the Menehune Bridge. My only complaint is that it is only for kids under 48″ making it a bummer for my older ones. I think they should change the height restriction here as they already have the Keiki Cove for the wee little ones. This area is too cold for young kids + the bridge and slides are too big for them to do without parent help anyhoo.
Adult Pool
Above is the adult pool… I have never found the need to visit it. But, I do enjoy the bar in this area which serves specialty coffee in the early am too!
Water Slides
If my husband and kids were to write a Disney Aulani Review it would all be about the waterslides and lazy river. My husbands even came up with a waterslide challenge where they wake up early and try to ride the waterslides as many times in one hour. This is our family after completing the family water slide challenge. We came in first place in our own challenge with no other competitors because we made it up… whatev's!
The water slides ROCK! There is a body slide and a tube slide. And, the tube slide you can ride single and doubles!!! The body slide is dark for a little bit, so if you have little ones they might get slightly nervous.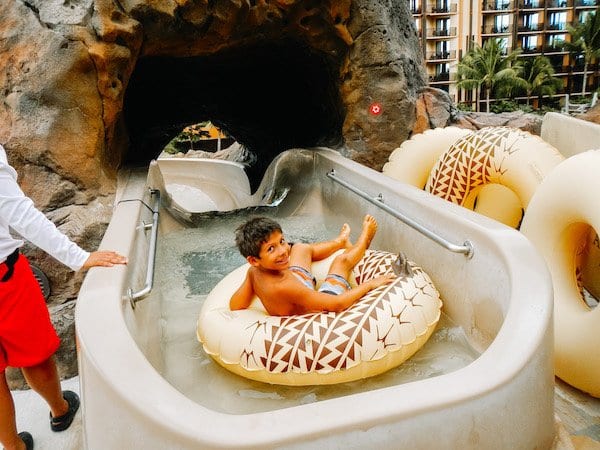 Lazy River
Who doesn't love a lazy river? You can come down on the tube slide and just continue to float into the river or hop in as you please at any of the entry/ exits along the river. The river travels throughout the entire pool area and is quite massive.
Watch out for the ice cold water that drips down from the caves… its C.O.L.D.!!!!
The beach is pretty much the main part of any Hawaiian vacation. (Check out my Hawaii Packing List for all your Beach needs). The Aulani Hawaii beach is a parent's dream.
You can rent all sorts of beach toys (many for FREE) including this giant four square game that Liv loved. No need to pack sandy beach toys either. Disney has you covered. Your older one needs a boogie board, wants to play ping pong- BAM… also included for FREE! And, the rec crew does a great job keeping kids occupied so parents can relax by the beach too!
Since the Aulani beach is on the Ko'olina Lagoon the waves are pretty much non-existent. So, if you have some kids who want to learn to surf or do some boogie boarding, you will have to head to a different part of the island.
Paddleboarding at Aulani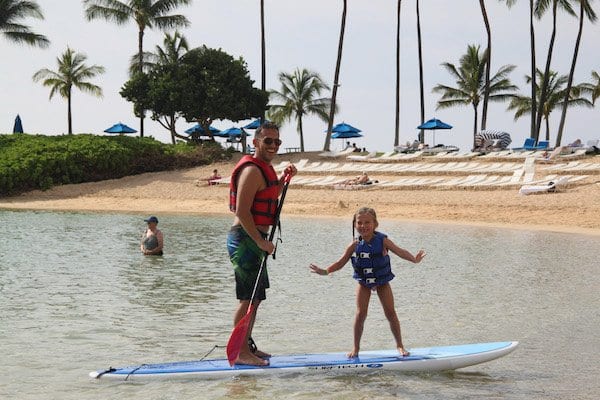 Paddleboarding is super fun at the Disney Hawaiian resort. The paddleboards are available for an additional fee, however it is a ton of fun and super safe since you paddleboard inside Ko'Olina Lagoon. We paid $30 for an hour of paddleboarding and that was plenty for us.
Aulani Dining Reviews!
Dining at Aulani is also a treat. We LOVE the food at Aulani and only wish there were more restaurants on the property.
Fine Dining at Ama Ama
Ama Ama is the resorts fine dining establishment with gorgeous ocean front views. Its a great escape but also pricey so we usually drop off the kids and grab lunch vs dinner to cut costs a bit. We often get fish tacos at lunch at Ama Ama while the kid's are at Auntie's Beach House. It is one of our favorite times at the resort.
Ulu Cafe – Poolside Eatery
Ulu Cafe is a grab and go eatery. Initially, when we went to Ulu cafe, they didn't have much to offer, but they have stepped up their game. You can enjoy fresh poke bowls, delicious sandwiches, and some incredible malasdas (my favorite on Hawaii – pic below). In the morning, this is the place to grab your coffee with your refillable mug (see tip #5 below)
Pro Tip – At Dinner You can order an entire Pizza for $25. It's a great way to have a nice easy and somewhat affordable dinner!
Enjoy Mickey Shaved Iced
You can't be in Hawaii and not try shaved ice, and you can't be at a Disney Resort in Hawaii without Mickey Shaved Ice! Luckily there is a stand on property serving up Hawaiian style shaved ice and at reasonable prices too!
What is Hawaiian style you ask?? Shaved ice served on a bed of vanilla ice cream and then topped with condensed milk. Some swear by it but I prefer mine just shaved ice + a few flavors of sugary syrup on top. Treat yo'self!!!
The Lava Shack is a small gift shop which offers a few packaged snacks and has a soda refill station.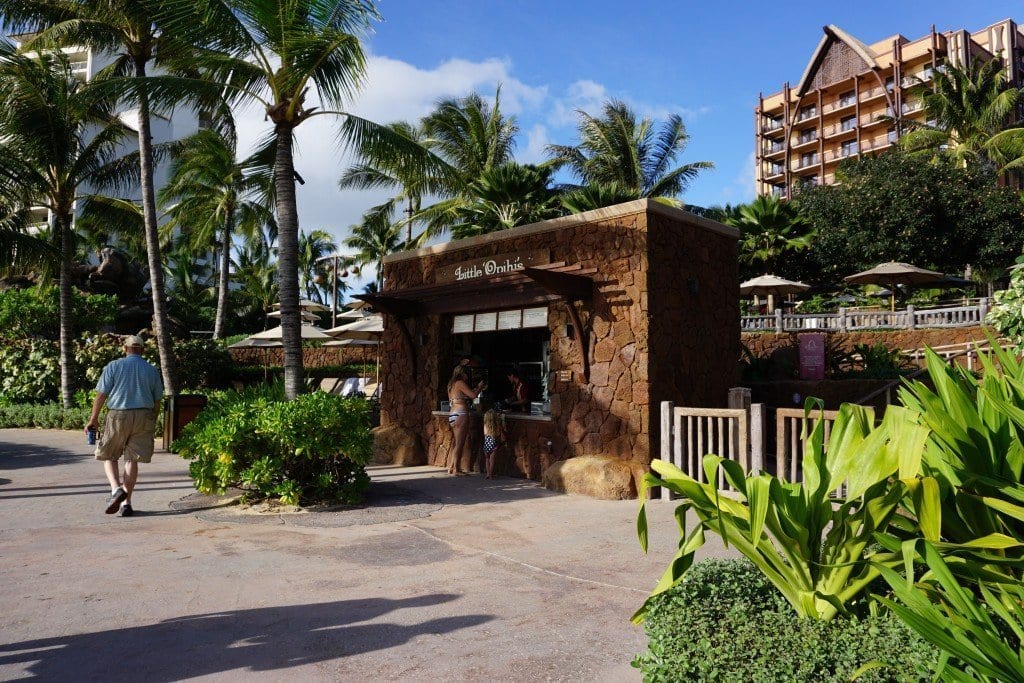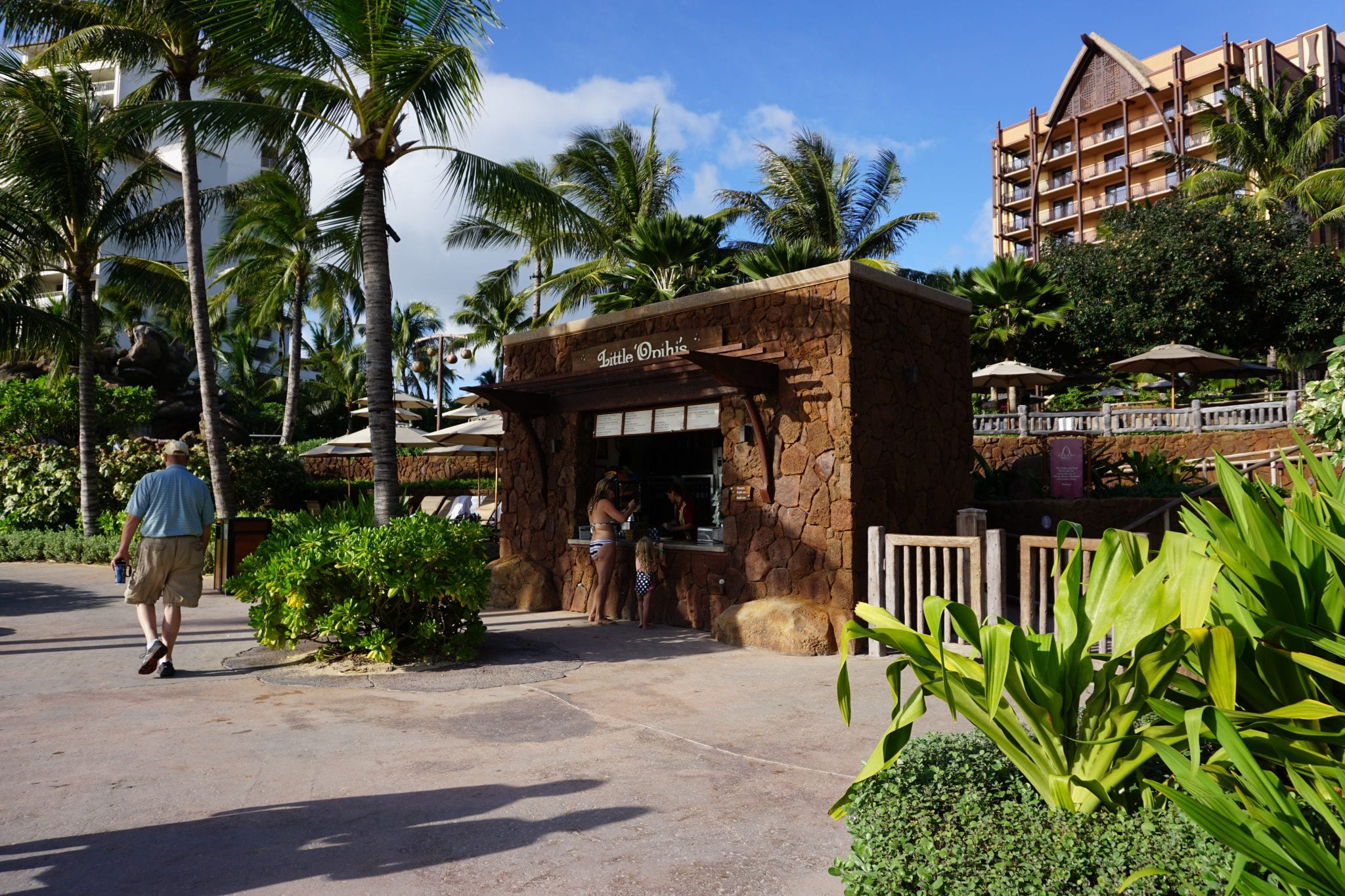 The only place serving food at the beach on Aulani is Little Opihi. Feel like snacking on a Dole Whip or how about some fresh spring rolls. Little Opihi's is your place. I heard that they source their spring rolls from a local specialty chef. Not sure if its true but they sure are delicious!!!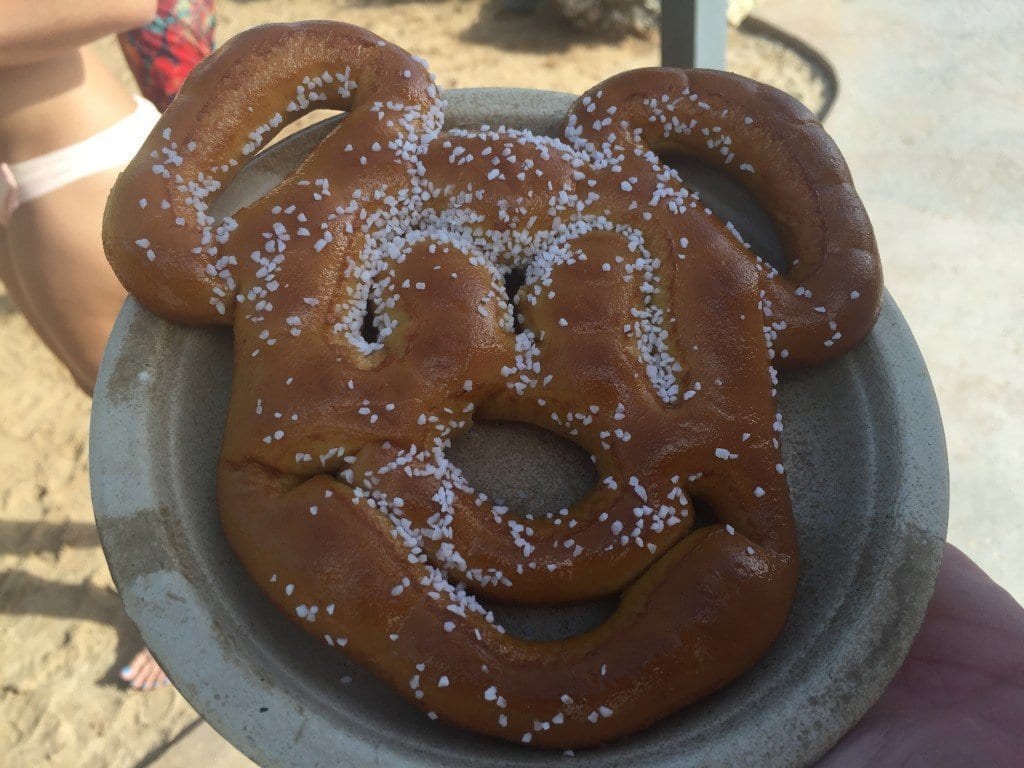 Aulani Character Breakfast & Dinner at Makahiki for the kids (or the kid in you).
Makahiki Buffet is an incredible buffet experience with delicious food and a character experience to boot. They offer breakfast and dinner with some classic Disney foods (Mickey Waffles) and delicious Hawaiian food. We have actually enjoyed Makahiki for two Thanksgiving buffets and several breakfasts
(You Can check out my character breakfast review here) It might just be my all-time favorite Disney character breakfast and we have been to almost all of them! (read about our Disneyland and Walt Disney World experiences + tips & tricks)
Oleo Room
The Oleo room is a great place to enjoy some cocktails and local Hawaiian music at night. They also offer a Happy Hour with some pretty delicious food, however, over the years the happy hour menu has been getting smaller and smaller.
Disney Aulani Resort & Spa Room Review
Here are some photos and details of our 2 Bedroom Villa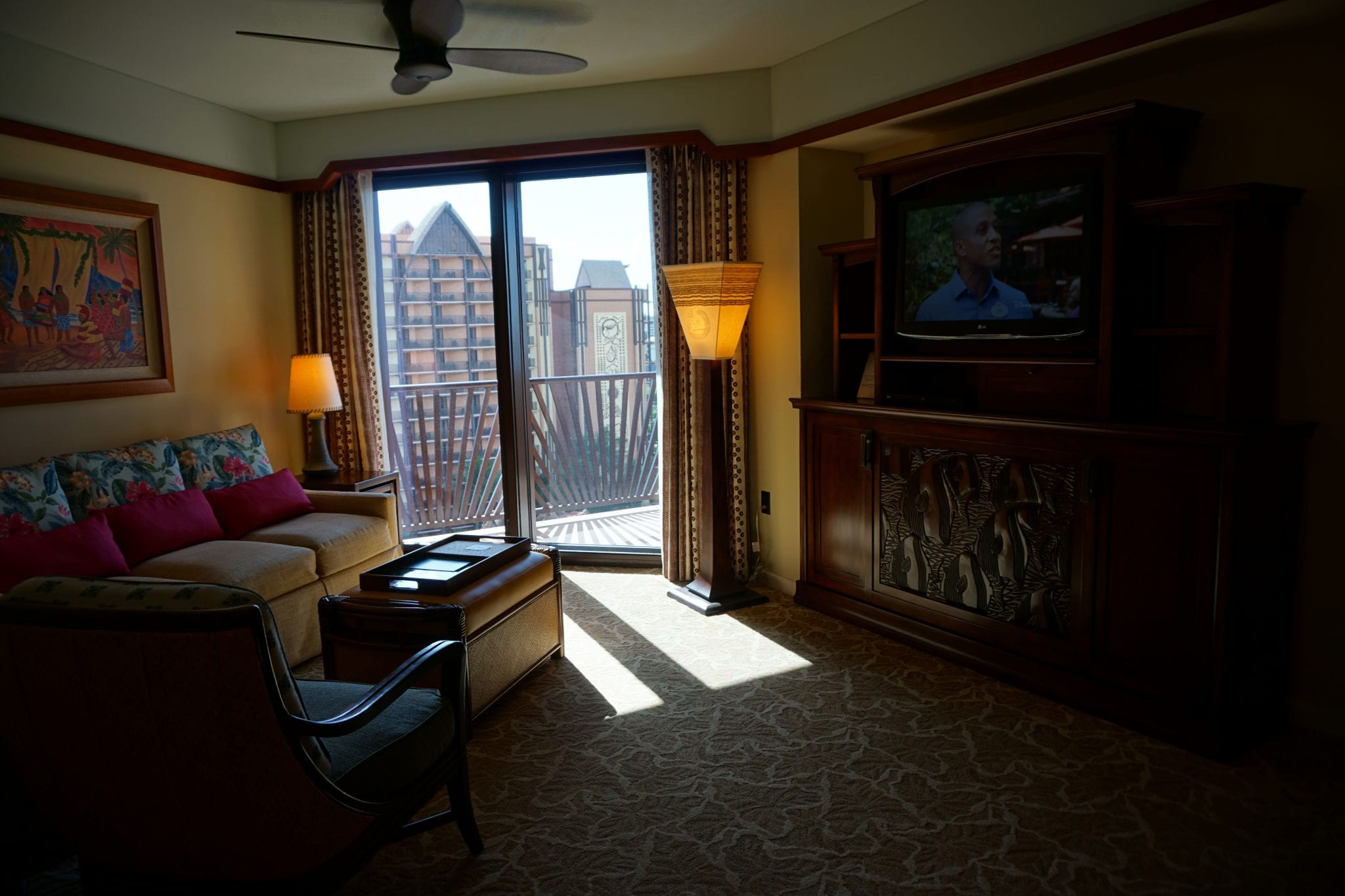 The kitchen has everything we need to cook full meals + the kids love hanging out coloring or chatting at the kitchen table. We have so many amazing memories right there at that table.
We love coming back to our room after happy hour at Olelo where we eat + drink + enjoy the music as the sunsets over the ocean. We open our sliding doors to the balcony, listen to the crashing waves and play board games or talk about our amazing day all night long!
It's one of those moments you wish you could wrap up and come back to always. It's just that GOOD!!!
Of course, your villas are equipped with a coffee pot, dishes, serving ware, pots, pans, microwave, and a toaster. If you have a 1, 2, or 3 bedroom villa you also have a full-sized oven, stovetop, dishwasher and fridge too!
And, you can also request additional items such as a rice cooker, blender and BBQ utensils as well!!
Check out the views. This is a model room in the Waianae Tower. It's gorgeous… but the Ewa Tower has even better views and the balconies are also quite a bit larger too! See the view from my villa in the Ewa Tower below.
*Tip- when making a reservation for a two bedroom villa be sure to request to be in the Ewa Tower!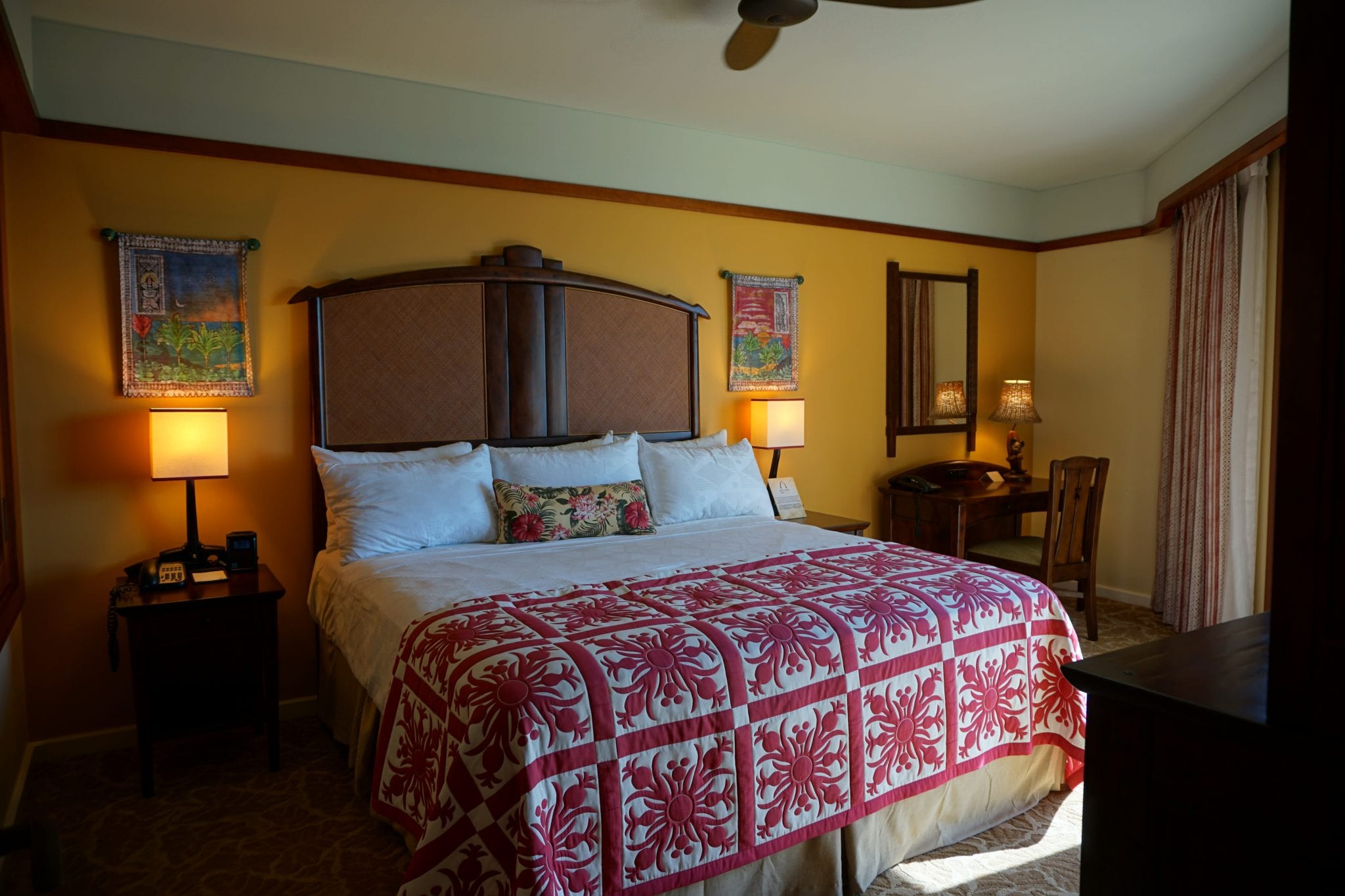 The master bedroom is tastefully decorated and the beds are super cozy too! There are a few hidden Mickey's and touches of Disney magic as well.
One thing I love about the two bedrooms is that it has three separate bathrooms. The master has a full bathtub and a waterfall shower head. The second bedroom has its own bathroom and shower + there is a guest bathroom in the living room.
*TIP- You have to ask for a dedicated two bedroom though or you will wind up with only 2 bathrooms.
One amenity I absolutely LOVE is the in-room laundry. Boy does that make life easier when you are traveling with kids. Other helpful items moms will appreciate hidden in this closet include a step stool, porta crib and high chair for little ones.
*Did you know you can also request a bottle warmer for your room?
Aulani is located in Ko Olina, on the gorgeous island of Oahu and just a quick 20-minute drive from their main airport of Honolulu (HNL). Honolulu is a massive airport served by 27 international and domestic carriers, 3 inter-island airlines, and 4 commuter airlines.
If you are flying from the West Coast you can usually find decent rates through Hawaiian Air, Virgin America, and Alaska. Occasionally, Delta, United & American run specials too.
I would recommend checking The Flight Deal and Secret Flying often to secure the best rate. Make sure to follow me too as I am always posting amazing airfares I find for Hawaii 😉
Transportation
You have your options of transportation such as car rental, taxi, shuttle services, and public transportation while on the island all of which are detailed out with links here.
We have always rented a car as shuttle fees for 7 add up quick 😉 If you opt for that option I recommend using Tripadvisor. We have always received great service and the best rates through them.
Arriving at the Disney Aulani Resort!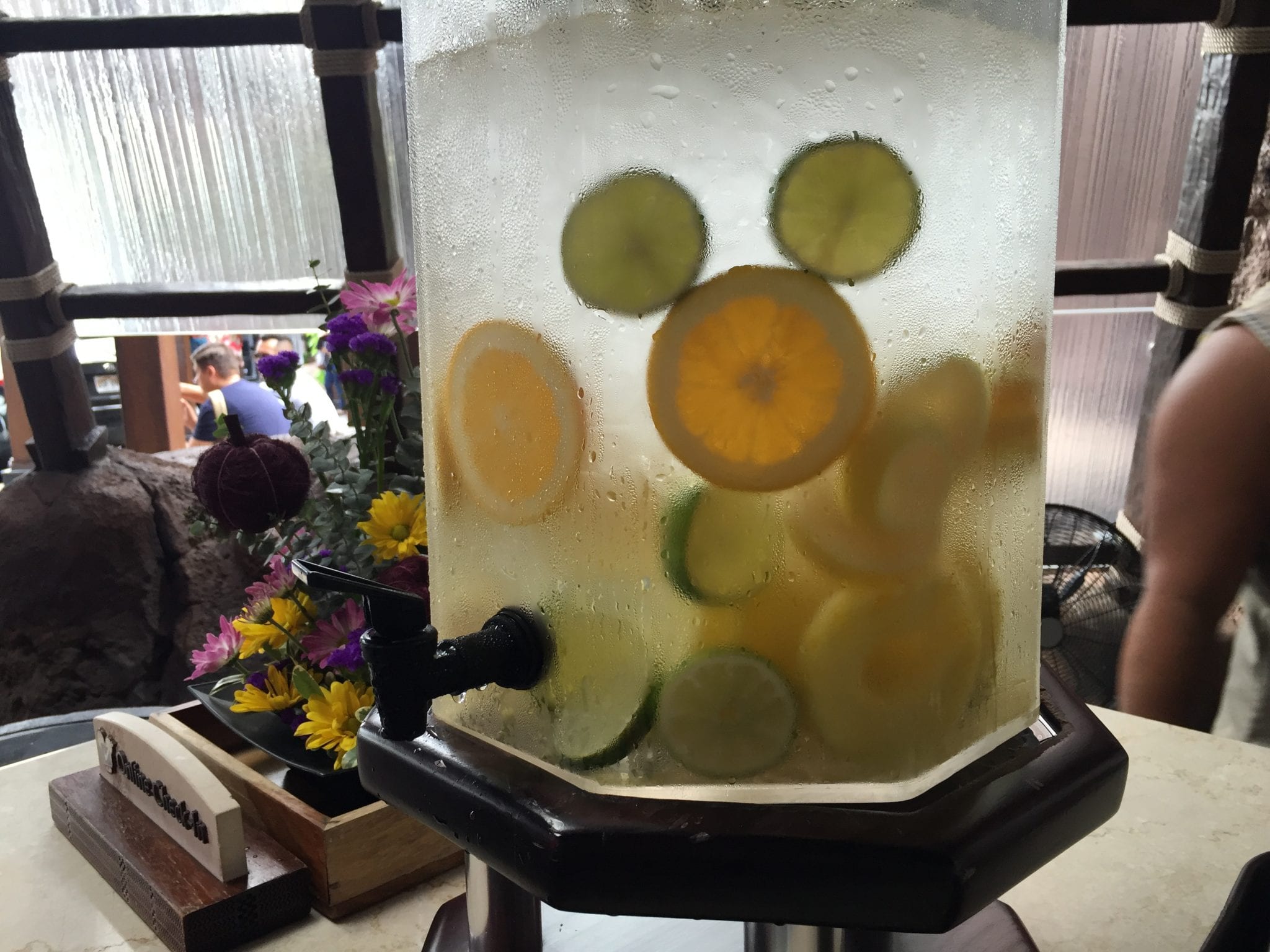 You walk through the giant slider doors and into the lobby… isn't it beautiful!!!
Entertainment for the kids while you check-in
Kids love the playroom directly across from the front desk. Parents love that it keeps little ones entertained upon check-in or while parents talk to the concierge desk. Ella is peeking inside the peephole to see the Menehune running around in there. Liv was fixed on the Disney cartoons. These amenities are what make your trip with kids SO much easier!!!
Did you know Aulani houses the largest collection of Hawaiian art in the world!!! Over 60 local artists were commissioned to complete works for the hotel before it opened!
The lobby sits on the second floor so when you walk out onto the over-sized balcony you overlook the entire property which is pretty massive.
Character Experiences at Aulani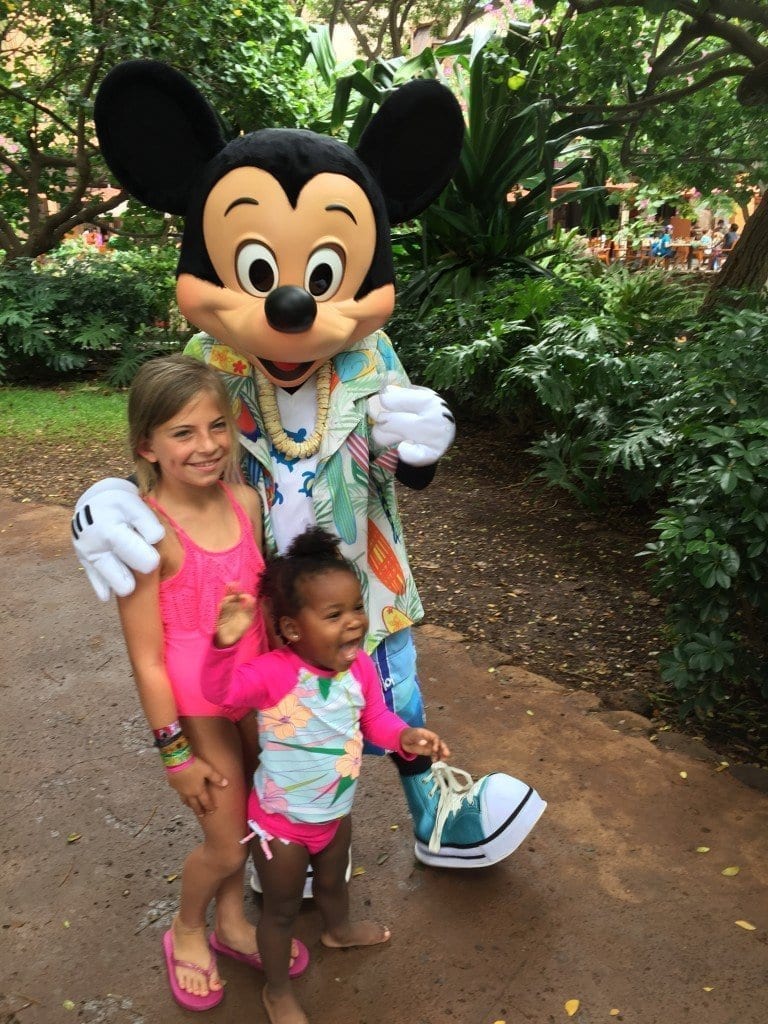 Disney Aulani Deals – Save up to 50% OFF Your Stay! (SERIOUSLY!)
More Aulani Deals!
Save at the Hotel & Get Everything Planned for you
If you are looking to stay in the hotel rather than the villas, contact our friends at Tink's Magical Vacations. They are truly Disney Experts, and not only are their services FREE, but they will save you both time and money.
Tripadvisor
If you prefer to plan the trip on your own check Trip Advisor for special offers and deals. Especially, in offseason which happens to be my favorite time to visit 😉 Check Prices Here!
Disney Aulani Costco
Costco often offers some sweet deals on Aulani Resort & Spa. You can find packages that include car rental, airplane tickets, and Executive Members get 2% back on their vacation. It is not a bad way to book a room at this resort. Check out Costco's Aulani Deals Here!
Love Aulani – Purchase an A
ulani Disney vacation club – Aulani Timeshare!
If you have been to Aulani and plan to come back often, I highly recommend purchasing a Disney Vacation Club at Aulani. You will save up to 70% off your vacation every time you visit. Our cost for
What We Are Packing On Our Next Trip

13 Disney Aulani Tips from a Pro (that you might not think of)
Aulani Tip #1- Take Advantage of Auntie's Beach House
Here is the deal… you are on VACATION! You have a full day to spend with your family so it's not going to screw up your bonding time if you let your kids have a blast over at Auntie's for a few hours. Trust me!!
Where else can you take your kids where they love going to the kids club so much that they beg you to take them there. Oh, and where it doesn't cost you an arm and a leg??? Okay, maybe a Disney Cruise… but on land???
In the kids club resort world, Aulani absolutely crushes any competition. Auntie's Beach House is full of super fun activities, amazing/ friendly cast members and exclusive experiences that only Disney could create. And, its included with your stay!!!
[bctt tweet="Auntie's Beach House is full of super fun activities, amazing/ friendly cast members and exclusive experiences that only Disney could create. And, its included with your stay!!!"]
So, the first thing you should do after checking in is head to Auntie's Beach House and sign up your kiddos for this amazing included amenity and sometimes Mickey Mouse swings by for a visit.
*Tip- Save yourself some time at the resort and register your kids online. Then just print the forms and take them with your ID to Aunty's Beach House and you will be registered in a snap
Aunty's Beach house is open everyday from 8am-9pm!
Tip #2- Grocery Shop on Your Way In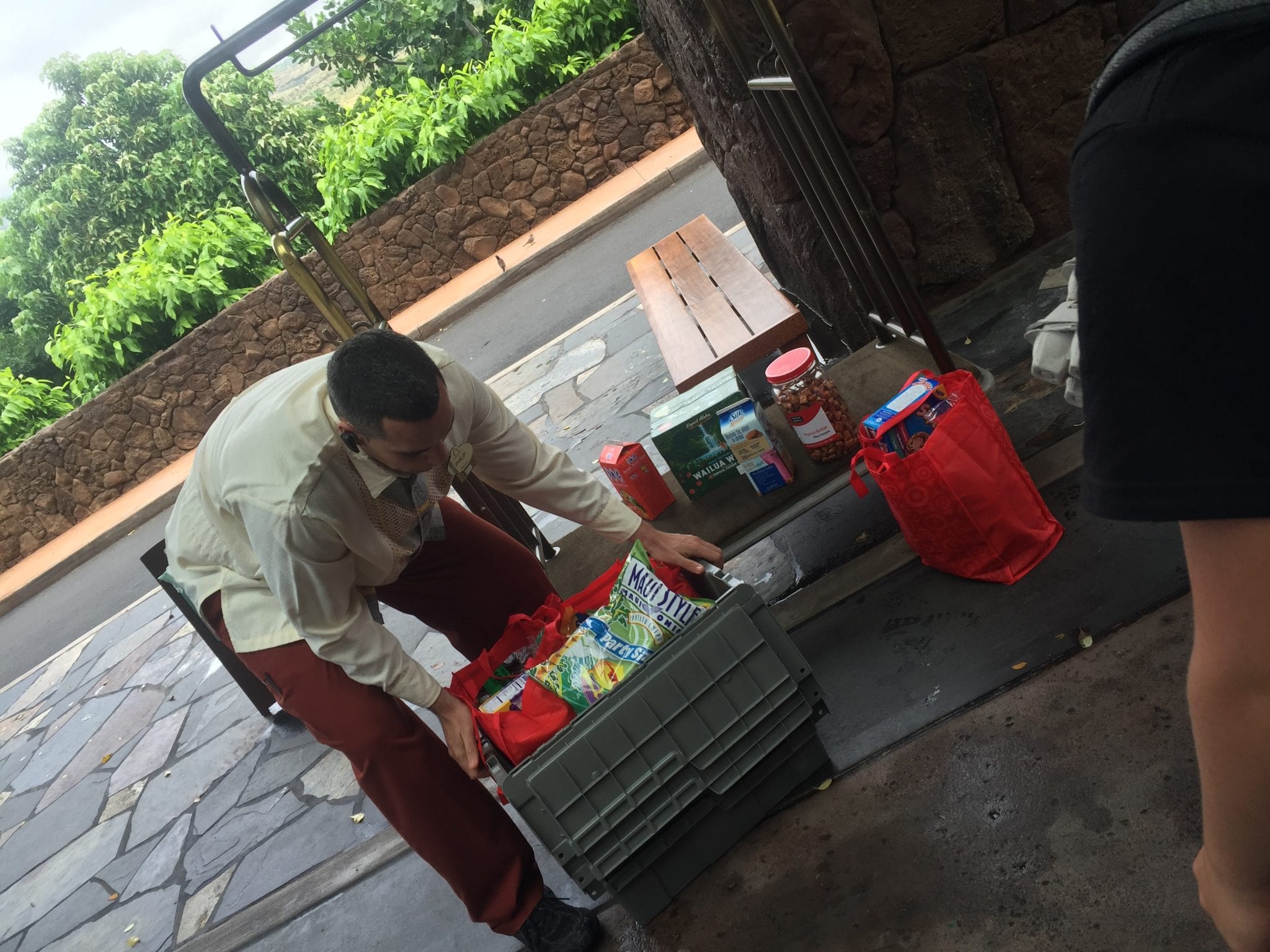 Hit up Costco and/ or Target before you check in they are one exit prior to the resort when you are coming from the airport. If you have a villa this can end up saving you a ton and the staff can unload the groceries and get them up to your room right when you check in too!
We typically grab breakfast items, snacks and some lunches for the kids. We have even grabbed stuff to BBQ on property before. My brother in law loves their BBQ area.
Next time we go I will most likely grab some alcohol too as I recently heard Aulani raised their cocktail prices.
Tip #3- Eat Out… But Be Smart!
Breakfast-
I recommend hitting up Makahiki for their Aulani Character Breakfast at least once. It's a splurge but their breakfast spread is pretty delicious and the kids LOVE the characters and Auntie walking around playing her ukulele.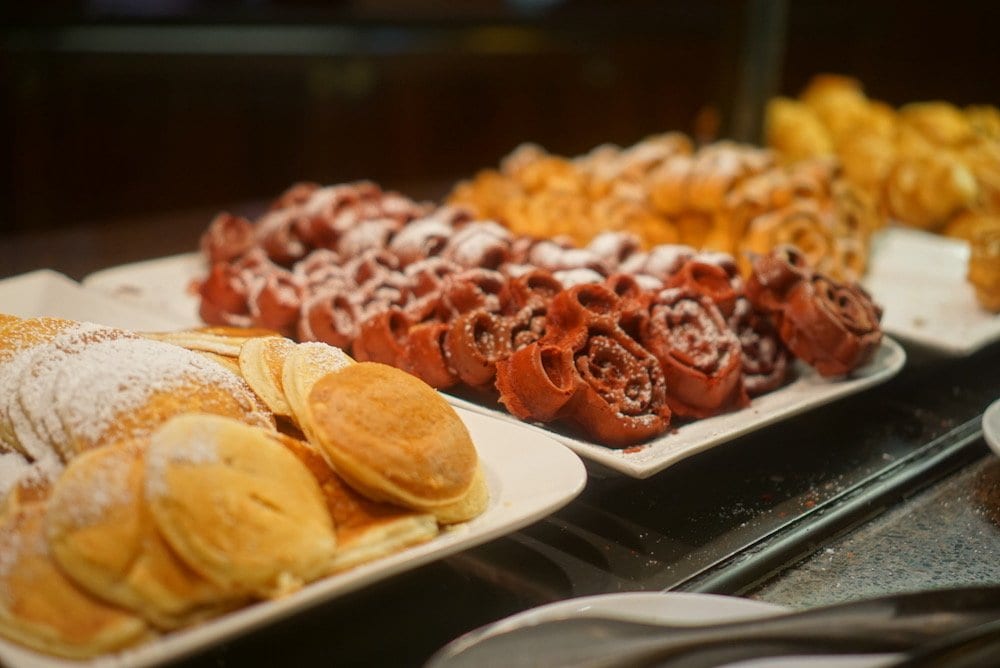 Another great breakfast spot if you have a car or grab an uber is KOA Pancake House. It is dirt cheap and has AMAZING Banana Macadamia Nut Pancakes just one exit past the resort. Check out my nieces pic below of her pancake tower. Then click the picture and go follow her travels on instagram.
Lunch/ Dinner-
Happy Hour at the Olelo Room is a MUST! You will enjoy happy hour pricing on drinks and tasty bites (including sliders, nachos, hummus & more) + they also have great live music.
*Did you know the staff at Oleo Room are required to speak fluent Hawaiian!
Ulu Cafe also offers full-sized pizzas for a reasonable price in the evenings. I think I paid about $25. And, the kids were big fans of poolside pizza 😉
Another great happy hour can be found across the street at Merriman's newest restaurant called Monkeypod.
Near Monkeypod you will also find options for pizza, sushi, and Mexican. All of these options are cheaper than eating on property.
Need a quick sandwich, snack or maybe you forgot something at home? ABC market is right next to Monkeypod across the street and has everything you need.
We also like walking over there to grab an Island Vintage Coffee (YUM) or ice cream for the kids too!
Tip #4- Check the Daily 'IWA & Join in the Fun
The daily 'IWA is your guide to everything going on in the resort. You can pick it up at the front desk every day or plan ahead and check out the full week's schedule online
Activities you ABSOLUTELY should attend
NEW! Celebrate the Spirit of Moana- See the info here We haven't visited since Moana was released, however, Aulani's website states several super fun ways to experience and celebrate Moana on your next visit.
Movies on the Lawn- exactly like it sounds you grab a giant grass mat, sit down and snuggle your loved ones under the gorgeous stars as you watch a movie. They also have concessions for sale.
Character Pool Party- If you have little ones you absolutely need to hit up the pool party. Characters + Water + Music + Disney Magic = A GREAT Time! Make sure you have your camera handy.
Menehune Adventure Trail- your munchkins will love checking out the iPad like a monitor that takes them on an exploration/ scavenger hunt around the resort. Their monitor will unlock magic along the way!
Family Challenge- One of our favorite things to do is join in on the Family Challenge. This one is great for 5-99 years old. Your family completes in challenges on the beach against other families. It's worth having someone sit on the sidelines and video.
Check out Our Family Challenge Below.

View more of our videos from Aulani on the Global Munchkins YouTube channel here.
Tip #5- Chair Timers
This is a big one.
So, don't plan on putting your stuff down early in the morning and arriving a few hours later, not only is is rude, but you will have to go redeem your confiscated items at the recreation check-in desk
If you leave for too long they make a note of it. They mark your seats by organizing your chairs as seen above. If you do not return to your chairs within a given time they will confiscate your items and hold them for you at the recreation check-in desk and allow others to utilize those seats. Don't lose your good seats!!! Check back often if you are hanging out at the beach, floating in the river, or enjoying the water slides.
Aulani Money Saving Tip #6- Buy the Resort Refillable Mug
As soon as you check in head to the gift shop or the Ulu Cafe and buy yourself a mug. In our family, we don't drink much soda. So, what we do is buy two. One for me and the second for my hubby.
We use them mainly for coffee each morning and evening and then for iced tea throughout the day. It is worth it for that alone. But, we also occasionally treat the kids with a soda too.*By treat I mean its a bribery tool used to make older children play with their younger siblings- ha!!!
Tip #7- Bring a Refillable Water Bottle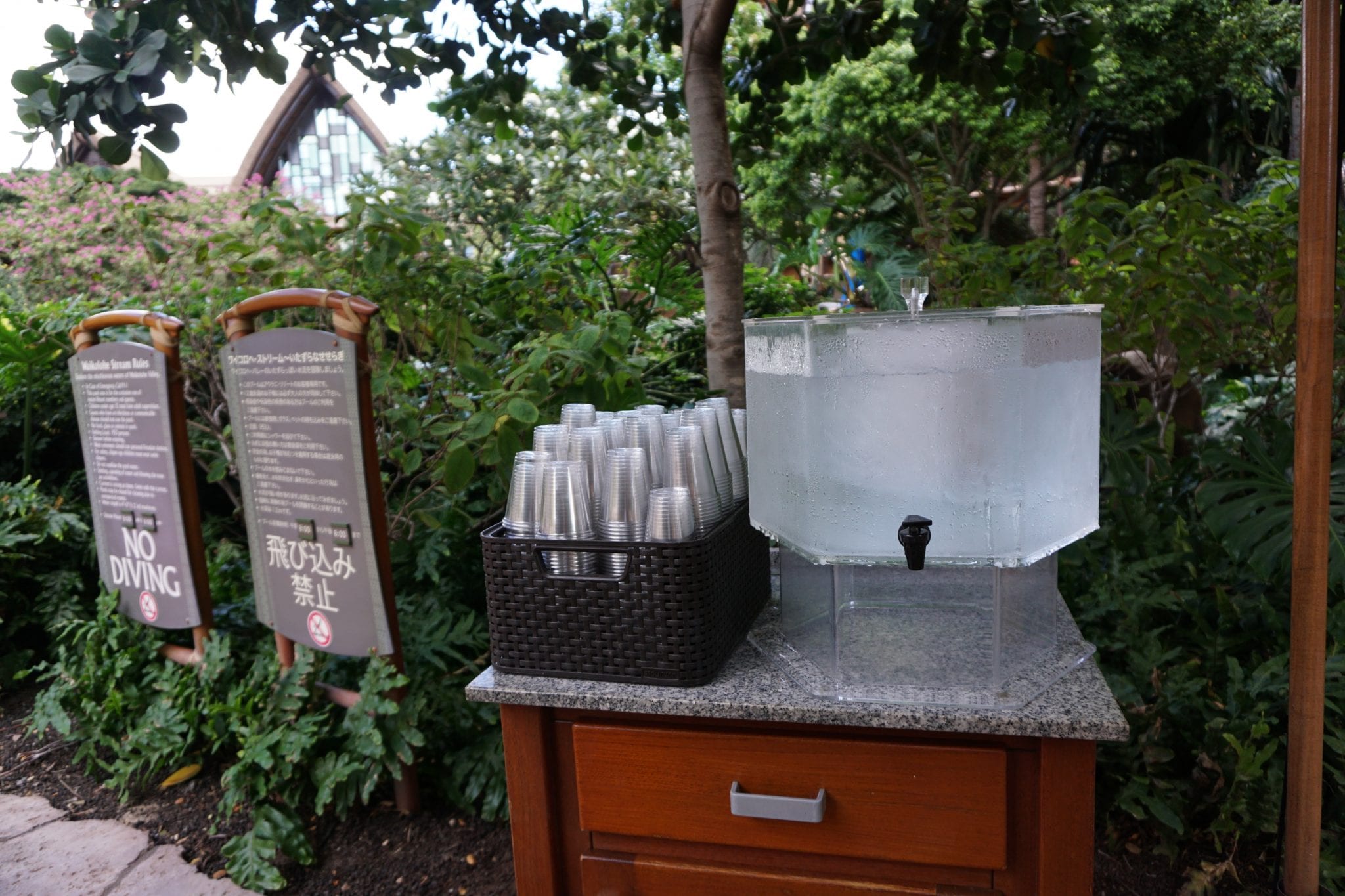 Whether you purchase a mug or not I would recommend bringing a refillable water bottle for each member of your family. Free water is located throughout the resort and no one needs to end up dehydrated on vacation. That Hawaiian sun is HOT!!!
Tip #8- Let Your Kids Enjoy the Menehune Adventure Trail
You can check out an iPad to get started at the Pau Hana room. This interactive game is described as an iPad assisted treasure hunt around the resort property and the kids LOVE it!!! They get clues on their iPad from Auntie about what the mischievous Menehune have been up to. When they get the clues right they unlock amazing interactive pieces i.e.) make the lava flow from the giant volcano, make sea turtles rise out of the koi fish pond etc… Some extra Disney magic!!!
We really enjoying the adventure trail in the evening. Some of the interactive pieces light up and they look much grander when it's a bit darker outside 😉
Tip #9- Go on a Menehune Statue Scavenger Hunt
These adorable statues of the legendary Menehune are located throughout the property. Some are incredibly easy to spot and others are pretty well hidden. There are 300 in all. Talk to your kids about it before you arrive and they will have a blast searching them out as you wander around the gorgeous property 😉
Tip #10- Be an Early Bird
Want to score those perfect chairs at the pool? You need to get up early. My morning ritual: hit the gym at 6 am, grab a specialty coffee at 6:45 am then grab my pool chairs watch the sunrise. Not only do I get my workout in and enjoy this gorgeous view… but I also get the best chairs in the house!!!
Tip #11- Get to Know the Cast Members
Get to know the cast members. Above is Alyssa… she has become a part of our family over the years. Hawaiian's, in general, are amazing, welcoming people who will "talk story" with you all day long.
Say more than just hi and you will get some amazing insider tips like where the sea turtles hang out nearby, the best local eateries etc… Plus, you will come home with an even larger Ohana than you came with.
Tip #12 – See some Turtles
Walk down the path to the right of the resort property by the ocean. Continue about 5 minutes past the resort and you will come to a beach area where the sea turtles love to play.
Tip # 13 Download the Aulani App – New for 2020!
New in 2020, Disney Aulani has developed an app, to make more things touchless. You can access all the daily activities from the app, check in, manage your reservation, and coming soon, order food!
Things to Do in Oahu
As positive as my Aulani review is, at is an amazing resort, you could spend your entire vacation there… BUT you are in HAWAII!!!! There are so many amazing things to do in Oahu it is definitely worthwhile to rent a car at least for a day or two to explore the island. As I mentioned above we have found great prices on Tripadvisor and you can also rent a car through Alamo right on property at Aulani.
Here are some Day Trips/ Activities We Love:
North Shore:
Head to North Shore and watch the surfers
Eat lunch at the Famous Shrimp Trucks (Mackie's is the BEST!!!)
Grab a Shaved Ice at Matsumoto's… then take a pic so you can return and force the kids to get in the exact same line up someday in the future 😉
Visit Pearl Harbor:
Pearl Harbor has a gorgeous memorial and several museums. If you are traveling to Oahu I highly suggest you make time for a visit.
You can get tickets online here for up to 6 people at a nominal fee (basically just paying the service fee) and avoid long queues and sold out tickets for the movie and boat ride.
Initially, I was hesitant to take the younger kids… however, it was not only age-appropriate but they found it incredibly fascinating and educational. I am SO happy we went.
Horseback with Gunstock Ranch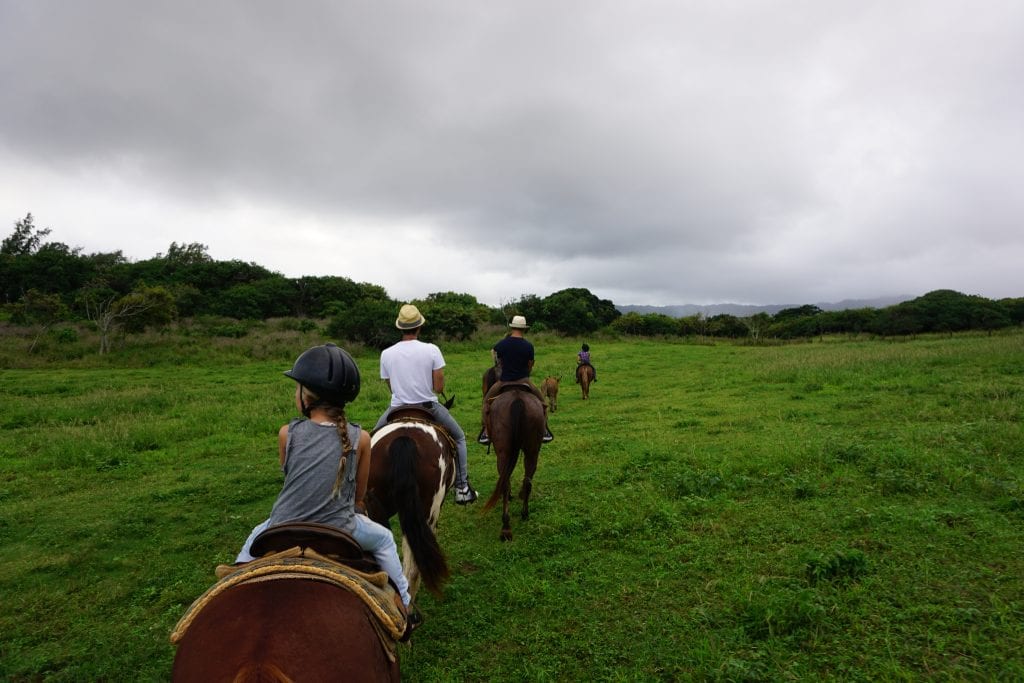 This family-owned cattle ranch is located about 40 minutes from Aulani… but the drive is part of the experience. I have no idea what the names of the mountains we drove through are but what I can tell you is they felt alive. There is just something about the way the mist sits against the emerald green hillside.- ahhhhhh!!!!
You arrive at the ranch greeted by the friendliest staff, hop on a horse and ride off into the hills. Atop your horse, you will have some of the most stunning vantage points as you overlook the ocean below. The terrain is unbelievably beautiful and it is by far one of my favorite Hawaiian experiences. No joke… I want to be a Hawaiian cowgirl when I retire. I am pretty sure life doesn't get much better than that!!!
See my full review here.
Visit Sea Life Park
My daughter and I visited Sea Life on our last Aulani visit. We booked a Dolphin Adventure through Viator.com and it was incredible!!! Not only was our dolphin experience amazing but we had a blast in the park itself too. They have an amazing sea turtle breeding program, an educated and helpful staff, lots of hands-on experiences like the aviary and touch pools and you can't beat their location.
Check out my whole review here.
Looking for more off property fun? Check out my post on Things to Do in Oahu and check out this AWESOME post by YTravel Blog on More Great Things to Do in Oahu.
Aulani Review Wrap Up-
I hope if you have made it this far through my Disney Aulani review that you have concluded that Aulani is a pretty amazing resort for families and one that should be on the top of your list.
If you have any questions please let them in the comments. I respond to each question with a private email. I love helping other families plan their travels.
Map of Aulani Attractions & Dining
Pin for Later: The Ultimate Disney Aulani Review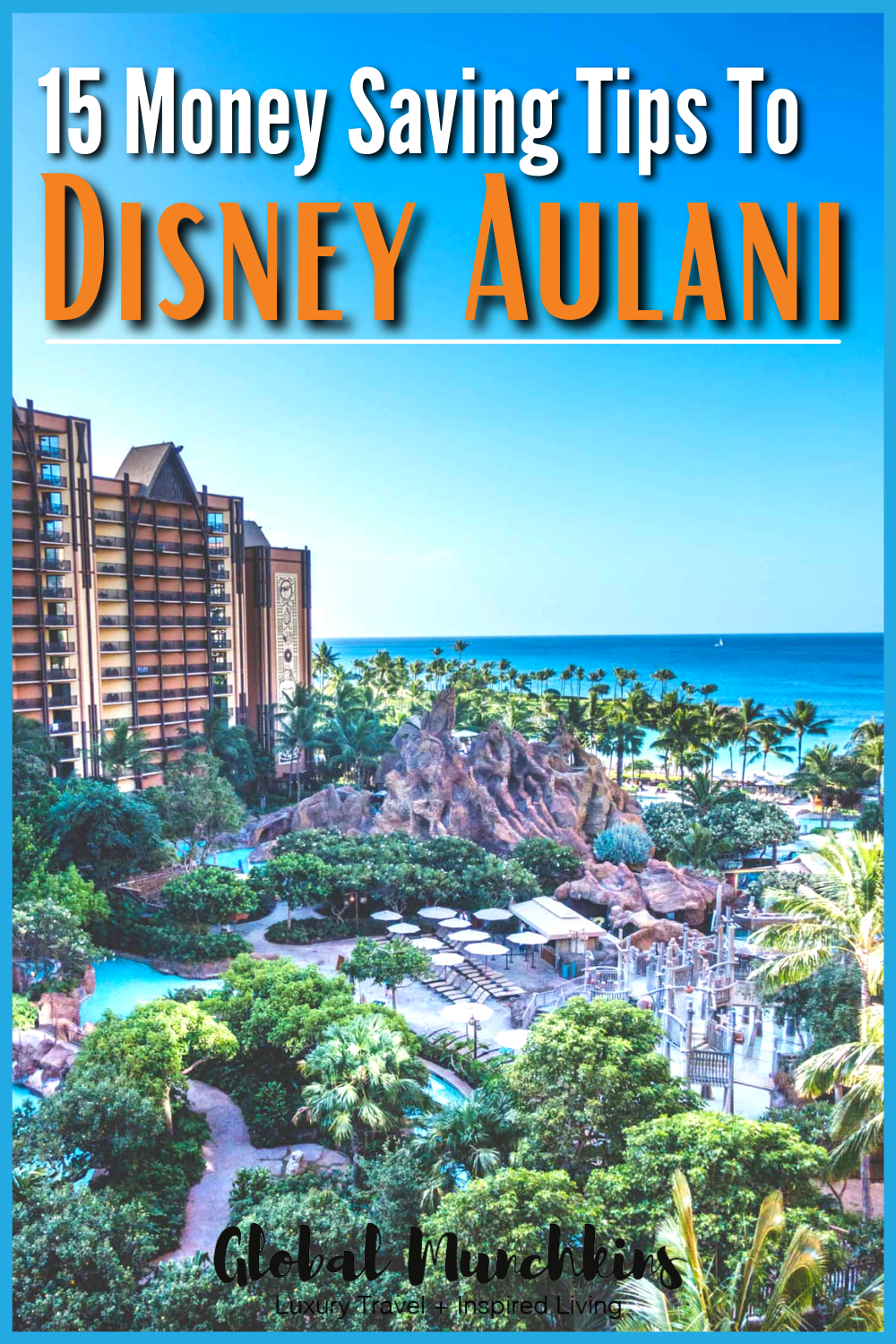 Have you visited Aulani? Do you have any tips of your own or maybe questions about the resort? Leave me a comment below with your Disney Aulani Review or Questions
*Disclosure- This is a personal blog all thoughts and opinions expressed are for informational purposes only. All thoughts and opinions expressed are, as always 100% my own. This post contains affiliate links.
You may also like these posts picked just for you-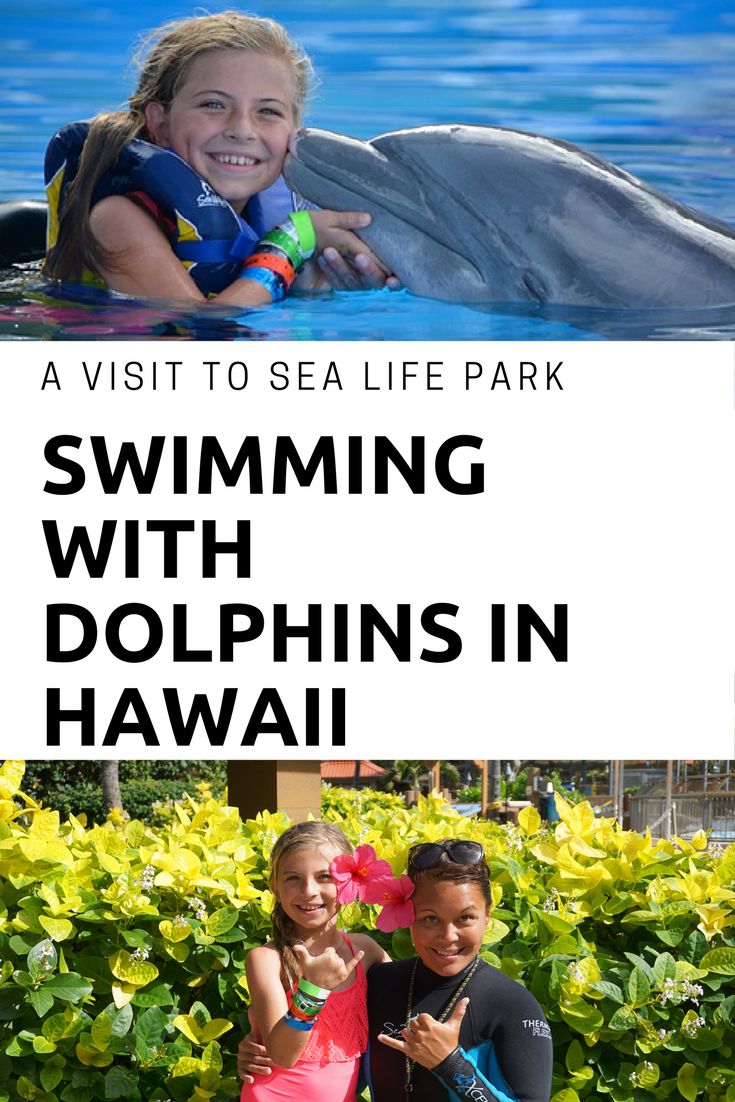 Pin for Later – Disney Aulani Review – Why We Love It! + 15 Money Saving Tips
Is Aulani Expensive?
Yes, however there are some amazing ways to save money. Rooms typically run around $600 per night but you can save up to 50% off with offers or renting from vacation club owners.
What Airport do you fly in to for Aulani?
You fly into Honolulu International Airport (HNL). It is about a 20 minute drive to Aulani, you can take a private shuttle or rent a car to get to the resort.
How many days do you need at Disney Aulani
Stay for at least 2 nights. There is so much to do at the resort. This will allow you to fully enjoy the resort without trying to rush to get everything done.