Being a DVC Member, nothing says home to us like Disney's Beach Club Villas in Orlando Florida. Maybe its the Captain who greets us, or the gorgeous lawns that my kids have played on since they were babies… or maybe its the lighthouse overlooking the lake? I can't put my finger on it precisely but I have a hunch it may have to do with the fact that they always greet us with "Welcome Home"… why? Because we made the wise decision to be DVC Members about 15 years ago.
At the time we were just dating, not married and had no children. But, we knew we wanted all of those things and Mr. Financial decided it was a great deal… and so we took the plunge… A decision that we are still so happy we made.
We have stayed at a bunch of Disney Vacation Club Villas in Orlando over the years (and Aulani in Hawaii too) but our ABSOLUTE FAVORITE is Disney Beach Club Villas. Not that the others aren't amazing too. We have enjoyed our stays at Animal Kingdom Lodge (Jambo House and Kidani Village) especially their concierge rooms, Yacht Club, Bay Lake Towers, Saratoga Springs, and Boardwalk. But, there are a few things that Beach Club has that makes us want to return every year.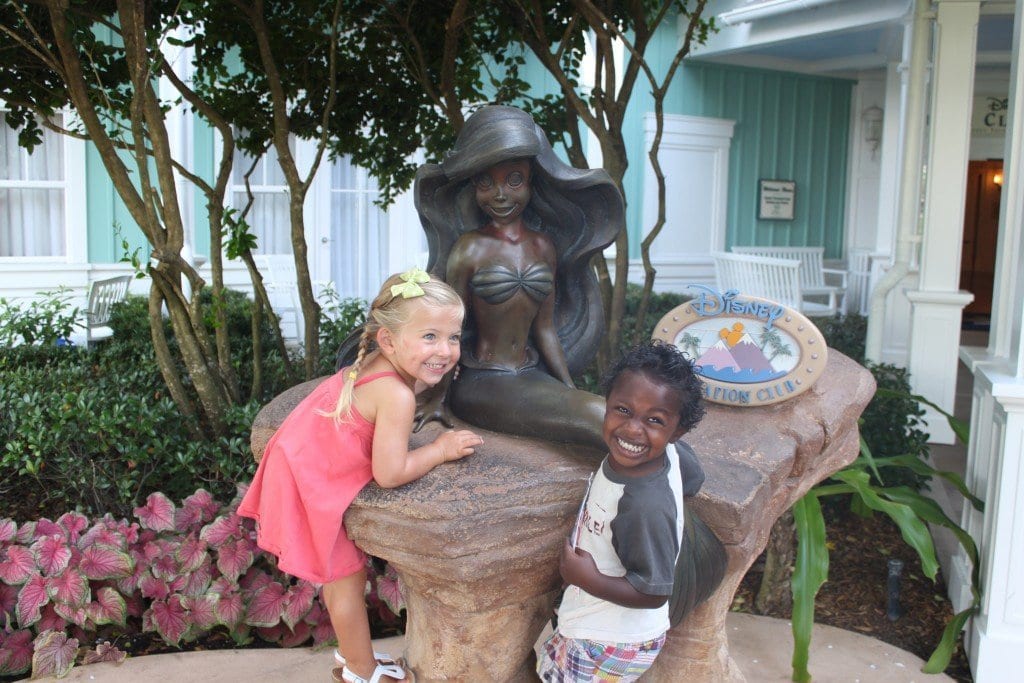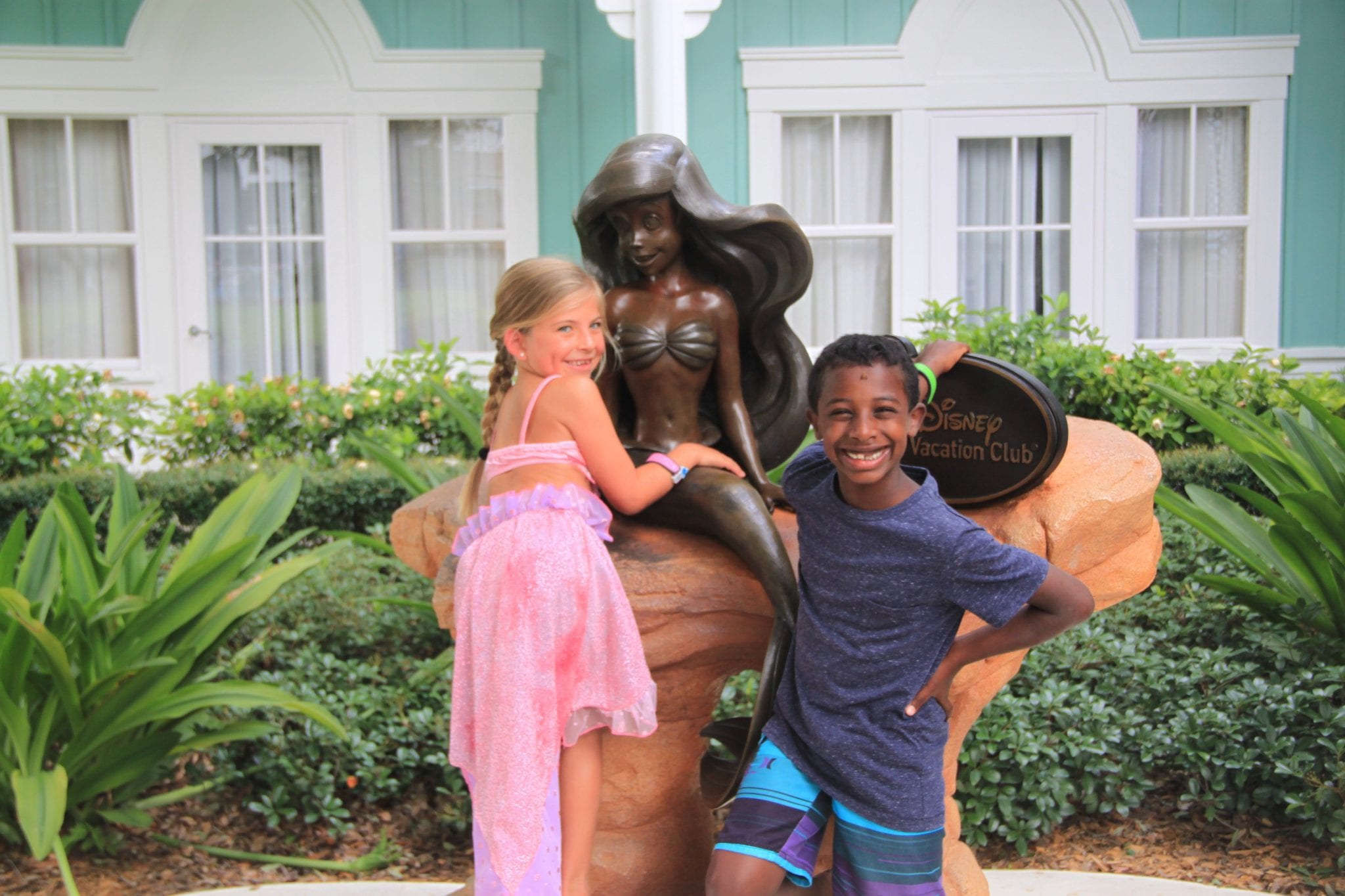 3 Reasons Disney's Beach Club is the BEST: Stromalong Bay
1) The Pool
Hands down Disney Beach Club's pool is the BEST pool out of all the Disney resorts!!! My kids will gladly leave a park if we tell them we are headed back to the pools- NO JOKE!
There are actually multiple pool areas within Beach Club and they share their pools with the Yacht Club guests as well.
Stormalong Bay is the main pool. It consists of a life-size shipwreck replica with a 230-foot-long waterslide (one of the highest hotel slides at Disneyworld) and a toddler water slide and separate little pool on the back of the ship, a sand-bottomed pool, a lazy river, several whirlpool areas and hot tubs.
Plus, there is a kiddie pool area also filled with sand where little ones can walk around, practice their swimming skills and build sandcastles to their heart's content.
Not only do they have these amazing pool areas that will keep the kids busy but they also have the BEST pool staff around. The pool crew is led by the one and only Rauf… my kids are always so excited to see him every time we visit. Rauf and his crew lead poolside games, sand castle contests and more. The kids can participate in all the games free of charge too! There sometimes is quite the intense game of volleyball, the kids & dad get into.
If you are looking for something a bit more relaxing or if you want to get away from the crowds there are also three leisure pools spread around the hotel grounds, including a lazy river where you can grab one of the complementary tubes and float around.
The last thing I love about the pool is Hurricane Hanna's, the little poolside restaurant has some delicious wraps and the kids love getting a kids meal which comes with a shovel and pail to use in the pool. Also, you can get a nice cocktail or a craft beer their as well
Pro Tip – Bring your refillable mug- Hurricane Hanna's has a drink station with complimentary refills if you have one of the hotel's refillable mugs
2) Location, Location, Location
Another reason we absolutely LOVE the Disney Beach Club Villas is its location. You are a short hop, skip and a jump away from two of Walt Disney's Theme Parks. Epcot & Hollywood Studios. Straight out the back of the hotel is Crescent Lake. A small lake surrounded by an adorable boardwalk. You can easily hop on a boat and head to Epcot or Hollywood Studios or if you prefer to stroll… there are also walking paths to both parks as well.
We love to walk on the boardwalk on our way back from Hollywood Studios. There are several cute restaurants to choose from (including a quick pizza by the slice place if everyone is STARVING), a few cute shops, surrey bike rentals, boardwalk style carnival games and there are even street performers in the evenings.
*Tip: It's a best to walk around in the evening when the heat is more easily tolerated.
3) Atmosphere
There is something special about the vibe at the Disney Beach Club. My husband could just sit in the lobby and soak it up. He loves the hustle and bustle of all the families rushing in and out and watching the Captain greet everyone.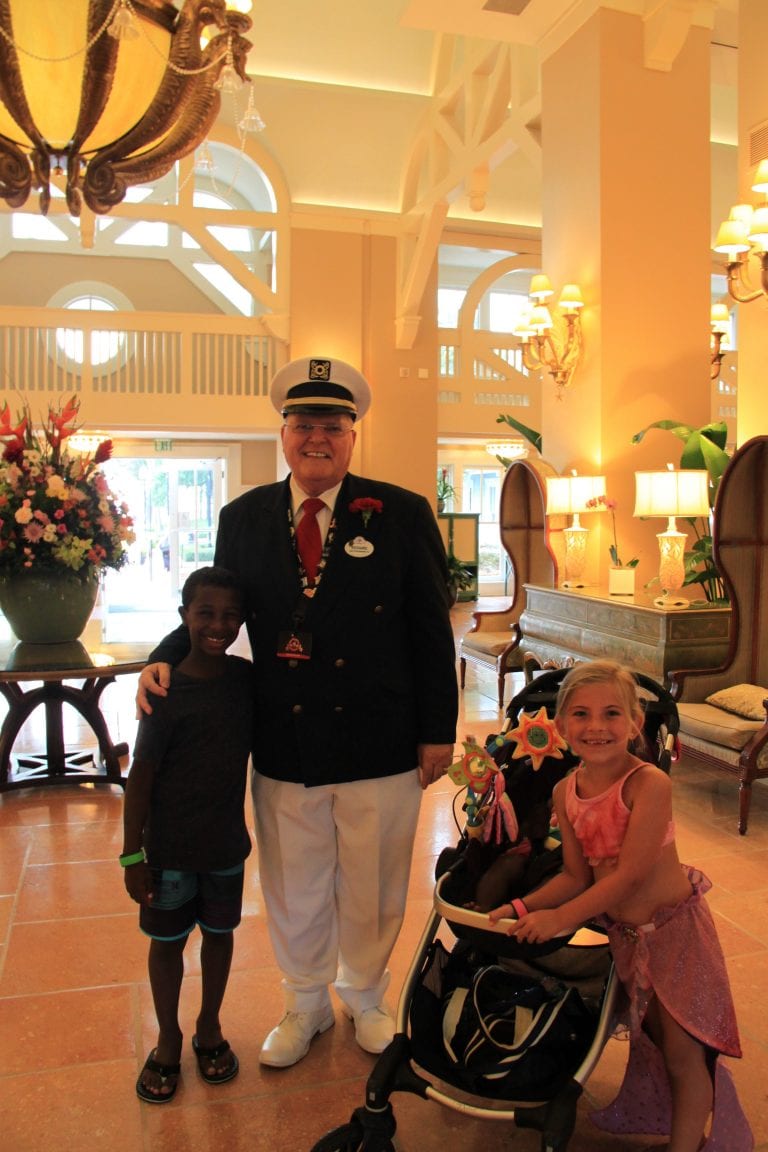 The New England style resort is charming to say the least, and they boast so many amazing activities on site. Including: Cape May Cafe (their character breakfast is one of our favorites), Beaches N Cream (a must stop poolside ice cream shop and you should try the Kitchen Sink at least once too), Beach Campfire activities and Movies Under the Stars. *Pro Tip: DVC Members know that you can use their Dining Plan as a snack at the side counter of Beaches & Cream (a root beer float is only one snack)
And, if you are lucky enough to visit during the holidays you are in for a real treat! They construct a real-life size carousel out of chocolate and they have a cookie stand inside the lobby that sells amazing gingerbread cookies, stollen bread, and gingerbread house kits.
Disney's Beach Club Villa's is part of the Disney Vacation Club. If you are interested in becoming a DVC Member, I think it is one of the best purchases we have ever made and has saved us an endless amount of money on our Disney Vacations. You can check out my full write up on being a DVC Member here
Check out our other related posts:
Latest posts by Mama Munchkin
(see all)