When you're heading to Disney's Animal Kingdom for the day, it's important to fuel up with a good breakfast. You'll be trekking from Africa to Asia, after all! Here, we break down the best Animal Kingdom breakfast spots throughout the park, from quick to-go coffees to table service character meals with safari flair.
Best of all, you are sure to find more than the basics in this theme park and can start off your exploring with an adventurous breakfast, like Pongu Lumpia or an Elephant Ear Pastry. It's a great way to start off the day before you hit up some amazing Animal Kingdom Rides and of course don't forget to check out the best quick service spots throughout the day.
Quick Animal Kingdom Breakfast Spots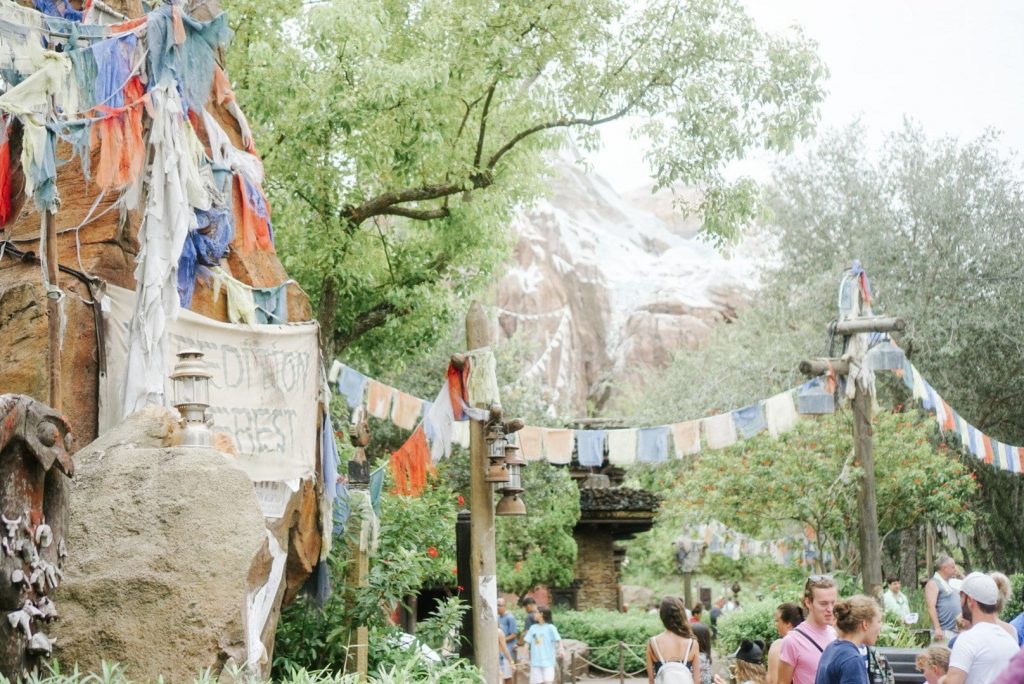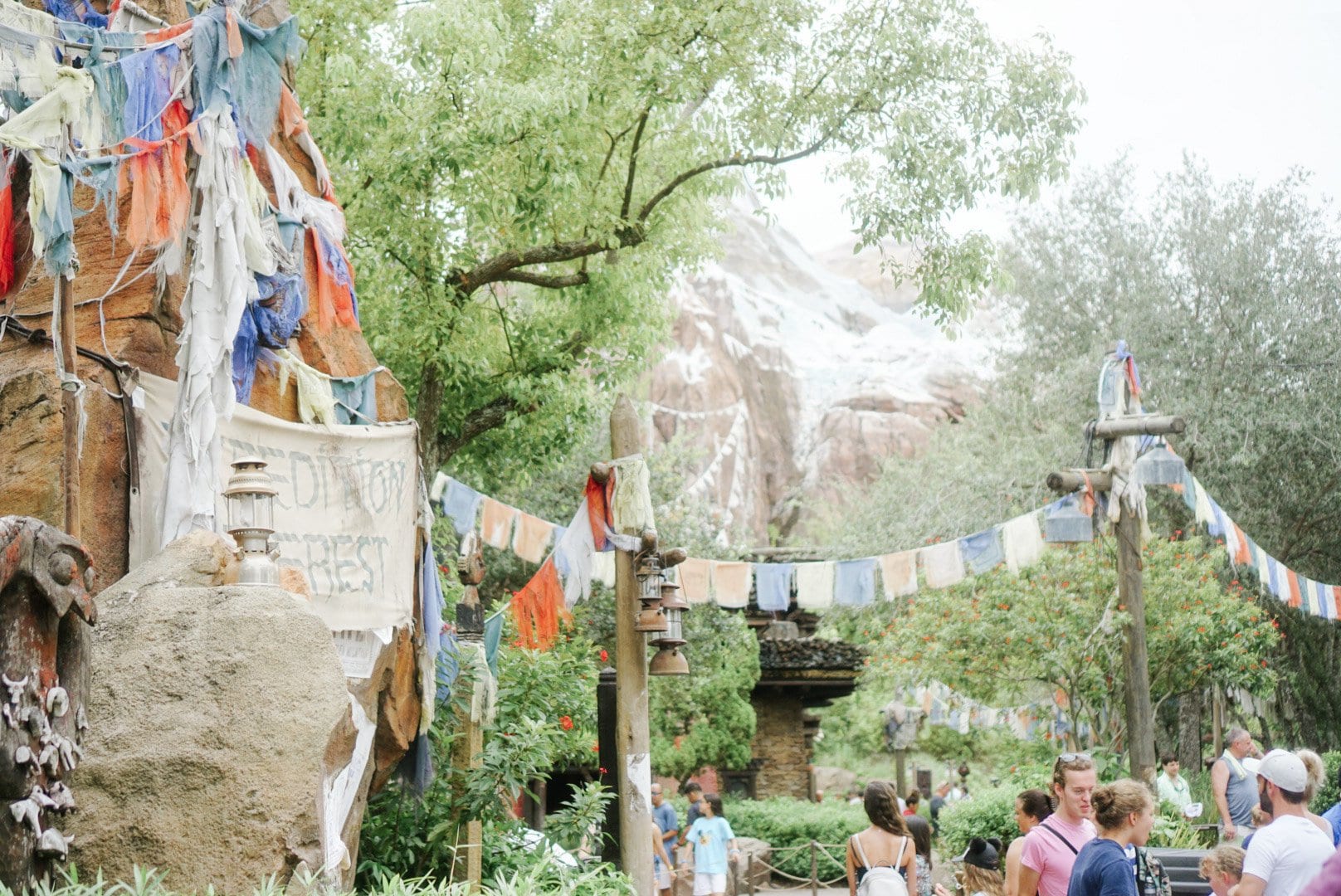 Yak and Yeti Local Foods Cafe
Location: Asia
Yak & Yeti Local Foods Cafe is a quick-service restaurant right across from the Napalese inspired sit-down Yak & Yeti Restaurant. Both these locations serve up some of my Animal Kingdom favorites all day long not just during breakfast!
In the morning, my number one pick is their quick service made to order breakfast sandwiches. However, they also have a yummy breakfast bowl, breakfast burritos, and breakfast tacos. Don't miss out on a side of Hash Brown Bites, either. They are crunchy and delicious!
What We Get:
Egg White English Muffin with Hash Brown Bites
Yogurt Parfait
For the Kids: Pancake and Sausage Stick
Creature Comforts Aka Animal Kingdom's Starbucks
Location: Discovery Island
Creature Comforts is Animal Kingdom's Starbucks coffee location. You can get all of your favorites here. This includes signature lattes, Frappuccinos, and also Starbuck's usual selection of food items. They have all of the familiar pastries and breakfast sandwiches.
Located in Discovery Island, this establishment has an African theme and typically gets guests in-and-out quickly, even when lines are long. Some dining plans are accepted. Order the Flat White Latte to support Disney's Conservation Fund's efforts to protect the Cotton-top Tamarins! Read more about it here!
What We Get:
Unsweetened Green Tea
Iced Americano
Mango Dragonfruit Refresher (for our Starbuck's fanatic, Ella)
Pongu Pongu
Location: Pandora
You might find yourself in Pandora early in the morning trying to get on their 2 extremely popular rides before the crowds hit. While Pandora is one of the coolest lands in all of Disneyworld, their main restaurant does not have a breakfast menu, luckily the Pongu Pongu stand does! The best news of all, they serve their famously delicious pineapple cream cheese lumpia… definitely the best Animal Kingdom breakfast if you have a sweet tooth!
What We Get:
Sausage and Egg Biscuit and a Rum Blossom to drink!
Isle of Java
Location: Discovery Island
The Isle of Java is a quick-service stand that looks like an African hut and can be found in Discovery Island. The little hut is known for its Island Cappuccino, which features white mocha and a splash of Captain Morgan's rum! The Isle of Java also serves freshly brewed espresso, a variety of cappuccino flavors, and sweet pastries. It is definitely a great choice for a quick breakfast in Animal Kingdom!
Keep in mind, they do not accept dining plans.
What We Get:
Elephant Ear Pastry
Cold Brew
Peppermint Hot Cocoa for the kiddos!
Kusafiri Coffee Shop & Bakery
Location: Africa
Located in the Africa section of Animal Kingdom, Kusafiri Coffee Shop & Bakery offers a wide variety of breakfast fare. Kusafiri Coffee Shop & Bakery has an authentic African feel inside and out.
As for food, they have got everything from healthy yogurt and fresh fruit combos to HUGE signature cinnamon rolls. Keep in mind that the cinnamon rolls are large enough to feed two! The coffee shop also serves a variety of fresh coffee drinks.
Dining plans are not accepted.
What We Get:
Spinach and Feta Quiche
Cheese and Guava Danishes
Buffets & Sit Down Breakfast Restaurants in the Animal Kingdom
Tusker House 
Location: Africa
The Tusker House is a buffet restaurant located in Africa's Harambe Marketplace. They do a character breakfast featuring Safari Donald, Safari Daisy, and all of their friends! It is one of my favorite Character Dining Restaurants in Disney World because the experience is so unique. The colorful dining space features a fabric-draped ceiling reminiscent of open-air African bazaars and has four dining rooms, each with a different African theme.
Tusker House offers all sorts of breakfast items, including coffee, signature non-alcoholic Jungle Juice, and traditional Mickey waffles. You will also find seasonal fruits, banana bread pudding, and beef bobotie. The beef bobotie is something you definitely won't find on any other buffet list in Disney World, so be sure to give it a try!
Some dining plans are accepted.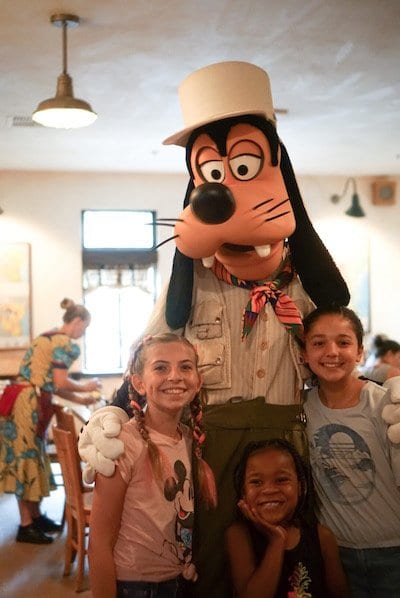 What We Get:
Everything!
Rainforest Cafe 
Location: Animal Kingdom Entrance
Rainforest Cafe offers a uniquely themed breakfast experience that you can trust will be like no other! Dine under a canopy of stars complete with occasional thunderstorms, as you enjoy favorites like Benedict Bamba (eggs benedict with Canadian bacon) or Tonga Toast (cinnamon French toast topped with maple syrup, strawberries, and bananas). The Pie of the Viper (Mexican breakfast pizza with salsa, scrambled eggs, poblano peppers, cilantro, and a cheddar-Mozzarella cheese combo) is also highly recommended.
This is a great place to grab breakfast with the kids before heading in for a day of excitement in the Animal Kingdom. It is super interactive and filled with entertaining animatronic animals.
Some dining plans are accepted.
What We Get:
Tongas Toast
Ozzie's Omelet
Breakfast at the Animal Kingdom Lodge
The Mara
Location: The Animal Kingdom Lodge
If you have time to head to the Animal Kingdom Lodge, I highly recommend stopping at The Mara for some delicious breakfast. It is a Savannah-like space that will have you feeling like you have been transported to Kenya or Tanzania. The food doesn't disappoint either, you can choose from a croissant breakfast sandwich, Mickey Waffles or The Bounty Platter. They also have plant-based options, which I really appreciate!
What We Get:
Safari Bobotie
The Bounty Platter
Sanaa

Location: The Animal Kingdom Lodge
Sanaa is one of the most underrated places to eat in all of Disney World, but it is cozy and has awesome views. They also have a full breakfast menu with tons of delicious options. If you don't have time to sit down and enjoy a meal at Sanaa, they have grab-n-go options available.
What We Get:
Shakshouka Baked Cage-Free Eggs
Enriching Grains and Fruit
Now that your mouth is watering, it's time to book your upcoming breakfast at Disney's Animal Kingdom! Book online to reserve a table at Tusker House or Rainforest Cafe. You can also call 1-407-W-DISNEY for reservations. Quick service locations do not require reservations. Have fun on your trip to celebrate some of the world's most amazing wildlife!
If you have any questions about Disney travel, I would love to help you out! Hop over to my Instagram and send me a message!
You May Also Like:
Discount Disney Tickets- Disney World Tickets on the Cheap!
21 Amazingly Fun Things to do in Orlando! [#17 involves a coffin!]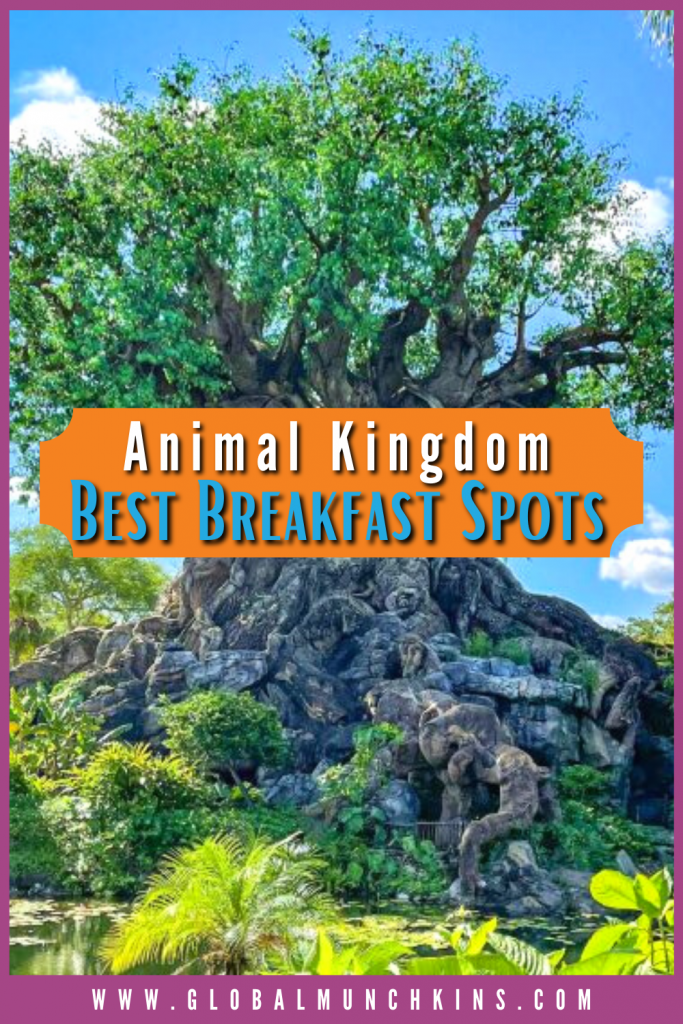 Does Animal Kingdom Have Breakfast
Yes, there are several options. You can have a sit down character breakfast at the Tusker House or a delicious meal at Rainforest Cafe. For quick service there are even more options including Starbucks, Yak & Yeti, Joffrey's & More.
What time is breakfast at Sanaa?
Is there a bakery at Animal Kingdom
Yes there are two. Creature Comforts (aka Starbucks) has several baked goods. Also Kusafiri Coffee Shop & Bakery, has muffins, cookies, pastries and cakes as well as freshly brewed coffee, cappuccino and espresso.