As you already know, we are HUGE fans of Disney's Aulani Resort and we have visited many times with our kids. However, our last trip was extra special because we got to experience the Aulani Luau KA WA'A.
This was not our first luau experience in Oahu, but man does it top the list as one of the best! From incredible food to an amazing show, the Aulani Luau is one of the best on the island of Oahu.
The amazing luau is just one of the reasons Aulani is one of the best resorts for families. Read on to find out what we loved about this incredible family-friendly and kid-friendly Disney Aulani Resort activity.
Now, staying at Aulani is truly a magical and beautiful experience, but you do not have to stay here to experience their Luau.
In fact, you don't have to stay at the resort to go to the luau at ALL. Just purchase a ticket and head over to the beautiful resort in Ko'olina
---
Our Disney Aulani Luau Review
---
Aulani Luau – Pre-Show Activities for the Kids
We received VIP Tickets which I HIGHLY RECOMMEND checking into. One of the perks is you get to enter the luau activities before anyone else!
Why is this such a big deal? Honestly, these hands-on activities were one of our family's favorite things about the luau at Disney Aulani.
Not only were these activities super fun for the kids (and kids at heart) but they were also authentic to the Hawaiian culture and highly educational too.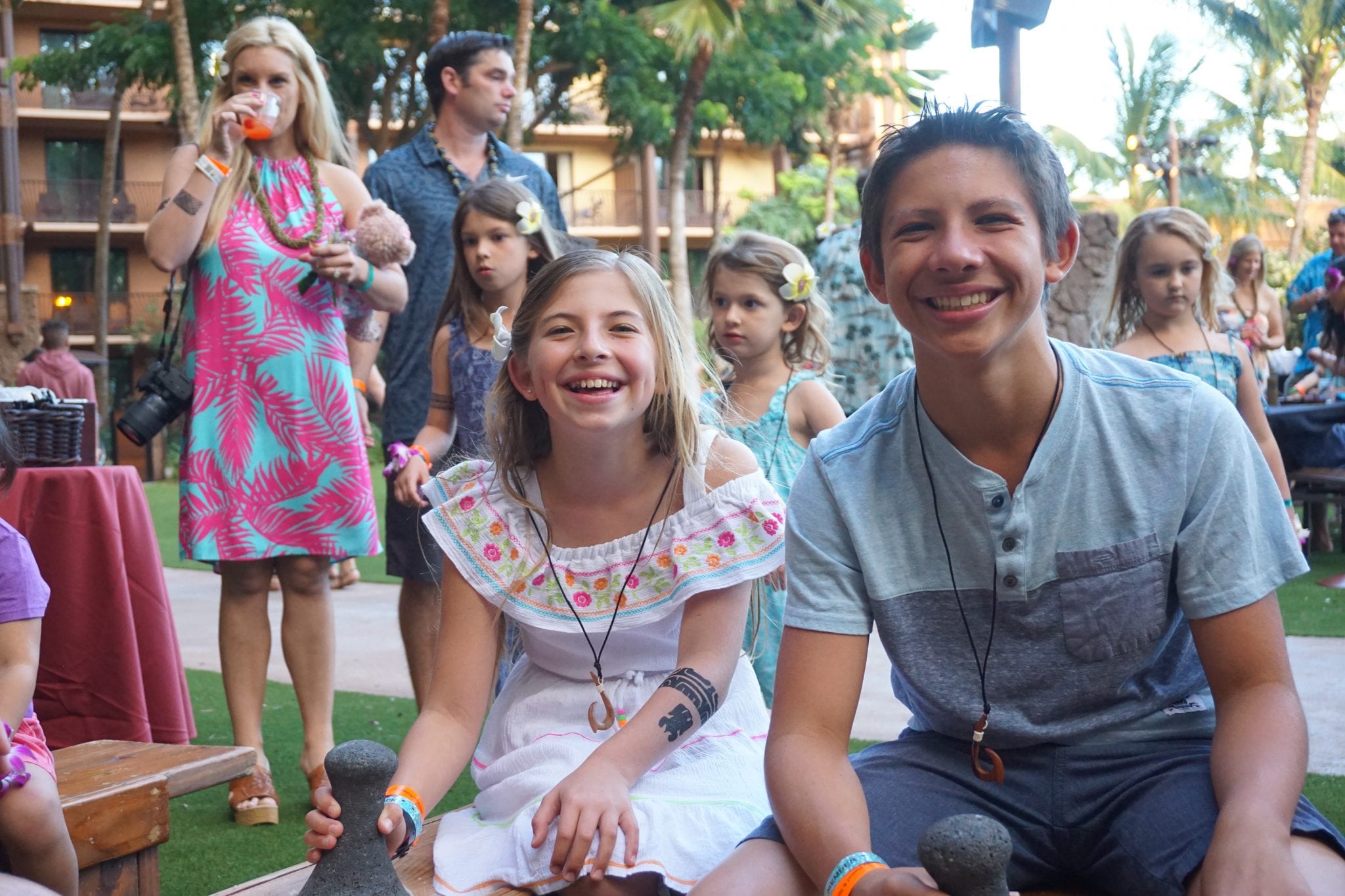 The girls enjoyed kāpala painting, lei-making, and ku'i kalo (pounding taro root). They were even able to try a sample of poi after they were finished pounding.
Even my older three boys participated, their favorite part was getting a temporary kakau tattoo I think.
---
Delicious Island Dinner Buffet at the Ka Wa'a luau
I am a total foodie. So, one of the things I am always interested in when I go to a luau is the FOOD! And, man did they deliver at the KA WA'A luau!
The food at Aulani, Disney Resort & Spa is all around is pretty good from the Aulani Character breakfast to the fine dining at Ama Ama. So, I was excited to check out the Aulani luau hawaiian food spread.
This Disney Aulani luau put together an incredible spread of delicious salads, fresh island fruit, seasonally-sourced vegetables, local seafood, ahi poke, braised imu-style pork, teriyaki chicken + carving stations with whole roasted Hawaii-raised suckling pig and slow-roasted prime rib.
Of course, what else would you expect at Disney's Aulani Resort, right? All of the food found at the resort is delicious!!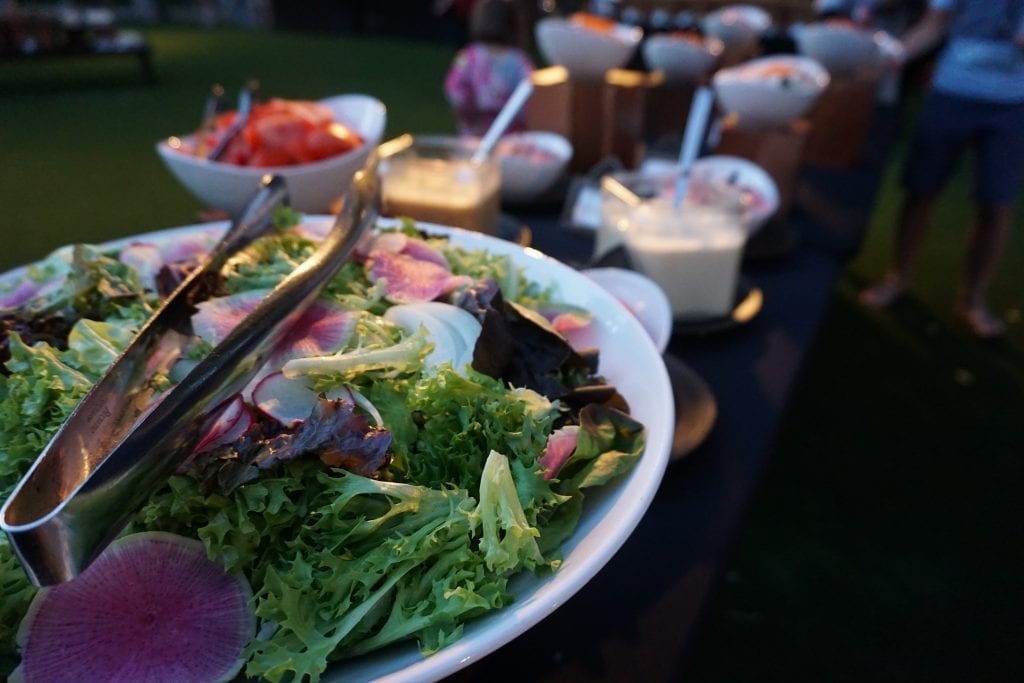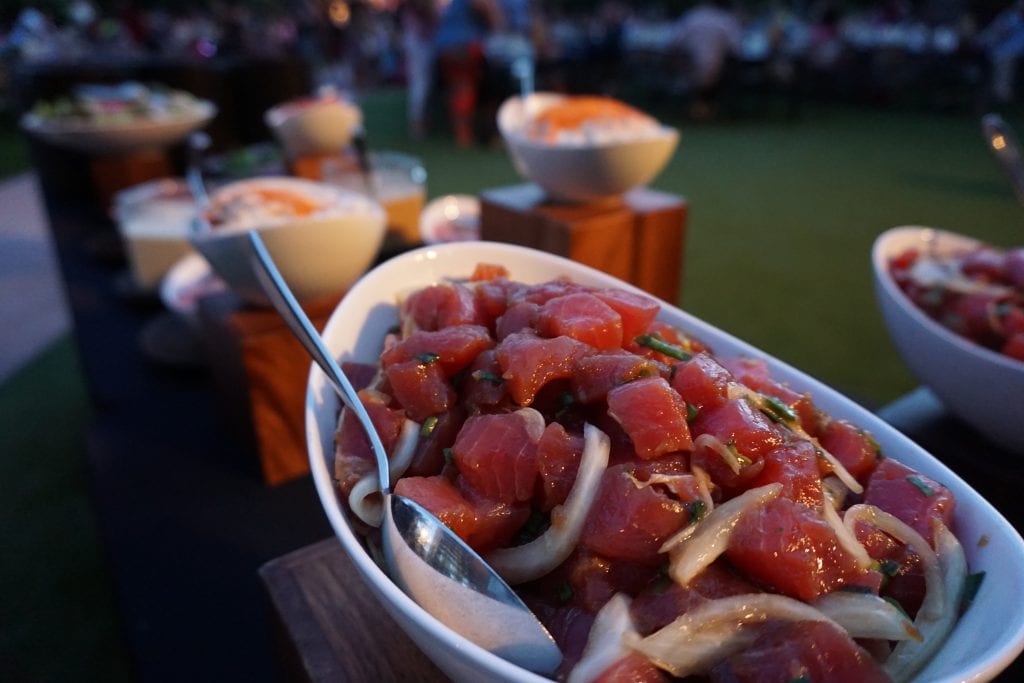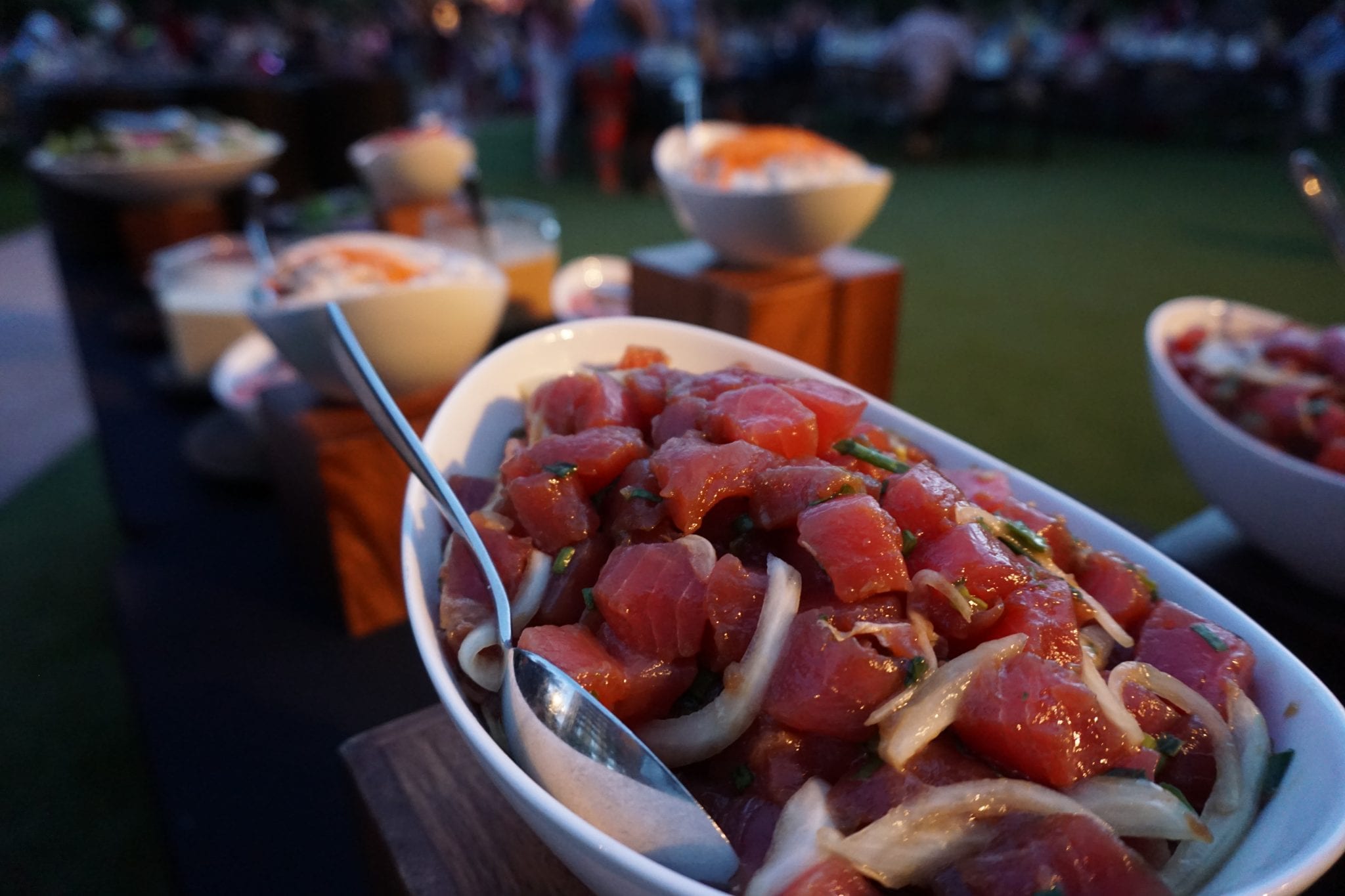 Of course, you have to pace yourself at the luau though because you won't want to miss the decadent house-made desserts.
These desserts include haupia-coconut and banana bread puddings (my personal favorites), macadamia nut brownies, guava cakes, tropical fruits & berries and more!
With our VIP ticket, we also received complimentary beverages (including adult cocktails) throughout the night. Another added bonus!
---
Separate Keiki Buffet!
While most of my kids are good eaters, the girls are a bit pickier with their food choices. I was thrilled to see a separate (and adorable) kid-sized buffet set up at the Disney Aulani luau as well.
Offerings included shaka macaroni and cheese, chicken tenders, a few different Mickey-shaped pasta dishes and more.
---
Authentic Hawaiian Culture
One of the reasons our family loves to travel is to experience all of the beautiful cultures all over the world.
Although we didn't leave the United States to visit Disney Aulani, it almost felt as if we had because traditional Hawaiian culture has a fascinatingly rich history and deep roots to their native ways of life including their appreciation for the beauty and bounty of the islands.
---
Disney Luau Magic!
Of course, if you asked Olivia what her favorite part was, I have no doubt in my mind she would quickly inform you that her favorite part of the Aulani luau was seeing Moana on stage.
And, that is the magic of Disney! They take a traditional activity, like a luau, and incorporate elements of surprise and magic making it an event the entire family will love.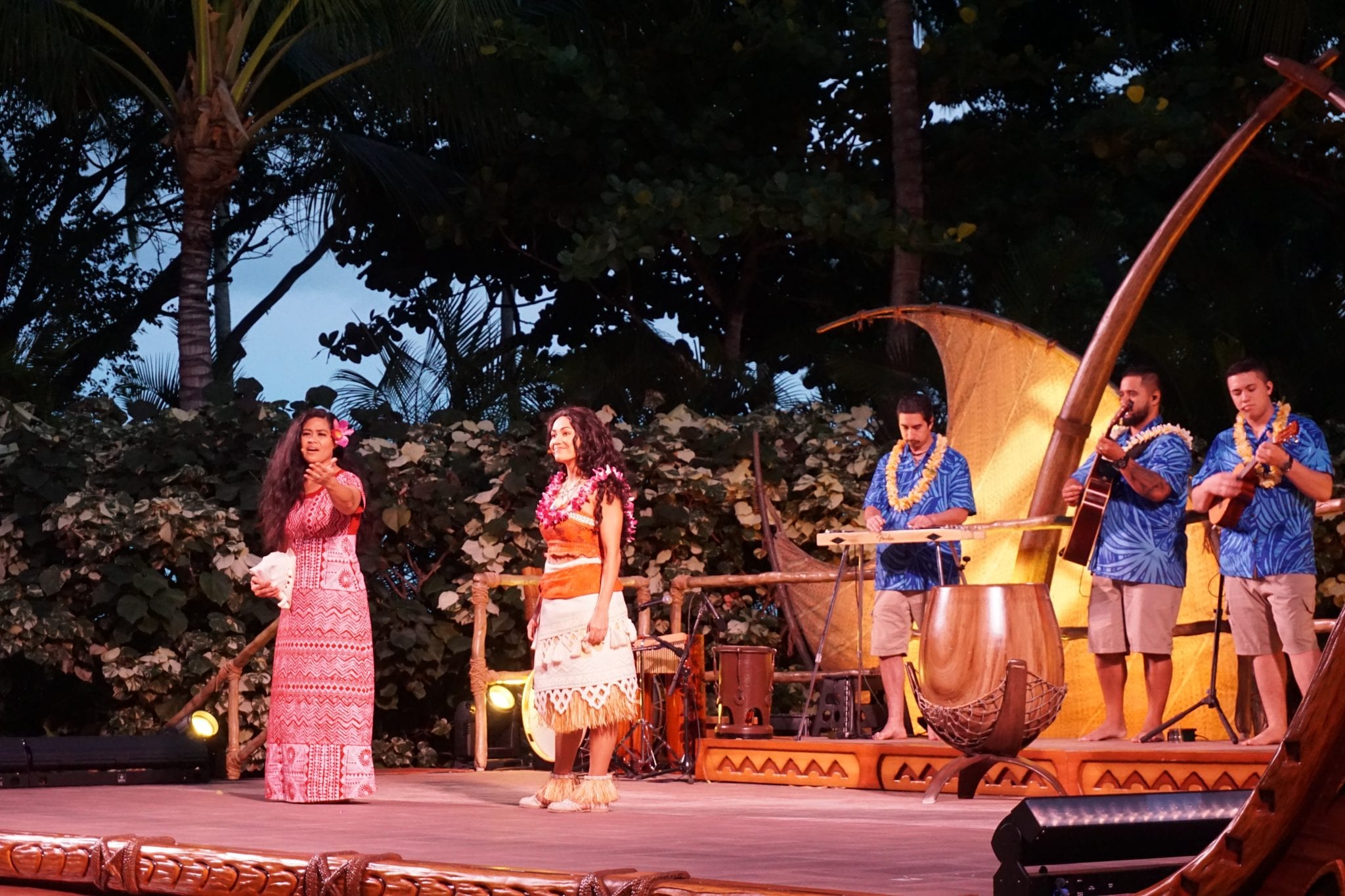 If you are planning a trip to Disney's Aulani Resort I urge you to look into booking tickets for KA WA'A. This incredible luau is one of the best luau's we have ever experienced.
The music, traditional dancing, ancient hawaiian storytelling, and hands-on activities are a pure delight. And, the food is outstanding. A 'Must Do' in our book!
---
How Much does the Aulani Luau Cost?
The Aulani Luau costs for General Admission $170 for Adults and $99 for Keiki (kids ages 3-9) Under 3 is free. VIP Seating is $199 Adults/$119 Keiki (ages 3 through 9). Both tickets include all your food, alcohol, preshow entertainment and of course the luau.
VIP guests get into the luau early, have the best seating and have an exclusive line for the bar. Prices include gratuities as well.
My TIP – If you want to get the best view of the show go for the VIP seating. However, the luau is not too big so general seating is pretty good.
If you need help planning and booking your magical vacation, contact our friends at Best Day Ever Vacations. They are truly Disney Experts, and not only are their services FREE, but they will save you both time and money. 
---
Know before you go to Disney's Aulani Luau
If you're planning a trip to Aulani Resort and Spa in Hawaii, this luau is definitely an experience you won't want to miss. Here's what you need to know before you go.
First, it's important to book your tickets 14 days in advance. The luau is a popular event, and space is limited, so reserving your spot early will ensure that you don't miss out. You can book your tickets through the Aulani website or by calling the resort directly.
When you arrive for the luau, you'll have the option of preferred seating, which is located close to the stage. This is a great choice if you want to get an up-close view of the performances and have easy access to food and drinks.
One of the highlights of the Disney's Aulani Luau is the appearance of Mickey and Minnie, who will join in the celebration and interact with guests.
One thing to note is that the Disney's Aulani Luau provides sign language interpretation for guests who are deaf or hard of hearing. This makes the experience accessible and inclusive for everyone, and it's another example of Disney's commitment to ensuring that all guests have a magical time.
---
Have you visited Disney's Aulani Resort? Tell us about your favorite activities in the comments below. Your comments will help future families plan amazing vacations!
---
If you enjoyed reading about Disney's Aulani Luau, you might also enjoy:
DISNEY AULANI REVIEW, ULTIMATE GUIDE + 15 MONEY SAVING TIPS
[4 REASONS] YOUR FAMILY WILL LOVE THE AULANI CHARACTER BREAKFAST
WE VISITED DISNEY'S AULANI REOPENING – HERE IS WHAT TO EXPECT
EVERY DISNEY ARTICLE – DISNEY WORLD, DISNEY CRUISE, DISNEYLAND, AULANI & MORE
THE BEST THINGS TO DO IN OAHU WITH KIDS [25 AMAZING ACTIVITIES]
---
Pin for later- 5 Reasons We LOVED the Disney Aulani Luau – KA WA'A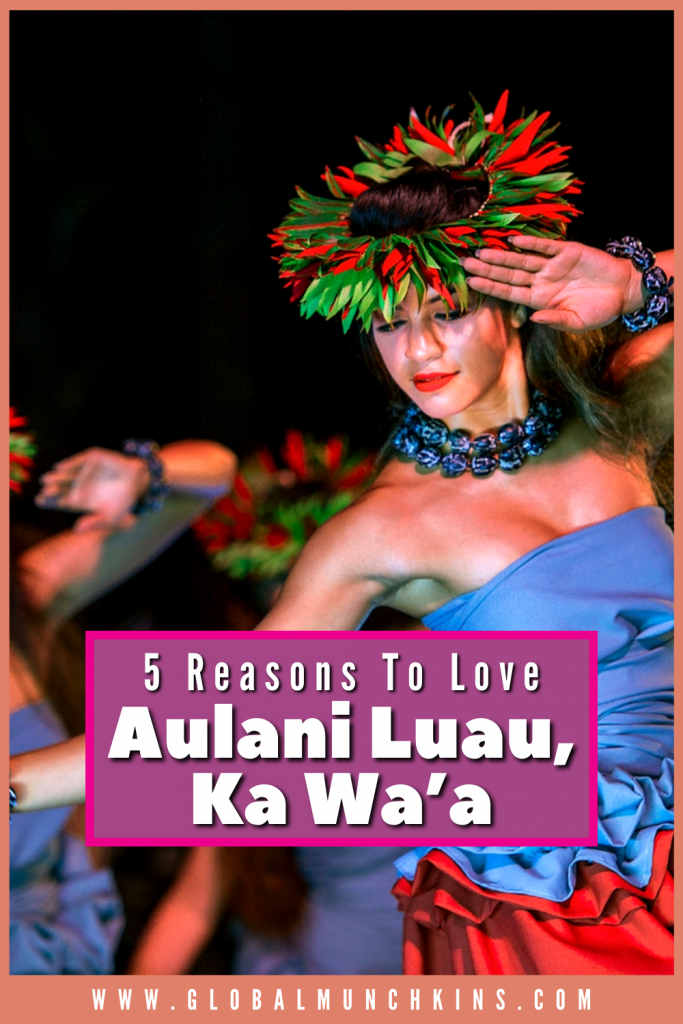 ---
Frequently Asked Questions about the Aulani Luau
What nights is the Aulani luau?
The luau is run 3 nights per week. Call (844) 284-7644 for details
How much is the Aulani Luau?
General KA WA'A tickets cost $129 for adults, $79 for kids (ages 3-9) under 3 is free. VIP tickets cost $169 and $109 for children. (these tickets offer early entry and closer seating
Are Drinks included at the Disney Aulani
Yes, alcoholic and non alcoholic drinks are included along with food.
Latest posts by Mama Munchkin
(see all)