Summertime is meant for fun which is why Olivia and I are excited to turn every Friday into FRiYAY by celebrating new episodes of our favorite Disney Junior shows airing on Disney Channel. After attending an amazing #DisneyJuniorFRiYAY Live Event Experience in Los Angeles Liv and I came back with tons of new ideas on how we could make our Disney Junior FRiYAY's extra special. Check out our photos from the exclusive event + score some awesome ideas on ways to celebrate FRiYAY with your little munchkins.
Celebrate FRiYAY with Disney Junior ALL Summer Long!
This is a sponsored post. Thank you for supporting Global Munchkins
Many of you who follow us on Instagram know we recently added a new furry member to our family, a brindle pug named Bosco. Needless to say Olivia and I quickly decided our NEW favorite Disney Junior show had to be Puppy Dog Pals! I mean the show features two adorable pug puppies who, like us, travel the world on fun adventures together. It couldn't be more fitting, right?? So when we were invited to a special Disney Junior FRiYAY event featuring Puppy Dog Pals you can bet we were EXCITED!!!
Click the image below to scroll down to the FREE printables!

The adorable event took place in Los Angeles and when we got there Liv was in puppy dog heaven. As we approached the entrance there were paw prints on the ground, paw print balloons and bubbles!! I don't know how I've never thought to put a bubble machine at the door before. Such a fantastic idea!!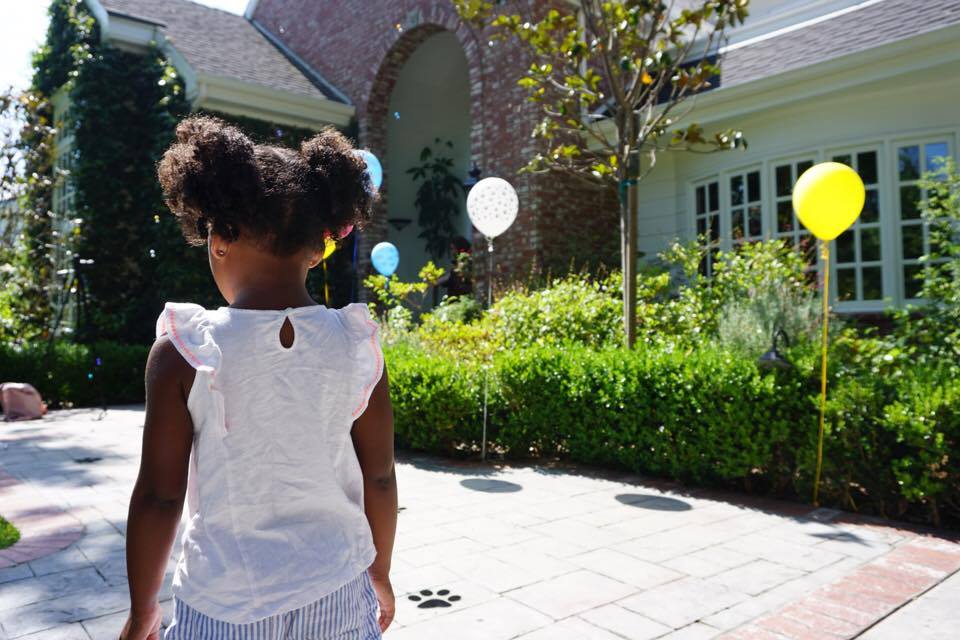 As we entered the party we found Puppy Dog Pals everywhere. Liv kept pointing them out to me it was so cute. It didn't take her long before she found the awesome dessert + snacks bar. She's SO my daughter!!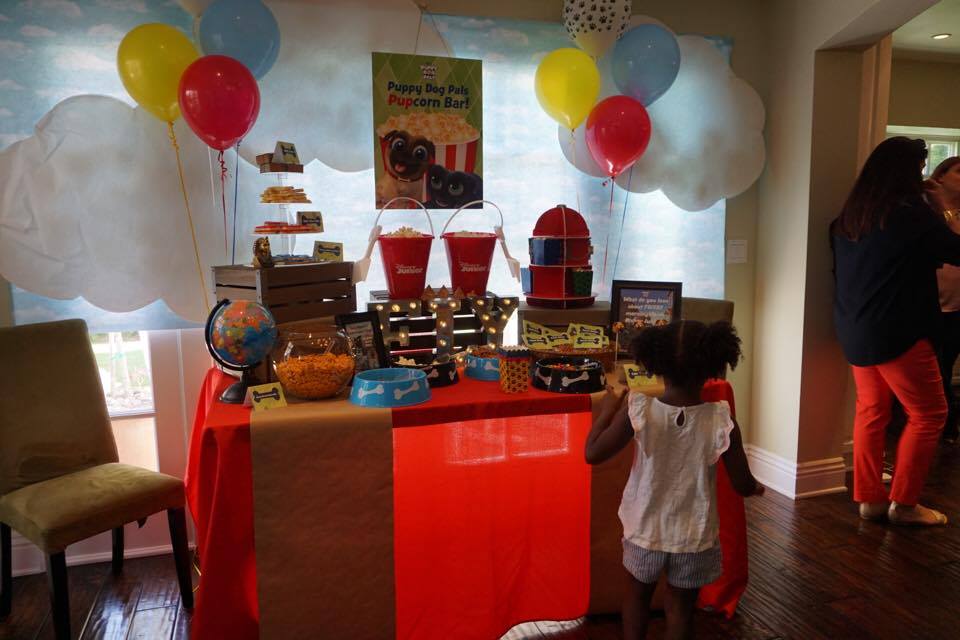 I loved all the clever ways they tied the Puppy Dog Pals theme into the party. Check out the Fetch Sticks (pretzels) and Cake Pups (cake pops) below.
There were also these adorable iced sugar cookies. There were Bob's Bow Ties (the pups owner), plus Bingo's Blue Lightning Bolts and Rolly's Yellow Dog Bones (from their collars).
And, because every kid loves to do things all by themselves there was a DIY "Pup-corn Bar" with paw print boxes of popcorn + delicious mix ins like mini marshmallows, goldfish crackers, pretzels, almonds, m&m's.
I thought the addition of the dog bowls to hold the mix in's was adorable. And, Liv loved the dog bone shaped water bottles.
I really loved that the party tied in elements of travel too like the globe and suitcases on the "Pup-corn Bar" and the Mona Lisa print on the drink table outside. They even had treat boxes that were covered in map paper. That is one of our favorite things about the Puppy Dog Pals show. We love tuning in to see where Rolly & Bingo are.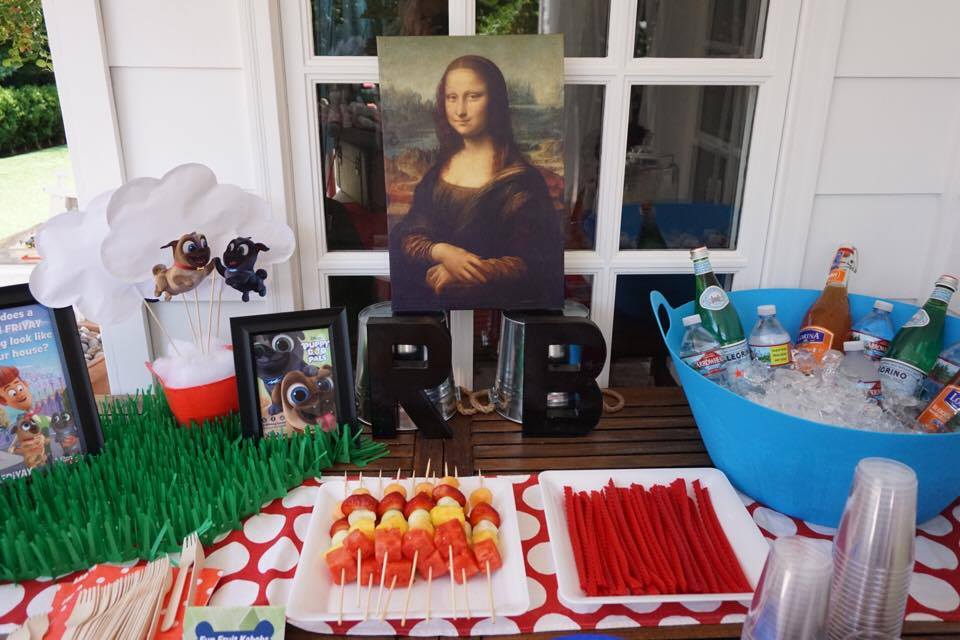 To keep little ones occupied there were plenty of arts & crafts laying out on the tables including coloring pages, a maze and BINGO. *You can find the FREE printables on Disney Junior's website here to print at home for your little one to enjoy including the maze, bingo game, decoder activity and coloring pages.
Liv thought the paw print crayons were the coolest things EVER!!!
Of course the face painting was a huge highlight. She didn't want to put down the mirror when the face painter showed her she had transformed into Bingo himself. She actually went inside and showed each person her amazing new face. It was so stinkin' cute!!
The kids all had a fabulous time at the party. Liv met a bunch of new friends and even got her own Rolly balloon to take home.
After the party games were through we all relaxed and watched an episode of the show together.
Tune in EVERY FRiYAY for NEW Episodes of your Favorite Disney Junior Shows
You can watch Disney Junior on the Disney Junior Channel, the Disney Channel (from 6am-10am), or on YouTube here.
Here is the schedule for Summer 2017-
FRiYAY, 6/30 – Sofia the First @ 9am followed by an all-new Elena of Avalor
FRiYAY, 7/7 – Back to back Lion Guard starting @ 8am followed by an all-new Puppy Dog Pals
FRiYAY, 7/14– Lion Guard starting @ 8am followed by all-new Mickey & The Roadster Racers and Puppy Dog
FRiYAY, 7/21 –Lion Guard @ 8am followed by all-new Sofia The First and Elena of Avalor
FRiYAY, 7/28- Mickey & The Roadster Racers @8:30am followed by an all-new Puppy Dog Pals
FRiYAY, 8/4 – Sofia the First @ 9am
FRiYAY, 8/11 – Lion Guard @ 8am followed by all-new Mickey and the Roadster Racers and Puppy Dog Pals
FRiYAY, 8/18 – Sofia The First @ 9am followed by an all-new Elena of Avalor
Also check out Goldie Bear, Jake & Never Land Pirates on Disney Junir as Liv loves those shows.
5 Ways to Make Your FRiYAY's Even More Special
1 Make Your Own Box Car & watch Mickey & the Roadster Racers
Get the Roadster Racers Decor printables FREE here.
2 Set Up Your Own Pet Hospital (with plush animals) & watch Doc McStuffins

Get the Doc McStuffins "Pet Vet Certificate" printable FREE  here.
3 Make Sparkly Slime Together & watch Sophia the First
DIY- Just use your favorite slime recipe but sub pink or purple glitter glue for plain white glue.
4 Watch Puppy Dog Pals & then Head to the Park with Your Pup
5 Print the Lion Masks & watch Lion Guard together
Above photo and printable found here.
WHICH DISNEY JUNIOR SHOW IS YOUR FAMILY'S FAVORITE?
Pin for Later: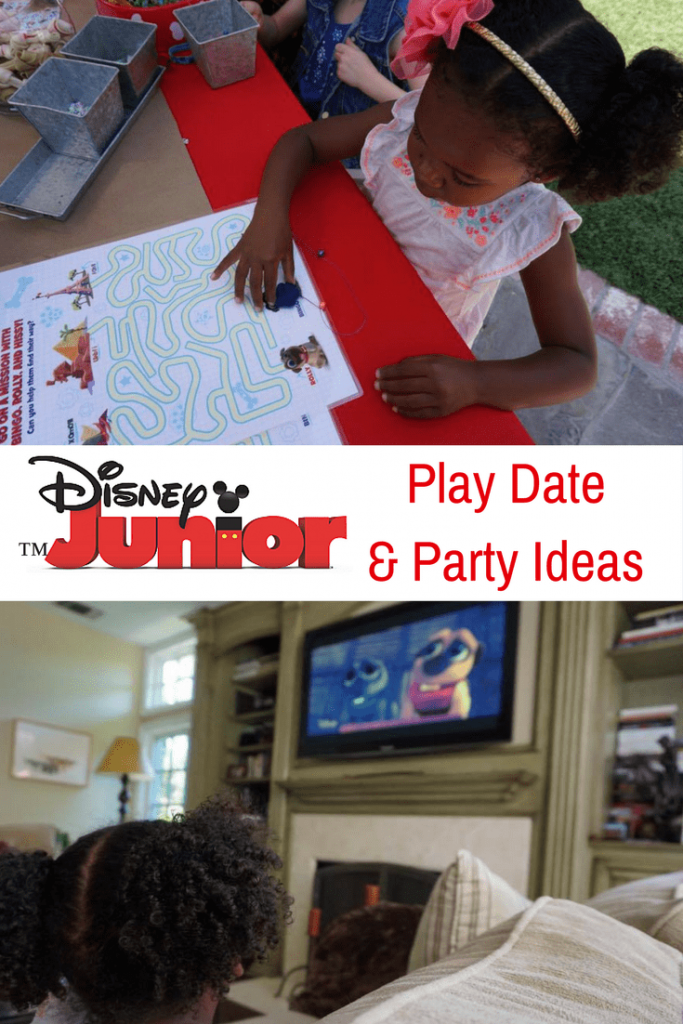 *This is a sponsored post written by me on behalf of Disney Junior.