It's the most frightfully festive time of the year again at Walt Disney World, and Mickey's Not-So-Scary Halloween Party is in full swing!
Not familiar with this epic Halloween Party? Well, all the ghosts, witches, and monsters there are the friendly kind and welcome guests of all ages to a Halloween celebration that adds that special Disney magic to make for a spooktacular time! We made it for the first time a few years ago and were SO impressed. I have been to many of the other Disney World events including the Very Merry Christmas Party, so my expectations were pretty high. I have to say, as much as I love the Christmas party I think Disney World's Halloween Party is actually better.
Let's jump right in and talk about why Mickey's Not-So-Scary Halloween Party is the place to be this fall, as well as how you can land a spot on the guest list.
What is Mickey's-Not-So-Scary Halloween Party?
Mickey's Not-So-Scary Halloween party is a ticketed event that happens on select nights after the park has closed.
If you purchase a standard ticket to the Magic Kingdom and are hoping to stay after hours (between 7:00 PM and 12:00 AM) for the party, you will not be able to do so unless you buy another ticket specifically for the party.
Not everyone will be happy to buy a whole other ticket, especially if they're already in the park, but the price is well worth it considering everything Disney does to make magical memories for you and your family. No one does Halloween like Mickey Mouse, and it's absolutely worth the extra ticket to have a hauntingly good time with him and his pals!
So, how do you get tickets?
Head here to see which event dates are still open and which ones are sold out. Be warned that, as Halloween draws near, tickets start flying fast. Ticket prices depend on what date you select and how many you plan on purchasing.
If you are an Annual Passholder or a member of the Disney Vacation Club, you can save $10 per ticket. When you're ready to purchase your tickets, click here. You will then get to select how many tickets you would like to purchase followed by a calendar that will show you both available and unavailable dates.
Once you have selected your tickets and date, the total cost will appear on the screen. If you're satisfied, click "Add to Cart." You will then be taken to another page to review your items before finalizing. If everything looks good, hit "Continue."
From there, you will be prompted to sign into your Walt Disney World account or you will need to create one to finish your purchase.
Once you've signed in or created your account, you can finally provide the payment details, lock everything in, and start doing your happy Halloween dance to celebrate!
---
Click the image to shop my Disney Halloween Favorites!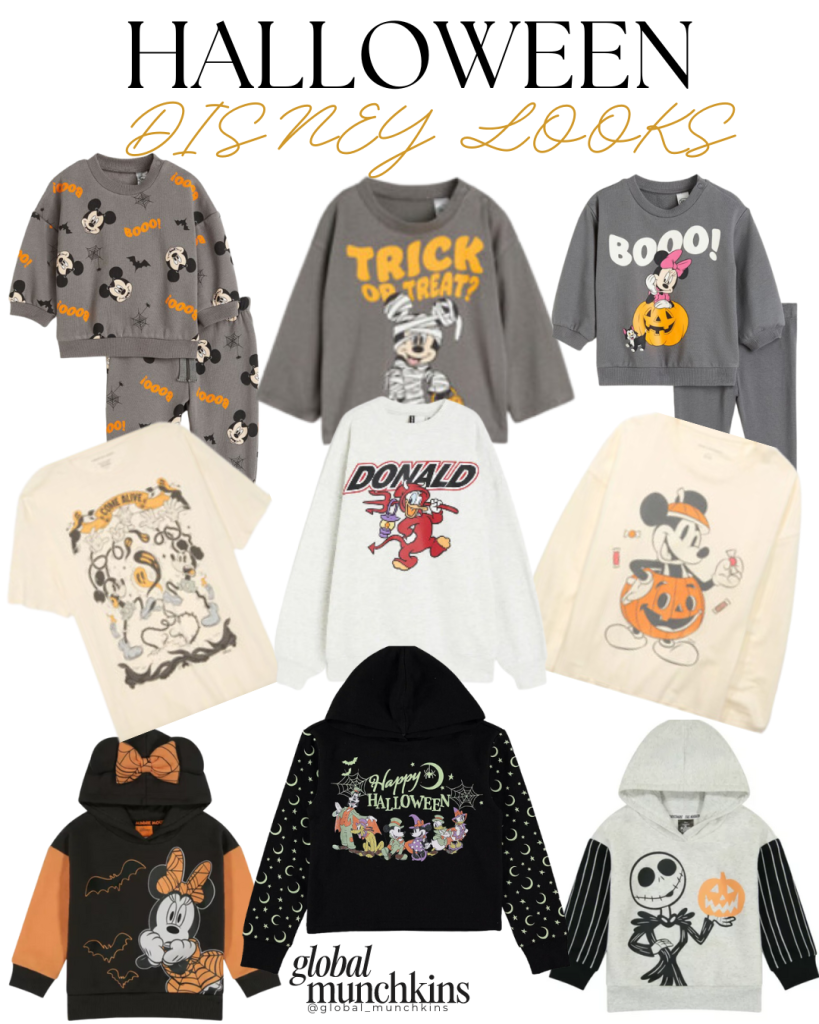 ---
The Best Things To Do at Mickey's-Not-So-Scary Halloween Party
Once you enter the park with your tickets you will be given a wristband, a welcome treat, and a trick-or-treat bag for the event. Once you're in, you can set off to find your favorite rides, attractions, and characters.
REMEMBER! If you happen to be in the park before 4 pm you will need a separate ticket for that day's visit and then get a wristband at the entrance of the park so that you can enjoy the Halloween festivities.
Hop on Your Favorite Rides and Attractions
All your favorite rides and attractions like Big Thunder Railroad, Seven Dwarfs Mine Train, Space Mountain, and, of course, the Haunted Mansion will be open, but Disney treats you to a few tricks as well. Spooky twists and surprises have been added for the occasion, so you'll have a totally different experience than you'd have at any other time of the year.
Below are a few of the attractions that change a bit for the season.
Space Mountain in the Dark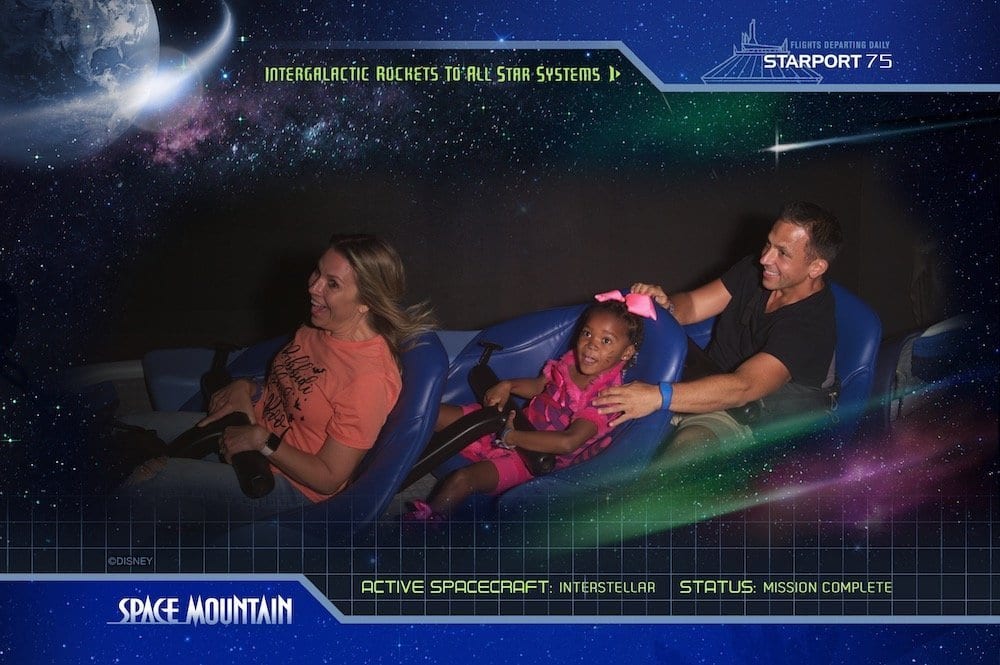 One of our favorite things to do was to explore the rides with "Halloween Twists." The first ride we hit up was Space Mountain. The ride was completely in the dark and filled with spooky music. I was a bit frightened but my 5-year-old is the bravest girl ever and thought it was fantastic.
Pirates of the Caribbean
The Pirates of the Caribbean had live actors throughout the ride and before the ride. It is super fun and if the line isn't too long I definitely recommend visiting the attraction. The actors make the ride a whole lot more fun and it is an experience I wish Pirates of the Caribbean had every time. At the end of the ride, you will receive some delicious buried treasure that is sure to be a hit with the kids.
Monster Inc. Laugh Floor & Trick or Treating
I loved the Monsters Inc. Laugh Floor twist. You enjoy a 5-minute show with some entertaining Halloween-themed jokes, plus the kids love it because they get candy before the show and after the show.
Mad Tea Party
We did not make it to the Mad Tea Party as we heard it has the least of the Halloween twists with simply a change of lighting and music.
---
Trick-or-Treat Throughout the Park
It wouldn't be a good Halloween party without candy!
Guests are welcome to trick-or-treat throughout the park and gather up as much candy as their bellies can handle. When we went, the stations had a wide variety of candy and other treats like go-go squeez apple sauce and Beanfiels Bean Chips.
No worries if you or your little ones have allergies; ask a cast member for a teal trick-or-treat bag, which signals to other cast members to give you a special teal token at each trick-or-treat station. Once you're finished, you can redeem these tokens for allergy-friendly treats at one of the allergy-friendly centers.
Some tips we took away! I would recommend bringing in your own trick-or-treat bag. The one provided is too small for all the trick-or-treat stations. If you want a lot of candy, head to the trick-or-treat stations late, there are barely any lines and the cast members seem to be passing out double the candy.
---
Dress Up and Meet Up with Your Favorite (Spookier) Characters!
Disney World typically only allows children 14 and under to dress up in costumes at the park, but they make exceptions to that rule for Mickey's Not-So-Scary Halloween Party. There are a few guidelines you must adhere to, but guests 14 and older are permitted to wear appropriate Halloween costumes and carry props to masquerade as their favorite characters and creatures.
You'll also catch your favorite characters dressed up in Halloween costumes around the park, offering you opportunities to pose for pictures or get a quick autograph.
The Hocus Pocus Villain Spelltacular features the oh-so-sinister Sanderson Sisters from the movie Hocus Pocus as they bewitch guests with a stage show performance that's simply spellbinding.
You'll also catch famous villains like Maleficent from Sleeping Beauty and Jack Skellington's nemesis Oogie Boogie from Tim Burton's The Nightmare Before Christmas.
The Cadaver Dans Barbershop Quartet in Frontierland is in attendance, blending ghoulishly good tunes with jokes that will tickle your funny bone.
Keep your eyes peeled for other honorable guests, including Jack Skellington and Sally in the Town Square Theater, the Seven Dwarves, Minnie Mouse, Daisy Duck, and Donald Duck at Storybook Circus, and Pooh and his pals from the Hundred Acre Woods outside The Many Adventures of Winnie the Pooh.
---
Catch Special Events like the Mickey's Boo-To-You Halloween Parade
Would it even be a real Disney party if there wasn't a parade?
The Mickey's Boo-To-You Halloween Parade makes its way down Main Street U.S.A. during the night, complete with creepy ghouls, rotten villains, and iconic characters atop some delightfully dreadful floats.
The floats on the parade are one of a kind. It all starts off with the headless horsemen and then the festivities really kick off with some amazing characters all dressed up and incredible floats. My favorite was the haunted mansion float.
---
Disney's Not So Spooky Firework Spectacular
Probably one of the best fireworks shows I have seen at Disney World. I know that is saying a lot, but the light show on the castle is simply stunning. Jack Skellington kicks off the show and leads you through quite the fireworks spectacular. The show starts at 10:15 pm, if you are watching the first parade on Main St., stay where you are as it will be the perfect spot for the Fireworks
---
"Bone" Appetit!
Special Dining Experiences
There is no shortage of delicious dining options at Mickey's Not-So-Scary-Halloween Party, serving up both tasty treats and boo-tiful meals.
The highly-esteemed Be Our Guest Restaurant will be decorated with fun Halloween fare in their dining areas, with French-inspired plates like Escargot de Bourgogne, Trout Amandine, and a Chocolate Tart for dessert. There is also a children's menu with items like chicken strips and mac n' cheese in case it's still an absolute battle to get your kid to eat anything other than the same stuff at every meal, so don't worry!
If you want to enjoy this regal dining experience during Mickey's Not-So-Scary Halloween Party (or really during any other time of the year), we strongly recommend making reservations well in advance of your trip. Like weeks or months ahead of your trip, if you can.
Dining inside one of the most iconic castles is also highly recommended. Cinderella's Royal Table allows you to dine like royalty in their gorgeous banquet room that will make you feel like you're inside a fairytale. Take in views of Fantasyland down below while you dine on Braised Beef, Parisian Gnocchi, or a Coffee Pot de Crème.
While you're dining, you may be greeted by some favorite Disney characters so keep your camera and autograph book ready just in case.
Remember— these dining options are priced separately and not included in the cost of a party ticket to Mickey's Not-So-Scary Halloween Party, so budget accordingly.
---
Desserts to Die For
If dessert is your favorite meal, then Mickey's Not-So-Scary Halloween Party has absolutely got you covered with not one but two separate dessert parties! You read that right; an entire party where the desserts are the main attraction.
Disney's Not-So-Spooky Dessert Party can be found at the Tomorrowland Terrace Restaurant. On select nights there is a buffet of sweets, cheeses, and drinks to choose from.
Plus, the view from the terrace is to die for! You can enjoy chocolate-covered strawberries while watching Disney's Not-So-Spooky Spectacular fireworks show over Cinderella's Castle for magical memories that will last a lifetime.
For guests 10 years of age and older, the price for this dessert party is $114, while guests between 3 and 9 years old are $69 each.
Disney's Not-So-Spooky Spectacular Dessert Party with Plaza Garden Viewing is also located at the Tomorrowland Terrace Restaurant. The buffet offerings are the same as the previous dessert party but the price per ticket is less expensive, with guests 10 and older costing $99 each and children between 3 and 9 costing $59.
Reservations for either dessert party can be made here.
P.S. If the dessert parties aren't your thing, you can find some ridiculously tasty Halloween Treats around the park. Some of the treats we've tried in the past are the Amuck Amuck Cupcake, Jack & Sally Push Pop, For Better or Worse Wedding Cake, Pumpkin Spice Milkshake, and the Headless Horsemen Cheesecake.
---
Important Things to Know Before You Go
Some tips before you book your ticket and arrive at Mickey's Not-So-Scary Halloween Party:
Dress Code: If you're planning on wearing a costume, make sure to check out the guidelines, as Disney may refuse entry for anyone who is dressed inappropriately. For example, all costumes must be family-friendly, not include props that can be mistaken for real weapons, and may not drag on the ground.
Check the Weather: Temperatures in Orlando can be pretty warm, even in October. Dress for the weather and try to avoid costumes with heavy materials or multiple layers.
Arrive on Time: Make sure to arrive between 4:00 PM and 7:00 PM with your ticket ready. The park closes to regular guests at 6:00 p.m. You do not need a separate ticket to the Magic Kingdom if you have a ticket to Mickey's Not-So-Scary Halloween Party, provided you come at the right time.
Location, Location, Location: Reserve your spot for the parade ahead of time. If you want to be right up front, get there an hour before the parade starts. If you don't mind standing a bit toward the back, then arrive there 15 to 20 minutes before the start of the parade. You can get a spot at Frontierland to watch the fireworks with less notice and then immediately get on more rides or find characters to do meet-and-greets.
Ready for Anything: Make sure to stick around for the fireworks show which promises all the spectacle of traditional Disney fireworks but with a terrifically terrifying twist!
A Trick for Your Treats: Pack extra trick-or-treat bags in case your bag or child's bag fills up faster than expected or unexpectedly tears. Better to have them and not need them than to need them and not have them!
Timing is Everything: Save the trick-or-treating for the end of the evening. The lines to get candy should be shorter and there will be fewer items to carry around the park.
My BIGGEST TIP is to have a plan, as you won't be able to do it all. Our plan was to make sure we got to enjoy the special Halloween-themed attractions, do some trick-or-treating, enjoy the parade, and watch the fireworks. We accomplished all of those things on our last visit and even snuck on a couple of extra rides that had shorter lines.
With our tips and tricks, you will have a blast at one of Disney's most magical parties of the year. If you've been looking to do something special and different this Halloween, give Mickey's Not-So-Scary Halloween Party a try! You won't be disappointed!
---
If you need help planning and booking your magical Walt Disney World vacation, contact our friends at Best Day Ever Vacations. They are truly Disney Experts, and not only are their services FREE, but they will save you both time and money. 
You Might Also Enjoy:
A Breakdown of Disney World Costs + How to Save Money!
Star Wars Dessert Party at Hollywood Studios – Is it Worth it?
Disney World Tips & Tricks [Over 100 Amazing MUST KNOW Tips]
Pin for Later – Everything to Know About Mickey's Not So Scary Halloween Party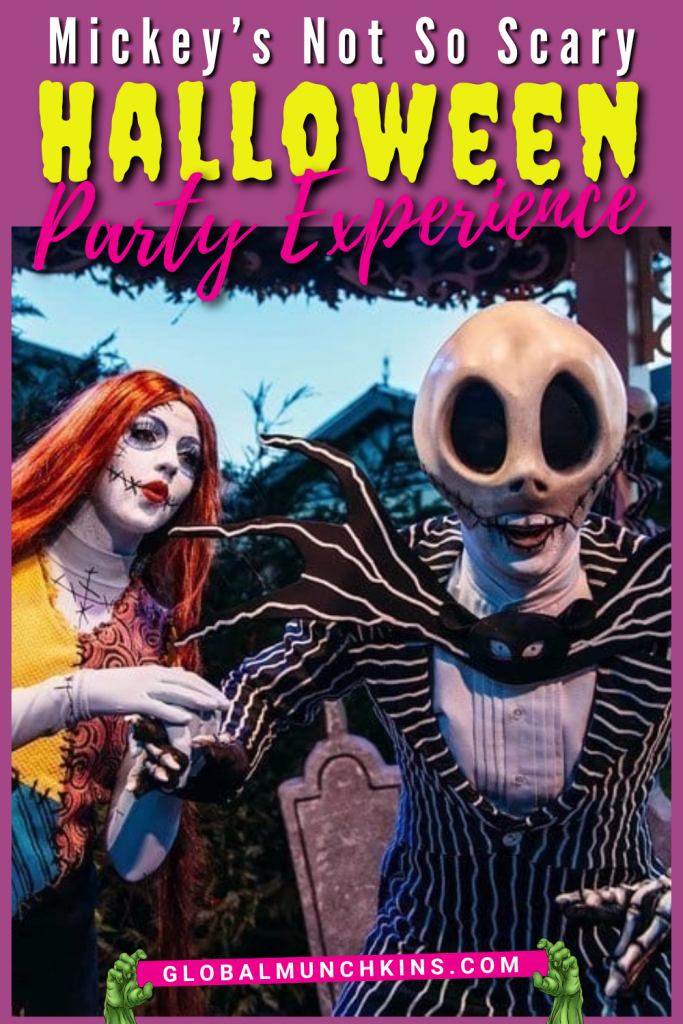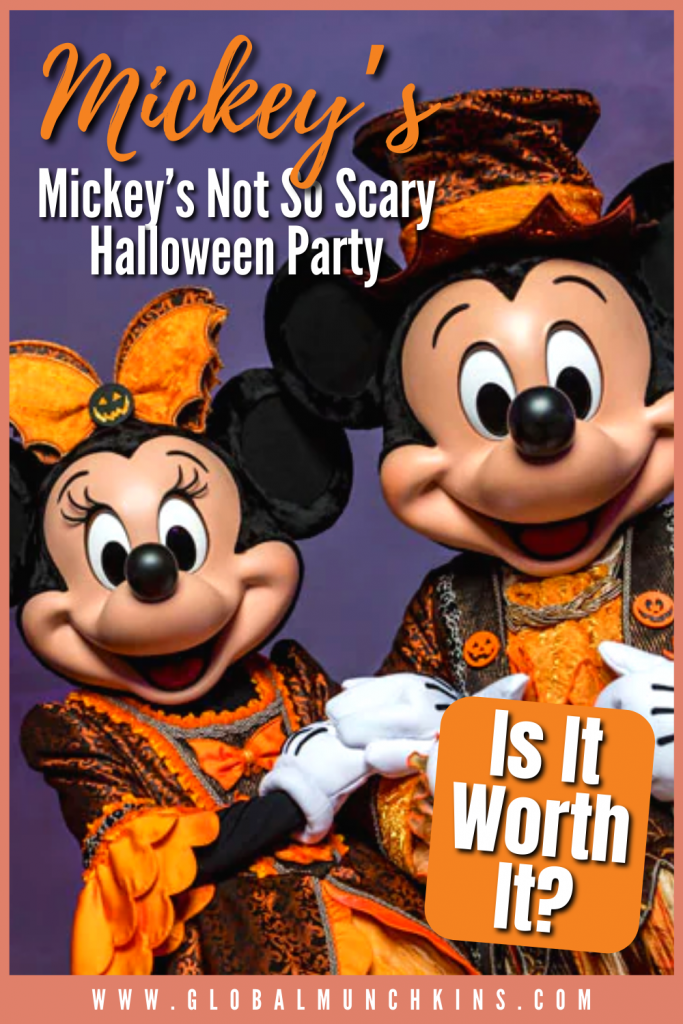 Latest posts by Mama Munchkin
(see all)