Disneyland attractions like It's a Small World, Pirates of the Caribbean, and The Matterhorn are a big part of keeping the magic alive in the park (#nostalgia) but that doesn't mean we can't love all the new things going on too! It's always so exciting to see what the creative minds working behind the scenes at Disney come up with. Below are a few of the BEST New Disneyland Attractions over the last couple of years, and what's to come in 2020 and 2021!
The Best New Disneyland Attractions & Rides [Coming Soon]
New Rides & Attractions in California Adventure (Recently Opened)
source: Disney
The first-ever Pixar Fest arrived on April 13, 2019. Disneyland's firework show will be all about Pixar this year taking you on a thrilling journey with two unlikely characters. You don't even have to be on Main Street to take part as there will be projections on the River of America and It's a Small World. This fest also included a Pixar Play Parade and Pixar short film festival. The Paint the Night Parade, which has many of our Pixar favorites in it, returned back in April as well. We can't wait to see if they bring Pixar Fest back again in 2020!
Inside Out Emotional Whirlwind
Located on the western end of Disney California Adventures' pier, the lush and colorful Inside Out Headquarters is home to Inside Out Emotional Whirlwind! It made its Pixar Pier debut in 2019. The Inside Out Whirlwind is a colorful whimsical spin through all your emotions. It is definitely one of our new family favorites. I like the location of this ride as it is close to Incredicoaster. So, if your little one can't go on Incredicoaster and the big kids can, you have a ride to take them on.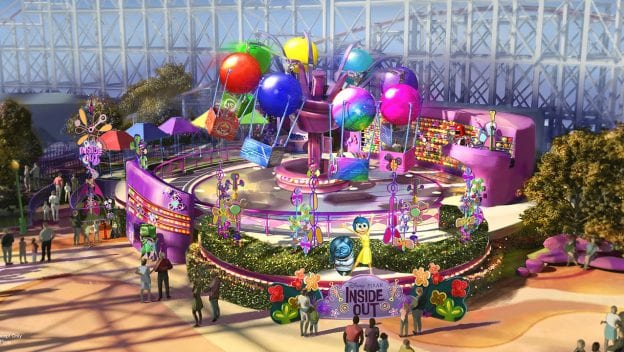 Jessie's Critter Carousel 
Jessie's Critter Carousel also joined the pier. It is inspired by the critter's in Woody's Roundup and we think it's a pretty fun new carousel ride!
This 3D show has long been a favorite of our when visiting the Magic Kingdom in Disney World, so we were excited to see it brought into California Adventure. It's the perfect place to escape from the heat and relax for a bit.
California Adventure Attractions COMING Summer – 2020
Avenger's Campus
The big news is that Marvel Land will be arriving in Summer of 2020. The area previously occupied by Bugs Land will be transformed into a universe dominated by the likes of your favorite Marvel superheroes. In this area,  you will live in a timeline  where the Super Heroes have assembled from across time and space to meet with us at Avengers Campus. You will meet the likes of Iron Man, Black Panther, Thor, Black Widow, Ant Man, Captain America, Star Lord, Gamora, Spiderman and more.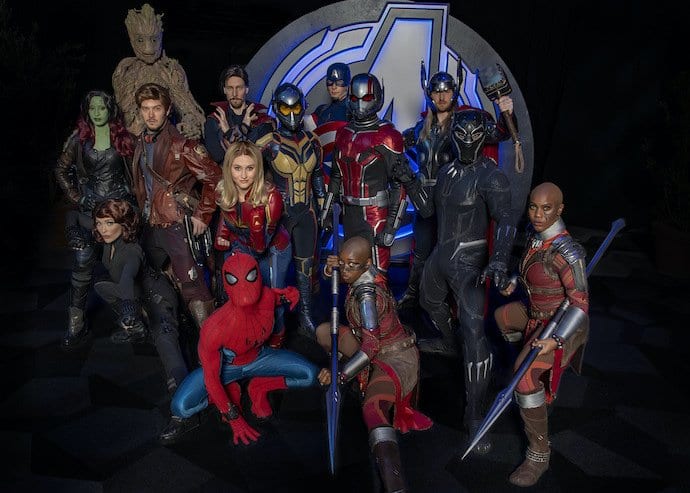 I recently visited the Avengers Campus on an exclusive hard-hat tour for the media. Check out all the details I learned here!
Spiderman – Web Slingers
Located inside the former "It's a Bug's Life" theater will be a Spider-Man ride.  Spiderman Web Slingers will be the signature ride at the Avengers Campus. In this ride, you will be slinging webs from your wrists to help Spiderman contain the Spider bots before they take over the Avengers Campus. The technology to make the webs feel like they are coming from your wrists is pretty incredible. I am told there is no way to explain it, you just have to experience it, as it's amazing.
New Rides & Attractions in Disneyland (Recently Opened)
Everything to Know About Star Wars: Galaxy's Edge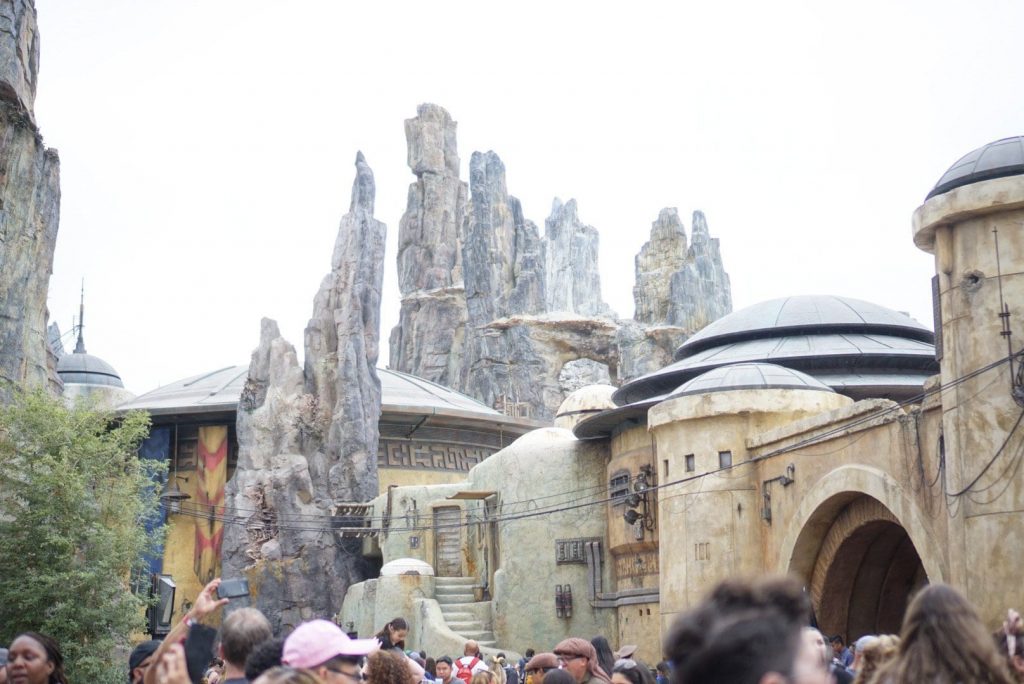 We hit the park this summer to experience this jaw-dropping new land and can't wait to get back. It's so immersive! Just like was anticipated, the cast members really get into the experience (similar to The Wizarding World of Harry Potter at Universal). We may have had a couple of run-ins with the Storm Troopers, but besides that, it was smooth sailing in Batuu. I think the Cantina has a really cool atmosphere and the food was delicious as well. And for the record, the Blue Milk is a must-have. You can check out our full review of Galaxy's Edge here!
Keep in mind, Downtown Disney also has an insane Star Wars Hyper-Reality experience which you can buy tickets for here. It's separate admission from the park, but it's a chance to experience some of the most cutting-edge technology being developed. If you have a Star Wars lover over 10 years old, this is the best chance they'll get to feel like they're really stepping into a far far away galaxy and live in the shoes of a Storm Trooper.

Millennium Falcon Smugglers Run- OPEN
This ride is an immersive experience! You and your family will pile into the cockpit of one of the galaxy's most famous ships and pilot it through the skies. My personal favorite is being the pilot, so try to ask to be a pilot, it makes the experience much better.
Rise of the Resistance- COMING SOON
The Resistance has just set-up on Batuu and you are among the first to arrive. This ride is the most unique ride we have ever been on in our life. It is a mixture of storytelling and adventure that I have never experienced before. Currently, you need to sign up for a boarding group to get on the ride (you cannot simply wait in line). Here are all the details to score a great boarding group. 
Attractions COMING SOON to Disneyland
Mickey & Minnie's Runaway Railway
Although Mickey is certainly the star of Disneyland, he has never had a major attraction themed after him until now! This new Disneyland ride will take place in a theatre where Mickey and Minnie are premiering their new short. You will board a train with engineer Goofy and head off on a wacky adventure into the cartoon world. It is coming to Mickey's Toontown in 2022, and recently just opened at Disney World!
source: Disney Parks Blog
Other New Happenings
Black Tap Craft Burgers & Shakes
We are definitely not opposed to the arrival of this new burger & shake throwback diner. It is part of the Downtown Disney District. The burgers are to die for and the shakes are over the top in the best way. There is a to-go window to order shakes from as well.
Salt & Straw
Another new addition to the Downtown Disney District is Salt & Straw, a delicious ice cream shop. They make small batch seasonal favorites! This creamery was founded in Portland Oregon and they are opening more and more locations as this incredible ice cream is hard to resist. Be prepared to wait in line, but it's worth it.!
A New Disneyland Hotel Tower for Disney Vacation Club Members (Possibly)
The Disneyland Hotel is building a 4th tower….maybe. According to rumors Disneyland has submitted permits for a 4th tower at the Disneyland Hotel. This tower will be designed as Disney Vacation Club rooms, with a mixture of studios, one-bedroom villas, and two-bedroom villas. Disney Vacation Club is an absolutely amazing way to pay a lot less for Disney vacations, especially if you visit Disney often.
What are the New Disneyland Rides that YOU are Most Excited About?
You Might Also Enjoy:
10 Ways to Beat the Heat + Outsmart the Disneyland Crowd
How to Buy Discount Disneyland Tickets – 7 Easy Ways
Pin for Later – The Best New Disneyland Rides & Attractions!
Latest posts by Mama Munchkin
(see all)