Have you planned to go to Disney World with your friends and family? The time is right. Whip your suitcase and pack some of your best summer Disney World outfits! If you're anything like me, you can have a difficult time.
Looking for that perfect outfit when heading out? I've especially struggled when packing for a trip and planning outfits that will look and feel amazing in a Disney Park. I just can't decide what to keep and leave, as I always end up making last-minute changes.
It just hit me, though. You don't have to go through the same ordeal that I went through. Instead, you can just prepare with the best Disney outfits. Here is the best guide for you to pack the best and the most stylish outfits.
Let's not waste any more time and get right into it!
When going to Disney World, you and your friends certainly want to look stylish. And with a perfect outfit, you can have the best time while looking your best.
Here are some outfits that you can wear on your trip to Disney world:
---
SUNDRESSES
You may wonder if a dress is appropriate for a theme park, and the answer is yes! Sundresses can be the perfect option for you. It is okay to hesitate, but if you carry the summer dress in the right way, you can completely pull off the look.
We loved this comfortable and adorable Little Lies Annie Linen Mini Dress from Urban Outfitters and think it would be perfect for your next Disney trip during those hot summer months!
---
SHORTS AND TANK
If you want to feel really comfortable, then you should take out a tank top and a pair of shorts for your trip to Disney World. This is one of the best outfits to wear since it looks cute and is very comfy.
Honestly, you cannot go wrong at Disney if you choose a comfy Mickey Mouse shirt, like this super cute one from Urban Outfitters and pair it with some comfy jean denim shorts!
---
ATHLEISURE
Even if you're not very fond of athleisure, it can be one of the best outfit options for you. Many companies are now coming up with different stylish-looking athletic clothes you can get.
You can pair your leggings with a sports bra, t-shirt, or tank top. You can finish off your look with slides.
---
JUMPSUIT OR ROMPER
Don't you just adore all the cool rompers you can now find? There are so many cool patterns and solid colors to choose from!
These outfits also make some of the best summer Disney World outfits. Jumpsuits are super comfortable and look like chic outfits. We highly recommend adding some cute Disney Minnie ears that will match your jumpsuit.
Plenty of styles go well with a jumpsuit. You can either go for hoops in your ears, paired with comfortable sandals that you can wear without any discomfort.
---
TIPS FOR BUILDING YOUR SUMMER DISNEY WORLD OUTFITS
Selecting an outfit alone is not enough. You need to build on it to make it comfortable and stylish. And we have the perfect tips to help!
CARRY THE RIGHT FOOTWEAR
You want your day at Disneyland to be as comfortable as possible. You wouldn't want to end up with swollen or painful feet by the end, or worse, the middle of the day.
So to avoid swollen feet, you need to wear the right kind of footwear. Keep in mind that you will have to walk a lot as you go from one ride to another.
Your footwear should be comfortable and light on your feet, but don't worry. We won't let you compromise on style. Here are some of the best footwear options to go well with your summer Disney World outfits.
If you're going on a hot summer day, then you can easily carry sandals as they are open and will not bother you in the heat.
Sandals are also a great fashion choice as they are casual, and you can find them in different styles and color options, depending on your outfit.
If you do not want to bother yourself with tying shoe laces, then some slip-ons can be the perfect fit. Slip-ons are very comfortable and will help you stay active throughout the day without pain in your feet.
You cannot go wrong with picking a comfy pair of sneakers and pair it with any Disney shirt and jeans! When it comes to theme parks, comfortable always wins!
You might be shocked that flip-flops made the list, but flip-flops are a great option when it rains. If it starts raining while you're at Disney World, then flip-flops will be perfect. The rain can soak or ruin your other shoes, but flip-flops can weather just about anything.
PAIR WITH THE RIGHT DISNEY ACCESSORIES
If you pair the right accessory with the right outfit, you will surely be turning heads wherever you go. Disney has a lot of merchandise that you can wear and accessorize your look.
One can never go wrong with mouse ears. This is a classic accessory for all those who come to Disney World and want the full experience. Mouse ears look extremely cute and are likely to go well with all kinds of outfits.
You can find several cutesy Disney-themed headbands from the kiosks within Disney world or Etsy. These headbands can be great to accessorize your look and also help you manage your hairstyle.
Crossbody Bag
A crossbody bag is a fashionable accessory to carry, which can also be really functional as well. Cross body bags can also help you keep all your essentials on you at all times. You can keep your phone, credit cards, makeup, and especially a water bottle.
Backpack
A backpack doesn't just hold all your accessories, but depending on the color and size of your bag, it can really make your outfit pop. It is also a very useful idea that can help you keep all your things safely in your backpack and reduce the chances of losing things.
Fanny Pack
Tie a fanny pack on your waist in remembrance of the 90s. A fanny pack gives you enough space to keep all your essentials while you go on different rides.
If you're wearing jeans, then a Minnie mouse belt is possible a great option for you. It can put you in a festive mood and help you make the most of your trip to Disney World.
MAKE IT UNIQUE, LIGHT, AND BREEZY
The best thing you can do when planning your summer outfits is to make them as unique as possible. You want to have the time of your life, and you can do that by having a unique outfit so that you get the best pictures.
Disney World is a wonderful place to make memories, and you want to record every moment of your trip. This is where your unique outfit will help you get better pictures.
Other than that, keep your outfits and bags as light as possible. You do not want to be uncomfortable when going around the massive amusement park.
A heavy outfit can make it difficult for you to enjoy your time, and you will be very tired by the end of the day. Leave behind anything that is added weight so that you can enjoy your time without being absolutely knackered by the end.
CHOOSE THE RIGHT COLOR PALETTE
Choosing the right colors is important. Summers are a great time to experiment with different vibrant colors. You can find out what is the color of the season and try to incorporate that into your wardrobe.
Moreover, a trip to the theme park calls for quirky and fashionable summer Disney World outfits. With that in mind, choose color palates that will help you stand out from the crowd and work well on you. Choose your favorite colors, so you are confident and happy on your trip.
---
Pin for later: The Best Summer Disney World Outfits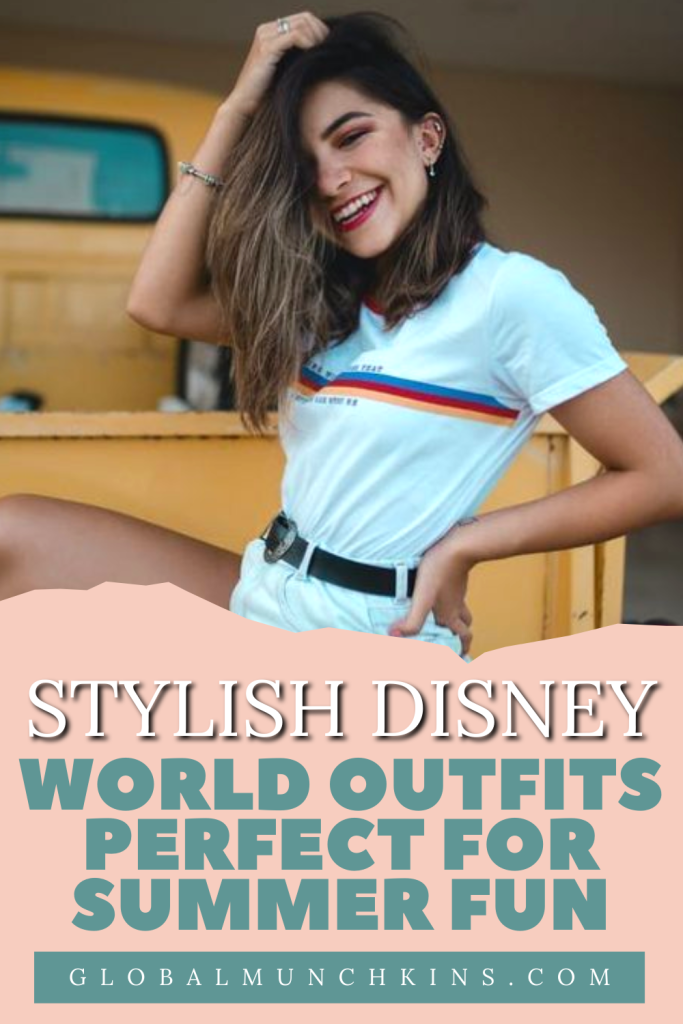 ---
If you enjoyed this article about summer Disney world outfits, you might also enjoy:
AIRBNB DISNEY WORLD – 15 MAGICAL AIRBNBS NEAR DISNEY
EVERYTHING YOU'LL LOVE ABOUT THE DISNEY WORLD MONORAIL HOTELS
DISNEYLAND VS DISNEY WORLD! WHICH IS BEST FOR YOUR VACAY?
LIGHTNING LANES AT DISNEY WORLD: EVERYTHING YOU NEED TO KNOW TO MAKE YOUR TRIP MAGICAL!
Latest posts by Ashland Hendrix
(see all)