For Thanksgiving this past year we decided to break away from a traditional Thanksgiving and head off to Tokyo. Tokyo is one of the most exciting Japanese cities and one of our family's new favorite destinations! It has a beautiful balance of old Japanese culture alongside modern designs and technology. When you are in the city, it has all the bright flashy lights of New York, but is also incredibly clean.
The city itself is super easy to get around (a lot of signs are in English) as they have a great subway system. With lots of interesting things to do, an incredibly welcoming population, and a culturally dense space, your kids will love it! This is especially true if it is their first time visiting East Asia. Here are 15 of the best things to do in Tokyo with the kids + some tips and tricks to make your trip as smooth as possible
15 of The Best Things To Do In Tokyo With Kids
Our Kids Personal Favorite Things To Do In Tokyo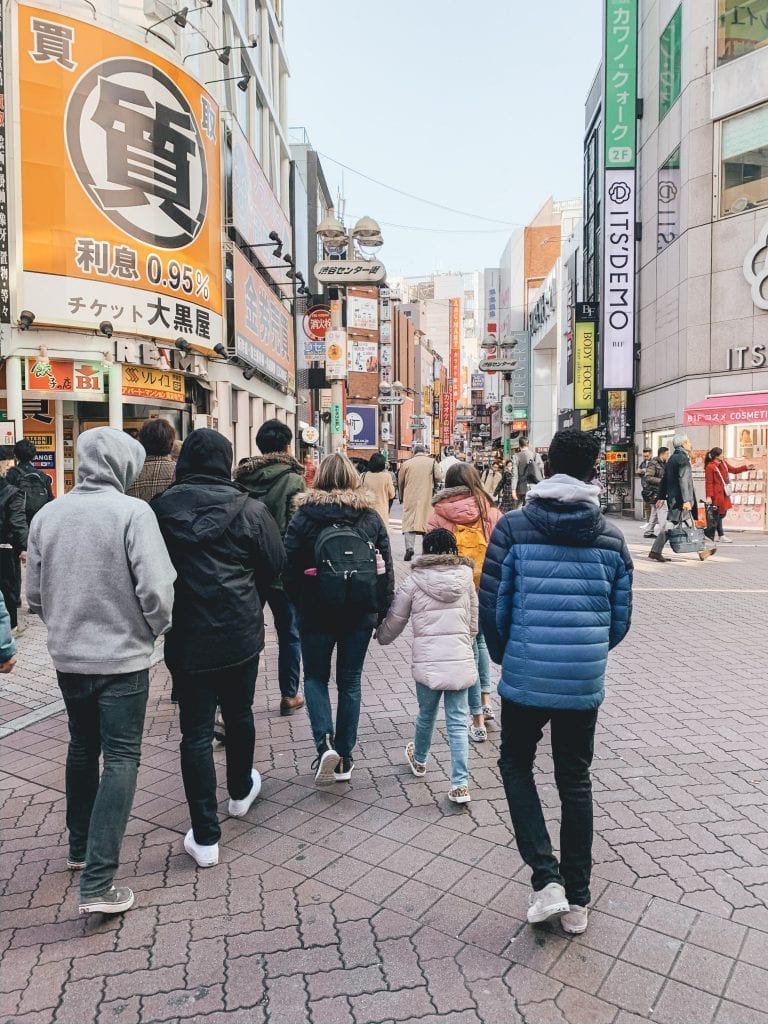 Enjoy 3-D Latte at Permission Cafe in Harajuku
My 12 year old daughter thoroughly researched Tokyo and insisted we had to visit the 3-D Latte art cafe. Coffee culture in Japan is more unique than anywhere else in the world. From small pop-up cafes to canned coffee in neighborhood vending machines, there is no shortage of great coffee in the country. The Permission Cafe in Harajuku puts a unique twist on coffee by creating 3D masterpieces out of milk foam. Even if your kids don't love coffee, they'll absolutely love all of the funky food art.
The Permission cafe was simply amazing. Not only do they do 3-D art but also 2-D art that is so impressive you will be in shock. You can give them a picture of anything and they will create an amazing work of art (we chose our pups). The art was so amazing we came back again towards the end of our trip.
Pro Tip – Grab Some Amazing Dumplings in Harajuku
While in Harajuku, we had some of the most amazing dumplings at a place called Gypza-ro. Expect a line (takes about 10-15 minutes to get a seat) as this place is popular amongst the locals. The garlic pan-fried dumplings are so delicious and this is probably one of the most reasonably priced meals you will have in Tokyo. You can also try steamed dumplings and many Japanese favorites here, like cucumber miso.
Check out the world's Busiest Crossing at Shibuya Crossing
The Shibuya Crossing is quite an interesting attraction in Tokyo, as it is rumored to be the busiest intersection in the entire world. Many people say this crossing is a great introduction to Tokyo because of all the bright lights and hundreds of people heading in every which direction, yet gracefully dodging each other like this is a practiced routine. For a great view of the crossing head up to the 2nd level of the Starbucks and enjoy watching the chaos as hundreds if not a thousand people cross the intersection from just about every direction you can think of.
Bonus Shibuya Attraction: Hachikō Statue
While at Shibuya Crossing visit the statue of the dog Hachikō. Hachikō is a dog who would walk with his owner every day to the Shibuya station and wait until he returned home from work. One day, the owner passed away at work and Hachikō stayed at the train station for nine years. Passers-by got to know the dog and would give him food and drink as he waited.
Bonus Shibuya Attraction #2 – Do some Shopping in Shibuya
Shibuya also has some great stores with a mixture of quirky stores and some luxe spots. My son was obsessed with the "Bathing Ape" store and spent all his allowance for about 3 months there. The shops are right next to Shibuya crossing so take your time and stroll around.
Have Dinner with Ninjas at Ninja Asaka Restaurant
Make sure to take your little ninjas to the Ninja Asaka Restaurant, otherwise known as the best ninja-themed entertainment restaurant in the entire country. This was a one of a kind experience. You are greeted by a Ninja as he jumps out of a hidden wall. There he takes you through some "Ninja Training" as he or she guides you to your table.
The tables are all so unique, we were set up in a private room which resembled an authentic Japanese Home. From there, you will enjoy quite the show. Our dinner included 6 courses, some of the courses themselves were a show including one that had a small firework, another one was heated by rocks. Here you'll find luxury Japanese cuisine prepared by some of the city's top chefs in the game.
The food itself was some of the best-prepared dishes we had in Japan. To end the night another Ninja appears and does some close-up magic that everyone absolutely loved.
Visit giant Buddha in Kamakura and then Enjoy Some Amazing Street Food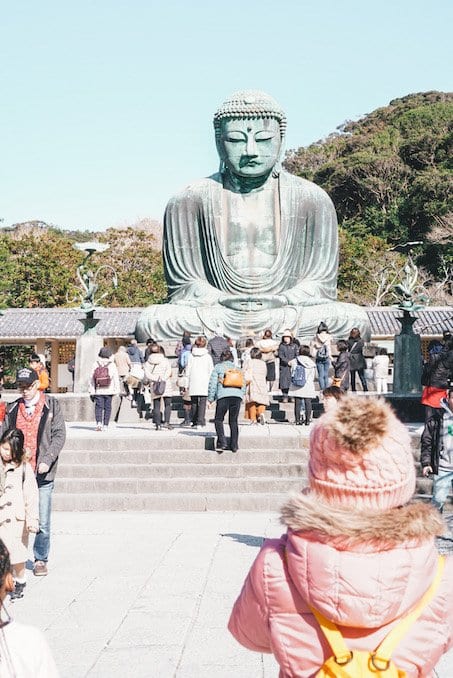 The Great Buddha of Kamakura is quite a sight to behold and is a perfect stop for those who want to experience a more traditional part of Japanese culture. This massive statue is 11.4 meters high and is made completely of Bronze. It is also the second tallest bronze statue in the county. It has survived earthquakes, typhoons, and tsunamis!
You can climb into the buddha for about 10 cents, while there is not much to see once you climb into the buddha, the kids will absolutely love being inside a statue. It is definitely something out of the ordinary for your time in Tokyo.
Amazing Street Food at Komachi St.
Once you're done exploring the temples, make sure to walk the length of Komachi Street to enjoy some wonderful street food and other small boutiques. Be prepared to have an appetite because there are tons of delicious and also unique street food to try in Komachi. The potato pancakes and the sweets are to die for, we also tried the squid, which is, well….. at least worth the picture.
A Couple of the Coolest Things To Do in Tokyo with Kids
Enjoy a view of Tokyo from Tokyo Tower or Skytree
Two of the best places to take in the view of the city are the Tokyo Tower and the Skytree. Tokyo Tower was built in 1958 after WWII and is reminiscent of the Eiffel Tower in France. Plus, they repaint it every five years to keep things interesting. If you would like to go up inside the tower, you can buy tickets here. We opted to just snap a picture from down below!
If you want to hop on up to the tallest tower in the world, however, the Tokyo Skytree is where it's at. Though the tower has a primary function of radio broadcast and television, guests can come and enjoy spectacular city views from each. Try to visit on a clear day, this is when you will get the most out of the views. There is also a glass floor you can walk across. Although, I don't recommend this for the faint of heart. You can buy tickets in advance here!
Order amazing Ramen from an ATM Machine
A trip to Tokyo isn't complete without enjoying a nice bowl of ramen, and what better place to get ramen at a… wait, ATM machine?! Yup, you can get a piping hot bowl of ramen from this unique ATM machine in the city. Not only is it a fun and novelty thing to do when visiting, but the ramen is also quite delicious. I mean, it is definitely better than anything I have gotten out of a vending machine before!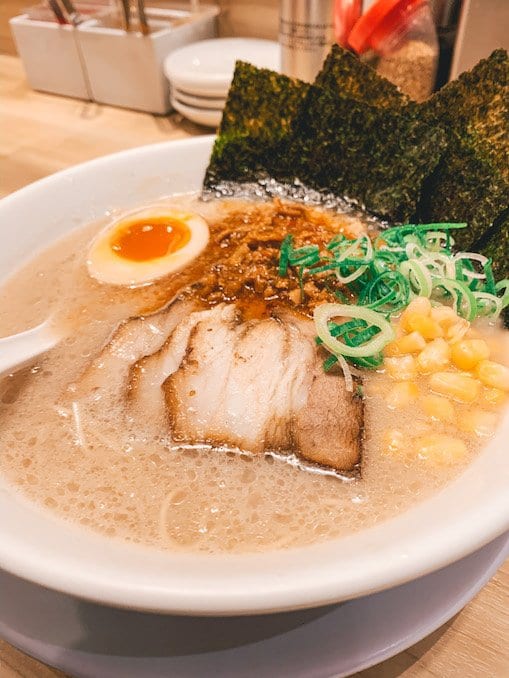 I recommend visiting Ippudo Ramen. There are several Ippudo Ramen throughout Tokyo and it is simply some of the best ramen we have ever had.
Check out the Digital Museum and be Immersed in Interactive Fun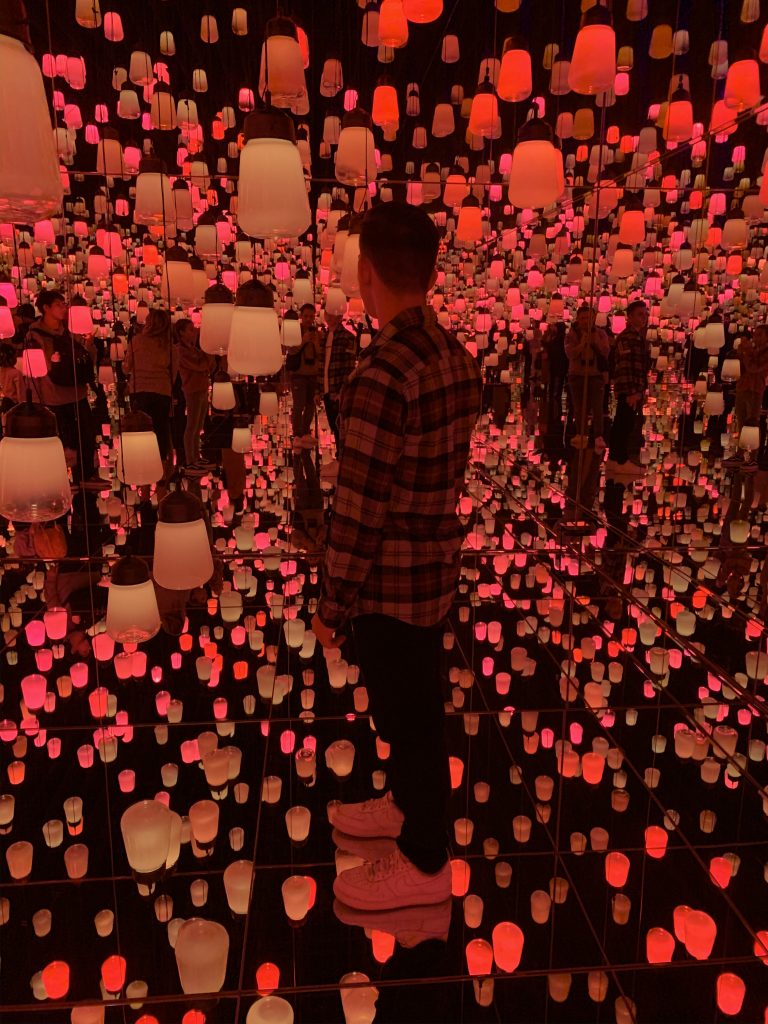 This is definitely not your average museum. While art, history, and science museums are on typical itineraries for large cities, Tokyo is home to something a little different. The MORI building holds the world's very first digital art museum and it is packed full of contemporary art. It's a massive interactive space with plenty of awesome digital installations that both you and the little ones will enjoy. You will be totally immersed in a new world. We especially enjoyed this trippy display and got some really neat pictures that I know we will treasure when we look back on them.
You can grab a museum ticket here. You will also gain access to the Tokyo City View observatory with this ticket, where you will have incredible views of the city and on a clear day may even be able to see Mt. Fuji.
Visit the Meiji Shrine
The Meiji Shrine is a shrine that is dedicated to Emperor Meiji and Empress Shoken. It is located next to the Harajuku Station and Yoyogi Park on very spacious grounds. There are plenty of walking paths to enjoy and the area is absolutely pristine. It is a great space to get out and enjoy a little bit of the outdoors. Plus, your little one will be able to run off some steam while you take in the beautiful view.
On top of the beauty, it is a wonderful place to soak in some of Japan's culture and history. This place is one of the most beautiful and peaceful things to do in Tokyo with kids. It feels like a secret tranquil
Visit Disneyland Tokyo & Disney Tokyo Sea
There are only a few cities in the world that have Disney theme parks, and our opinion, Tokyo is home to one of the best. This was the first stop on our Tokyo adventure and we stayed on-site for a few days so that we could really make the most of it. Disneyland Tokyo could take you a whole week to explore, though if you're looking for the ultimate Disney experience on your vacation with the kids, it's a place where you will literally never get bored. There are 7 themed lands to explore, like Toontown and Adventureland.
We enjoyed that they had some of our classic favorites, along with plenty of new things to try out. We rode the Jungle Cruise, and we do have to say not being able to understand the jokes only added to our fun… or at least dads. You will also find popular favorites like Space Mountain and It's a Small World. They do have a FastPass system just like the other parks, so you want to be sure to plan out your day ahead of time and get those booked.
Disney Tokyo Sea
Make sure to check out Disney Tokyo Sea while you're there too. This 176-acre theme park is themed completely around water. You will find some really thrilling rides here that are totally different from what you would find in the other Disney parks. This is definitely one of the best things to do in Tokyo with kids, and it is so different from any other Disney experience so it will feel like a whole new world even if you frequent the parks in the states.
Bonus Tips – Disney Tokyo Food
While at the Tokyo Disney parks there are all sorts of unique snacks and treat to discover. I recommend trying the numerous flavors of popcorn including, honey, garlic shrimp, chocolate, strawberry, chili lime, soy sauce and many more. Other fun treats are the alien dumplings and Mike Wazowski bread. Not only are they delicious, but they are all photo-worthy as well!
Check out all the Amazing Shops and Lights in Ginza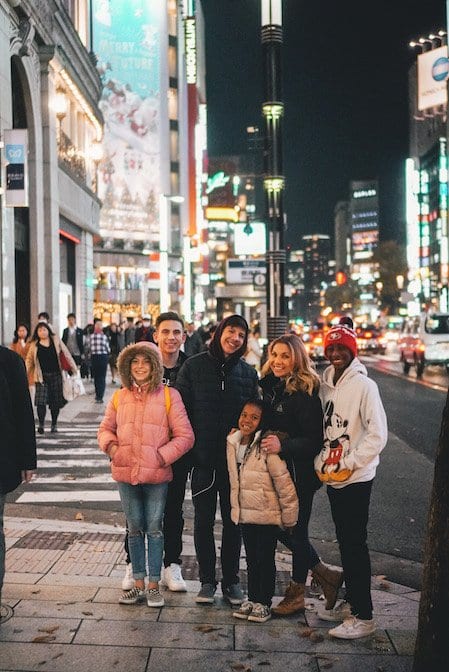 Ginza is the wealthy area of Tokyo. It is your Rodeo Dr. or 5th Ave. of Tokyo. Even one square meter of land in Tokyo is worth more than 30 million yen. Essentially, you know that you are entering with high-end shopping in mind. Chuo Dori is the main street in Ginza and is filled to the brim with different boutiques, souvenir stores, department stores, restaurants and more. If you're looking to spend some money or browse some of Tokyo's hottest items, Ginza is the place to go.
The stores and lights are absolutely beautiful and it is a great place to do a little shopping as there is a wide variety of stores.
Interesting Things To Do and To Eat in Tokyo
Visit the Kawaii Monster Cafe an Enjoy Crazy Food and a Crazy Show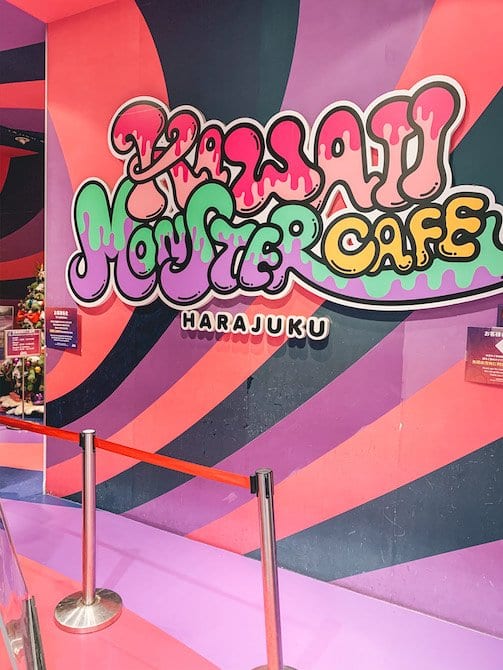 The Kawaii Monster Cafe is a place where the cute and terrifying collide. This whimsical little cafe has many different colorful themed rooms and delicious food with regular performances from a variety of different "monsters". This cafe brings the idea of eccentric to an entirely different level. Think of it as Willy Wonka meets Alice in Wonderland. It's a must-visit.
Get a Rainbow Cotton Candy in Harajuku
Looking to get a giant piece of cotton candy? There is no better place to go than the Tottie Candy Factory. These cotton candies are bigger than your head and are extremely popular in the Harajuku area. Tokyo is already famous for over-the-top fashion and youth culture, so it only makes sense that their idea of cotton candy is big, bright and colorful! You will find this on many lists of the best things to do in Tokyo with kids, and because of its popularity, I recommend you get there early.
Play with some Hedgehogs at the Hedgehog Cafe
Hedgehogs, otherwise known as the world's favorite spiky animals, have their own cafes throughout Tokyo. These also happen to be some of the most tranquil cafes in the city, as they are full of people caring for their little hedgehogs while sipping on their drinks of choice. You get 30 minutes to hang out and feed them mealworms before handing them off to a staff member. Exciting? Yes. Adorable? Yes. Should this be one of the things on your list to do with your kids in Tokyo? Absolutely!
Dine on Some Sushi from a Rotating Sushi bar
Tokyo is the hub of great sushi and great sushi chefs. Though you could always go out to a normal sushi dinner, sit at a normal table, and have a normal dining experience, why not make it a bit more exciting? We recommend hitting a restaurant that has a rotating sushi bar.
Not only do these conveyor belt sushi bars have delicious food, but they'll also help to keep the little ones entertained as the colorful pieces of fish come round and round. Our kids also love feeling like they get to choose which sushi rolls they eat and it is nice to see them before picking out what you want. This is also a great way to get to try many different things at once.
Enjoy some delicious Hot Beverages from the many Vending Machines throughout Tokyo
If you're visiting in the colder months, it is important to know that Tokyo can get pretty cold. In the summer months, the vending machines throughout Tokyo are filled to the brim with cold drinks, though once winter rolls around, all of those vending machines begin offering hot beverages, such as hot chocolate, black teas, lemon drinks, and even different kinds of soups. My personal favorite was the Hot Milk Tea. It was super delicious and a pretty neat way to warm up on a chilly day.
Pro Tips
Tokyo is a pretty easy place to get around, you just need a couple little tips to make it easy
Purchase a Suica Card – This will be your card for all your transportation and you can even use it to order drinks at vending machines. Each member of your family needs one. The machines have an English button, so you can order right there or from Guest Services at the train station
Download Rome to Rio – This is a great app to tell you how to get from one place to another. It is super easy to use and will give you the best route and pricing
Download Tokyo Offline Map for Google Maps – We used Verizon on our iphone for internet but if for some reason you are worried about internet download the offline map for Google maps, it will be a lifesaver
Bring Cash – Most places take credit card, but the street vendors are still mainly a cash only place. Bring cash or visit one of the many 7-eleven ATM's to get cash from your bank.
Stand on the Left – If you are on an escalator, you stand on the left as people who are in hurry are walking up on the right.
Avoid Taxis – They are super expensive and the trains are honestly a piece of cake (well, once you get the hang of it)
Now Go & Enjoy Tokyo All the Best Things To Do in Tokyo!
Tokyo is a magical place where the past and the future meet. It is definitely not like any other city we have visited, and I appreciated all of its uniqueness. Our kids loved the mix of modern and historical attractions throughout the city because it always kept things interesting.
There are just about a million things to do in Tokyo. However, we do hope that our list of the 15 of The Best Things To Do In Tokyo With Kids has inspired you to try something a bit different once you get there. We know we can't wait to get back someday and hit up all of our favorites again! Squid, anyone?
If you have any questions about our Tokyo adventure, feel free to leave them below in the comments or head over to my Instagram!
You May Also Like:
Which Disney World Park is the Best? The Surprising Answer!
20 [of Our Absolute Favorite] Winter Family Vacation Destinations!
15 Mind Blowing Things To Do In Cancun With Kids
Latest posts by Mama Munchkin
(see all)