A full day at Disney is magical, but it is also a pretty big undertaking! You will be doing plenty of exploring and will definitely get your steps in (especially at Epcot), so you need to make sure to properly prepare. From shoes to sweatshirts, this guide will help you determine what to wear to Disney. Being annual pass holders ourselves allows us the opportunity to visit the park during the colder and warmer months! That said, don't miss out on our favorite Disneyland outfits ideas for the whole family, either! 
Pro Tips to Keep in Mind When Deciding What to Wear to Disney
A Rhyme for Getting Ready
If you find yourself overthinking it (I always do!), here's a quick cheat sheet to remember the most important items while packing! Think of the classic song, "Head, Shoulders, Knees, and Toes!"
Head – Hat or sunglasses, and Mickey Ears
Shoulders – Comfortable shirt or tank top & jacket
Knees – Comfortable pants, shorts, or leggings
Toes – Shoes that offer plenty of support
Shop our favorite outfits now!

How to Dress for the Weather
First things first, when preparing for your day you need to keep the weather in mind. Weather can change quickly both in Disneyland and in Disney World! It is important to have layers with you all year long, as every season brings its own surprises.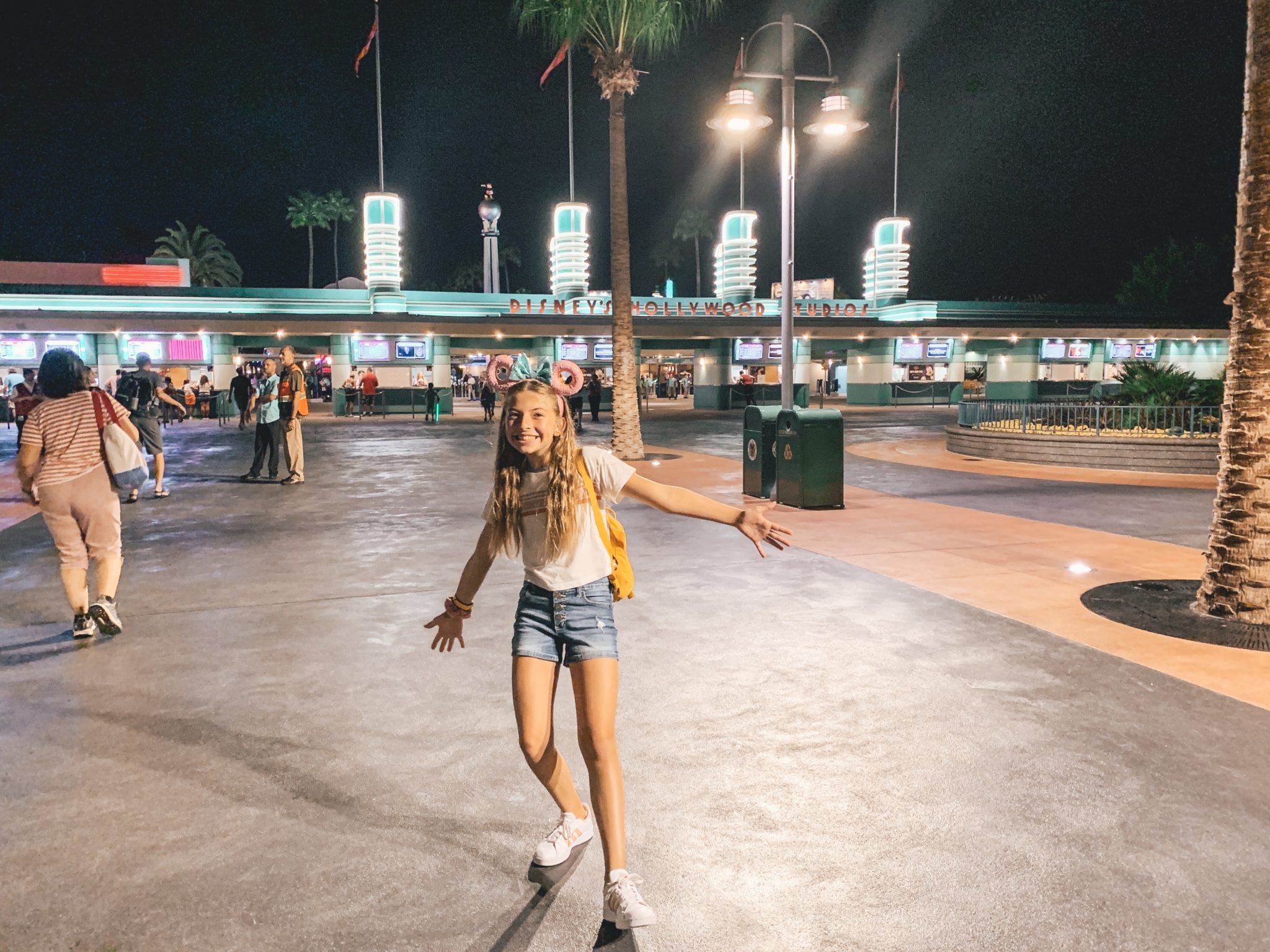 What to Wear to Disney in Cold Weather
In the winter, I recommend wearing a light long sleeve t-shirt with comfortable pants and closed-toe shoes. Adding some extra layers during the cold weather at the park always helps! Be sure to bring a sweatshirt along as it can get chilly in the parks in the evening. You don't want to miss that Magic Kingdom firework show just because you're cold! 
You will definitely want to bring ponchos to wear in Disney World (it rains year-round!), and it doesn't hurt to have them in Disneyland either. Unlike umbrellas, ponchos are hands-free! So, even in the rain, you can put both hands up as you race around the Thunder Mountain Railroad!
What to Wear in Hot Weather
In the summer months, both Orlando and Anaheim can be very hot. Consider wearing moisture-wicking athletic wear to Disney. This will keep you from feeling sweaty, sticky, and plain uncomfortable. Athleisure wear is your best bet for staying comfortable and cool all day long.
Pro tip! If you plan on riding any water rides during your trip, avoid denim shorts and pants. Thicker material like denim will take much longer to dry after an unforgiving plunge down Splash Mountain. Choose comfortable cotton instead.
Our Favorite Looks for the Whole Family to Wear to Disney
Mom
Oversized Full-Zip Hoodie– I always recommend bringing a zip-up hoodie along as opposed to a pullover sweatshirt. They are easier to take on and off since you'll be going from inside to outside frequently. This option is soft and oversized, making it perfect for a day in the parks.
Minnie Mouse Tee– A comfortable t-shirt, like the Minnie Mouse one above, is a safe bet for your long & magical day in the park. You can roll the sleeves or tie up the side for a little extra flare or leave it as is for a classic look. Pair this cute shirt with a jean jacker for your next trip to Disneyland.
Blush New Balance Sneaker– Shoes can provide support for a full day of walking and be cute, who knew? They are 100% suede making them durable enough to wear on many Disney trips to come. My favorite thing about New Balances is the great arch support they offer!
Live In High Waist Leggings– Leggings are pants! I will keep arguing this point until it's universally accepted, especially when it comes to walking around a theme park. These leggings are made of moisture-wicking material, perfect for all the water ride fans. They also have a wide waistband and convenient pockets.
Dad
1. Walt Shirt– There is no better way to get dad in the mood for a day at Disney than a hilarious shirt! Walt from Breaking Bad offers the perfect ironic twist to Walt Disney. In the winter, be sure to bring along a light jacket to put over Walt in case it gets chilly during those times of the year.
2. Adidas Daily 2.0 Shoes– For an "easy to chase after the kids in" but still stylish shoe option for dad, I recommend the popular Adidas Daily. Also, the OrthoLite® Float sockliner brings performance and comfort and the rubber sole is very durable.
3. Aeroready Adidas Shorts– Just like we mentioned above, athletic wear really is the best bet when it comes to walking around a theme park all day. These Adidas shorts are perfect for streetwear and performance. Plus, they have mesh panels that keep them light and breathable.
The Kids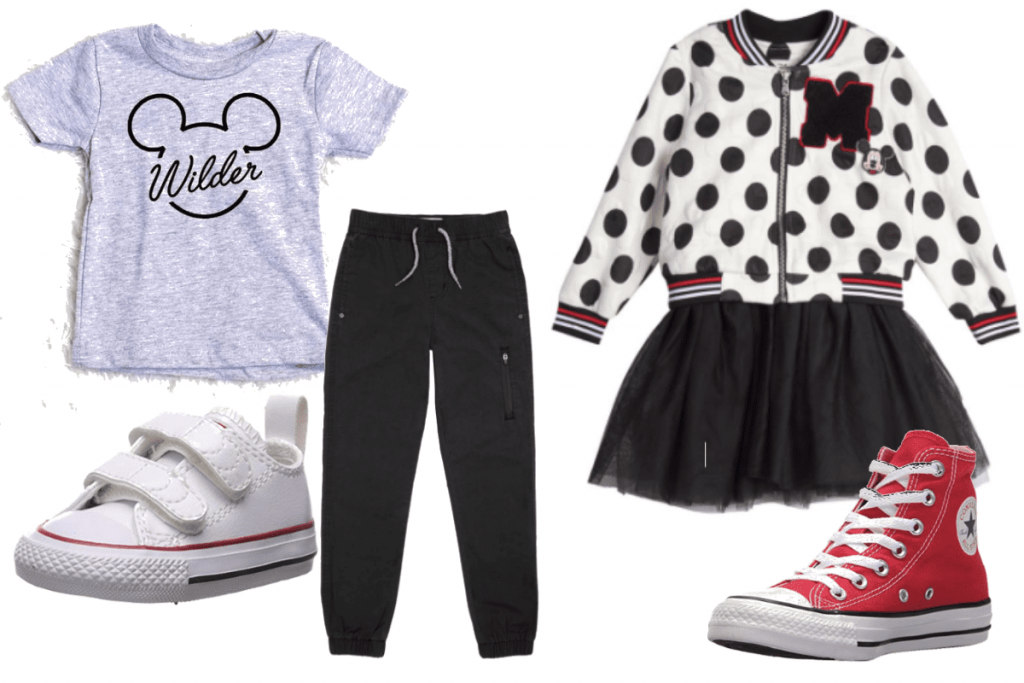 1. Custom Name T-shirt– This personalized cotton blend Mickey Mouse crewneck name shirt keeps things classic and cute. Plus, if you would like you can get matching shirts that look just like it for the whole family!
2. White Velcro Converse– Is there anything cuter than tiny white converse? They are the perfect shoe to wear to your little one's first (or 50th) trip to Disney. The best part of all, you won't have to deal with any pesky laces.
3. Ripstop Pull-On Joggers– Joggers are a great choice for a day at Disney for a busy toddler. This pair is made of stretchy cotton and they're black, so they will hide any messes.
4. Minnie Mouse Bomber & Dress Set– This short sleeve tulle dress is the most adorable look for your sweet princess, and the varsity bomber jacket that it comes with makes it even better!
5. High Top Red Converse– High Top Converse are the perfect addition to the dress set, and they are also really comfortable to wear once they are broken in. Just make sure your kiddo has worn them a few times before your Disney trip.
Pro Tip! If you're visiting Disney with little ones, bring an extra t-shirt and pants. If they spill something or have an accident, you'll be happy to have a backup. You can find a replacement in the Disney stores, but it won't be cheap!
What Shoes to Wear to Disney
Next, let's talk about shoes! You and your family will be doing a lot of walking, so it's critical that everyone has comfortable shoes to explore in. Tennis shoes or sneakers are the best options, as they are made for activity, and offer the most support. I know how tempting it is to wear the cutest shoes you own, but you will thank yourself later for choosing the comfortable pair!
Check out our full reviews of the best shoes to wear to Disney here!
Essential Accessories to Bring to Disney
A hat and a pair of sunglasses are really the only accessories you need to worry about when making your packing list for Disney. That way you can keep the bright sun out of your eyes and take in all the magic. In the winter months, you may want to consider bringing beanies and scarves if you will be staying in the park until late at night. You can stow them away in a locker until you need them.
A small crossbody bag is another great addition to your Disney look because you won't want to lug around a full-sized purse all day. Fanny packs are in style to if you feel like that will be the most comfortable way of carrying your belongings!
Now that you know what to wear to Disney, all that is left to do is pack and have a magical trip! The key here, as you have probably seen, is to consider comfort and the possible weather changes throughout your Disney vacation stay. With those two things in mind, you really can't go wrong. 
If you have any questions about Disneyland or Disney World feel free to comment below or send me a Direct Message on Instagram
Want to learn how to buy discount tickets for your next Disneyland vacation? Check it out here!
You May Also Like:
The Ultimate Disneyland Packing List! + [FREE PRINTABLE]
Why Disneyland in January & February Might be the Best time to Go!
17 Awesome Disney Family Shirts [+3 Weird Ones!]