There is a lot that goes into building a blog and Instagram. I wish it were as simple as taking a few pictures and writing about our experiences. That being said, there are also a million other things that people say you need for a blog that is not essential or just aren't worth the bang for the buck. So, we thought we would break down our favorite blog tools we pretty much use every day to help grow and maintain our blog.
Best Blog Website Hosting Tools:
Siteground – Blog Tool with the Best Bang for the Buck
Let me tell you something, hosting matters. Hosting affects your site speed which affects your Google Ranking. Also, I find myself often contacting our Hosting agent for a variety of support questions. Siteground has amazing support, anytime I have a question I just jump on a chat and the service providers are amazing.
Siteground, in my opinion, is the best bang for the buck. You get hosting, email, FREE SSL, daily back-up, FREE CDN (which speeds up your site). I recommend getting the GoGeek paid plan which is $11.95 a month, but they also have a starter package which is only $3.95 a month.

WP Engine – Best Premium
If you are looking to step up from Site Ground, then your move should be to WP Engine. They are the premier hosting service. However, they also are quite pricey. We use WP Engine for our Rookie Moms site because of the high traffic on the site. They offer the fastest hosting and unparalleled support.
In addition to the speed and support, WP-Engine offers over 2,000 Free Themes to use on your site.
Get 4 months free on annual shared plans with coupon code WPE4YOU. Offer valid until 4/30/2020
Best Plugins for your Blog:
Plugins are great for your blog, they offer some amazing tools to help your blog look snazzy, load fast and so much more. However, too many plugins can cause issues with your site. So, here are our absolute favorite plugins to build and secure your blog.
Yoast

Yoast SEO is our favorite WordPress plugin. SEO seemed complicated until I had Yoast. They have a super easy format that guides you step by step with a nice color-coded guide to tell you what you need to do to optimize your post for SEO.

Yoast offers a FREE version and a Paid version. If you are just starting out go with the free version. It does a great job.
If you want to capture e-mails, we have been using convert pro for years and have loved it. They have several different ways to collect emails including:
within the texts of your blog posts
Slide-In Alerts after a user has been on a page for a certain amount of time
Exit Pop-Ups when a user is leaving your site
Plus Many More!
The software syncs with most email providers so the contact will go into whichever list you choose. It is easy to create multiple pop-ups and have them segmented into different areas of your blog. For example, we have an email capture for if someone is on a page about Disney World, and a completely different one if they are on a page about Disney Cruise.
Convert Pro runs $99 a year, so if you want to capture emails it is well worth it to give it a try!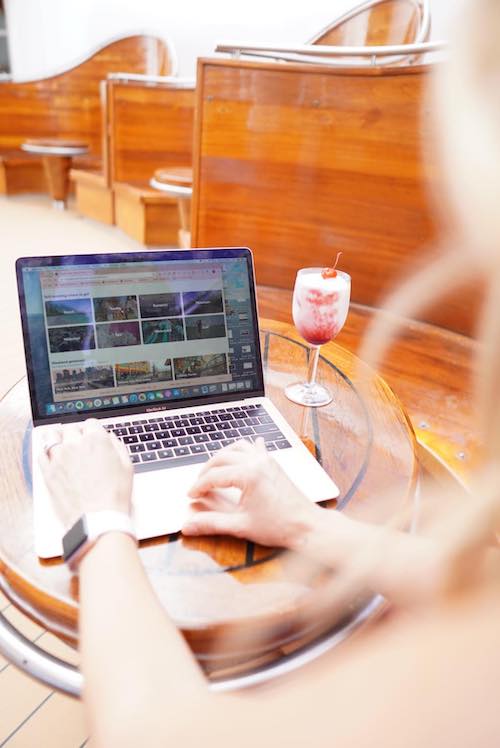 UpdraftPlus – Backup/Restore
Updraft is a great way to back up your site. Our hosting already does this daily, but I still have the Updraft plugin and do it once in a while just in case. The free version allows you to easily backup your site whenever you choose with one click. The paid version automatically does it for you daily. Check it out here!
Wordfence protects your site from being hacked, which is my worst nightmare. The plugin acts as a firewall for your site. They alert you anytime someone is logging into the site with admin privileges. In addition, Wordfence blocks any known malicious IP addresses. You can set your settings to have whichever level of protection you think is best. Wordfence offers a Free and Premium version. We recently got the premium version for the added protection of our site. You can check out Wordfence here!
One of the best ways to help promote your blog is through social media. Pinterest is our second biggest driver of traffic and it is important to be able to offer an easy way to share your articles via Pinterest.
Control what people share, and how they share it – With Social Warfare you can make sure that your visitors share your content in a way that's going to drive traffic back to your site with custom images, titles, and descriptions that you create!
Check out Social Warfare Here!
Email Software Tools to Grow Your Blog:
Flodesk is a great E-mail provider for Blogs. They offer an assortment of services, and the best part, it is super affordable! Flodesk has great email capture forms you can place on your site, beautiful email layouts, and amazingly easy Autoresponders.
While most services charge based on email subscribers, Flodesk does not. You pay only $39 per month, and when you use my link you can get Flodesk for only $19 a month forever!
Blog Tools for S.E.O. Keyword Research
S.E.O. may seem complicated, it's not. One of the biggest keys to S.E.O. is targeting the right keywords. It does not help to target a keyword in which major companies dominate those keywords. It is much better to look for niche or long-tail keywords where you can have a chance to rank on the first page. These blog tools will help you find some great keywords for your upcoming posts.
UberSuggest – FREE Blog Tool!
Ubersuggest offers free keyword research that is not too shabby for its complimentary price. Their platform is a great way to get keyword ideas, however, their data is a little behind some of the other keyword tool finders. So, if you have zero budget, then this is a great choice, otherwise, I highly recommend my next choice.
KeySearch – Blog Tool with the Best Bang for the Buck
Keysearch is my favorite tool to research keywords. They offer a color-coded and number system to help you determine the best keywords for your next post. We have found numerous keywords for destinations we visited, recipes we were making and more. It has been a true asset to help grow our blog to 300k pageviews a month.
Keysearch only runs $17 a month and you can save 20% Off when you us promo code: KSDISC
SEMRush Premier Service!
SEMRush is by far the best service for keywords and SEO knowledge for your site. There are honestly a million things you can do with this service. Here are some of our favorite aspects of SEMRush.
Competitor Research – You can look up any site, see which keywords their traffic is coming from including how hard it would be to rank for those keywords
Site Analysis – SEMRush will analyze your site and give you detailed tips on items you can change to your posts to help them rank better
Position Tracking – You can enter keywords you would like to track and see how your site is doing with certain keywords.
Historical Data- You also can look back at how your site and your competitor's sites were ranking years ago.
Keyword Magic Tool – The keyword magic tool, helps generate numerous ideas for a keyword you might have in mind.
Honestly, SEMRush is the best blog tool out there for SEO, however, it does cost quite a bit at $99 a month. It took us a while to make the leap. I would recommend trying out their 7 day free trial to see if it is worth it for your site.
Best Social Media Blog Tools
Tailwind for Pinterest
I learned about tailwind from one of our favorite blog courses, Pinfinite Wisdom. Tailwind is a great way to grow your Pinterest views, shares and most importantly clicks to your website. It is not only a great way to grow traffic to your site and save you a ton of time.
Schedule your Pins for a week in less than 30 minutes
Tailwind uses a Pin scheduler to help automate your pinning. You can schedule all your pins for a week in less than 30 minutes. In addition, you can auto-schedule pins for months in advance.
Share and re-share pins with other Bloggers
Tailwind is more than just scheduling. You can place your pins into tribes that fit the category of your pins. Those pins will get re-shared by fellow bloggers. It helps your Pinterest traffic grow by leaps and bounds, making this an essential blog tool!
Tailwind has a Free Trial Going on Now, so check it out and see if it is a good fit for you.
Meet Edgar
Meet Edgar is a great way to schedule your blog posts, questions to your audience, videos, memes and whatever you choose to share on your social media channels. You can choose to share your posts on Twitter, Facebook, Instagram or Linkedin.
Since using Meet Edgar, our Facebook Social Engagement by over 300%. Meet Edgar starts at $19 per month and offers a Free Trial. Check it out
Overall Best Blog Tools
So, there it is, a list of our favorite tools for bloggers. We will be updating this list as we find new services that we love and find essential to building your blog. If you have any questions about building your blog, feel free to leave a comment or send me a DM on Instagram.
You Might Also Enjoy:
Knock Brands Socks Off: How we got a Disney Executive to say "Wow, this may be one of the Best Recaps I have ever seen!!!"
90% of Bloggers are making this crucial pitching mistake, are you one of them?