One of the most requested topics I receive from you guys is how to grow an engaged community on Instagram. Let's be clear there is NO MAGIC FORMULA that will build authentic engagement. Truth is it takes a lot of work, however when you look at the benefits of your labor- a truly engaged tribe of like-minded individuals who support you and the fact that you can also earn a hefty income (I am talking six-figures) sharing the brands and ideas you love, well then it helps puts things into perspective a bit.
With that said I would love to share with you five tried and trusted ways that I am growing my following on Instagram RIGHT NOW. These are actionable steps you can easily schedule into your day. *Tip– I suggest spending an hour a day focused on one of these five tasks- a different one each day of the week if you really want to see stellar results. That's doable, right?
1. Engage with your Followers and Potential Followers
It's easy to get so caught up in trying to grow that you begin to forget about serving. the audience that you have. Funny thing is if you serve your current audience really well they will engage MORE, share your account with their friends MORE, and Instagram's algorithm will see this and show your account to MORE of your audience creating a ripple effect. Inevitably it will lead to MORE followers.
Secret Tip* – I have found that the most productive way to do this is to slip into my followers' DMs. There are two simple ways that I go about doing this.
First I like to go into my stories and swipe up so that I can view the analytics for that story frame (*you need a business account in order to do this I believe). Once on the analytics, I click the little eyeball icon. This allows me to see who has viewed my story. From here I simply click on my viewers' live stories and watch them leaving a genuine comment before I head back to rinse & repeat with the rest of the viewers.
This is effective because when you comment on someone's story it shows up in their messages like a DM making it feel more personal than a comment on their feed.
The other thing I love to do is head to my recent post and click on the number of likes. This pops up a new screen that shows me who has liked my post. I do the same thing and scroll down the list clicking on any of the people who liked my post's live stories, leaving genuine comments on them.
This method has shown to not only increase my engagement but also increase my reach and followers recently too. You see Instagram loves when you are social on their platform and they reward that type of behavior by increasing your organic reach. BONUS– unlike the follow/ unfollow method this is a strategy that is not well known so it actually works great right now!
Plus, this method is also a great way to actually build relationships with your audience. See who they are, what they like/ dislike which enables you to better serve them in the future too!
2. Create
People LOVE to feel included and one way we can do this is by creating a unique hashtag that they can join us in using. I recently did this by creating the hashtag #stayhomecation. It's a play on staycation and staying safe at home due to the current climate here in America. So, basically ways to bring the vacation vibes home by reliving some of your favorite vacation memories at home.
To get things started I created my own posts around the #StayHomeCation theme and then I invited my audience to join me by posting their own versions. I told them I would be featuring some so they would be motivated to tag me (@global_munchkins) in their post and using the hashtag #stayhomecation. And, it WORKED!
Check out some of these adorable shares from my community??Feel free to join in on the fun for a possible feature (and exposure to over 120K engaged fans)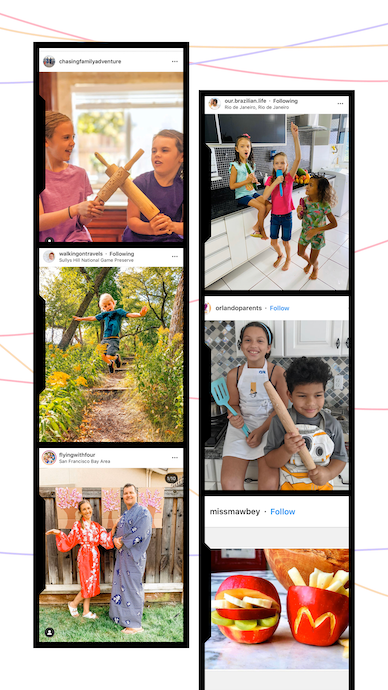 3 Share
You have to give in order to receive and one of my favorite ways to give back to the Instagram community is to share accounts I am loving.
I typically do this in my stories weekly and what I have noticed is Instagrammers love to reciprocate the love. The pay it forward mentality seems to boomerang right back and my account gets shared with like-minded audiences regularly since I have started doing this putting my account in front of tons of potential followers each week. It also leads to more collaborations with fellow Instagrammers which is a great lead in to my next hack.
4 Collaborate
One thing I LOVE about social media and really online business, in general, is that to survive & thrive we have to collaborate with our competition. It sounds counterintuitive I know but by teaming up with similar accounts you are able to tap into each other's audiences and grow which is mutually beneficial.
Some basic rules to follow when reaching out to collaborate:
Reach out to accounts that are in your same niche
It's best to reach out to accounts that have around the same number of followers
Look for accounts that have good engagement (read their comments, you can usually tell from there)
Think about reaching out to influencers with relevant niches right outside of yours.

For example, I am mostly a travel influencer however I often team with Disney influencers because so many of my best fans are Disney lovers.

Trying to break into a new niche, start adding this type of content to your Instagram. Slowly increase to 2 out of your 9 frames and then reach out to influencers in that new niche.
5 Schedule
This has been a total game-changer for me but it took me wayyyy to long to implement. Here's the thing TIME IS MONEY and if you are scheduling your Instagram feed in real-time you are wasting this valuable currency.
Not only does scheduling your Instagram feed in advance allow you to save time but it also allows you to put more thought behind your posts, ensure you have a proper CTA (call-to-action), and that you are sticking to your game plan of offering your readers VALUE in every post. These things don't just happen, they are strategically planned and that is what equals results.
I use Later currently and love it, but I have also used Tailwind and Plann in the past, there are so many options for scheduling tools out there. So, do your research and see which suits your personal needs best!
Having your posts scheduled also allows you to hop on right before your scheduled post appears and start warming up your audience (that's a whole different article I need to write). But, anyway it will help your post perform better because instead of posting and ghosting you will have the energy to stick around and engage with your community.
While none of these methods will get you thousands of followers overnight, they will over time create an engaged community that will be worth its effort- that I can guarantee!
What other topics would you like me to discuss?
Leave them in the comments below
??

or head over to Instagram and DM me.

*I set aside time each week to respond to these types of DMs and mentor follow Instagrammers 🙂

You may also enjoy these blog posts-
Latest posts by Mama Munchkin
(see all)