*This post is sponsored by Finish, however, all thoughts and opinions are my own*
When it comes to dishwashing most people don't think twice about it. They turn on their kitchen faucet, rinse off their dirty dishes from their dinner in the sink, and then pop them in the dishwasher to be fully cleaned. When the dishwasher is full they add dishwashing detergent and run their dishwasher. But, did you know that something in this process wastes an average of up to 20 gallons of water per load? Yikes!
The crazy thing is that with modern dishwashing detergent, like Finish Quantum, it's pre-rinsing that is a wasted step! That is why Finish launched its new initiative #SkipTheRinse which helps to educate and empower Americans to skip the rinse and help to save our precious water.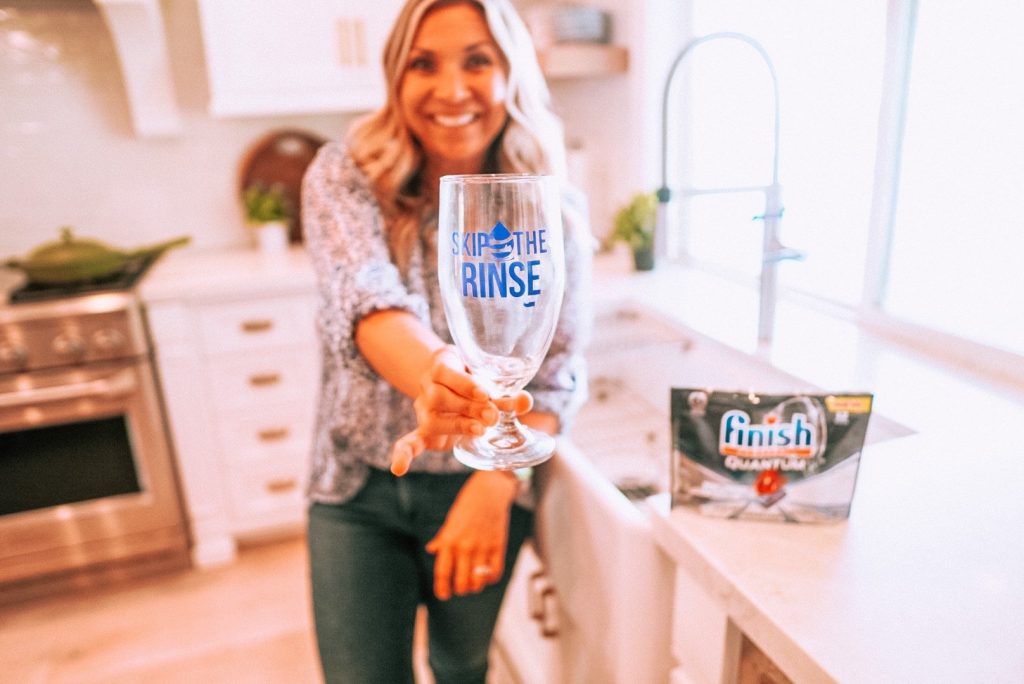 You can join me and pledge to #SkipTheRinse by clicking here. By teaming together Americans can help save up to 150 Billion gallons of water annually. That's B-I-L-L-I-O-N with a "B"!!!
When you make your pledge Finish will also donate $1 to The Nature Conservancy (with a minimum contribution promise of $100,000 and maximum of $400,000).
To help ensure your dishes remain sparkling without pre-rinsing them before loading into the dishwasher, I have shared some Dishwashing Etiquette Tips below. These tips have helped my family successfully ditch our pre-rinse routine.
Dishwashing Etiquette Tip #1- Scrape Your Dish
That's right – instead of rinsing your dish to remove food remnants, simply use a utensil or your napkin to scrape the dish into the trash can or compost bin. This one step alone will help save up to 20 gallons of water per load and save you money on your water bill too.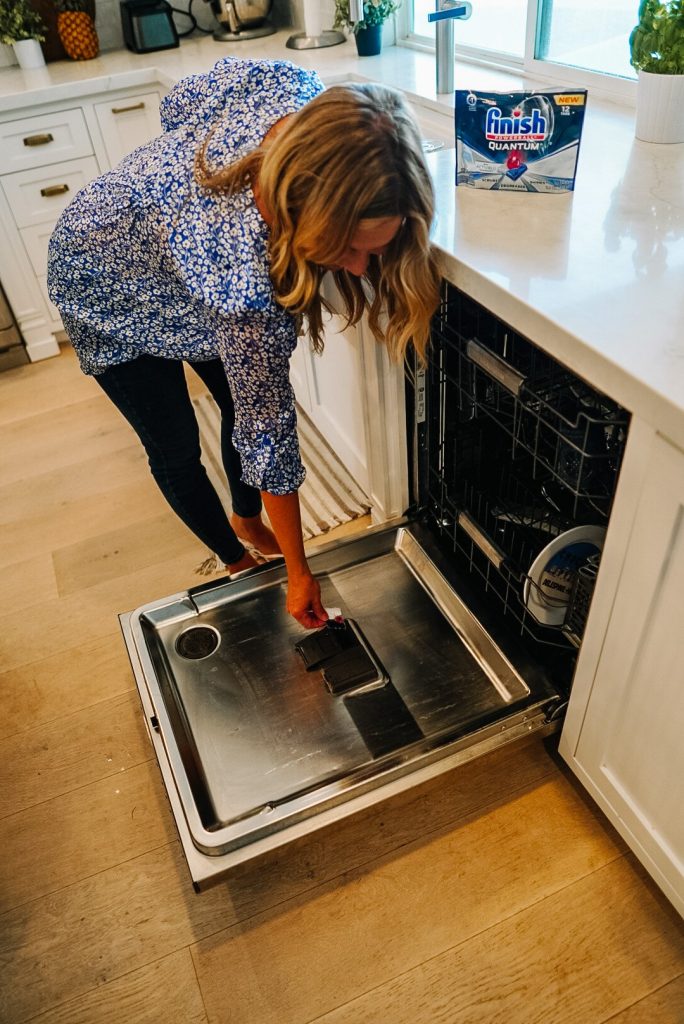 Dishwashing Etiquette Tip #2- Don't Overload Your Dishwasher
There is nothing worse than opening a clean dishwasher and having multiple items left dirty. This typically occurs when you improperly load your dishwasher, mainly when you overload it.
Dishwashing Etiquette Tip #3- Load Your Dishwasher Correctly
Beyond avoiding dishwasher overload there are also a few other tips I have when it comes to properly loading your dishwasher.
1) Place plastics on the top rack. The hottest part of the dishwasher is on the bottom so by placing plastics on the top rack you can avoid them from warping.
2) Messy Dishes go face down. Casserole pans, cookie sheets and anything else that is extra messy should be placed face down in your dishwasher. This allows the spray arms to effectively reach and clean them.
3) Load Utensils handle down. This ensures the dirtiest part of the utensil is cleaned properly. However, knives you still want to place the sharp edge down to avoid accidents from happening when you unload.
Join Me and Pledge to #SkipTheRinse Today!
You can learn more about Finish's #SkipTheRinse Initiative here plus check out the educational videos that they created with their partner National Geographic to learn where our water is going and how we can prevent a national water crisis.
---
You Might Also Enjoy:
This Dishwashing trick will save you water and time!
Our $100,000 Kitchen Transformation
Pin for Later: 3 Simple Dishwashing Etiquette Tips You NEED To Know