This is a sponsored post written by me on behalf of AXE®. All opinions are my own.
Back to school means back to sports for our family, and this year things are even busier than normal as our freshman has made his high school football team. What an adjustment! He starts school at 7:15 am and doesn't get home from practice until around 6 pm EVERY DAY!! As a mom, I worry about making sure he has the right fuel to feed his active body of course, but I also worry about other things like his hygiene. It is high school and while he mainly is focused on playing pranks, looking and smelling good is now an equally major part of his life (hallelujah). I partnered with AXE® to put together a list of gym bag essentials to keep young athletes at the top of their game. Check out the list below and stock up on the essentials your son needs.
7 Must Have Gym Bag Essentials Every Teen Boy Needs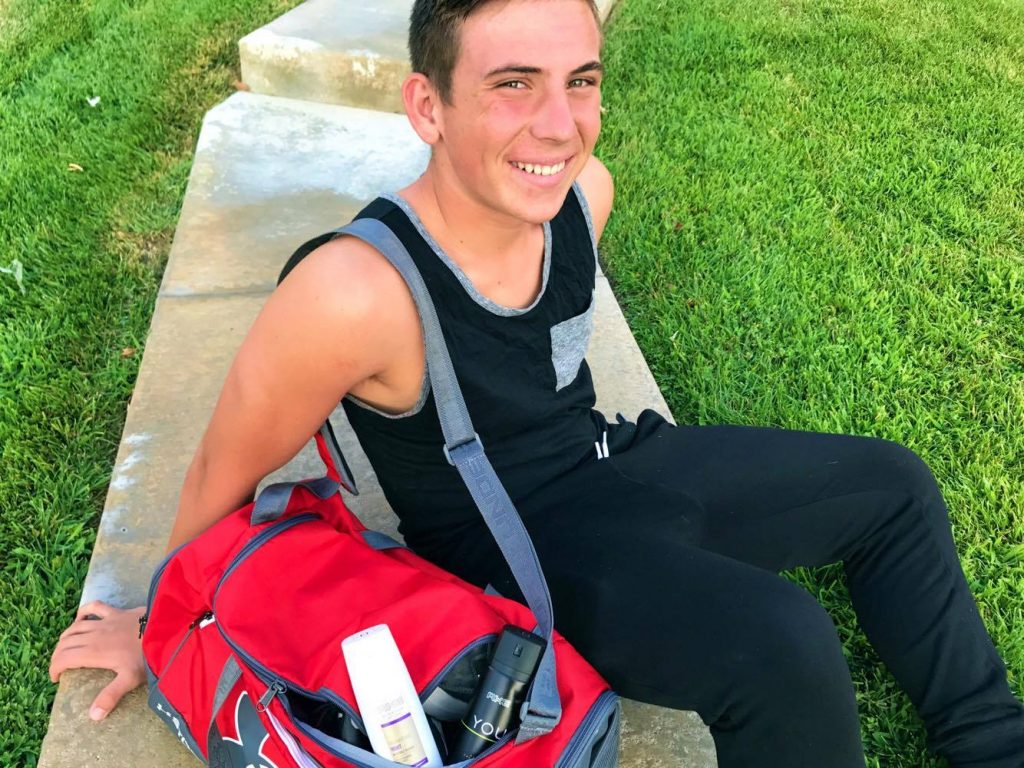 Make sure your teen athlete has everything they need to be game-ready by packing their gym bag with these essentials.
1 Sweat Towel
Germs and bacteria love to lurk around the gym. Having your son use a towel to wipe off his sweaty face and body versus him using his hands is one way to protect him from all the nasty germs. Just be sure you buy a few and have him swap out for a new one each day.
2 Water Bottle
Of course, we all know the importance of hydration. What I have found though, is the smaller the bottle of water, the less my son drinks. In order to make sure he is getting enough H20, I came up with a little trick. I buy him the BIGGEST water bottle I can find. Give it a try and see if it helps increase your son's water intake like it did mine.
3 High Protein Recovery Snack
My son leaves for school at 6:50 am and he doesn't get done with practice until after 5:30 pm. Keeping him fueled with wholesome natural (and organic when possible) food all day long isn't easy. Even though we pack a large lunch and snacks for the school day, he ends up burning so many calories on the field that it is important for him to have a recovery snack. Our go-to snacks have been chocolate milk, pretzel chips with hummus, peanut butter & jelly, tuna with saltines, or a high-quality organic protein bar.
4 AXE Signature Gold Dry Spray
Active teen boys are synonymous with the stench. It's the truth! To help my son keep the bad odors at bay, he has been using AXE Signature Gold Dry Spray. This spray helps him stay dry for up to 48 hours. He simply applies AXE dry spray antiperspirant under his arms before practice for sweat protection (in place of an antiperspirant stick). I also love their AXE Signature Night Dry Spray with white mark protection. It saves his shirts from those nasty yellow stains- woot! woot!
5 Face Wipes
Many teens face challenges when it comes to pimples and acne. To help my son keep his face clear from any impurities, I have him wipe off his face and body after practice (and before he gets home to shower). This simple step has really helped to keep his acne under control.
6 Muscle Rub
All that working out equals some pretty tired muscles. Packing muscle rub helps my son soothe his aches and pains pronto!
7 AXE YOU Body Spray
All that working out equals plenty of odors. In order to smell fresh all-day long, I pack my son the AXE YOU Body Spray. And, I make sure to remind him that to smell great, he simply applies AXE deodorant body spray in a "7" motion across his chest, and for only as long as it takes to say the word "AXE." Just a quick spray like that does the trick.
BONUS: Teach Your Son the Proper Technique for Body Spray Application
Teens are in the awkward stage where they are trying to learn all sorts of things from shaving their faces to how to properly apply colognes and body sprays. Don't leave your son out in the dust to figure it out on his own. Take a few minutes to talk to him about the proper application.
Did you know?
Most guys don't know how or when to use AXE body and dry sprays.

64% of young guys think body spray and dry spray are the same things*

1 in 2 guys think that they should apply body spray to their underarms* (it goes on their chest, not underarms FYI)
*Ipsos Body Spray Drivers and Barriers, 2017 or Ipsos, 2017
Check out this video with your teen to learn how to properly apply both AXE Body Spray and Dry Spray- http://bit.ly/2vra0KY
To learn more about AXE and the proper usage of its products, visit axe.com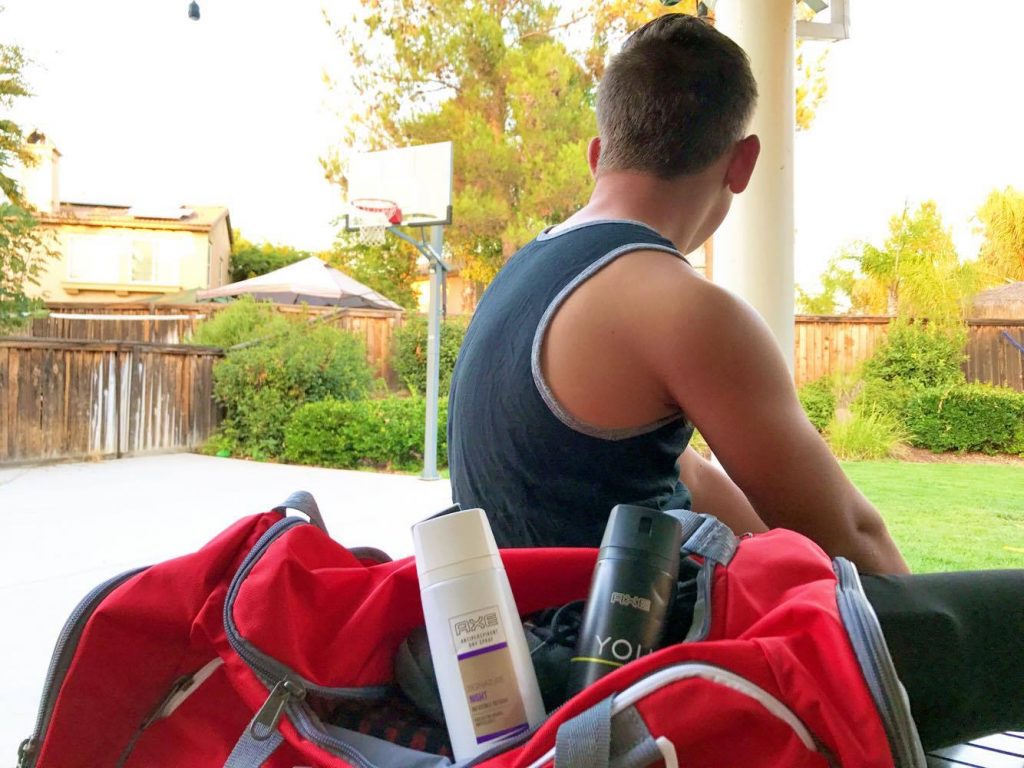 Do you have an active teen boy?
Share your tips on keeping them healthy and smelling good below.
*This is a sponsored post written by me on behalf of AXE. All thoughts and opinions expressed, as always, are 100% my own. *Ipsos Body Spray Drivers and Barriers, 2017 or Ipsos, 2017.