Sponsored by Michael Angelo's
This is a sponsored conversation written by me on behalf of Michael Angelo's. The opinions and text are all mine.

After school snacks have become of utmost importance in my home now that we have 4 growing (and always hungry) teens and tweens in the house. They arrive home from school as if they have never eaten before. So, in order to make sure no one gets hangry I like to have after-school snacks waiting and ready for them as soon as they walk through the door. Recently, I came across Michael Angelo's brand of frozen Italian food. They have a wide variety of wholesome Italian dishes but the kids especially love their new calzones.
Quick & Easy After School Snacks for Hungry Teens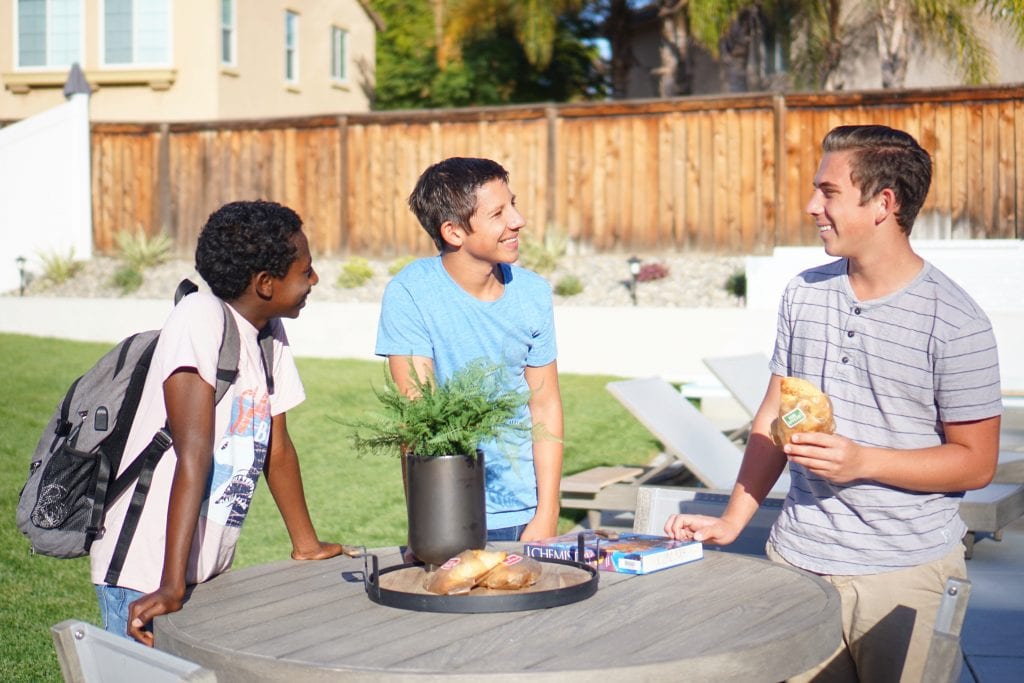 After School Snacks Made with Wholesome Ingredients
Raising healthy happy kids is at the top of my priority list, as it is with all mothers, which is why I am always conscious of the food that I buy. I have learned over the years to always check the ingredient list before popping something into my cart- it's crazy some of the things they will sneak in there.
I was pleasantly surprised to find that Michael Angelo's frozen foods contain no fillers, preservatives, or artificial flavors, or colors. Instead I found real quality wholesome ingredients including uncured pepperoni with no added nitrates or nitrites (except those naturally occurring in sea salt), wheat flour, and marinara sauce made the way your grandmother would make it with whole tomatoes, onion, olive oil, salt, garlic, basil, black pepper, and oregano.
Check out what Michael Angelo's has to say about their ingredients:
Vine-Ripened Tomato Marinara:

Our marinara sauces come together with vine-ripened tomatoes, olive oil, chopped onions, and garlic.

Delicious Artisan Cheeses:

Each Calzone features Parmesan that adds a sharp, crisp flavor and Mozzarella that delivers a melt-in-your-mouth texture.

Dough

: Simple and wholesome are what we live and cook by, which is why the dough for our Calzones are made with kitchen-friendly ingredients: yeast, flour, water, salt, olive oil & sugar.

Nitrate-Free Meats

: The pepperoni, sausage, and bacon found in our Calzones are free from nitrates or nitrites, ensuring you're left with quality ingredients you can trust.
After School Snacks Made by a Fellow Mom
I should have known when I looked at the ingredient list that Michael Angelo's was started by a fellow mother. Sara Agnello. She started packaging her delicious, home-cooked meals (ones that she served her own children) so that busy families could enjoy a convenient meal at home back in the '80s.
The recipes were ones passed down in her family from her Nonna Foti who made them in her own kitchen in Sicily over 100 years ago. Michael Angelo's prides themselves on using the same simple, wholesome ingredients that her Nonna would have. They hand-pick them, dice them up, stir, and simmer them with the same passion Nonna had which helps bring out the very best flavor.
Super Simple After School Snacks
With our hectic schedule, Michael Angelo's Calzones have been a huge hit not only because they are so tasty (and filling) but also because they are super easy to make too!
All you have to do is bake them and serve. You can also microwave them if you are super short on time, but you miss out on that homemade taste.
The calzones have also been great to eat on the go. Sometimes my boys have practice right after school and they need something that they can literally walk in the house, grab, and hop back in the car. On those days I simply bake the calzones and wrap them in foil. It works out perfectly, and it gives them the energy they need to power through their practices.
The calzones are available in several delicious flavors. Camden loves the Pepperoni while Shea and Owen prefer the Primo Supreme (both made with uncured meats with no added nitrates or nitrites). Ella and Olivia like theirs' a little more basic so they stick with the Four Cheese variety.
Michael Angelo's new calzones are delicious, convenient and affordable too! In fact, you get two delicious calzones for just $4.49 (SRP). Now that's a great deal!
You can find Michael Angelo's products near you by visiting the "Store Finder" on the Michael Angelo's website.
What are some of your kids' favorite after-school snacks?
Latest posts by Mama Munchkin
(see all)