"This post is sponsored by the American Cancer Society; however, all thoughts and opinions are my own."
One of the most influential people in my life was my Grandfather whom cancer sadly stole from me more than 16 years ago. His influence and love are something that is still prevalent in my life today and I am so excited to have found a way to celebrate his life through American Cancer Society's (ACS) Raise Your Way platform. Learn how I am helping to raise funds for ACS turning my own passion into purpose, plus learn 3 simple ways you can do the same.
3 Super Simple Ways to Turn Your Passion Into Purpose
Losing my grandfather to cancer was a very difficult period in my life. I had just given birth to my first son in November and I so badly wanted him to get to know the person who had such a major impact on my life, but unfortunately, my Grandfather lost his battle to cancer right after Christmas.
Over the years I have come to know many other friends who've lost loved ones to cancer and I have been fortunate to meet some amazing survivors as well. I have felt helpless against the cause. Cancer can be such a thief, but thankfully I found out about the American Cancer Society (ACS) and their dedication to fighting for a world free from cancer.
The American Cancer Society does this by attacking cancer from every angle including raising funds for research, treatment, and programs & services.
Personally, I love that they not only help patients and their families who are currently battling cancer but that ACS also celebrates lives as well. Pretty awesome, right? Lives like my amazing grandfather who sadly passed away from colon cancer.
What's even more awesome is that WE can help! With American Cancer Society's Raise Your Way fundraising platform, you can turn any activity you're passionate about into a fundraiser — however, wherever, whenever you want.
Fundraising with Raise Your Way
You can raise money for the American Cancer Society while doing something you love. Here are some tips to get started as well as some fundraising ideas.
How to Get Started with Raise Your Way from American Cancer Society
Follow the prompts to "Start a Fundraiser"

Choose where you'd like your donations to go.

Create a crowdrise account with Facebook, or manually through form entry.

Continue prompts to name your fundraiser and set a goal!

Be sure to share your fundraiser on social.
A Few Super Easy & Fun Fundraising Ideas
Not sure what kind of a fundraiser you want to do? No worries, I have put together a few that I think you will love. Just remember, these are just a sample of options to help inspire you. With Raise Your Way your fundraising options are really only limited by your own creativity. Enjoy racing? You can dedicate a race to fund ACS. Love your Cycle Class? How about hosting a group class to benefit the American Cancer Society. Not sure what to ask for this year for your birthday? How about donations to ACS? See, the options are endless!
1 Throw a Backyard BBQ (Like Me)
If you follow me on Instagram you know that we recently completed a major backyard renovation with a pool, outdoor kitchen, and gorgeous sport court. As you can imagine our friends and family are eager to come over and hang out. What better way to kick off this beautiful backyard than by hosting a Backyard BBQ in my Grandfather's honor.
Without his inspiration and lessons in business and sales as a child, I never would have reached the success that I have today. So, I am super excited to dedicate a Backyard BBQ all to him using the Memorial Giving option on Raise Your Way.
Setting up this fundraiser has been a breeze. I simply followed the instructions I shared above to set up my crowdrise account with Facebook and followed the prompts to name my fundraiser and set my goal. I added my story, some photos and started sharing it on social media. Bam! That's pretty much it.
Now I get to put together my BBQ. I love to host, so this is the easy part to me. To keep things simple we will be serving burgers and hot dogs with the typical accompaniments. I live in SoCal so, of course, there will be chips and plenty of guacamole to go around as well as drinks to make sure everyone stays hydrated.
What I am most excited about is playing a slideshow of photos along with personal memories from family and friends about my Grandpa. I think it will be the perfect way to celebrate his life and remember him on this special day.
We get to do all of this while raising money to fight cancer thanks to American Cancer Society.
2 Host a Bake Sale
Aside from hosting a BBQ, another fun idea I had was to host a bake sale. Ella and I are no stranger to those and with her famous homemade macarons, I know it would be a big hit.
All you would need to do is set up your crowdrise account as we mentioned above and then follow the prompts to set up your Fundraiser. It's so easy!
Instead of taking payment in cash for your baked goods you would accept donations through your American Cancer Society Raise Your Way Fundraising Page.
3 Paint for a Cause
Don't feel like hosting or laboring over the stove for hours? How about hosting a fundraiser to benefit ACS at your local painted pottery store? Many offer group parties and you may be able to work in a discounted rate if you can guarantee a certain number in attendance.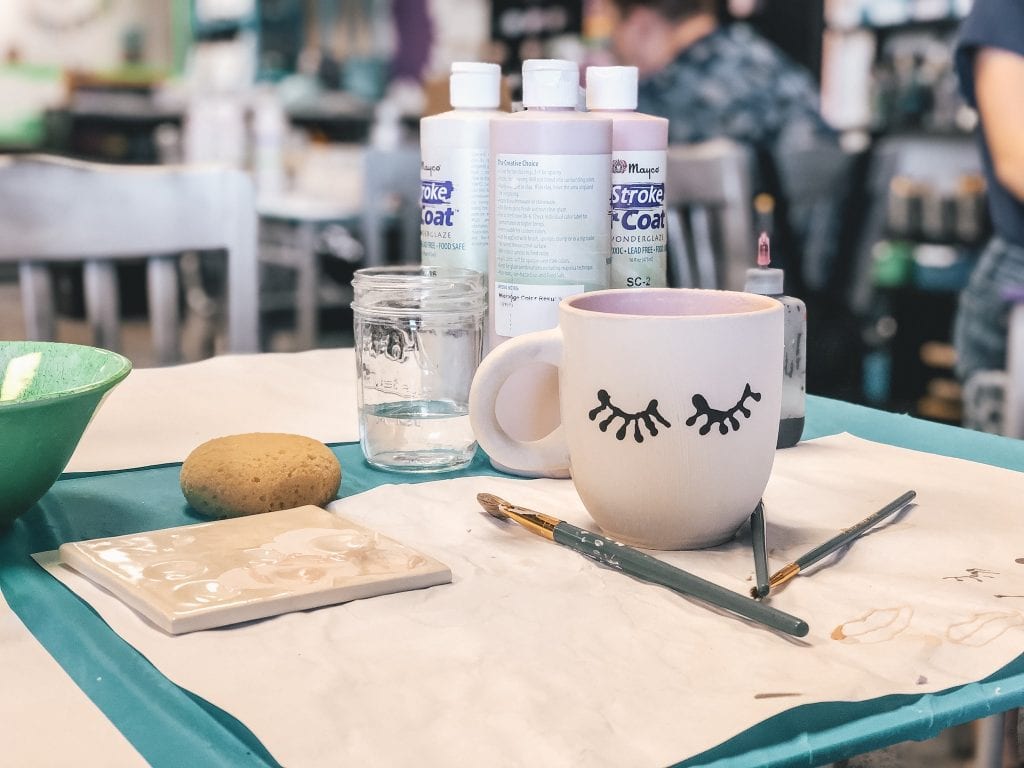 Next, you would set up your Fundraiser as we have talked about above and through your fundraising page friends and family would pay a cover charge to attend the fun class.
As you can see there are so many amazing ways to raise money for American Cancer Society helping you to turn your passion into a purpose.
What creative idea do you have to raise money your way?
Looking for help or support in CA?
American Cancer Society has a local offices and resources available to help. Learn more here.