Thank you Onelink by First Alert for sponsoring this post. Add smart protection to your home with the Onelink Smart Smoke & Carbon Monoxide Alarm. I hope you enjoy this Annual Home Safety Checklist.
Annual Home Safety Checklist + Why You NEED a Onelink Smart Smoke & Carbon Monoxide Alarm
I think every parent would agree that safety is a top concern, but sometimes we get so busy with school drop-offs and pickups, homework, and chores etc… we forget that some of the biggest dangers might be in our own homes.
I came across an article online a few years ago about a family who tragically passed away due to a carbon monoxide leak and it prompted me to do a better job at maintaining a safe home. I researched a ton and came up with my own annual home safety checklist and today I am excited to share it with you.
How to Use My Annual Home Safety Checklist
I am definitely no safety expert, just a mom trying to keep my kids safe and sharing the information with you. So, please understand that as you go through my list. This is meant to serve as a guide. Should you have questions make sure you contact a professional. Okay, with that disclaimer out of our way let's move onto the annual home safety checklist that I use in my home.
I have included a FREE printable of my Annual Home Safety Checklist at the bottom of this post so that you can print it and check off items as you move through your home just as I do.
Fire, Gas & Electrical Annual Home Safety Checklist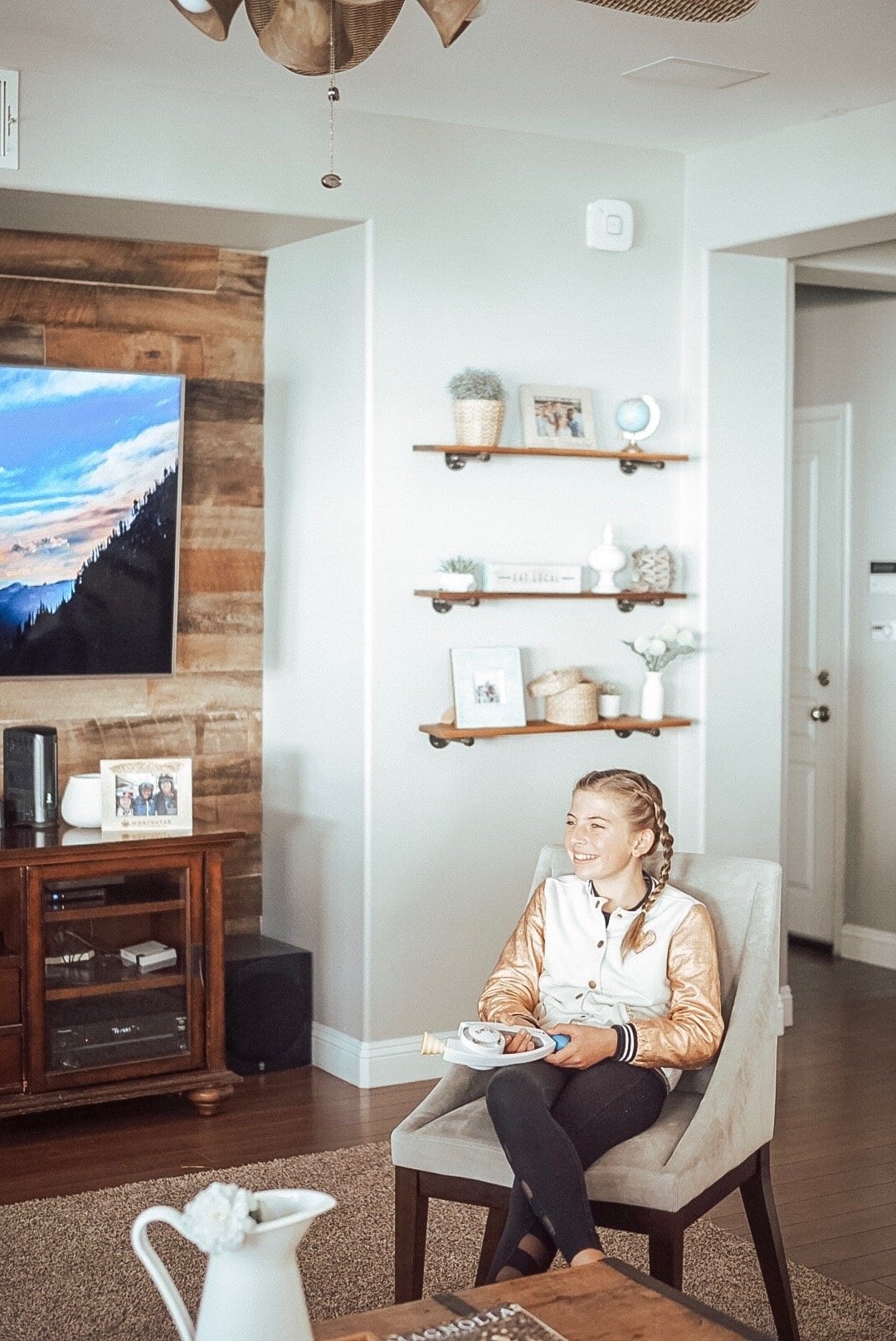 Install smoke detectors & carbon monoxide detectors where recommended. *Make sure to test them (as recommended too)
Check expiration dates and inspect fire extinguishers and refresh your memory on how to use them.
Sign up for weather emergency alerts. Typically, available from local weather stations.
Check to make sure your disaster kit is up to date and fully stocked.
Refresh the family on your fire escape plan by practicing it.
Make sure to have an escape ladder for any window or balcony that is above ground level.
Make sure fire starter items are stored in a safe place & away from any open flame (candles, matches, lighters etc…)
Check to make sure you have enough flashlights located around the house. Also be sure to check batteries and make sure they are all functioning.
Check all electrical sources to ensure none are in need of repairs.
Check all cords and wiring for damage and repair them immediately if needed.
If you have children be sure to use child safety products like outlet covers and cabinet door locks. *Make sure chemicals are stored safely and remember not to mix them.
Lock valuables in a fireproof/ waterproof safe.
Make sure to have gas & electrical appliances inspected as the manufacturer recommends.
Gas Leak Warning Steps
If you smell something you think might be gas (smells similar to rotten eggs) do NOT turn anything on or off that has a power source. Leave your home immediately and call 9-1-1 using an outside phone.
Why We Trust our Home to the Onelink Smart Smoke & Carbon Monoxide Alarm
Life gets busy so I am always a big fan of products that are multi-taskers like myself. The Onelink Smart Smoke & Carbon Monoxide Alarm protects families against both the danger of a fire and carbon monoxide poisoning. And, it doesn't stop there the Onelink alarm also is equipped to notify users of a threat via their exclusive voice and location technology. It will even send an alert to your smartphone in the event of an emergency that lets you know what the threat is and where. That's pretty awesome!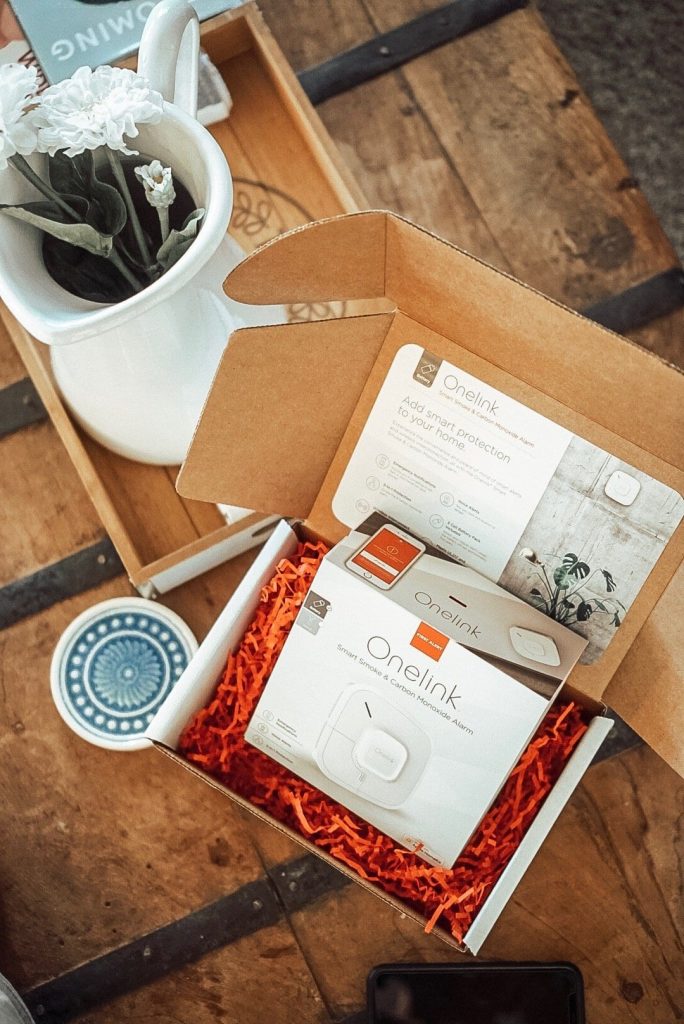 Now my husband and I are not the handiest of people so when I say install is easy I really mean it! The Onelink Smart Smoke & Carbon Monoxide Alarm comes in both hardwired and battery-powered options. The hardwired version, which takes advantage of a home's existing wiring, is also equipped with battery back-up for protection during power outages. We went with the battery-powered option and it states that with regular use the battery should last about 5 years.
The Onelink Smart Smoke & Carbon Monoxide Alarm also meets standards for smoke and CO alarms (Meets UL217 and UL2034) so you can feel good about keeping your little ones safe.
General Inspections- Annual Home Safety Checklist
Check home for corded window coverings. These are a potential choking hazard. Either swap for cordless versions or make sure to secure cords so they are out of reach for children.
Make sure your water heater is set to a maximum of 120 degrees to prevent burns. *Make sure that there are no flammable or combustible materials being stored near your water heater. This includes household chemicals and aerosol cans.
Make sure you have Emergency Numbers posted in a place that is easily accessible and, make sure every member of the family knows where they are. *Your list should include 9-1-1, local fire & police, & the free poison helpline 1-800-222-1222.
Write clear instructions for other caregivers about what medicine to give children when to give it and how much to give.
Make sure all chemicals are properly stored and out of reach of children.
Outlet safety- go around the home and place your hand on each of the outlets. If they are warm call an electrician and have them professionally inspected immediately.
Do a walk around both on the interior and exterior of your home looking for any frayed wires, anything is broken or in need of repair. Make a list and begin working on repairs starting with the ones that pose the biggest safety risk first.
Check all tv wall mounts and make sure they are in good condition.
Make sure dressers are secured to the wall so they don't pose a threat of tipping over on a child.
Check kids' toys to ensure any broken toys or toys that pose a choking hazard are disposed of.
Do you check your home for safety hazards annually?
Don't forget to print off my Annual Home Safety Checklist