Back to School Fashion + Big Savings + the Ability to Help the Planet. That is exactly what you get this fall at H&M and I am thrilled to tell you guys all about it. As many of you know we are HUGE fans of lessening our personal impact on our planet. We have shared the importance of sustainable travel, taken you behind the scenes of co-ops in Ethiopia and explored the personal connection we have with companies that give back. So, when we heard about H&M's Garment Collecting Initiative, we jumped at the chance to share it with you! Read on to learn how you can SAVE 15% OFF Your Back to School Purchase & Protect Our Natural Resources.
Save on Back to School Fashion + Help Save the Planet with H&M this Fall 
Each year our landfills are filled with tons of clothes and textiles, but as much as 95% of it could be used again. H&M decided to do something about it so they started their H&M garment collecting initiative. It is their way of closing the fashion loop and decreasing the waste. How? It's simple, bring your old textiles back to any H&M store, regardless of the brand, and in any condition. Your old clothes we get a whole new life either by being reused or recycled and YOU will get a 15% OFF coupon to thank you for your participation. And, from 8/3-8/20, for every bag of unwanted clothing turned in, H&M will give TWO 15% off coupons!
[bctt tweet="Give your old clothes a whole new life and SAVE 15% OFF at H&M this fall." username="globalmunchkins"]
Back to School Fashion
We love the adorable fall looks H&M has to help your little munchkins rock their personal style on campus. Get your kiddos excited about heading back to school with fashionable hoodies, cozy basics, and a bit of flair- seriously, how adorable are Ella's gold sneakers?
I love finding mix & match pieces at H&M that help expand the number of outfits my kids have in their closets. It's fashionable while still being affordable which makes this mama super happy.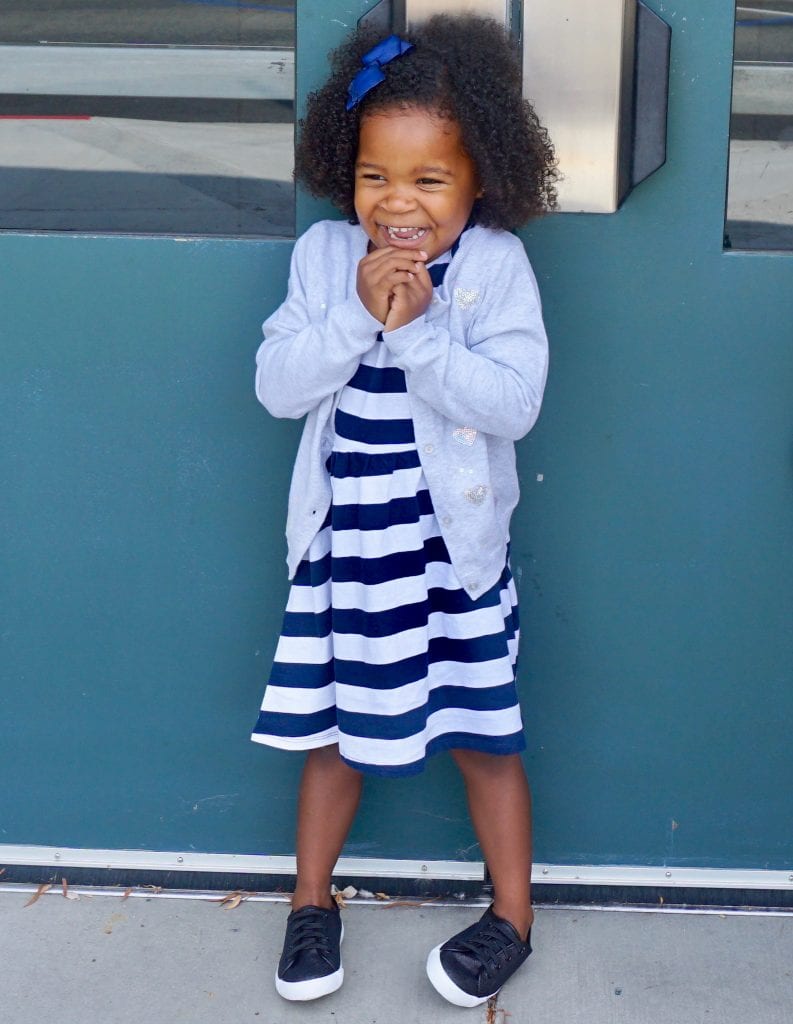 Of course we all know that shoes can make an outfit and H&M delivers there too with adorable and comfy sneakers that glitter and shine!!!
I also love the details like the statement on Ella's purple denim skirt. It serves as a good reminder to spread positivity on the playground.
It's fun to shop for all the statement pieces but I always try to build my kids wardrobes around a few solid basics as well. The boys loved the cozy joggers and hoodies they found at H&M.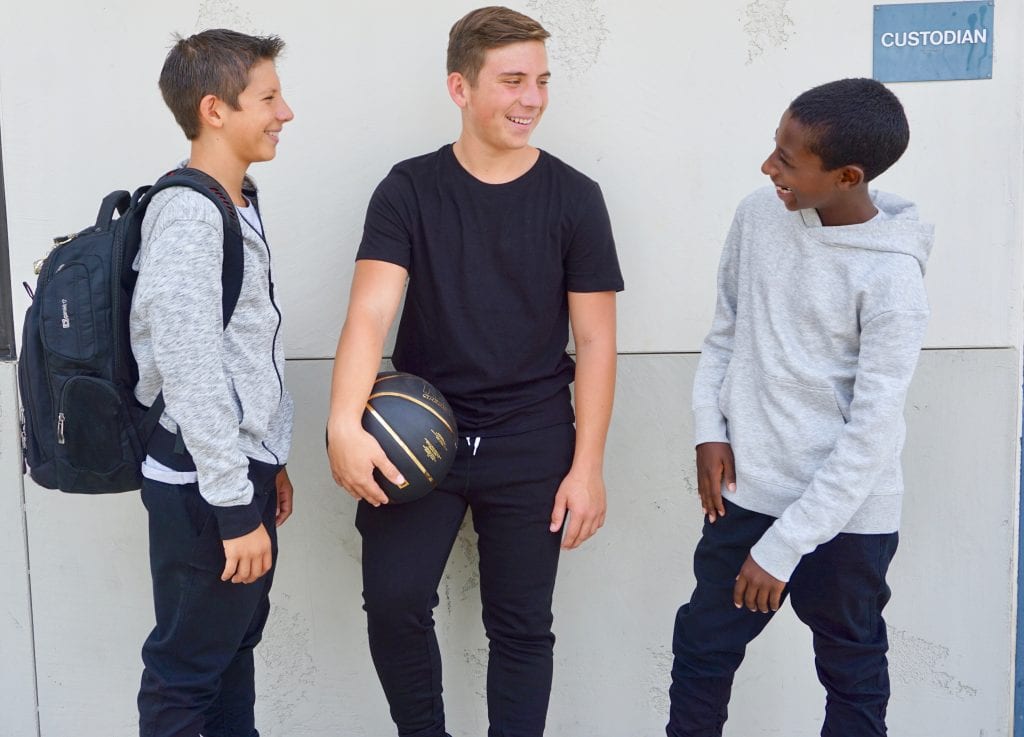 Liv is super excited about starting pre-school this year and so I have been on the search for clothing that is easy for her to pull on & off all by herself. I loved this sweet striped dress. It is super cute and totally functional.
Another thing I LOVE about H&M is the fact that regardless of your kid's sense of style (surfer, hipster, athlete, trendsetter) they can always find something they like. My kids are like chameleons and tend to vary their sense of fashion depending on the day so I like to buy a few pieces in each section to give them enough options to feel comfortable no matter what mood they are in.
On Camden:
On Owen:
On Shea:
On Ella:
On Olivia:
More About H&M's Garment Collecting Initiative
H&M cares about the environmental impact the fashion industry has on our natural resources. So, in 2013 they began a garment collecting initiative. It is a simple and effective way to help protect our planet. Check out the video below as Ella explains what H&M's garment collecting initiative means to her.
And you can learn more about it and how you can get involved by visiting their website.
*This is a sponsored post on behalf of H&M. All thoughts and opinions expressed above are, as always, 100% my own. Thank you for supporting Global Munchkins.