*This post is in partnership with OshKosh B'gosh, however, my love for OshKosh started back when I was a child.
As a mom, there is nothing better than watching your child shine their own brilliance on the world. So, when back to school jitters start to creep in I like to help boost my kids' confidence by starting the day with a positive affirmation, helping them take charge of their style so they can own it, and I make sure to help them practice positive conversation starters to help them make new friends too! Grab all of my tips below.
Boost Your Kid's Confidence With These Back To School Tips
Shop Liv's shirt, jeans, and hair accessories
1 Start the day with a positive affirmation
I have found great success in teaching my kids how to use positive affirmations. It is something I learned years ago when I began my career in sales. It helped me a ton back in my day, so several years ago I began using them with my children.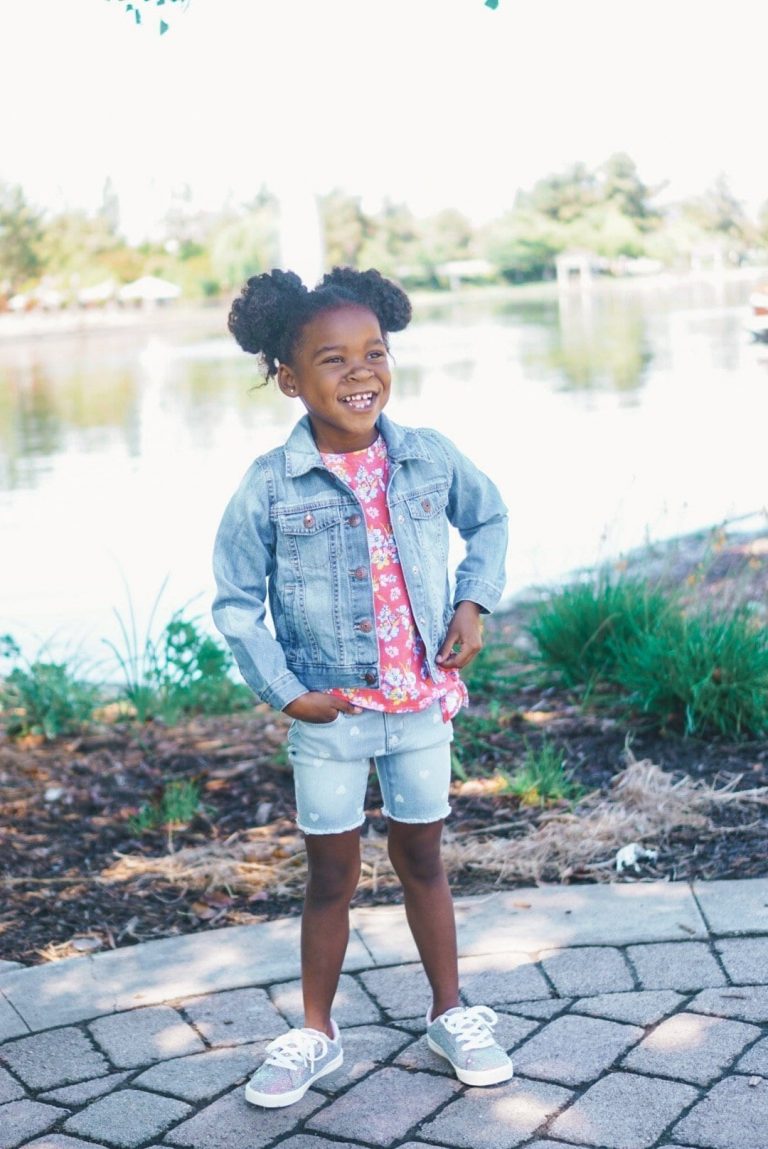 Shop Liv's shirt, jean shorts, shoes, and jean jacket
Here are a few to try with your kids today:
I am loved.

I am kind.

I can do HARD things.

I am a helpful friend.

My curiosity helps me learn new things.

I have many friends who love me.

I get better every single day.

I love _________ about myself.

I learn from my mistakes.

I choose my own attitude.

Today I am a leader.

My positive thoughts create positive feelings.

I am choosing to have an amazing day.
2 Let Kids Take Charge Of Their Style
Kids amaze me, especially when it comes to their sense of style. They can rock almost any look with their natural-born confidence. Ask any mom who has had a little one obsesses with pink cowboy boots or wearing PJs in public. If only we had some of that confidence as adults- ha!
Shop Liv's shirt, jean shorts, and jean jacket
Truth is the sooner you learn to embrace your child's sense of style the better. I have learned over the years that if your kids don't like what you chose or they deem it as uncomfortable they are NOT going to wear it.
So, save yourself some time and money and head into OshKosh B'gosh. Why? Because OshKosh has kids' clothes in sizes 3 months to 14 years and their clothing makes both parents and kids happy!
Shop Liv's shirt, jeans, shoes, and hair accessories
You see, OshKosh offers a bunch of super cute styles that are as cozy as they are adorable! Think bright colors, fun patterns, plus the latest trends like flip sequins and unicorns. I love their positive messaging and fun graphics too!
Plus, OshKosh B'gosh clothing is made with great quality fabrics so they are incredibly durable and can easily be passed down which is perfect for big families like mine.
Shop Liv's shirt, jean shorts, and jean jacket
When I took Liv shopping to find her first-day look she gravitated immediately towards this adorable flip-sequin tee. She said it made her feel cool like a cat and that she loved being able to change the colors of the cat by flipping the sequins.
I gave her a few choices of jeans, OshKosh has some super cute printed jeggings this season, and she chose the ones with butterflies because butterflies make her happy. I love how kids focus on simple things like what brings them joy. Livvy rocking her outfit in style and gearing up to shine in her classroom is definitely joy-worthy to me.
Shop Liv's shirt, jeans, shoes, and hair accessories
Oh, and did I mention OshKosh is a one shop stop? Not only do they have a wide range of sizes but they also carry shoes, underwear, pajamas, swim, and so much more!!
3 Practice conversation starters with your kids
We changed schools last year, so for the first time since kindergarten each of my five kids was the "new kid". Before they started their new schools another mom, one with more practice at moves being a military wife, told me that it would be a good idea to role-play how to make friends with my kids.
Shop Liv's shirt, jean shorts, and jean jacket
It was one of the things that I think helped smooth over the rough transition last year so I thought I would share some of these simple conversation starters with you.
Positive Conversation Starters
My name is __________, what is your name.

When is your birthday?

What is your favorite part of the school day?

What is your favorite sport?

What is your favorite movie of all time?

Who is your teacher this year?

What is your favorite thing to do at recess?

What is your favorite school lunch?

Do you own any pets?
Giving your kids a few conversation starters and practicing by role-playing with them can be incredibly helpful and it just might give your kids the added boost of courage they need to make a new friend.
Use this coupon to save both in-store & online at OshKosh!!
What are some of your best back to school tips?
Most of the best information I have learned has come from other moms.
Let's start a conversation in the comments and help more moms prepare their kids for back to school.
Latest posts by Mama Munchkin
(see all)