Resort style living, it's the feeling of being at a resort, without leaving your home. Being frequent travelers to some of the most luxurious destinations in the world we have learned a few things about Resort Style Living, things we wanted to bring home when we renovated our backyard a few years ago. Yes, this post is completely overdue. But, the backyard is done and we couldn't be happier with the results.
5 Steps To The Perfect Resort Style Living Space In Your Backyard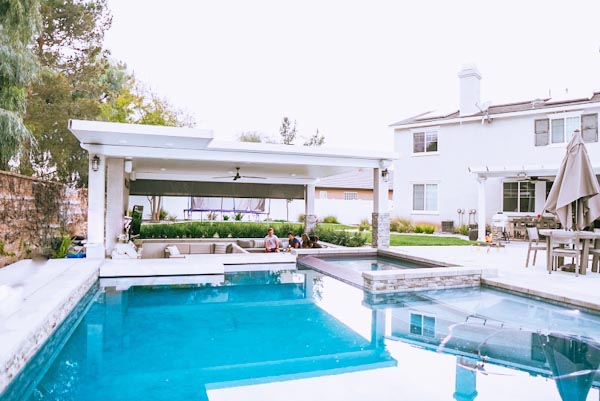 Honestly, construction is a lot of work and I am not talking physical labor. I am referring to all of the decision making you have to do if you truly want your project to turn out like the vision you have in your dreams. That said there are a few things I think you should do before you actually break ground or put down any money.
Know Your Goal And Start There
Do you love to entertain? You will want to make sure you have plenty of seating areas and places for people to gather together. Are you a chef or master griller? You will want to budget in for an outdoor kitchen or grill.
Having an idea of the things that are most important to you personally will help your project come to life in a way that is tailored exactly to your taste.
We are fortunate enough to have experienced many resort style pools through our travels and so…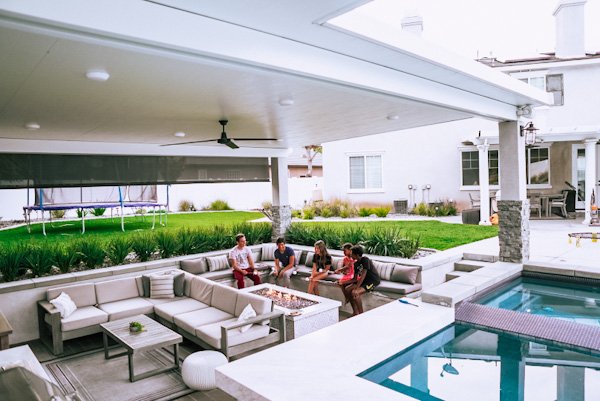 When it came down to our backyard a few things were certain:
We wanted a large enough jacuzzi that all 7 of us + more could enjoy together.
We wanted a covered area where we could all sit and relax. The idea of watching movies from the pool or in the backyard seemed dreamy!
We knew a pool basketball hoop was a must with the number of kids we have.
We wanted to have a waterfall not only for the aesthetics but for the soothing sound as well.
And, we wanted a firepit to make s'mores.
Pinterest and Insta Are Your Best Friend
When it comes to designing the perfect resort-style living backyard experience don't go wasting your time re-inventing the wheel. Instead, head to your favorite resorts' web pages and start pinning. I had a Pinterest Pool Board where I kept all of the best ideas I could find online. See my board here.
Aside from checking out amazing resorts try searching directly on Pinterest for ideas as well. Resort Style Living is a newer trend that is catching on so you might be able to find some really great options. Of course, searching online for blogs like this always helps too!
We were able to come up with a really unique pool design that included a sunken outdoor kitchen and living space thanks to all of the ideas we pieced together through the inspiration we gathered online. Here is one of the initial renderings of our pool.
Consider Functionality Upfront
Something I am happy I learned from friends who had already built pools and backyard spaces are to consider the functionality of everything before you start building.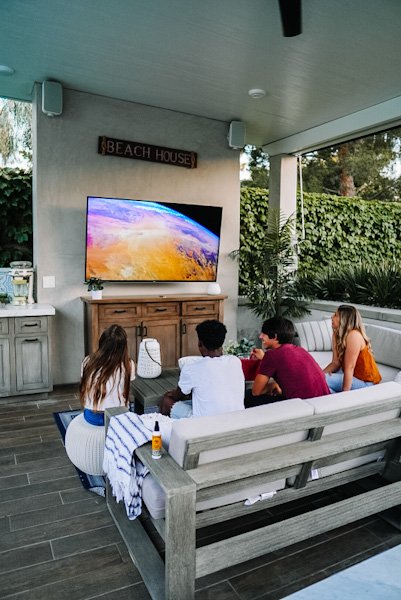 You will want to consider tv height, the addition of outdoor speakers (something we hadn't budgeted for initially but was necessary when the spa is on), depth of the pool (are you diving into it?), Baja shelf, umbrella holes, pool barstools (wish we hadn't paid for these, we never use them), etc…
Interview Multiple Contractors
When it comes to building a pool almost every one who has done it will have a horror story. Not to scare you but pool contractors as a whole do not have the best reputation.
So, interview the best ones you can find and any that come with good referrals from folks you know and trust.
Here are a few questions you will want to be sure and ask:
How many years have you been in business? Under the present name and owners?
Have you, your partners, the owners ever declared bankruptcy or gone out of business?
Can you give me the names and numbers of at least two suppliers with whom you've done business with for 2+ years?
Can you give me a list of references of past clients?
Will my checks be made to a business account or personal?
Do you have workman's compensation and general liability insurance?
How many similar home projects have you done that would qualify you to build my pool?
Is all necessary work for the pool included in the contract? (make sure you go over everything you discuss in writing)
Will you furnish lien waivers from vendors and subcontractors to prove they've been paid? Critically important!
Don't Skimp On Furnishings
Before you go and spend ALLLL of your dough on your pool, make sure you price out furniture. Resort-style living really comes together when you are able to complete the look with beautiful high-quality furnishings and decor.

One reason this post took awhile to complete is we spent a lot of our budget on the actual build and main furniture pieces and did not have enough in the budget to finish decorating. In hindsight, I might have spent less on the actual build and had budget available to decorate.
Keep Constant Communication Flowing With Your Contractor
We have completed several major home renovations as well as a couple of minor ones and I have learned to expect hiccups along the way. One way to avoid errors is to keep open lines of communication with your contractors.
What this looks like in real life:
Meet with your contractor to go over everything they will be working on at each phase level before they begin. Review specifics, bring out your inspirational board/ Pinterest images, and make sure you are on the same page.
While your contractors are working check in every once in a while. Don't wait until they've left for the day. It is much better to catch something early on, rather than have them waste their time only to pull something out and re-do it later. Plus, it's more cost-effective too bc you will have less wasted time and supplies.
When something does go wrong don't be afraid to SPEAK UP! That doesn't mean chew someone out it just means don't be afraid to have a conversation. What you don't want is to end up with a finished product that you are not happy with.
I also recommend a walk-through with your general contractor after each phase. Be upfront that you would like this so that they are able to work it into their schedule. I have found it helps things run smoothly.
If you follow these steps you should end up with the resort style living backyard oasis of your dreams.
---
Here are a few of the Resort-Style Living Pieces We Have And Love

The Pool Float I Am Obsessed With!
I have been on the search for the perfect pool float, mainly bc I am six months pregnant and it is currently May as I am writing this so my whole third trimester will be spent in our pool because Southern California is HOT in the summertime- ha! But, seriously I finally found the BEST FLOAT EVER! It is called the Santorini Lounger (mine is in the Oyster color) and it is from waholife. They actually gave me a coupon code valid for 25% OFF just use code Amber25 when you order yours.
I love that this float goes from pool float to poolside lounge chair. It is extremely comfortable and supportive as well. It is made with some sort of bean bag material in the inside so you are able to form it specific to your needs. And, it is made with Sunbrella material which in my experience is one of the best outdoor fabrics that you can buy.
Do you have questions or need more info about products? Just head over to my Instagram and drop me a DM, I am always happy to chat!