The Holidays are here and it's off to the races where shopping is concerned. You don't want to forget about the most important person on your list, mom. Moms are the unsung heroes of the Holiday season, making sure every detail of magic and cheer are perfect for their families.
They may as well add Santa's Helper to their already long list of "job" duties. For these reasons, and so many more, the moms in your life deserve an amazing gift this season. From shoes to home decor, we've got something for every mom on your list.
Best Gifts for Mom this Holiday Season
For the Home and Kitchen
Gift mom with one of these beautifully crafted cutting boards this season. Made from vintage reclaimed cheese aging platters, these rustic and solid boards make a great base for a pizza, charcuterie, or freshly baked bread. The mom in your life will surely get a lot of use from this gift, and she will think of you each and every time.
---
If you know a mama who loves her coffee, then look no further for the perfect gift. The Nespresso Coffee and Espresso Machine will provide her with a delightfully warm pick-me-up, any time of day. This machine stands apart by producing an extraordinary cup of joe with a smooth layer of crema, the signature of a truly great cup of coffee.
---
Moms spend a lot of time in the kitchen, so a great kitchen tool is always a good gift idea and the KitchenAid stand mixer is no exception. She will love having this mixer to bake large batches of cookies, make pasta, spiralize zucchini into noodles, and so much more. With over 10 attachments (sold separately), the possibilities are endless.
---
If you've got a mom on your list that loves home decor, then this is the gift for you. These handwoven wall baskets add the perfect touch of bohemian touch to any room of the house. And because they are handmade, they are truly unique. Making this a one-of-kind gift like no other.
---
You may be thinking, a vacuum? Is this the best gift? We are here to assure that every mom will LOVE this one! Think of it like the mercedes model of vacuums. It will help mom get the tiresome chore of vacuuming done quickly and efficiently, and she might even have fun doing so. This model of dyson is the creme de la creme with a full-size bin, full-size cleaner head, twice the suction of any other cordless vacuum, up to 120 minutes of fade-free run time and too many other features to list.
---
This blender is the Ultimate All-in-One Appliance. It combines commercial grade power and incredible versatility to make it easier than ever to create smoothies, salsas, hot soups, and more. And it comes in a variety of colors. Grab one and get 25% off with code GM25OFF, click below!
---
This is the perfect sentimental gift that mom is sure to love! She can use it to stay organized all while being able to admire the pics of her favorites-her family. It's the perfect customizable gift for mom this holiday season! Pick out all of her favorite pictures and create a calendar just for her!
---
Relax and Unwind
For the wine-loving mom in your life, consider a 3-, 6- or 12- pack of wine from The Wonderful Wine Company. They have several wines to choose from in both white and red varieties. What sets this company apart from other winemakers is their commitment to sustainability, wellness, and using clean ingredients.
Their wines are naturally low sugar, low carb, keto-friendly, paleo-friendly, and vegan-made from organic, pesticide-free grapes. You can feel good about their commitment to our plant too, from bottling with natural cork and lightweight glass, to eco-friendly production and shipping methods.
---
We all love a good loungewear set, especially during the winter months, and even more so this year since we are spending so much more time at home. Onzie has the cutest matching lounge wear sets, yoga sets and more! Grab one for Mom today!
---
Help the mom in your life relax with some cozy Dearfoams. She will love wearing these around the house to keep warm during the cold winter months–and cool during the summer months. Yes, these slippers are made with breathable, sheepskin lining that naturally adjusts to your body temperature. Not only are they comfortable, but practical too.
---
If you are looking for the "just-right," scent, we found it for you! It's the Forever Candle from Siblings Co. It's not too musty, not too floral or sweet! Enjoy the candle forever, because the burn time is 70 hours!
---
This is a portable USB Facial humidifier that is perfect for the mom on-the-go, which lets be honest is all of us mamas! This is the cutest, #1 ultrasonic, mini USB facial humidifier in the world. Your skin can have the benefits of moisture at home, on your desk at work, school, hotel, car, or travel on-the-go. Get that k-beauty dewy look with cool mist hydration.
---
The Pura Smart Home Fragrance Diffuser allows you to customize your scent experience with premium, designer grade fragrances from the convenience of your smartphone. You can access the app from anywhere and save your favorite scents so they are easy to order when you're out! You can swap between two scents, set it to away mode and even control scent intensity from the app!
---
Grab your favorite moms a set of this comfy, stylish loungewear that she's sure to love. Made of 100% cotton in a mini waffle weave, this lounge set is soft, lightweight and cozy.
---
Help mom relax and rest with this cozy weighted blanket by brookstone. Weighted blankets are known to have a calming effect, reduce anxiety and improve sleep. This weighted throw by Brookstone features a removable, machine washable cover in a super-soft plush.
---
Equilibria CBD products were created to help women achieve balance in their lives and reduce discomfort. Created by women, for women with a mission to help alleviate chronic stress, pain and everyday soreness. This is the perfect gift for a mom in your life who experiences any of the aforementioned ailments. Be sure to use code: globalmunchkins for 15% off your first order.
---
Best Gifts for Moms On the Go
Generally speaking, women love their shoes and moms are no exception. Whether she's a fitness enthusiast or not, ALL moms need a few comfortable, stylish pairs in their wardrobe. These adidas fit the bill, and will make running around after the kiddos a breeze. With a few colorways to choose from you'll have no trouble choosing a pair to fit mom's personal style.
---
This is the perfect set for the active mama! Carve Designs has amazing quality sets that I absolutely love and I love the variety of styles and colors they have to choose from!
---
If a new pair of sunglasses feels like the right purchase for mom (ladies love their sunnies!), then a pair of Maui Jim's is just the ticket. Designed with comfort in mind, their PolarizedPlus2® technology reduces the impact of the sun's harsh glare while offering relief from a number of long-term health risks. And they have so many beautiful styles to choose from!
---
Whether she's a mom who travels for business or leisure, this 4-wheeled carry on suitcase is a winning gift for any jetsetter. With multi-functional front panel pockets, a water bottle pocket, and a protective quick-access glasses pocket–these are just some of the thoughtfully designed features that will make her flights (with or without kids in tow) as comfortable as possible.
Check out their Toiletry kits here, which come in a variety of colors and patterns!
Also, check out this multifunctional, 3-in-1 convertible tote that is the perfect size and comes with a RFID phone wristlet here!
And don't forget to throw in these EZ Packing Cubes set to help mom keep the inside of her luggage looking as stylish as the outside.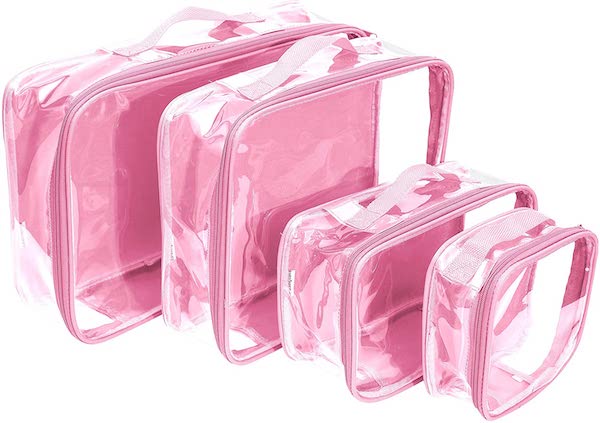 ---
One of my absolute FAVORITE gifts is photos of my family, and some of my favorite family photos are from Flytographer. Flytographer is an amazing company that allows you to hire a photographer anywhere in the world allowing you to take family photos near home or while you are away on travels. I think it is one of the most thoughtful and memorable gifts one can give. Plus, they now have a photography course and presets available to help you learn how to create amazing photos on your own.
Technology for Her
Mom or not, everyone needs a great pair of airpods. Here are just some of the reasons why: noise canceling, sweat/water resistant, customizable fit, more than 24 hours of battery life, charge wirelessly in their care, and they easily connect to all apple devices. Even if she doesn't know she wants these, mom is going to LOVE them.
---
This iphone case is sure to be one of mom's best friends. Loopy protects your phone better than even the bulkiest of cases, yet is slim enough to make your phone comfortable and non-intrusive to use. With dozens of beautiful patterns and solid colors to choose from, you are sure to find one that's just right for the moms in your life.
---
This charger works for mom's iphone, apple watch and airpods. We all love a 3-n-1! This device will help to eliminate the cord mess and help keep mom's charging station organized and clutter free. A practical gift she's sure to appreciate.
---
Books for Her
Before it was a fixture on the L.A. dining scene and a magnet for celebrity diners, Café Gratitude was founded in the Bay Area with the simple ethos that joy derives from loving and being grateful for food, health, and good company. Now, with Love is Served, Seizan Dreux Ellis, executive chef at Café Gratitude, brings Gratitude-quality meals to your table and the soul and mission of the restaurant to your home. Mom will be feeding her body, and her soul too!
---
In this book, author Dana Shultz shares 101 vibrant, simple recipes that are entirely plant-based, mostly gluten-free, and 100% delicious. Minimalist Baker's Everyday Cooking is a totally no-fuss approach to cooking for anyone who loves delicious food that happens to be healthy too.

---
With this modern handbook, sustainable fashion and lifestyle expert Marieke Eyskoot makes green living fun and doable. It's filled with practical and positive tips on fashion, beauty, food, home, work, travel and leisure, and shows that stylish and sustainable go very well together. If the mom in your life cares about sustainability, then this is the gift for her!
---
Check out more of our holiday guides below for the special people in your life this holiday season!
Gifts for 15 year old boys and girls