*This post is sponsored by The Home Depot. All thoughts and opinions are my own.
I grew up in a large family, my mom is one of eight children, so massive family BBQ's were a way of life. Now, as an adult, I find myself always looking for excuses to invite friends and family over especially after our recent backyard renovation- the more the merrier is our motto! With plenty of mouths to feed I am always looking for delicious options that allow me to be out with the party instead of alone in the kitchen which is why I am head over heels in LOVE with my NEW Vision Grills Kamado Professional Ceramic Charcoal Grill.
The Grill Every Hostess Deserves- the BEST Kamado Grill
I am definitely one of those people who gets bored easily so as much as I love a good hot dog and a burger (especially an ahi-version) I like to mix things up when it comes to barbequing. So, when I learned that my Vision Grills Kamado Grill not only grilled things but could also smoke, sear and even bake a pizza I was ecstatic!! Oh, the possibilities. Not to mention this grill is gorgeous!!! It is seriously the most beautiful BBQ I have ever laid eyes on. Am I right?
So, I know what you are thinking- Amber how can this be so? How can this Kamado Grill be capable of creating so many delicious options? Well, no worries I am about to get into that.
What is a Kamado Grill?
A Kamado Grill is a large heavy egg-shaped grill made with very thick-walls which allow for heat to be retained more efficiently and effectively. They also act more like a wood stove where the air comes up through the bottom passes through the charcoal (fuel source) and leaves out through a top vent.
You control the temperature of a Kamado Grill by regulating the amount of air you allow in through the dual-calibrated draft vents.
Giving this Kamado Grill has the ability to slow cook things, like brisket, at low temperatures (say around 200 degrees Fahrenheit) to baking pizzas at 600 degrees Fahrenheit in a matter of minutes. It's pretty impressive!
One of the reasons Vision Grills offers the best Kamado Grill is because they have super simple vent controls. I especially love that my grill came with very specific advice on vent settings depending on what types of foods you are grilling, searing, smoking, or baking. That way even a Kamado newbie can whip up impressive meals in no time.
BBQ enthusiasts love a Kamado Grill because of their ability to keep stable temperatures (once pre-heated). Depending on how much oxygen and coal you have you can cook for long periods of time both on high or low temperatures.
The Grill that Multi-Tasks like You Do
I am all about multitasking, as a mom of five, I have to be. So, I love purchasing equipment that can multitask too. This Vision Grills Kamado Professional Ceramic Charcoal Grill allows you to utilize four different cooking styles.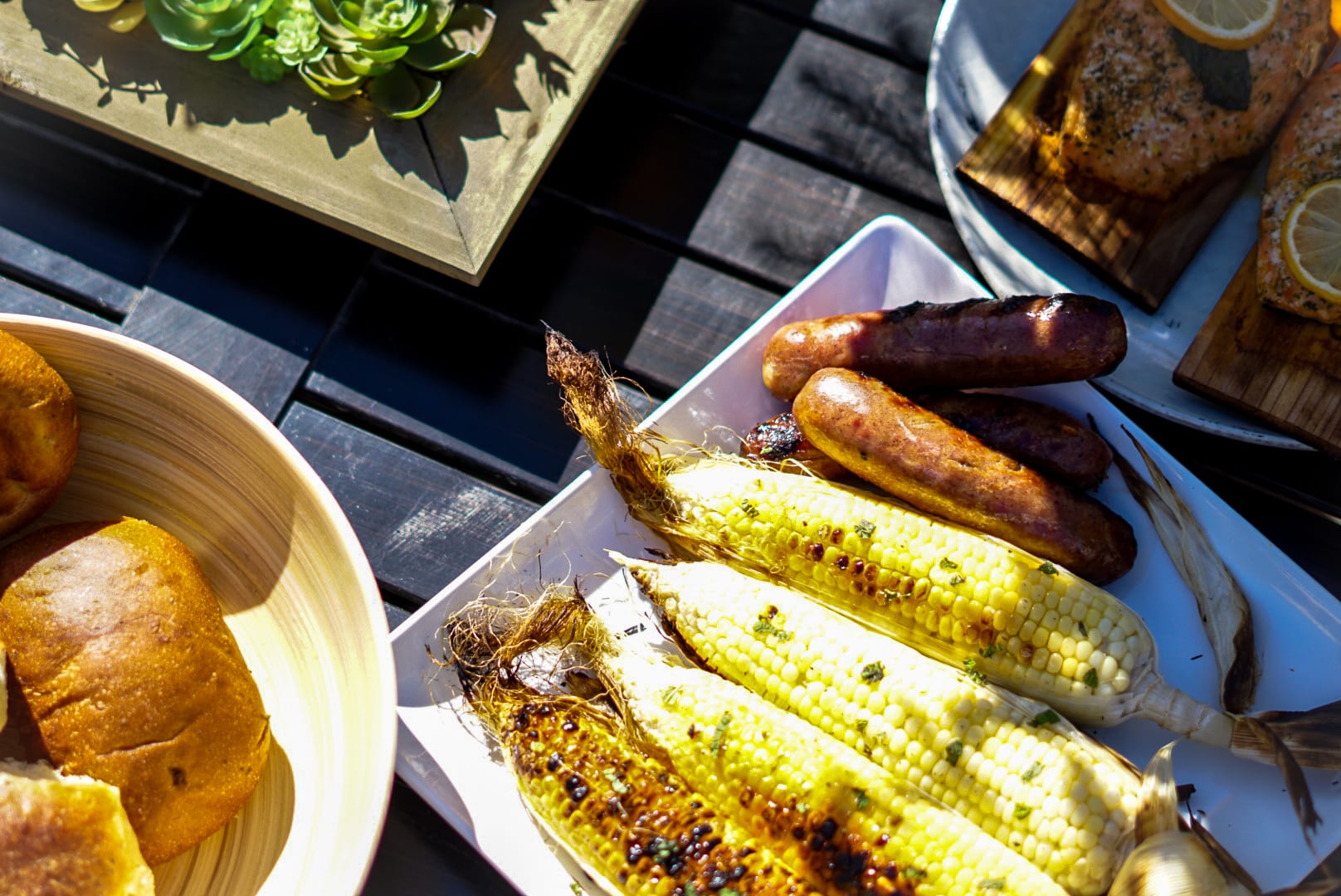 Direct Cooking
Most of the time people grill meats and veggies by simply placing them on the grates over the charcoal, and this is absolutely an option with your Kamado Grill. It is probably the easiest way to use your grill and the one I utilize the most.
Slow Cooking/ Smoking
Kamado grills are also awesome for smoking meats and slow cooking. Usually, slow or low cooking is done at around 225 degrees Fahrenheit and it works great for tougher meats like ribs and shoulders.
By slow cooking these heartier cuts of meat for 5-15 hours on low you end up melting away some of the tougher tissue leaving you with a very tender, juicy meat with super intense flavors. This is probably my husband's favorite method.
Raised Cooking
Something kind of fun to play around with is raised cooking which, just as it sounds, simply means you place whatever you are cooking is placed about 8-10" above the charcoal as opposed to the typical three inches.
Raised cooking takes longer since it is further from the heat source but because it cooks more slowly the flavors are typically heightened. This is a fantastic method for barbecuing roasts. We made an incredible tri-tip this way recently.
Some other benefits novice BBQers will appreciate is the raised cooking method allows a slower transition between levels of doneness so you can achieve that perfect medium rare your guests are requesting without accidentally overcooking. Another bonus my dad appreciates it the ability to get a crunchy chicken skin without cooking out all of the juices.
Indirect Cooking
This method is super fun because it turns your grill into something extra special. Can you believe you can whip up tasty pizzas and quiches on your grill- awesome, right?
For this style of cooking, you need to purchase a separate protective cooking barrier like Vision's lava stones. This barrier allows for more even cooking and helps to prevent flare-ups. You can use one of these stones to slow cook roasts or ribs or use it on high to bake a pizza.
I haven't tried it yet, but my uncle suggests cooking your Thanksgiving turkey this way too.
What makes this the Best Kamado Grill? Modern Features You'll Appreciate
The Vision Grills Kamado Professional S-Series Grill also has patent-pending ProZone™ which consists of a removable ash drawer, electric starter port, and thick ceramic construction.
These updated features allow for easier lighting of the charcoal, simpler clean up, and better temperature control. In fact, the thick ceramic construction even helps reduce the use of charcoal because it creates a convection heat environment.
Vision Grills also incorporated two heavy-duty lid springs to deliver the lowest dome lift-weight in the industry. So, even a small five-foot frame mom can lift the dome lid with ease.
Another awesome feature worth noting is the sturdy steel cart that comes on wheels. Kamado grills are super heavy and so it's really important that you get one that allows you to have easy maneuverability. Vision Grills Kamado Grill from The Home Depot definitely delivers.
And, don't forget about the two solid wood shelves. Not only do they look gorgeous but they also come in handy when you barbeque. Don't need them, no worries, they easily drop down when not in use.
The Best Kamado Grill with Multi-Level Grill
When you are a family of seven every meal is a party so being able to cook on two different grill surfaces is a major BONUS!!
The Vision Grills Kamado Grill available at The Home Depot offers 604 square inches of stainless steel cooking grates. That is enough space to cook 29 hamburger patties!! Plus, both of the grates flip open to allowing you to easily add smoking wood chips or charcoal to the base.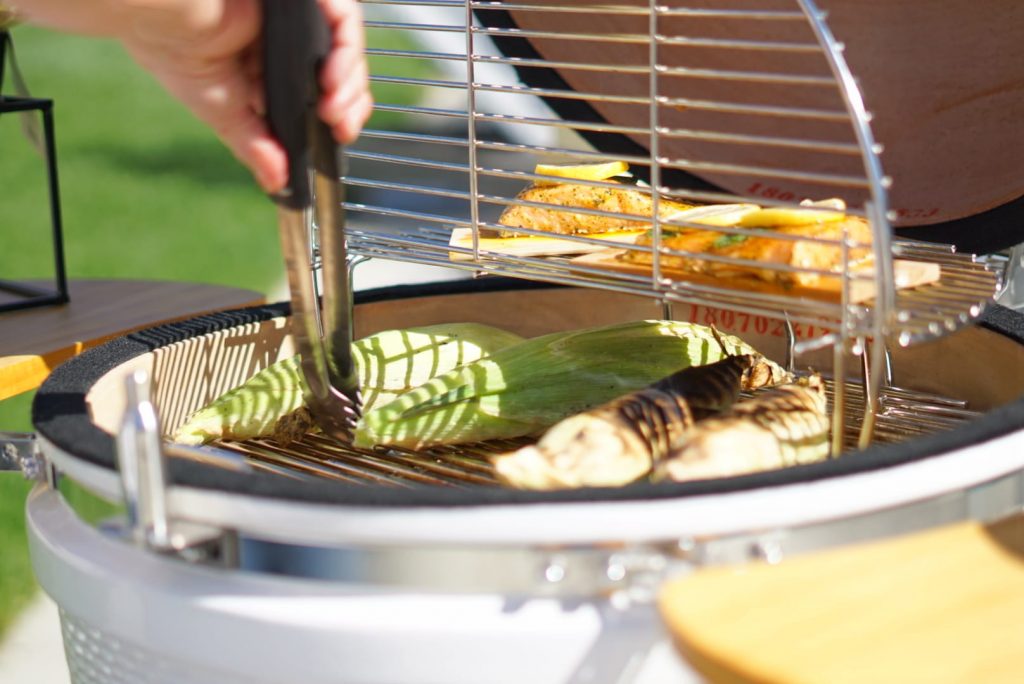 I also find that the multi-level grill allows me to control my cooking a little better as the temperatures on the lower grill are higher than those on the top. I love placing my meats on the bottom while allowing my corn on the cob and other veggies to cook a little more slowly on the top grill.
Gas or Charcoal? How about both- I told you this was the BEST Kamado Grill
I love the taste that grilling on charcoal adds to my dishes especially when I am grilling something like ribs or brisket. However, sometimes gas is just easier so when I found out that the Vision Grills Kamado Grill offered an accessory that allowed me to switch from charcoal to gas easily I was pleasantly surprised.
This is actually the world's first interchangeable, patent pending, All-In-One Vision Char-Gas Kamado Grill. Giving you the option of grilling using your choice of fuel. Go slow and grill with charcoal and switch it up with the QuickChange Gas Burner and put that 26,500 BTUs to work.
Now, it should be noted that this there is an additional cost to this piece as it is sold separately but I am telling you it is totally worth it. You can rely on the ease of gas during your chaotic weeknight schedules and then switch it up to match the pace of your slower weekend vibes by opting to swap to charcoal. It's a chef's dream!
A few other accessories I highly recommend are the Electric Starter for easy lighting and the Lava Stone which allows you to bake the BEST pizzas & quiche.
Setting up your Vision Quickchange Gas Insert
Switching your Vision Grills Kamado Grill from Charcoal to Gas is simple. Just follow these 5 Easy Steps-
Remove Ash Drawer

Slide in your Gas Insert

Insert the Heat Exchanger

Place your Heat Diffuser Lava Stone

Attach Gas Caddy, Hose & Gas Tank
How to Properly Maintain your Kamado Grill
Caring for the Kamado Grill has been super simple. In fact, the interior bowl needs no cleaning at all- woot! woot! And, I hear you wouldn't want to clean it because it will naturally season over time.
To clean the exterior you simply wipe it down using a cloth with a simple solution of non-abrasive soap and water on it. And, then you rinse it off with water. Easy-peasy!
My Vision Grills Kamado is this model available at The Home Depot and it came with a cover. To ensure it stays beautiful we keep ours covered when not in use. It should be noted that you must allow your Kamado Grill to cool completely before placing the cover on it or it could cause melting and damage the surface of your gorgeous grill.
Did you know that your Kamado Grill will outlast most metal types of grills? This is awesome news, it also means that you may need to replace parts over time. No worries though, Vision Grills has replacement parts so when you need them you can find them easily.
We think it is the perfect gift for the chef in your life or anyone who enjoys entertaining.
*I acknowledge that The Home Depot is partnering with me to participate in the promotional program described above (the "Program"). As a part of the Program, I am receiving compensation in the form of products and services, for the purpose of promoting The Home Depot. All expressed opinions and experiences are my own words. My post complies with the Word Of Mouth Marketing Association (WOMMA) Ethics Code and applicable Federal Trade Commission guidelines.