Thank you, Ricos Cheese for sponsoring this post. With a house full of football players there is one thing I can count on- the Big Game Party is always at our house. Thankfully, I've got the football party thing down to a science. The girls and I whip up our favorite snacks and appetizers in the kitchen while the boy's prep our awesome Party Games! Keeping everyone well-fed + entertained is a guarantee for a great party. Check out some of our favorite party games and take a look at the appetizer we will be serving up this Sunday and then try them out with your own family and friends this year.
Simple Big Game Party Ideas the Whole Family Will Love
I love a good party because I am all for that 80/20 rule when it comes to food. Parties = time to relax and enjoy so the girls and I love to whip up all of our family's favorite snacks including soft-baked pretzels, nachos, wings, chips & guacamole! To spruce things up a bit I love whipping up a few dipping sauces. One of our favorites is Ricos Cheese Sauce.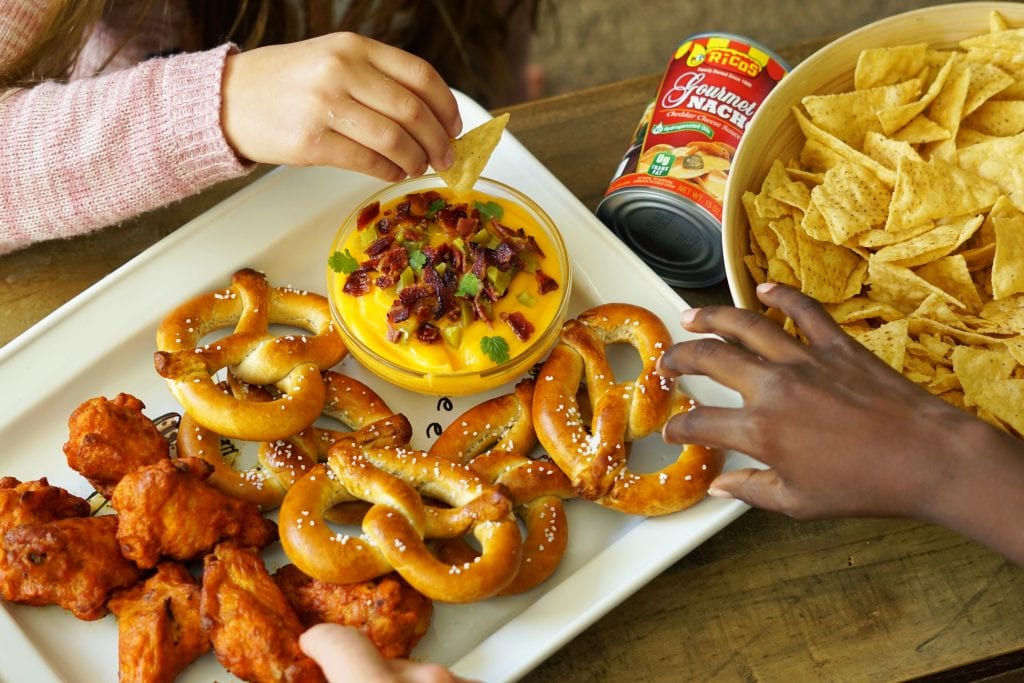 Speaking of Ricos, have you tried it? It's super easy to use, you literally just heat it up & serve. Ricos is trans fat-free and made with no hydrogenated oils which I love and you can find it at your local Walmart. We love to get creative with our Ricos cheese sauce by sprinkling in some jalapenos and bacon into the Premium Cheddar variety, which makes a delicious dip for soft-baked pretzels and wings.
Ricos Gourmet Nacho Cheese Sauce is perfect for quick homemade nachos. Just pour it on top of chips and add your favorite nacho toppings. Our favorite nacho toppings are black beans, soy chorizo, tamed jalapenos, salsa, guacamole and fresh cilantro. If you are having company over consider the money-saving Ricos Condensed Cheddar Cheese Sauce which has 50% more product which means you can feed more people for less cash!
Another reason I love whipping up Ricos Cheese Sauce is it looks pretty spectacular plated. Don't you agree?? When you have five kids and are always hosting parties you learn a few things about party planning including the importance of keeping things simple. No need to spend hours laboring away in a kitchen, life is too short for that. The platter shown was thrown together in less than 15 minutes!
You can copy this platter buy purchasing Ricos Gourmet Nacho Cheese Sauce and heating it up, toss a few strips of bacon, chopped tamed jalapenos, and fresh cilantro on top, and serve it with store-bought frozen pretzels and wings plus a bag of chips and store-bought guacamole. You will have more time to enjoy your family & friends this way and everyone will love the delicious snacks too!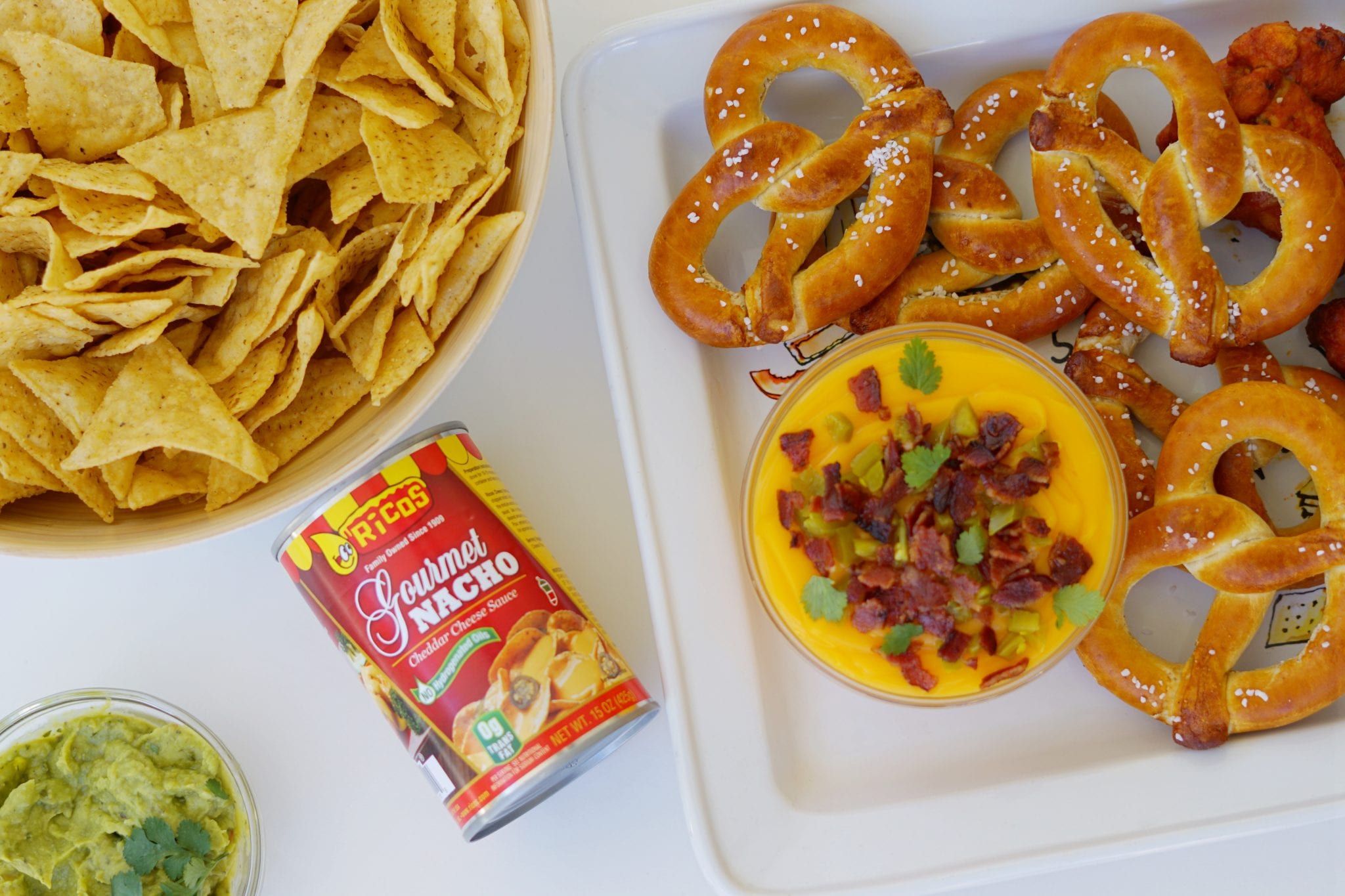 Right now there are even more reasons to buy Ricos Cheese because starting now through May 31, 2018, you can also earn entries to WIN a brand new Ford F-150. Pretty awesome right? Click the image or the button below to head over to the contest page and get all of the details.
Winning a 2018 Ford F-150 is easy-peasy, nacho cheesy. Buy a 15oz can of Ricos Cheese Sauce and get an entry. Buy a 6lb 10 oz can and increase your chances with 5 entries! Enter every day with each purchase.
*See Ricos site for details on how to win. Purchase qualifying item(s) between 01/15/18 – 05/31/18 in one transaction and star/check the item(s) and the date of your receipt.
Super Fun Football Party Games
My husband is the king of fun and over the years he has added some unique games to our football parties to make the day a little extra special. Here are a few of the games we have tried at our parties that I think you will love.
Pick a player- This one is super easy. You place all of the contending MVP players into a jar. Participants get to draw a player. At the end of the party whoever drew the actual MVP wins! You can make it more interesting by offering a prize or making it into a type of raffle where the winner gets the pot.
Pin the Football in the Field Goal- Just like pin the tail on the donkey so this one is fun for the little ones. We create a field goal with masking tape onto the wall, we create mini footballs with construction paper and then we blindfold the kids and see who gets the closest to making a field goal. Every kid that gets their football inside the field goal wins a prize.
Don't say it- This is a spin off the classic baby shower game where you get a pin when you walk in the door and you are told a word that you cannot say. If someone catches you saying that word they take your pin and the person left with the most pins at the end of the party wins. Except for this time the word has to do with football. Try using football, referee, field goal, punt etc…
Hot Football- Who doesn't love the classic game of hot potato? Get the kids together and try this version with a football. The kids pass the football around until the music stops. The person holding the football when the music ends is out. The last person standing (or sitting) is the winner.
Coloring Pages– You can find tons of coloring pages here that you can download and print out to keep kids occupied. I also like spreading butcher paper on my table and leaving out some crayons and colored pencils for kiddos to doodle there too.
Photo booth- One of my kids' favorite things to do at parties is snap fun pics with their friends. Lately, we have been setting up our own photobooths and the pics are amazing. For the Big Game, I would grab a fun tablecloth that I could place vertically on a blank wall and then I would grab funny props including a football, my boys' old jerseys, a whistle, funny glasses, some beads (random things from our costume closet) to make the pictures even more fun. You can also find fun printables on Etsy and Pinterest too.
What are your favorite ways to celebrate the Big Game?
Pin it for Later-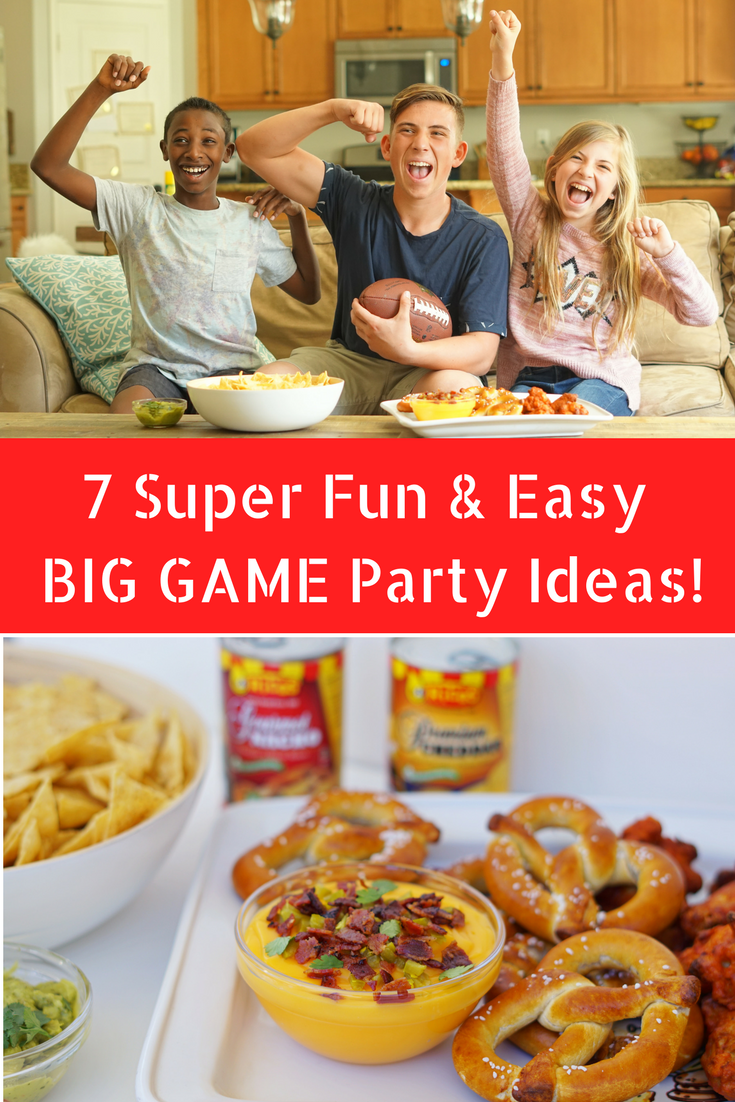 *Disclosure- This is a sponsored post in partnership with Ricos Cheese. All thoughts and opinions, as always, are 100% my own.