Discussions about race and inequality are common in our household. I believe the dynamic of being a transracial adoptive family leads to many interactions in our' daily lives that lead to questions and conversations.
If you are new to these conversations I highly recommend you check out How To Talk To Kids About Race by Brightly before you dig into activities with your kids about Martin Luther King Jr.
I feel that Martin Luther King Jr. Day is a wonderful place to further our discussions and education on the Civil Rights movement. I have used a quote that I read from Coretta Scott King in The Washington Post in 1983 to help guide the way we celebrate this day in our family. She provided a beautiful vision of how the holiday honoring her husband should be observed.
Below are seven different ways you can celebrate Martin Luther King Jr. Day with your children.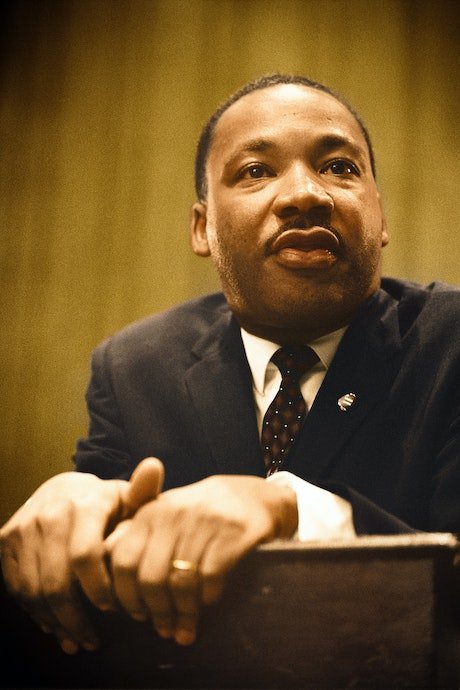 1. Have a conversation about sameness and uniqueness
If you have young children who are new to conversations about race and inequality a great place to start is by introducing the ideas of sameness and uniqueness.
You can do this by creating an activity where you have your children talk about what they see that is the same about each member in your family and what they see that is unique.
Helping them understand that we all have commonalities and differences is very important. It enables them to look beyond physical characteristics to find similarities that they might share with someone who looks different than themselves.
This is a great book I read to my children when they were young to help them get started.

You can also check out this article by Amiyrah of Four Hats & Frugal to help understand the importance of teaching your children to see color. Or watch the Ted Talk below.
2. Read books together about Martin Luther King Jr., the Civil Rights Movement and Social Justice
Books are a wonderful way to expose children to new ideas and ways of thinking. Books also help them develop compassion and a deeper understanding of the way others might feel.
Here are some of the books we have read and loved.


There are also some great documentaries and movies right now on Netflix that are great for educating yourself and your kids on King's contribution to the civil rights movement. Check ratings to see if they are an appropriate fit for your children.
I Am Not Your Negro
Eyes On The Prize Documentary
Dr. Martin Luther King Jr.: A Historical Perspective
3. Share quotes and images from Martin Luther King Jr. that are often ignored by mainstream media
While King's famous "I Have A Dream" speech is wonderful and beautifully written. It is important for children to grasp the many and diverse messages Dr. King left for us.
For example, King's message went way beyond "Black and White," he also talked about gendered stereotypes, privilege, and poverty as well.
As you search for new quotes take time to discuss with your children the deeper meanings embedded in his messages and help them decipher metaphors.
Another fun activity is having them re-write his quotes in their own words. Dr. King's "Letter from a Birmingham Jail" is a good place to start. Talk about what Dr. King might have meant when he wrote "justice too long delayed is justice denied."
4. Take the lesson outside.
Physical movements like walking and marching played a critical role in the progression of the civil rights movement. Below are a few you can discuss with your children before taking them outside to walk for their own cause.
381-day-long Montgomery Bus Boycott, opting to walk or travel in personal or chartered vehicles instead of riding segregated city buses.
In 1963, around 250,000 people participated in the March on Washington,
in 1965, civil rights activists marched 54 miles from Selma to Montgomery, Alabama, calling for the basic right to vote.
When discussing the events above you can point out that these examples took organization, sacrifice, and purpose to become successful. You can also point out that while there are some stand-out civil rights leaders there were also countless everyday people who took risks alongside leaders like Dr. King.
5 Teach your kids about the power of peaceful activism to change unjust laws.
Martin Luther King Jr. dedicated his life to peaceful activism so teaching our children about how the peaceful actions of many individuals collectively can create change is an excellent way to celebrate the holiday.
A great way to put this into action is to help your child write a letter to their lawmakers. I found this great Letter Writing Resource (which includes a template for children to write on) to write to Congress about any number of issues.
Not sure what issue to write about? Here are a few groups that help me stay on top of current issues ACLU, Moms Rising, and Color of Change.
6 Make a family gift to an organization working to stop racism, poverty, or violence.
There are many ways one can contribute to furthering the civil rights movement. You can support a non-profit organization that you and your children would like to support with a donation.
Not sure where to start? Showing Up for Racial Justice has a list of Black-Led Racial Justice Organizations here.
Make it more meaningful by allowing your children to participate in the donation.
Contribute from their allowance
Create and sell a product as a fundraiser
Raise funds by heading to social media and explain to friends and family what they are trying to accomplish.
7 Help Your Child Understand What It Means To Be Privileged.
It is a huge advantage just top be born in a developed country like the United States, yet we know from both our nation's history and current events we know that some have been privileged to exercise ALL of their rights while others have not.
The National Civil Rights Museum's Privilege Aptitude Test serves as a way to start the conversation about what it means when people don't have privileges because of their race, creed, religion, gender, sexual orientation, class, ability, or veteran status.
It's a great way to have a thoughtful conversation about how our lives differ based on the privileges we have or don't have.
FOR TEENS
Learn more about other civil rights leaders. John Lewis. Ruby Bridges. Reverend Dr. Joseph E. Lowery. These are just some of the individuals who were also civil rights leaders. The Corporation for National and Community Service has a playlist of videos where tweens and teens can hear them speak about Martin Luther King, Jr.
2. Teach teens how to evaluate their news sources so they can learn how to research and find reliable news sources to further their learning and interests in the civil rights movement. Here is a great resource from Berkeley to help them get started.
3. Have your teen read one of these articles.
Don't Forget To Further Your Education As Well
Below are some books I have read and loved and a few that are on my list to read next. Please feel free to share more recommendations in the comments as well.


'If you like this post you may also want to check out these ones.
Latest posts by Mama Munchkin
(see all)